Underrated Spain: Castilla-La Mancha Wine Region
In the land of Don Quixote, wine plays a very important role both economically and culturally. The Meseta Central, a.k.a. Central Plateau, produces nearly half of the wine in all of Spain. It's also home to over a dozen top wine Spanish bodegas (wineries).
Super Value! If you like wines with intensity and European personality, Spain has you covered. Wines range from sub $10 quaffing beverages under the Castilla-La Mancha IGP to $100 bold red blends under the relatively new Vino de Pago designation.
Wines from Meseta Central
In the past, the Meseta Central produced an ocean of 'Vino Tinto' and 'Vino Blanco'. In fact, you can still find these low quality wines in supermarkets around Spain sold in plastic jugs. The region started to really improve in the 1990's when a few people brought in vines and winemaking techniques from California and Bordeaux.
"Bold and lush red wines with a characteristic note of grilled toast."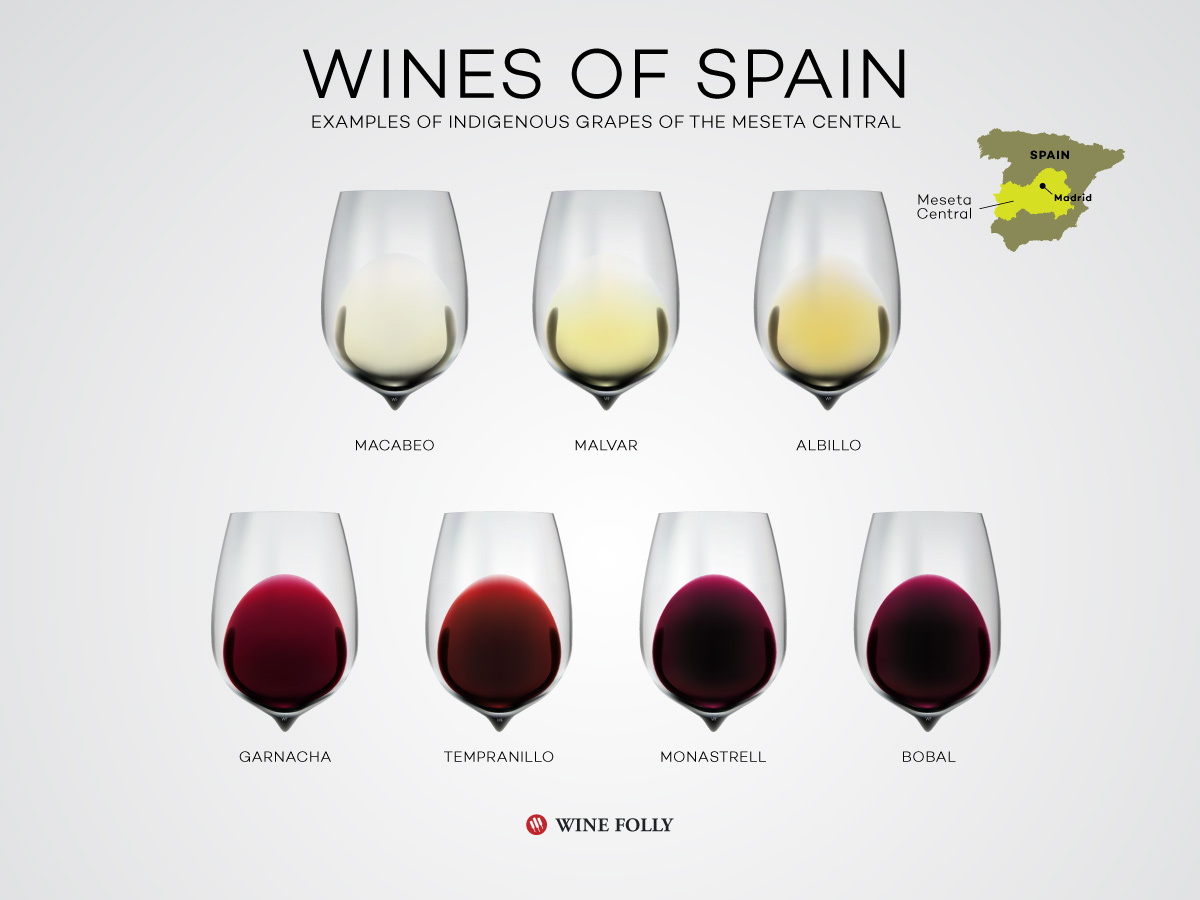 The greatest wines of the region are bold and lush red wines with a characteristic note of grilled toast. The exceptional whites of the area tend to be oak aged with nutty and creamy notes of apricots and peaches.
The Wines of Central Spain
Nearly all of the top quality wines in the area have adopted the use of blending French varieties, such as Syrah, Cabernet and Petit Verdot, with the local grapes of Tempranillo, Garnacha and Bobal.
Tempranillo: Once known as Cencibel in the area, many are still convinced that Cencibel is a special clone with thicker skins and richer colored Tempranillo wines than can be found up north in Rioja.
Bobal: A very bold, red wine grape with a likening to Petite Sirah, Bobal has blackberry and menthol flavors. Vanilla notes come from oak aging.
Garnacha: Richer in style, moderately high in alcohol and tasting of candied raspberries and leather.
Cabernet & Merlot: Red fruit flavors dominate the Cabernet and Merlot of Spain, but these grapes are often blended with others for a deeper, darker and much more intense flavor.
Monastrell: Opaque with a bright violet rim, Monastrell (a.k.a. Mourvedre) tastes of blackberries, anise, grilled bread with the occasional meaty note.
Syrah: Similar to Shiraz but with a unique clay-leather note to the flavor.
Petit Verdot: Opaque in color like Monastrell but with flavors of blackberry, lilac and cilantro.
Albillo: A white wine that's often oaked with medium acidity and slightly nutty, oxidative flavors of apricot, aniseed, and dried flowers.
Malvar: A white grape tasting of peaches and tropical fruit, orange blossom, and citrus that's rarely oaked. Malvar is the main grape in Vinos Madrid.
Macabeo: (a.k.a. Viura) A white grape that's also known as Viura in Rioja and is also a major grape in Cava. Macabeo is sometimes blended with Chardonnay to create a light unoaked white wine.
---
A lil' History
Perhaps one of the most instrumental people involved with bringing quality to Castile-La Mancha was Carlos Falcó Fernandez de Córdova of Dominio de Valdepusa in the Méntrida DO ("DO" stands for Denominación de Origen). Carlos Falcó studied winemaking at UC Davis in 1964 and brought in French grapes as well as modern drip irrigation. Before water-saving drip systems were introduced, it was illegal to water vineyards in the Meseta Central.
Vino de Pago: The Top Spanish Classification?
Falcó's work led to the creation of what is arguably the highest tier of Spanish wine designations called Vino de Pago–a single vineyard area designation. His Dominio de Valdepusa vineyard became the first to receive a Vino de Pago DO.
Today, there are about 15 DO Pagos in Spain. It's actually pretty hard to seek these out because several producers use the words "Pago" on their labels. Carlos Falcó also organized a solid group of 25 top quality producers in the Meseta called Grandes Pagos d'Espana. Some of these are not official Vino de Pago but they are all pretty darn interesting.
---
Meseta Central Spain Wine Region Map
The region contains Madrid and the surrounding areas in the high plateau of Spain. It's very hot and dry, so vineyards at higher elevations really shine.
Castilla-La Mancha and Extremadura IGP/VT
These are the overarching regions that contain most of the Meseta. IGP (indicación geográfica protegida) wines are the basic wines in the area. There are less regulations for IGP wines, so you'll also find unique blends or grape varieties (like Viognier) that typically wouldn't earn a DO (Denominación de Origen) status. Most of these wines clock in under $10 and, for the price, they are delicious.
La Mancha
A large region that has large plantings of white wines from the local grapes of Airén and Macabeo to Chardonnay and Sauvignon Blanc which go very well with the local cheese you probably know: Manchego.
---
Méntrida
A high quality and higher priced wine region with the first Vino de Pago wines being made by Bodega Griñon. A region producing mostly Garnacha along with 'Bordeaux blends' and a lush style of white Albillo.
---
Ribera del Júcar
Wines here are made with blends of Cabernet, Syrah, Petit Verdot and Tempranillo.
---
Uclés
A value-driven region dominated by larger producers making mostly a fruity style of Tempranillo and Verdejo. Even though large producers dominate, the region shows potential based on its higher elevation vineyards.
---
Manchuela
A value-driven but smaller producer-focused region with several intriguing wineries championing the indigenous Bobal for both red and Rosado wines. Garnacha is also prevalent here along with French varieties. Several producers are organic under the EUs standards.
---
Mondéjar
A value-driven region dominated by larger producers making mostly fruity-styled Tempranillo and white Malvar.
---
Almansa
Home to a 15th Century castle, Almansa makes mostly Monastrell and shows great potential not only with value but with their high quality oak-aged wines. The area also creates wines with Alicante Bouschet, a grape with both red skins and red flesh.
---
Valdepeñas
A value-driven region producing wines of Tempranillo with an aging system very similar to Rioja.
---
Vinos de Madrid
The quality vineyards around Madrid are diminishing because of the growth of the city, however, towards the south there is a focus on two local white grapes: Malvar and Albillo. The area of Vinos de Madrid that's farthest from the city has many ancient Garnacha vineyards.
---
Ribera del Guadiana
A region that touches the border to Portugal and uses 29 different varieties that are Spanish, Portuguese and French. There is a focus on Tempranillo, Cabernet Sauvignon, Syrah and Malvar.