With estimates of between 500 and 600 grape varieties grown in Italy, it's tricky to distill this iconic wine-soaked peninsula into basic baby sips.
If you start at the Italian boot and drill down, you'll find a land of incredible wine growing diversity.
From the Alps in the north to the Apennine mountain range, functioning as Italy's backbone running north to south, and the Mediterranean Sea cheerfully surrounding the country with its buffering influence on weather patterns, Italy is a grape grower's dream.
Best Italian Red Wines for Beginners
Italy's best red wines for beginners tend to share three common characteristics:
they are bold in flavor intensity
they lean heavily into familiar fruit flavors and aromas
they can typically be found for under $20 a bottle
We've rounded up a short starter guide of Italian wines you must try – top to bottom, and east to west.
---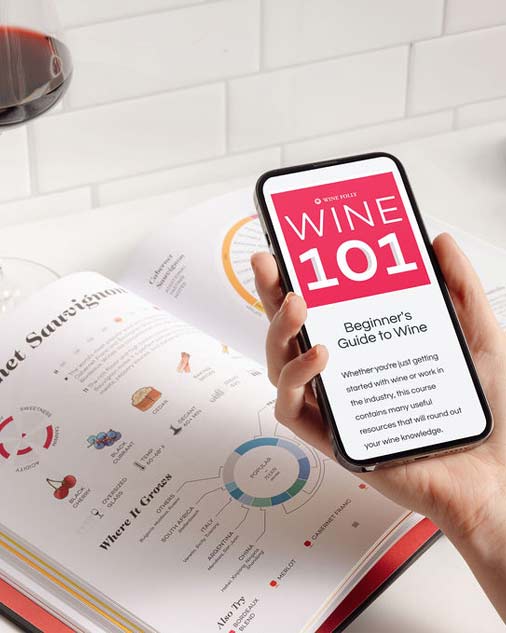 Buy the book, get a course.
Get the Wine 101 Course @ 75% OFF with the purchase of Wine Folly: Magnum Edition.
Shop Now
Nero d'Avola
If Italy is the boot, Sicily is the soccer ball about to be launched. Sitting on the tip of Italy's toe, Sicily is the largest of the Mediterranean islands. As Sicily's rockstar red grape, Nero d'Avola's fruity nature brings plenty of bright red cherry, tart blackberry, and peppery spice to the glass.
A heady combination of fruit meets structure, showing zippy acidity and moderate alcohol levels. Nero d'Avola promises to mellow out with a bit of time in the glass (or decanter) and partner up incredibly well with juicy bison burgers, Mom's lasagna, or your local meat lover's pizza. Easy to drink, and even easier on the wallet – expect to shell out $10-20 for a bottle of snappy Sicilian adventure.
Affordable Example: Cusumano Nero d'Avola (Sicily)
---
Montepulciano
Montepulciano reigns as the second most planted grape in Italy (after Chianti's Sangiovese). In terms of label lingo, typically the wines based on the Montepulciano grape tag the regional name on the end of the grape (i.e. "Montepulciano d'Abruzzo" – is literally the Montepulciano grape from the region of Abruzzo).
Smooth, silky textures surround dense layers of black fruit flavor. Expect this wine to run completely dry with a medium- to full-bodied profile and plenty of palate pep to handle grilled game, Italy's best salumi, regional pastas with tomato sauce, and local cheese finds. You can enter the Montepulciano scene with as little as $8. That said, we recommend turning it up a quality notch for around $20 bottle – promising more body, complexity, and more overall balance.
Affordable Example: Masciarelli Montepulciano d'Abruzzo (Abruzzo)
---
Negroamaro
Negroamaro is grown in the hotter climes of Puglia, on the heel of Italy's proverbial boot. A tannic beast, Negroamaro can come off as rich or rustic, smooth or sassy, depending on the vintage, proximity to the Ionian Sea's cooling effects and, in all honesty, the winemaker's prowess.
Often blended with Primitivo to tone down the tannins and amp up the sweet red fruit factor, Negroamaro promises to play well with all sorts of zesty barbecue digs: pulled pork, sweet chicken, tangy Texas ribs, and more.
Affordable Example: Cantele Salice Salentino Riserva (Puglia)
---
Primitivo
Primitivo (aka Zinfandel) is also grown in Puglia often as a complementary blending force to tame the tightly wound tannins of Negroamaro.
However, Primitivo is one of Italy's lush and plush red wine divas sought as a solo bottling for its generous fruit and sultry spice along with elevated alcohol, and the instantly approachable tandem of low acidity and modest tannins give it a bold, but smooth mouthfeel.
A natural with cured meat, tangy grilled veggies, brats or burgers, Primitivo is a flavor force to be reckoned with. Expect to part with 15-25 bucks for a full-throttle bottle of Puglia Primitivo.
Affordable Example: Tormaresca Torcicoda Primitivo (Puglia)
---
Brachetto
Playing to the sweet-tooth, Brachetto is Piedmont's light-bodied, sweet, and fizzy semi-sparkling dessert wine. Brachetto grown anywhere in Piedmont is labeled simply as "Brachetto" on the bottle, while Brachetto d'Acqui, a classified DOCG, carries the classic Old World naming protocol: "Brachetto" is the grape and "Acqui" is the hilly growing district in southern Piedmont.
This particular style of bubbly begs for dessert partnerships, with all things chocolate high on the love list (it's one of the few chocolate and red wine pairings sommeliers recommend). Flavors include red fruits, candied flowers, and cream. Expect to pay close to $20 for Brachetto – after all, fun and festive comes at a price.
Affordable Example: Fizz 56 Sparkling Red Brachetto
---
Dolcetto
Cleverly translated as "little sweet one," though don't expect gobs of sweetness to welcome your taste buds. Dolcetto is usually dry, with blueberry and cherry fruit-driven notes.
This is an easy sipper, happily ready to roll right out of the bottle, and shows soft fruit character with a little less zippy acidity upfront. Not overly picky, when it comes to food pairing, Dolcetto is a flexible friend to antipasto plates, cured Italian meats, and plenty of red-sauced pasta themes.
Affordable Example: Ceretto Rossana Dolcetto d'Alba (Piedmont)
---
Barbera
Barbera is Piedmont's everyday wine that's perfectly poised to rock the red fruit flavors sans the mouth-drying tannins. While the ruby red color pigments are dark and dense, the actual palate profile is light and bright with the consistent lively background zing of food-friendly acidity. Barbera comes loaded with ripe cherry, blackberry, and earthy herbal tones to dominate the nose and ready to rumble on the palate as well.
Given the silky textures, soaring acids, and laid-back tannins, consider partnering Barbera up with sausage risotto, prosciutto and smoked cheese, beef stew, and the classic Napolitano pizza. No need to pay a lot to snag a tasty bottle of Barbera – many run under $15. You're welcome.
Affordable Example: Castelvero Barbera (Piedmont)