If you want fruit-forward, ripe, red wine for a good price, look no further than Puglia. Some of the best values in Italian wine come from this sunny, dry region. Most Puglia wine is red, full-bodied and will pair well with a wide variety of foods. Producers in Puglia have focused on making great red wines and local grapes like Negroamaro, Primitivo, and Bombino Nero make for delicious drinking.
Puglia is Italy's Secret to Value Wine

The sun-baked vineyards of Puglia. by Giorgio Guerrieri
Puglian wine is the product of a diverse landscape. Half of Italy's olive oil is produced in the dry heat of Puglia. The warm climate and fertile soil make it easy to grow almost anything. Puglia is surrounded by water on three sides allowing cool breezes off the Meditteranean to moderate vineyard temperatures.
The two most popular and widely available wines from Puglia are Salice Salentino and Primitivo.
Salice Salento: The Salice Salentino region is named for the Salento Peninsula located on the backside of the heel of Italy's "boot" that extends into the ocean. Salice Salentino is made from the Negroamaro grape, which in Italian means "black bitter." Dry red wine made from Negroamaro has flavors of ripe plum, baked raspberries, and spice-cabinet notes like anise, allspice and cinnamon. Even though Negroamaro is full bodied it is not too tannic or acidic, and instead leads with bombastic fruit which makes it easy to chug, especially alongside meatballs or pizza.
Lucia sniffs a glass of Primitivo di Manduria. by Dauno Settantatre
"Negroamaro leads with bombastic fruit which makes it easy to chug, especially alongside meatballs or pizza."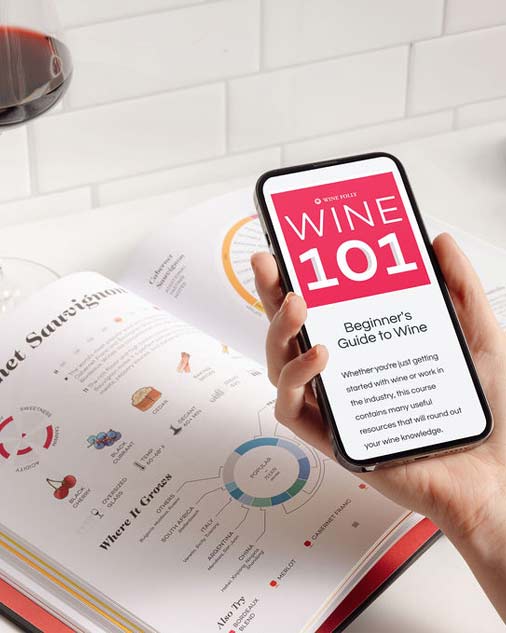 Buy the book, get a course.
Get the Wine 101 Course @ 75% OFF with the purchase of Wine Folly: Magnum Edition.
Shop Now
Primitivo: If you're searching for a richer, fuller-bodied red with abundant weight look towards Puglian Primitivo. Primitivo tastes of dark fruit like fresh figs, blueberries and baked blackberries. There's a distinct dried fruit-leather character to it as well. The word Primitivo doesn't mean primitive in Italian, but actually means early ripening since these grapes accumulate a lot of sugar early in the season. The early ripening means resulting wines are big, luscious and full of fruit. However, what's fascinating about Primitivo is that sometimes the grape bunches ripen unevenly, so green grapes will get harvested along with the ripe ones.
"Sound like a grape you've heard of before? Primitivo is the same grape as California's Zinfandel."
Bombino Nero: Beyond the main grapes of Negroamaro and Primitivo, a host of other local wines are made as well. In the area around Castel del Monte, Bombino Nero makes rosés and red table wines with fresh, lively fruit. Verdeca is an important indigenous white grape of Puglia that makes aromatic and interesting wines despite its small plantings.
"Bombino Nero is the explosive fruit-bomb rosé of Puglia"
Map of Puglia's Major Wine Regions

The map above doesn't include all the regions of Puglia, but it does include all of the ones you might want to know if you're a Puglia drinker. Bold-faced regions are known (and available) internationally for their big, bold, lusty wines.
---
Puglia Wine and Food
Southern Italian inspired cuisine. by Jonathan
Puglian wines work well with a variety of foods. A Southern Italian trattoria would be incomplete without regional wines. The raw elements of Southern Italian cuisine are suited to bright, easy drinking reds like the ones from Puglia. Fresh vegetables, fruity tomatoes, and peppery olive oil are easily complemented by the ripe, big flavors of Puglian wine. Puglian food showcases vegetables first: fava beans, eggplants, bell peppers all find their way into pastas, gratins and stews. Stuffed aubergines, lamb and pea stew, and orecchiete pasta with turnip greens are a few examples. For people looking to explore summer's abundance and cook or grill lots of vegetables, Puglian wine is a perfect compliment.
Need Recipe Inspiration? Saveur Mag went to Basilicata and found a mind-bending recipe for sun-dried sweet-hot peppers, with bread crumbs, pasta, and olive oil. It's out of this world. Pasta con Peperoni di Senise
 
Primitivo is Zinfandel
Zinfandel/Primitivo is originally from Croatia, where it was first called Tribidrag or Crlenak Kaštelanski (pronounced "Kjell-nak Cas-tell-lansky"). At some point in history it swam across the Adriatic Sea (the water in-between Croatia and the boot of Italy) and was planted in Puglia, where it took root surprisingly well. The Southern Italian immigrants, in the late 1800's and early 1900's, brought their native grapes with them to California! The newly named Zinfandel became a classic grape for wines both sweet and dry in America too!
The phrase "wine is bottled sunshine" fits Puglian wine exceptionally well. There's no better place to look when you're in a hurry at the store and you're looking for an inexpensive, delicious wine that can deliver a little warmth into your day.