Cesanese could have been the local wine of ancient Rome.
In order to explore some of the traditional wines of Italy, we paired up with a Chef who knows the ins and outs of Italian cuisine. In this post, we'll explore a rare Roman wine called Cesanese ("chae-sah-NAE-say") and a dish inspired by Rome's love of Cucina Povera or, 'Poor Kitchen'.
Tasting Cesanese del Piglio wine.
The wine with moderate oak aging (left) was less gamey than the one with low oak (right).
Today, the grape is dwindling in numbers and continues to fall into obscurity. Still, with a little resourcefulness you can find a bottle of Cesanese del Piglio for well under $20 a bottle. Cesanese del Piglio is 100% Cesanese and offers an excellent expression of the grape and regional taste of Lazio.
Cesanese Wine Profile
Cesanese del Piglio is not for the faint-of-heart. On the palate, it's surprisingly well balanced with subtle pin-cushion like tannins and perfectly moderate acidity. After a drink or two you'll start to notice a bitterness on the finish similar to that of kale. Cesanese grows in Rome and Frosinone in Lazio.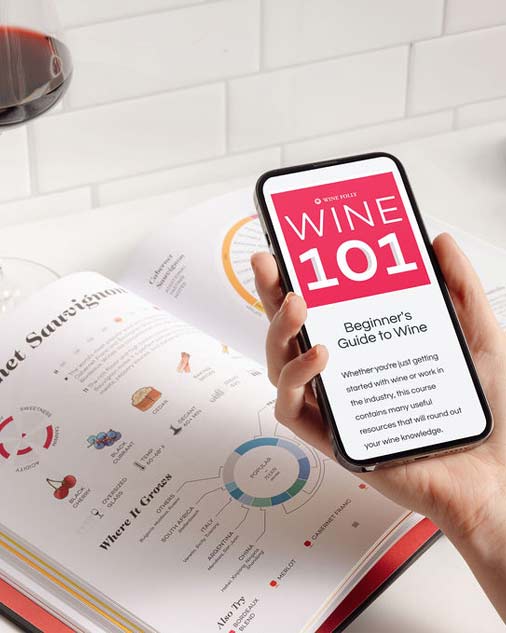 Buy the book, get a course.
Get the Wine 101 Course @ 75% OFF with the purchase of Wine Folly: Magnum Edition.
Shop Now
It smells like the ichor of wild boars with powerful notes of cranberry sauce, sweet pomegranate, and plums.

Madeline Puckette
Fruit: Cranberry Sauce, Sweet Pomegranate and Red Plums
Other: Wild Boar, Raw Game, Iron Pan, Kale
Oak: Vanilla, Sweet Plum Sauce
Tannin: Medium
Acidity: Medium
Body: Medium Plus to Full
INFO: Bitterness is a common attribute to indigenous Italian wines and the Italians have embraced it with a beautiful word: Amaro.
Chef's Pairing: Garganelli alla Coda
Shortly after putting his nose up to the glass chef Mike Easton started to get hungry for oxtail. In Rome, there is a popular food movement called Cucina Povera or 'Poor Kitchen' which is a style of cooking of the peasants. Garganelli is a type of tubular pasta that's made by rolling flat squares of pasta around a stick. You'll see this dish made with both rabbit and oxtail, but you can use any gamey rich meat (offal). The marinade uses red wine, tomato paste and usually employs winter spices including rosemary, sage, clove, allspice or juniper berries.
Garganelli alla Coda made with oxtail. Mike Easton, Il Corvo, Seattle
Herbaceous and savory wine like Cesanese will taste way more fruity when paired with a rich meaty dish. You can do this even if you're a vegetarian by using the meatier veggies including lentils, truffles, kale and chestnuts (all Lazio regional foods).
---
Cesanese Wine History & Info
It's quite possible that Cesanese was the red wine of ancient Rome because the grape is quite old and existed in the region during pre-Roman times.
However, there is no physical records to prove this, just ampelography (the study of grapes)
Evidence of Cesanese dates back to the 1400s from agricultural contracts that were preserved in local monasteries.
There are only about 1500 acres of Cesanese vineyards left around Rome and the province of Frosinone in Lazio, Italy.
Cesanese del Piglio DOCG is considered the best Cesanese wine, made with 100% Cesanese grapes from the Frosinone Province.
The Cesanese del Piglio region has about 680 acres of vineyards and is located 30 miles East of Rome in the Ernici Hills.
Cesanese del Piglio grows alongside olive and chestnut orchards in poor clay soils that are a dark red color due to high iron oxide content.
Cesanese wines used to be produced as sweet red still and sparkling wines with fruity strawberry notes.
Expert Info:
There are two different genetically unique Cesanese species. One is called "Cesanese Comune" or "Local Cesanese" and the other is called "Cesanese d'Affile." Most Cesanese wines are a blend of both grapes. Finer versions typically have a higher proportion of Cesanese d'Affile although, most winemakers will tell you that the
vineyard location
is the more important factor.
---
Lazio Cuisine More Details
Flickr:
Wild Board Salami
Flickr:
Street market in Rome.
The olives trees that grow in Piglio produce a sage green colored olive oil that's peppery.
A common delight of the area is wild boar salami.
Vegetables used in Lazio cuisine include mushrooms, artichokes, chestnuts, kale, garlic, shallots, and and lentils.
A famous chestnut honey comes from the Ernici mountains in Lazio. The honey is a dark red brown and bitter sweet from the chestnuts. Find it here.
Marzolino (Marzellino) cheese is the regional cheese of the area. It's typically a blend of sheep and cow's milk that is soft, low in fat and has a sweet taste. It's hard to find outside of Italy, so you can substitute Crescenza or Stracchino or a very young Pecorino.
Another favorite dish of the region Peperonata alla Romana is slow cooked sweet peppers, tomatoes, onions, anchovies and garlic –perfect with a hunk of Roman Libum bread.
---
Lazio Region Bigger Picture
Anagni is a hilltop Medieval city. Historically a retreat for Roman emperors. source: Flickr
One of the most interesting towns in the area is Anagni, which is a Medieval city built within ancient Roman walls. Anagni was a suburban getaway for Roman emperors favored by Marcus Aurelius and Commudus. Before the Rome and the Romans, the region was a hot spot for the Italic tribes of the Etruscans and Hernicians.
Sources:
Mike Easton at Il Corvo (currently featuring the dish above)
Corti dei Papi Cesanese