Chianti wine is as essential to Italian cuisine as extra virgin olive oil. There are few pleasures as distinct as a tart, spicy, herbaceous Chianti wine next to a plate of sliced prosciutto or pasta al Pomodoro.
Find out more about this savory delight, including the levels of the official classification and how to pick out quality.
What is Chianti Wine?
Why is Chianti more written about, drank, and talked about than any other Italian wine in history? What makes Chianti perfect food wine? We're going to tackle these questions and more in our exploration of Chianti wine.
Chianti wine ("kee-on-tee") is a red blend from Tuscany, Italy, made primarily with Sangiovese grapes.
Common tasting notes include red fruits, dried herbs, balsamic vinegar, smoke, and game. On the high end, wines offer notes of preserved sour cherries, dried oregano, balsamic reduction, dry salami, espresso, and sweet tobacco.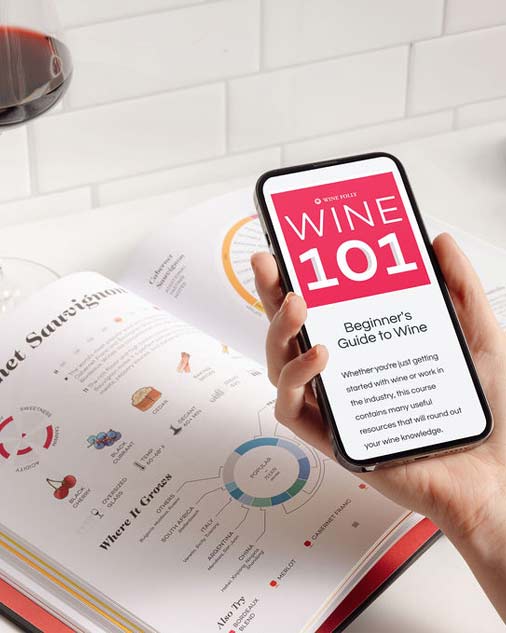 Buy the book, get a course.
Get the Wine 101 Course ($50 value) FREE with the purchase of Wine Folly: Magnum Edition.
Shop Now
---
Chianti is Sangiovese
The Sangiovese that forms the majority of the Chianti blend is a thin-skinned grape, so it makes translucent wines.
In the glass, Sangiovese displays a ruby red color with flashes of bright burnt orange –a hue commonly associated with aged wines.
Besides Sangiovese, Chianti wines may contain wine grapes like Canaiolo, Colorino, Cabernet Sauvignon, and even Merlot. White grapes were once allowed in Chianti Classico but not anymore.
The best examples of Chianti are a visceral tasting experience. Imagine the smells as you walk through an Italian grocery store: at the entrance, there's a bowl of preserved sour Amarena cherries.
You walk under bunches of dried oregano, past a wall of dark, aromatic balsamic vinegar, then pass a counter where dry salami is being sliced. At the bar, dark espresso is dripping into a ceramic tazza. A whisper of sweet tobacco wafts in the door from the pipe of the old man outside.
Chianti smells and tastes like Italy. There will be a little coarseness and tartness on the palate, but these aren't flaws, they are classic characteristics of Sangiovese.
Learn from a real tasting of Chianti through the Wine Tasting Challenge: Chianti.
---
Chianti Food Pairing
Chianti has savory flavors paired with high acidity and coarse tannin, which makes it an incredible wine with food. The high acid cuts through richer fatty dishes and stands up to tomato sauces (pizza!).
All that dry, powdery tannin makes Chianti wines ideal with dishes that use olive oil or highlight rich pieces of meat such as Bistecca Alla Fiorentina.
Other food pairing ideas for Chianti
Tomato-based pasta sauces are fantastic, such as the Tuscan slow-simmered Ragù al Chingiale made with wild boar. Pizza is another favorite pairing and works with all styles of Sangiovese, from lighter Chianti wines to richer Brunello di Montalcino.
A personal favorite is Bistecca Alla Fiorentina, a dry-aged porterhouse steak from the grass-fed and grain-finished Chianina cattle. When done properly, it's one of the most succulent meat dishes on the planet.
---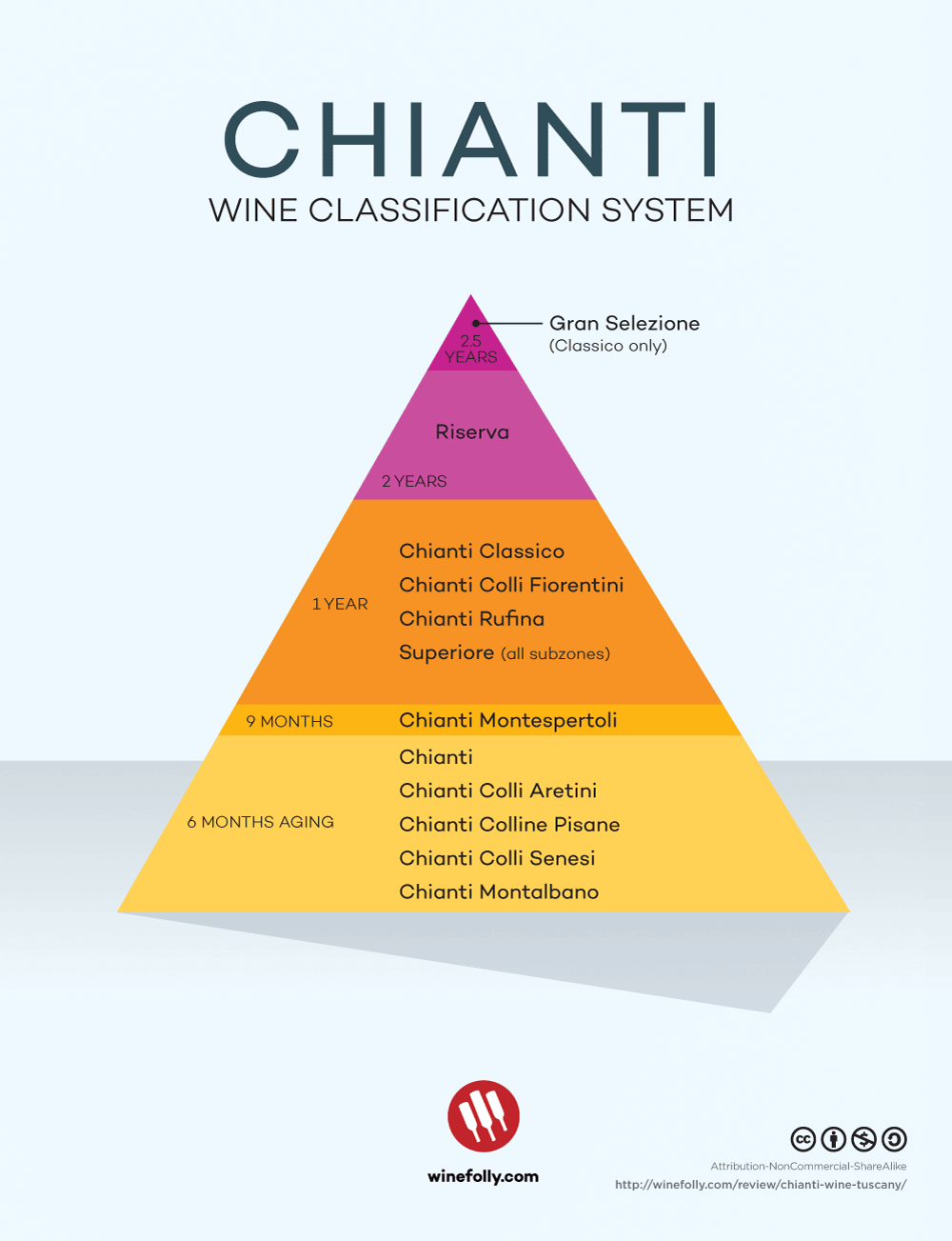 Aging & Classifications of Chianti Wine
There are a lot of taste differences in Chianti wine when you age it.
General Aging
Chianti: Aged for 6 months. Young, simple, tart Chianti.
Superiore: Aged for a year. Slightly bolder wines with smoother acidity.
Riserva: Aged for 2 years. Usually, the top wines of a Chianti producer.
Gran Selezione: Aged for at least 2.5 years (only used in Chianti Classico). Top wines from Chianti Classico.
Chianti has several sub-regions. The original is Chianti Classico. Each subzone has different minimum aging requirements. Some say that this is a sign of quality.
Colli Senesi: Aged for 6 months.
Colline Pisane: Aged for 6 months.
Colli Aretini: Aged for 6 months.
Montalbano: Aged for 6 months.
Montespertoli: Aged for 9 months (min.)
Classico: Aged for a year (min.)
Rùfina: Aged for a year (min.)
Colli Fiorentini: Aged for a year (min.)
---
Tuscany Wine Map
Chianti is a small region within Tuscany, but a wine calling itself "Chianti" is allowed to be made almost anywhere in Tuscany. Because of this, Chianti has 8 sub-zones.
The most faithful examples come from Chianti Classico, which is the name given to wines from the original historical boundaries. Both Chianti Classico and Chianti Rufina are likely to be of higher quality since they are made in smaller quantities from distinct historical areas.
The most serious examples of Chianti Classico come from a small group of villages from Siena in the south to the hills above Florence. The Classico region's warm climate and clay-based soils, such as Galestro marl and Alberese sandstone, produce the boldest Chianti wines.
TIP: A wine labeled "Chianti" for $7-$11 is most likely made in bulk from a larger area and won't have the classic taste of a great Chianti.
---
Get The Italian Wine Map
Learn more about Italian wine with an overview of Italy's 20 wine regions including the most popular wines and grape varieties.