Both regions are found in northwest Italy and they both produce wine with Nebbiolo grapes. What are the differences in Barolo vs Barbaresco?
This film is an inspiring look at two of the most historically important wine regions of Italy. It was put together by Master Sommelier, Geoff Kruth, for Guild Somm.
The Wines of Barolo and Barbaresco from guildsomm
Want to try a Barolo or Barbaresco? Check out the tips below
Barolo vs Barbaresco
Beyond the subtle differences in tradition and culture in these to locales, here are the physical differences that result in different tasting Nebbiolo wines in both locations.
Different Soils
The main difference in Barolo and Barbaresco is in the soils. Barbaresco's soil has more nutrients and, because of this, wines don't exude as much tannin as Barolo. Both wines smell of roses, perfume, and cherry sauce — and they both have a very long finish. The difference is in the taste on the mid-palate; the tannin won't hit you quite as hard in the Barbaresco.
What type of soil grows Nebbiolo best?
If we look at the composition of the soils of Barbaresco and Barolo, they both contain a fair amount of calcareous marl. Calcareous marl is basically a lime-rich clay-based soil.
The lime adds a higher pH (more alkaline) which, interestingly enough, makes the vines produce Nebbiolo grapes with a lower pH (ie more acidic)! Acidity is a very important component in wines that age well.
Different Rules
Barolo requires wines be stored for 3 years before release, whereas Barbaresco requires just 2 years. This could be because of the high tannins in Barolo that require the wine to age longer before being put on the market (and ultimately drunk by thirsty wine people like you and me).
Aging does more than just reduce tannins though, it also changes the way the fruit flavors taste in a wine.
Barolo 3 years
Barolo Riserva 5 years
Barbaresco 2 years
Barbaresco Riserva 4 years
Different History
Barolo is actually about 50 years older than Barbaresco and was named after a noblewoman, the Marchesa de Barolo, in the 1850's.
Back when Barolo got its name, it was a very different wine. Most Barolo was made as a richly sweet, fruity red wine. It was much closer to ruby Port or a very fruit-forward Shiraz. Since sweetness complements the astringency of high tannin, this kind of makes sense!
Barbaresco got its start in 1894, taking a similar stylistic approach to Barolo with their wine. Both regions suffered greatly to Phylloxera and could barely make wines during the World Wars.
It wasn't until after World War II that a family producer called Gaia ('guy-yuh') began to bring quality back to Barbaresco wines. Another great step towards quality was the establishment of the Produttori del Barbaresco (a consortium of small producers) in 1958.
---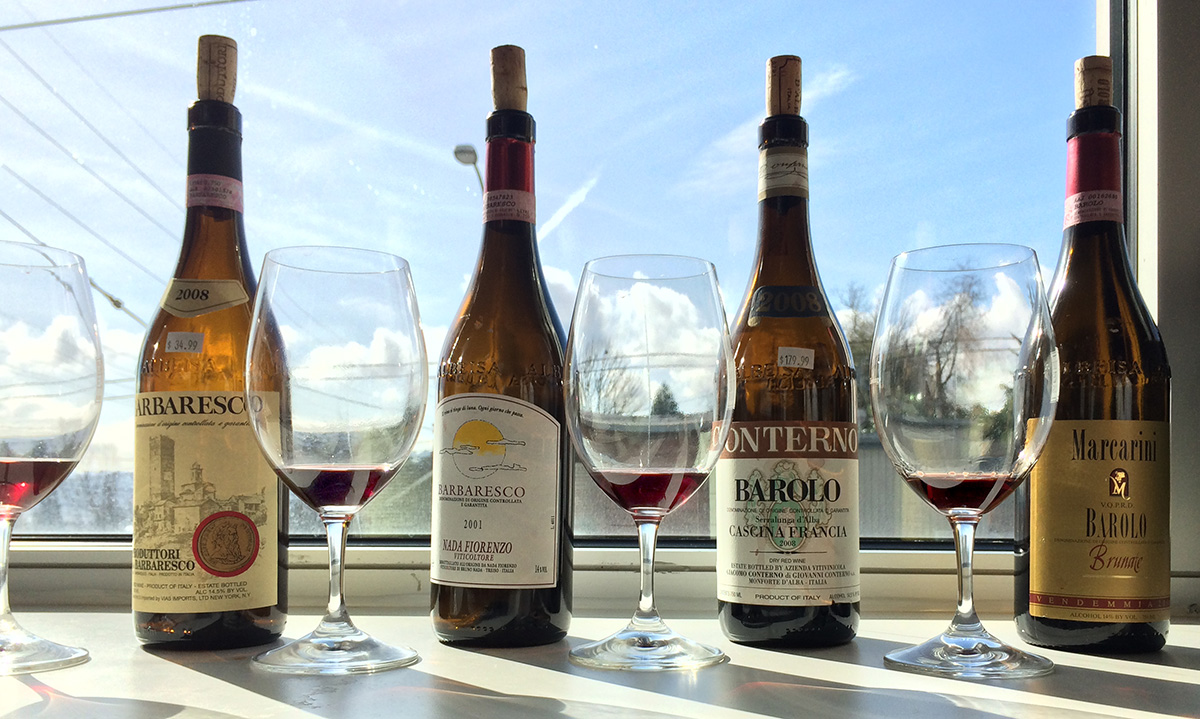 On Buying Nebbiolo
When buying wines from Piedmont, note that the vintage you buy matters. Keep these basic tips in mind:
Best Years for Barbaresco and Barolo Wines
2018 Besides a bout of hailstorms, overall production was considered good to great. Promising even with value wines.
2017 A truncated growing season due to frost and hot weather. Be warned of imbalance.
2016 Much like 2015 but not as blown out, these will cellar better.
2015 Idyllic vintage producing bombastic (albeit, less acidic) wines.
2014 A wet finish to this season made for challenging conditions. Barbaresco faired better.
2013 A cooler vintage producing more aromatic, higher acidity wines. Great for the cellar.
2012 A vintage with highly structured (eg tannic), savory wines.
2011 Rich vintage, many are drinking well now
2010 Elegant vintage, should be great for long-term aging
2007–2009 Warm vintages producing rich styles that might not age as well.
2006 A very structured (e.g. tannic) vintage, good for cellaring
2004-2005 Drinking great now
2003 very hot year, but because of Nebbiolo's inherent high acid and tannin structure, the heat made for liquorous and generous Nebbiolos from good producers.
2002 not a good vintage, hailstorms
---
Rina's Pick: Best Value Barolo
It's not uncommon to see prices for these 2 Piedmont wines reaching towards the $90+ mark. So we asked Sommelier, Rina Bussell, for some value-driven options to explore these great areas.
Rina's Pick: Best Value Barbaresco
---
Alternatives to Barolo and Barbaresco
Langhe Nebbiolo often gets made by the same producers who make Barolo and Barbaresco.
The primary difference is in the location of where the grapes are sourced. Some Langhe wines are from the less desirable slopes or from areas outside of the Barbaresco and Barolo zones. Either way, on good vintage years you'll find these Langhe Nebbiolo wines to have a great value and taste but without as much tannin.
Examples:
Vietti "Perbacco" Nebbiolo d'Alba
Ettore Germano Langhe Nebbiolo
Castello di Verduno Langhe Nebbiolo
Luciano Sandrone "Valmaggiore" Nebbiolo d'Alba
---
The Wines of Piedmont
There are 59 designations in Piedmont, many of which produce Nebbiolo. Discover new gems!