This week, we're tasting Pinot Grigio: one of Italy's most storied white wines. When you think of Italian wine, your mind immediately conjures up some of the biggest and boldest reds in the wine world: Chianti, Barolo, Super Tuscans.
Italy has staked its well-earned reputation on some of these wines, but anyone who wants to see the big picture of Italian wine, but only sees the reds without considering a wine like Pinot Grigio? Well, they're only getting part of the picture.
What is the Tasting Challenge? The challenge is a way to improve your wine palate each week with 34 wines from 12 countries — The Wine Tasting Challenge.
Though originally known as Pinot Gris in France, the Italians of the northernmost parts of their country have made Pinot Grigio into one of the most planted white grapes in Italy.
While France's Pinot Gris is known for its fleshy fruitiness (often using botrytis to make sweet wines), Italy's Pinot Grigio is far better known as a totally dry wine, with bitter notes and high acidity.
And while it's best known as a white wine, the grapes of Pinot Grigio are actually quite pink, leading to the occasional use of this grape as a rosé.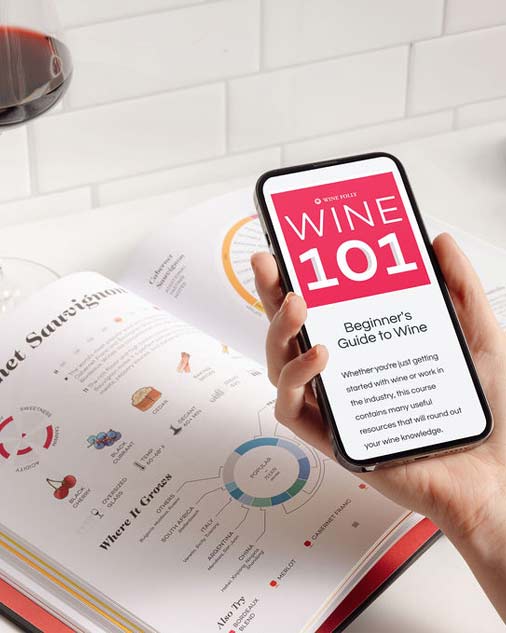 Buy the book, get a course.
Get the Wine 101 Course @ 75% OFF with the purchase of Wine Folly: Magnum Edition.
Shop Now
And while that would be a fun wine to seek out, for this challenge, we kept our eyes on the prize and selected a bottle from Italy's Trentino-Alto Adige region, where some of the best Pinot Grigio in the world is produced.
---
2019 Castelfeder Mont Mès Pinot Grigio
Look: Pale straw.
Aromas: Lemon, peach, honeydew, almond, and wet gravel.
On The Palate: Lucious stone fruit initially, which transforms to a more tart and bitter citrus peel on the finish. Also a touch of flint!
Food Pairing: Lemon pepper chicken with this particular Pinot Grigio would be amazing. Seafood would also be brilliant.
---
What We Learned About Italian Pinot Grigio
So, there's a reason that so much Italian Pinot Grigio comes from the Trentino-Alto Adige region, and it's easy to assume that this has everything to do with climate.
When you get that far into northern Italy, you're far away from the warm and sweaty mediterranean climate that most people associate with Italy. In fact, you're officially in Alpine territory.
That cooler climate leads to bracing, high acidity grapes that exhibit some terrific minerality. In many ways, they couldn't be less like the popular red wines made further south. That's some incredible variety.
If this sounds a lot like something along the lines of Austrian Grüner Veltliner, that's probably because this region butts right up against Austria. In fact, German is a more commonly spoken language in Alto Adige than Italian!
With vineyard elevations that can climb as high as 3,300 feet, it stands to reason that their grapes are going to be marathon runners and not sprinters: slow to grow, but worth the wait.
---
Last Impressions
Italy is well known for those bigger, bolder reds: and there's a good reason for that. Some of the best red wines in the world come out of Italy. But if there's anything that we took from today's challenge, it's this: don't sleep on Italian white wine.
That is one huge country. And that level of breadth leads to many different climates, cultures, and so much wine variation that if you drank a new Italian wine every week, it'd take you two decades to get through all of them.
That's a whole lot of vino.
---
What Pinot Grigio did you go with? Or should I say "Pinot Gris?" Was yours fresh and juicy, or steely and sharp? Let us know in the comments below!