You probably already knew that Pinot Gris and Pinot Grigio are the same wine.
What's surprising is that this grayish-purple grape is also a mutation of Pinot Noir. Pinot Gris is famous for its refreshing citrus flavor and zesty acidity. Learn more about Pinot Gris wine; its taste and some great food pairing recommendations.
Want to know Pinot Grigio Calories?
Guide to Pinot Gris Wine
Is there a difference between Pinot Grigio and Pinot Gris? No, not technically speaking. They are the same.
Since the grape has had cultural significance in both Italy and France, we use the words 'Pinot Gris' and 'Pinot Grigio' interchangeably throughout this article.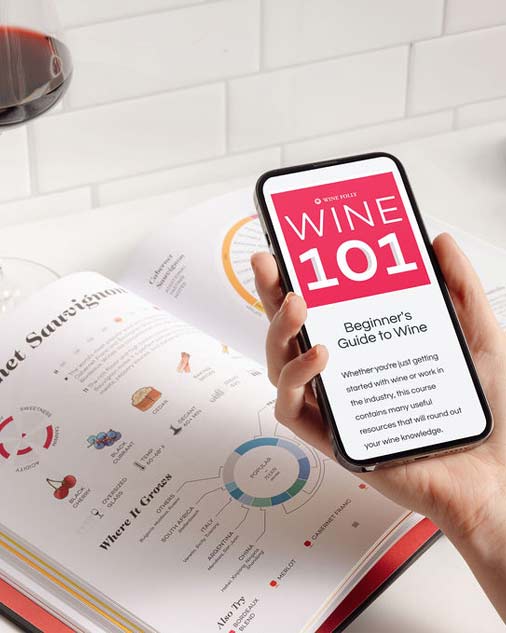 Buy the book, get a course.
Get the Wine 101 Course @ 75% OFF with the purchase of Wine Folly: Magnum Edition.
Shop Now
Pinot Grigio Wine Taste
The primary fruit flavors in Pinot Grigio are lime, lemon, pear, white nectarine and apple. Depending on where the grapes are grown, Pinot Grigio can take on faint honeyed notes, floral aromas like honeysuckle, and a saline-like minerality.
Pinot Grigio doesn't have a strikingly unique flavor the way Moscato or Riesling do, but it does offer a refreshing twinkle of acidity and a weighty feeling on the middle of your tongue – like licking wax paper.
Stump the Sommelier: Pinot Gris is a commonly feared grape variety in Sommelier Blind-Tasting Exams. Many wine experts identify Pinot Gris through the characteristics it doesn't have.
Italian Pinot Grigio Usually totally dry with brilliant acidity with a bitter almond note
French Pinot Gris Fleshy and more unctuous with faint honey notes from botrytis
American Pinot Grigio Often with more exaggerated fruit flavors and with less acidity than European counterparts
---
Is Pinot Grigio Dry or Sweet?
It's Dry: Pinot Grigio often tastes less sweet than Chardonnay because of high acidity.
Exceptions to the rule: There are two examples where Pinot Grigio is sweet. One example is cheap supermarket Pinot Grigio designed to woo mid-week wine drinkers. The second (and considerably more rare) are the slightly sweet Pinot Gris from Alsace.
Alsace Pinot Gris wines must be made with 100% Pinot Gris grapes and they taste very complex. You'll discover spice notes of cinnamon, honey, clove, meyer lemon and ginger paired with a looooong tingly aftertaste. Look for the words 'Vendages Tardives' as a late harvest (even sweeter) dessert wine option.
Want to explore the major white wines of the world? Check out the article on Chardonnay and Sauvignon Blanc too.
---
Pinot Gris Wine Characteristics
Fruit Flavors (berries, fruit, citrus)
Lime, Green Apple, Lemon, Meyer Lemon, Pear, White Nectarine, White Peach
Other Aromas (herb, spice, flower, mineral, earth, other)
Almond, Honeysuckle, Honey, Saline, Clove, Ginger, Spice
Acidity
Medium High – high
Serving Temperature
"Ice-Cold" 45 ºF (7 ºC)
Similar Varieties
Albariño, Pinot Blanc, Unoaked Chardonnay, Grenache Blanc, Vinho Verde, Silvaner, Muscadet, White Pinot Noir, Chenin Blanc
Synonyms
Grauburgunder (Germany), Grauer Burgunder (Austria), Tokay d'Alsace (old name used in Alsace, France)
---
Pinot Gris Food Pairing
Go fresh. Pinot Gris with its zesty and refeshing acidity pairs really well with fresh vegetables, raw fish and lighter meals. Fish and shellfish are classic pairing partners with Pinot Gris.
Need some ideas? Try ceviche, sushi, moule-frites, or even light flaky tilapia with cream sauce. Pinot Gris from the US and Australia can stand up to richer dishes (like cream) because of their body and often heightened alcohol level.
Try not to go too spicy with your seasonings unless you have a bottle of Alsace Pinot Gris close by.
Meat Pairings
Fish including Tilapia, Scallops, Sea Bass, Perch, Sole, Haddock, Trout, Cod, Redfish, Halibut, Snapper, Mussels, Clams, Oysters. White meats including Chicken and Turkey. Cured/spiced meats made from pork and duck.
Spices and Herbs
Parsley, Mint, Tarragon, Thyme, Fennel, Chives, and Spices including White Pepper, Coriander, Fennel, Turmeric, Saffron, Ginger, Cinnamon, Clove, Allspice
Cheese Pairings
Look for semi-soft to firm cow's and sheep's milk cheeses. Gruyere, Muenster, Grana Padano
Vegetables & Vegetarian Fare
Fresh vegetables and salads as well as braised and well-spiced greens. Use shallot, garlic and ginger as a flavor base. Cucumber, yellow squash, celery, onion, parsnip, jicama, kale, green apple, green melon, white beans, cauliflower, broccoli
---
Learn More About Pinot Grigio
Discover the depths of this zesty and refreshing wine through our Types of Pinot Grigio breakdown.