Pinot Grigio is not just the zippy mouth-moisturizer we all assume. There are actually 3 main types that have some notable differences between them. Let's take a closer look at the 'gray' grape, Pinot Gris.
You'll never think of Pinot Grigio the same again.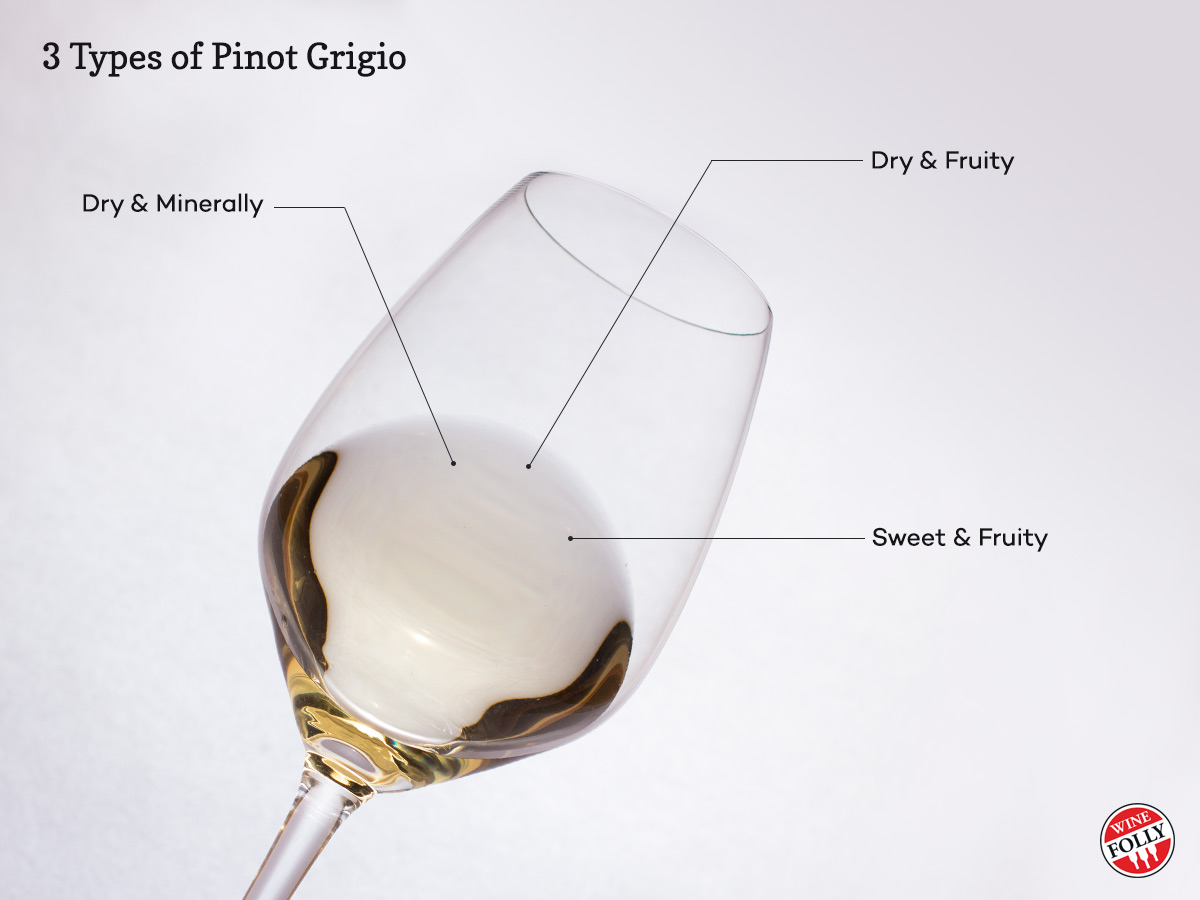 The 3 Main Types of Pinot Grigio
Minerally & Dry
Fruity & Dry
Fruity & Sweet
By the way, the names "Pinot Gris" and "Pinot Grigio" are technically interchangeable. Pinot Gris means "gray Pinot" in French and Pinot Grigio is the Italian name.
---
Minerally & Dry Pinot Grigio
The leanest styles look to the Alps for inspiration. This is where you'll find Pinot Grigio growing in steep alpine valleys from Italy through Austria, Slovenia, and Hungary. The mountains are a powerful force on the agriculture here, and it ensures grapes maintain high acidity. The resulting wines are zippy and lean.
This style of Pinot Grigio pairs well with things like mussels, french fries, and hot summer days. For many, this is the quintessential Pinot Grigio–loved for its simplicity, citrus notes, and somewhat saline quality.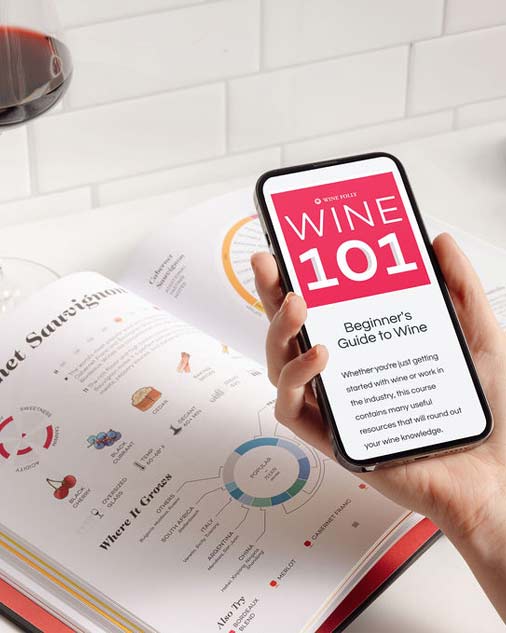 Buy the book, get a course.
Get the Wine 101 Course @ 75% OFF with the purchase of Wine Folly: Magnum Edition.
Shop Now
Seek Out The Style:
For lean and dry Pinot Grigio, check out wine regions with a cooler climate. Here are some great places to start:
Italy: Look for wines labeled as "Pinot Grigio" from cooler climates including Alto Adige, Trentino, and Friuli-Venezia Giulia.
Germany: It's common to find wines labeled as "Grauburgunder" and look into the regions of Pfalz, Rheinhessen, and Rheingau.
Austria: Tiny plantings in Austria can be found from parts of Burgenland and the Steiermark. Labeled as Pinot Gris or "Grauburgunder."
Canada: This country shows great potential with wines from the Okanagan and Ontario.
Others: If you're in a specialty wine shop look into Chile, Hungary, Slovenia, and Romania.
---
Fruity & Dry Pinot Gris
Winemakers often choose the word "Pinot Gris" to describe a more fruit-driven style of this variety. Expect flavors of lemon, yellow apple, and white peach with a slightly richer, more oily texture.
Besides just the fruity aromas, the wines have less intense acidity and more of an "oily" textured mouthfeel. This is because winemakers often add a special bacteria after the alcohol fermentation converts sharp-tasting acids to smooth-tasting ones in a process called Malolactic Fermentation.
Seek Out The Style:
With riper fruit aromas we can expect to find this style from wine regions with a warmer climate.
United States: Great options include California, Oregon, and Washington State. By the way, Pinot Gris is Oregon's second-most important wine grape.
Oceania: Both Australia and New Zealand have sizable plantings of Pinot Gris offered in a more fruity style.
Others: While harder to find, both South Africa and Argentina offer Pinot Gris in a richer, fruitier style.
---
Fruity & Sweet Pinot Gris
The most famous sweet Pinot Gris come from Alsace, France. For centuries Alsace attempted to recreate the intensely sweet white wine called Tokaji ("toe-kye") drunk by kings in Transylvania and the Ottoman empire (now Hungary). In fact, up until 2007, Alsace could use the words "Tokay d'Alsace" on their bottles of Pinot Gris!
Today, Alsace is one of the only regions in the world making a sweet style of Pinot Gris. With flavors of sweet lemon candy, honeycomb and honey crisp apples, winemakers apply very advanced winemaking techniques to increase the mouthfeel texture and use late harvest and noble rot grapes to maximize the flavor potential.
Seek Out The Style:
In Alsace, here's what to look for on the label:
Grand Cru: There are 51 Grand Cru vineyards in Alsace which offer bolder styles of Pinot Gris.
Vendage Tardives: This means "late harvest" and means grapes were harvested late which increases sweetness levels.
Sélection de Grains Nobles: This basically means "our best ever" and is a very rare style of Alsatian Pinot Gris which uses grapes selected with noble rot.
BONUS: A Rosé Pinot Grigio called Ramato
It might surprise you to know that there is also a rosé Pinot Grigio that uses the pale purple skins of the grape to stain the wine a pale copper hue. Producers typically macerate the juice in the skins, –just like rosé– for about 24 for 36 hours.
Ramato wines can be found in Friuli, Italy. Depending on the producer in Friuli it may offer up nuances of white raspberry, leather, sour cherry and either a meaty note or a dried cranberry sweetness on the finish.
Also, there are a few wineries still experimenting with Pinot Grigio and barrel-aging, often using chesnut barrels which is what is common along the Friuli and Slovenian border.