Learn the secrets of fantastic Riesling; its origins, its flavor profile, and some classic Riesling food pairings.
Riesling wine has a colorful German heritage. Today, it has emerged as one of the most collectible white wines among top connoisseurs around the world.
---
How does a seemingly vapid sweet white wine capture
the hearts of serious wine enthusiasts?
---
The Wine Taster's Guide to Riesling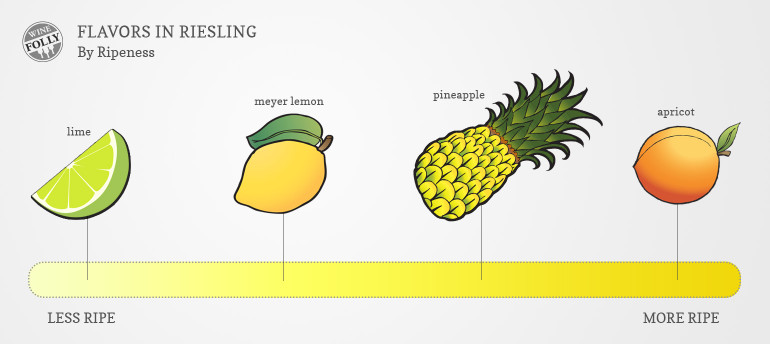 The Taste of Riesling
Tasting Riesling starts with intense aromas that rise from the glass (even when the wine is ice cold). This aromatic wine offers primary fruit aromas of orchard fruits like nectarine, apricot, honey-crisp apple, and pear. Besides fruit, you'll often smell things like honeycomb, jasmine, or lime peel, along with a striking aroma that smells similar to petrol or petroleum wax (a natural compound called TDN). On the palate, Riesling has high acidity, similar to the levels in lemonade.
How to Find a Sweet or Dry Riesling
Traditionally, most Riesling wines are on the sweeter end of the spectrum, in order to balance the wine's high acidity. Nowadays, there is also a deal of dry (as in, not sweet) Riesling for those who prefer a leaner-tasting wine.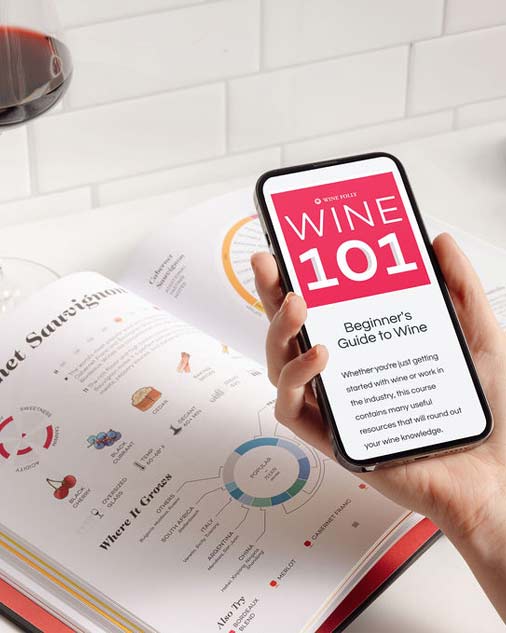 Buy the book, get a course.
Get the Wine 101 Course @ 75% OFF with the purchase of Wine Folly: Magnum Edition.
Shop Now
Dry Riesling: Riesling from Alsace, "Trocken" German Riesling, most VDP German Riesling, Washington State Riesling labeled "dry," most New York Riesling, and most Australian Riesling from Clare and Eden Valleys.
Sweet Riesling: German Pradikat Riesling (including Kabinett, Spätlese, etc), most value-driven Riesling (sub-$10) and Riesling labeled "sweet" or "feinherb."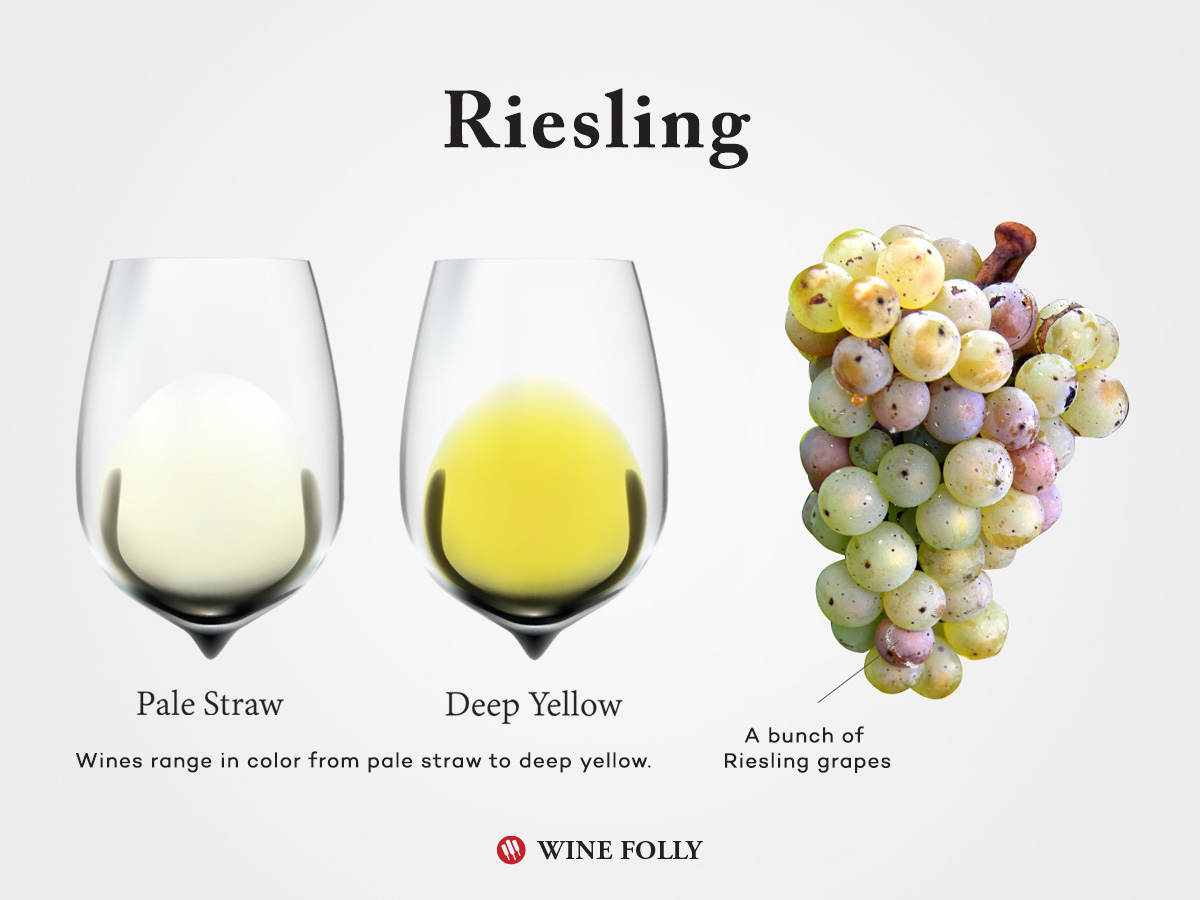 Riesling Wine Characteristics
FRUIT FLAVORS (berries, fruit, citrus)

apricot, nectarine, peach, apple, pear, pineapple, lime, Meyer lemon

OTHER AROMAS (herb, spice, flower, mineral, earth, other)

honey, honeycomb, beesxwax, petrol, ginger, citrus blossom, rubber, diesel fuel

AGED FLAVORS

diesel, petrol, lanolin

ACIDITY

High

SERVING TEMPERATURE

"Fridge Cold" 43 ºF (6 ºC)

SIMILAR VARIETIES

Muscat Blanc, Gewürztraminer, Chenin Blanc, Pinot Blanc, Loureiro (Portugal), Torrontés (Argentina), Malvasia Bianca (Italy)

BLENDING

Rarely is Riesling blended with other grapes unless it's a Liebfraumilch ("maiden's milk") or other bulk sweet table wine. Avoid getting tricked into spending more for "Piesporter Michelsberg," "Niersteiner Gutes Domtal," "Zeller Schwarze Katz" (aka "Black Cat"), "Kröver Nacktarsch," and "Hock." These are mostly bulk wines and should be very affordable.
The Wine of Medieval Times
Hieronymus Bock mentioned Riesling in his delightful graphic book Herbal written in 1546. By this time Riesling had already been mentioned in various estate record books for nearly 100 years under the name Rießlingen. Ampelography research points to the Rhine River region in Germany/Alsace as the birthplace of Riesling. The grape is a natural derivative of Gouais Blanc, an esoteric French grape that is grandmother to many of today's most well-known wines, including Chardonnay, Riesling, Petit Verdot, Chenin Blanc, and Muscadelle.
The best Rieslings grow along the Mosel River in Germany on steep south-facing hills. While most people think of Riesling's sweetness, experts pick out a distinct flavor of slate rocks, which are the type of soil (if you can call it that) where Mosel Riesling grows.
Riesling Food Pairing
Think Spice. Because of Riesling's sweetness and acidity, it makes the perfect accompaniment to spicy food. Strong Indian and Asian spices are a perfect match with Riesling. A classic pairing with Riesling is spiced duck leg.

Meat Pairings
Duck, Pork, Bacon, Chicken, Shrimp, and Crab
Spices and Herbs
Highly spiced and aromatic herbs including Cayenne Pepper, Ginger, Clove, Cinnamon, Allspice, Tumeric, Madras Curry, Sichuan Pepper, Shallots, Soy Sauce, Sesame, Marjoram, Basil, Rice Vinegar, and Teriyaki Sauce.
Cheese Pairings
Try it with less stinky and delicately flavored soft cow's milk cheese and dried fruit.
Vegetables & Vegetarian Fare
Roasted vegetables and veggies with natural sweetness including Coconut, Red Onion, Bell Pepper, Eggplant, Tempeh, Squash, and Carrot.
---
Only 89,000+ acres of Riesling planted worldwide.
Where Does Riesling Come From?
Germany

56,000 acres

Pfalz, Mosel, Rheinhessen

Australia

10,300 acres

Clare Valley, Eden Valley

United States

9,000 acres

Washington State, California, Finger Lakes (10% of area)

France

8,700 acres

Alsace

Austria

4,600 acres

New Zealand

1,830 acres

Gisbourne, Waitaki Valley, Wairarapa, Marlborough, Central Otago, Nelson, Canterbury, Waipara Valley