Did you know? There are two different styles of Chardonnay wine.
If you like the idea of creamy, rich white wine in your glass, you'll love the classic style of oak-aged Chardonnay wine.
On the other hand, if you prefer your wines to be lean, minerally and dry, then your perfect Chardonnay is the un-oaked kind.
How can a single grape offer such a variety of flavors? Well, winemaking and the climate where the grapes grow have everything to do with the answer.

Chardonnay Wine Taste Profile
FRUIT FLAVORS

(berries, fruit, citrus)

Lemon, Apple, Pear, Pineapple, Jackfruit, Passionfruit, Peach, Fig

OTHER

(herb, spice, flower, mineral, earth, other)

Apple Blossom, Lemon Zest, Citrus Peel, Celery leaf, Beeswax, Lemon balm, Honeysuckle, Wet flint rocks, Saline Solution, Vanilla Bean, Almond, Jasmine

OAK FLAVORS

(flavors added with oak aging)

Vanilla, Baked Tart, Butter, Pie Crust, Caramelized Sugar, Creme Brulee, Dill, Coconut, Praline

CHARDONNAY SERVING TEMPERATURE

Unoaked: 48 ºF (9 ºC)
Oaked: 54 ºF (12 ºC)

ACIDITY

Medium Low (oaked warm climate) – Medium High (unoaked cool climate)

SIMILAR VARIETIES

Marsanne, Roussanne, Viognier, Semillon, Fiano (Italy), Antão Vaz (Portugal)
A Note About Ripeness and Chardonnay Wine
A very ripe Chardonnay will have flavors more towards tropical fruits like pineapple, guava and mango. A barely ripe Chardonnay will have green apple and lemon flavors.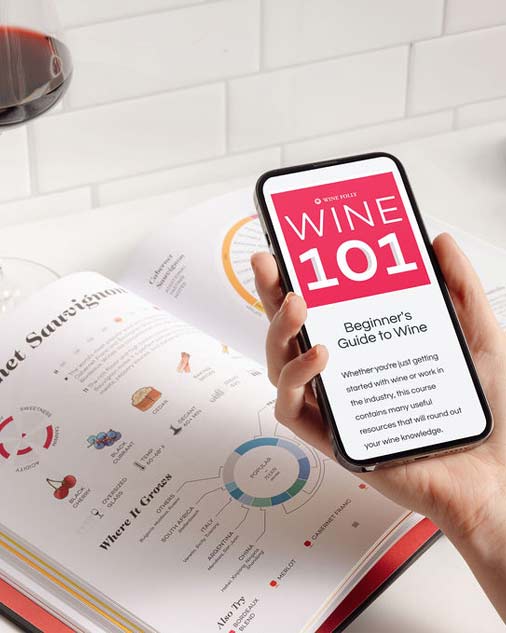 Buy the book, get a course.
Get the Wine 101 Course @ 75% OFF with the purchase of Wine Folly: Magnum Edition.
Shop Now
Why Love Chardonnay?
You don't have to be a Chanel-clad clubhouse member to love Chardonnay. Why? Because Chardonnay is the most diverse –and most planted– white wine grape in the world. It's used for everything from rich Sonoma Chardonnay to the light-and-zesty 'Blanc de Blancs' Champagne. Get to know the wide variety of styles of Chardonnay and pinpoint the one that's perfect for you.
Did you know? California has more plantings of Chardonnay than any other grape?
---
Why do some Chardonnays taste buttery?
The smell of vanilla, butter, coconut and dill are all attributes of oak-aging. However, the texture that some Chardonnays have that can be described as oily, creamy, smooth, or waxy are from a special kind of winemaking method called malolactic fermentation.
What is Malolactic Fermentation?
After the wine is fermented, an additional fermentation called Malolactic Fermentation (MLF) will give wine an oily texture. MLF turns tart malic acid (the acid in apples) to smooth lactic acid (the acid in milk).
---
Chardonnay Food Pairing
Soft Cheeses
Try semi-soft mild goat and cow's milk cheeses such as Humboldt Fog.
Fish with Herbs
Herb Crusted Halibut with Minted Sweet Pea Purée.

Meat Pairings
Chicken Breast, Turkey Breast, Pork Loin, Halibut, Trout, Cod, Sturgeon, Oily Flaky Fish, Atlantic Salmon, Lobster, Crab, Scallops, Shrimp, Clams, Oysters (unoaked)

Spices and Herbs
Tarragon, Parsley, Thyme, Lemon Zest, Marjoram, White Pepper, Shallots, Poultry Seasoning

Cheese Pairings
Soft – Semi Soft Cow's Milk Cheese and Goat Cheese.

Vegetables & Vegetarian Fare
Yellow Squash, Peas, Zucchini, Asparagus, Sun Chokes, Seitan, White Mushrooms, Truffles, Chanterelles, Almonds

---
Buttery Chardonnay
Oaked Chardonnays are rich, full-bodied and have additional flavors of vanilla, butter and even caramel from the oak. A cool climate, buttery Chardonnay will have more citrus flavors versus a warm climate Chardonnay, which will have more tropical fruit flavors.
Buttery Chardonnay Brands
The Best of the Best Marcassin, Meursault(Charmes, Perrieres, Genevrieres), Montrachet, Far Niente, Cakebread, Ramey, Paul Hobbs, Domaine Serene, Frank Family,
Middle of the Road Mâconnais, Gregory Graham, Neyers, Talbott, Au Bon Climat, Flora Springs
Great Values KJ, Concha y Toro "Casillero del Diablo", Errazuriz, Montevina, Alamos, Deloach, Tormaresca, Hob Nob
What Regions Make Oaked Chardonnay
Many oaked Chardonnays come from warmer climate wine regions.
Southern & Eastern Australia
Napa Valley, Paso Robles and Lake County in California
Mendoza Argentina
Burgundy, France (Puligny-Montrachet, Meursault and Mâconnais)
Puglia, Italy
---
Unoaked Chardonnay
Unoaked Chardonnay is far closer to the zesty style of Pinot Gris or Sauvignon Blanc. Chardonnay wine tends to have less 'green flavors' than Sauvignon Blanc. Depending on how ripe the grapes were when picked, the flavor ranges from lemon and green apple (less ripe) to pineapple and figs (very ripe).
Unoaked Chardonnay Brands
The Best of the Best Brocard, Albert Bichot, Dauvissat, Raveneau, Joseph Drouhin
Middle of the Road Evening Land
Great Values Four Vines 'Naked', INOX, Domaine de Bernier (Loire), Wishing Tree(Western Australia)
What Regions Make Unoaked Chardonnay
Most unoaked Chardonnay is from cooler climate wine regions.
Sonoma Coast, California
Western Australia
Loire and Chablis, France
Colchagua and Casablanca Valley, Chile
Oregon