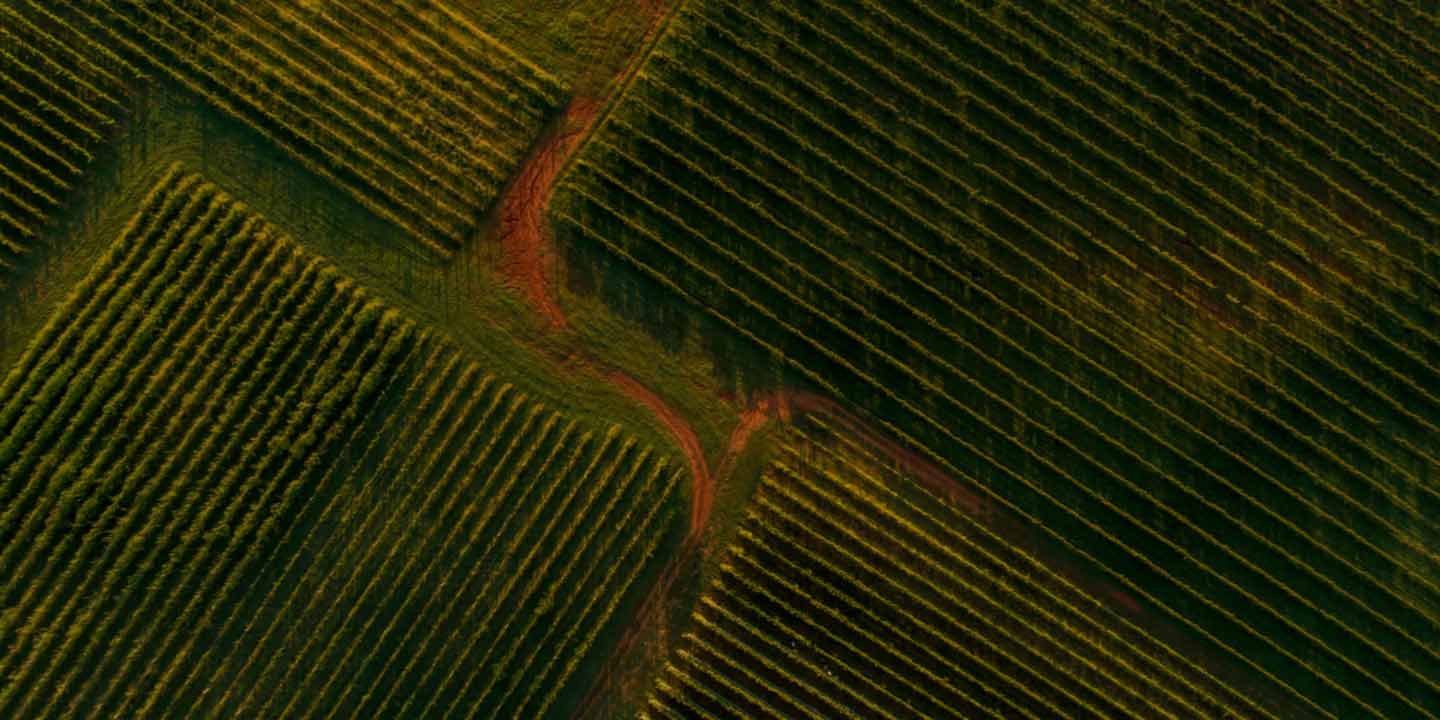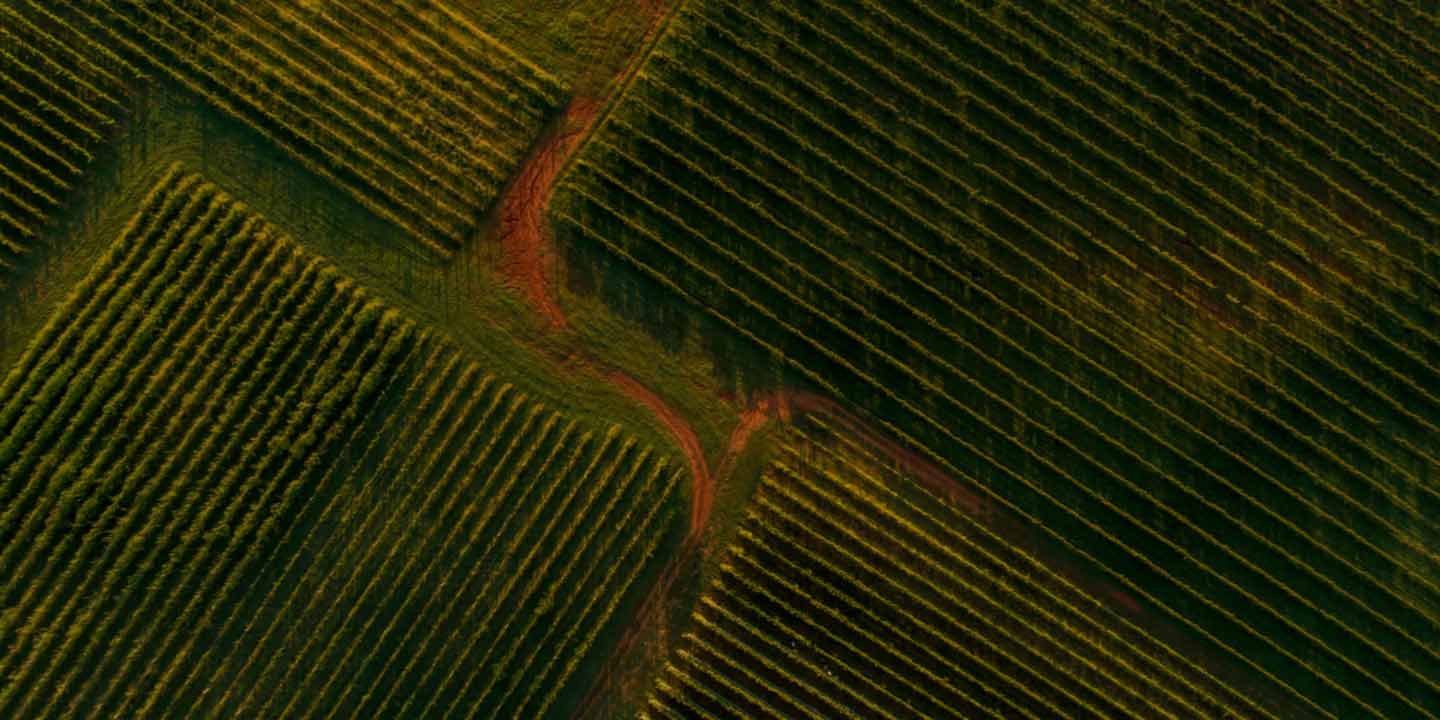 Virginia
You've stumbled upon the United States' best kept wine secret. Halfway between western Europe and California, Virginia is a mix of old world and new world traditions. It's where Southern Grit meets Old World grace.
Quick Links:
Introduction
The Best of Both Worlds
Virginia's wines are where old world and new world meet. Small farms focus on producing high quality artisanal products in a fruit forward but refined style. 
Though Virginia was one of the original 13 colonies, its wine history really only started taking off in the late 1970s. Now it's on an exponential trajectory towards greatness, making it one of the fastest growing wine regions in America. Today it's best known for Bordeaux Style Blends, Cabernet Franc, Petit Verdot, and Viognier.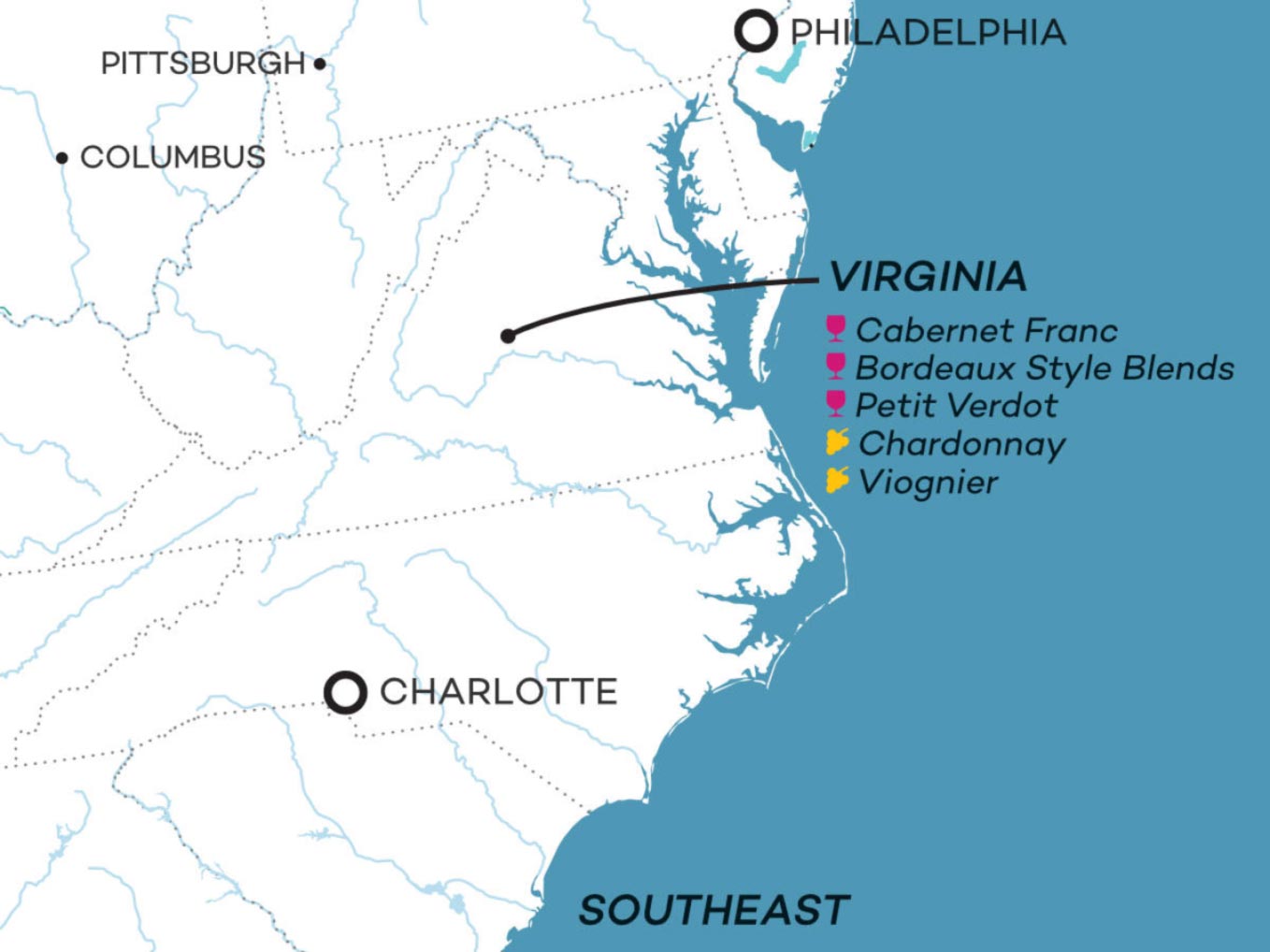 Fun Facts
There's a Movement Growing in Virginia
A community of farmers perfecting their own agricultural art. They don't bend to trends. They listen to their land, drawing out the story in every vine and every vintage.
82% Vitis vinifera

Vitis vinifera vines make up 82% of all vineyard plantings

4600 Acres

A total of 4600 acres (1860 hectares) of vines are planted

Cabernet Franc

Cabernet Franc is the most planted grape

300+ Wineries

Home to 300+ wineries, which has grown from 50 in the 90s.

8 AVAs

Virginia has 8 AVAs (American Viticultural Areas).

58% Reds 42% Whites

There are an equal amount of red and white grapes grown.
Wines to Explore
Old World Grace & Southern Grit
Virginia wines are lush but structured; aromatic, expressive and beautifully balanced—blending the subtlety of the Old World with the boldness of the new.

Cabernet Franc
Full-Bodied Red Wine
Cabernet Franc is the most planted grape in Virginia and makes up 14% of all the grapes harvested in the state.  It is usually made into a dry, oaked varietal wine, but it can also be a component of Meritage or other red blends.
Pepper
Plum
Blackberry
Violets
Tobacco

Chardonnay
Full-Bodied White Wine
The second most planted grape in Virginia, accounting for 13% of all the grapes harvested, Chardonnay styles vary depending on the winery. This versatile and well-loved grape is often aged in oak and goes through malolactic fermentation, giving it luscious vanilla and buttery notes, but it can also be lean, fresh, and steely.
Peach
Lemon
Butter
Smoke
Vanilla

Bordeaux Style Blends
Full-Bodied Red Wine
Bordeaux-style red blends are some of the most highly acclaimed wines in Virginia. While their blending percentages of Cabernet Sauvignon, Merlot, and Cabernet Franc vary greatly across vineyards and vintages, the end products are consistently lush and layered. They are often built to improve over time in your cellar.
Blackberry
Cedar
Bell Pepper
Violets
Clove
Petit Verdot
Full-Bodied Red Wine
Traditionally used as a blending grape in Bordeaux, Petit Verdot has come into its own as a star varietal in Virginia and makes up 10% of all grapes harvested. Its high level of tannins and deep color makes for bold, weighty wines that are perfect for a cold evening.
Black Cherry
Black Plum
Dark Chocolate
Smoke
Leather

Viognier
Full-Bodied White Wine
Smelling sweet thanks to the ripe fruit and blossom aromas, Virginia Viognier is typically made in a dry style. It has quickly developed a reputation as one of the state's signature grapes and makes up 7% of the grapes harvested, but it is the second most planted white grape.
Peach
Pineapple
Orange Blossom
Honey suckle
Nectarine
Featured
Virginia Winery
12 Wines
We are open 7 days a week from 11AM – 6PM for our friends to enjoy our pastoral setting, and our award-winning wines and take some Effingham history home. Walk-ins are always welcomed, and reservations guarantee seating. Please note, Effingham Manor is an adults only winery and guests must be 21+ years to be on property. Because of the historic nature of our property, please leave the pets at home. Virginia law prohibits any person from bringing any other alcohol, of any kind, onto the estate. Charter buses and vehicles larger than a 15-passenger vehicle are not allowed on the estate.
Producing:
Merlot-Cabernet Franc Blend
+ 4 More
Wine Regions
A Shifting Landscape
With over 4,000 acres of grapes that span the state, Virginia is home to 10 regions and 8 distinct AVAs.
Join Our Newsletter
Jumpstart your wine education and subscribe to the Wine Folly newsletter right now. Always awesome. Always free.