Just a few steps off the beaten wine trail you'll find these fascinating pockets of less traveled wine country. The scene is low-key and the tastings are cheap (and sometimes free). If you're the adventurous type, these wine trails are worth exploring.
8 Alternative Wine Trails of California
Mendocino
Lake County
Sonoma Coast
Sierra Foothills
Lodi
Santa Lucia Highlands
Paso Robles
Santa Rita Hills
MENDOCINO
Vineyards give way to redwood forests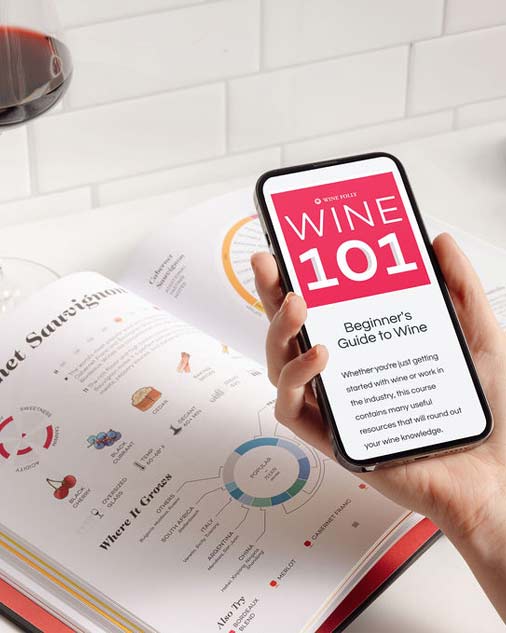 Buy the book, get a course.
Get the Wine 101 Course @ 75% OFF with the purchase of Wine Folly: Magnum Edition.
Shop Now
KNOWN FOR: Pinot Noir, Chardonnay, Cabernet Sauvignon
PROFILE: Light / Elegant
AVERAGE PRICE: $40
Even though Mendocino touches the Sonoma/Napa region to the south, it feels like it's a world away. One quarter of Mendocino's vineyards are certified organic and it's a cool region producing elegant wines. You'll be intrigued the most by the sparkling wine, lighted-bodied Cabernet and Pinot Noir. There are 12 sub-AVAs in the area, proving that the region is extremely diverse in terms of climate.
---
LAKE COUNTY
An Ancient Lake and an Old Volcano Provide Amazing Terroir
KNOWN FOR: Cabernet Sauvignon and Sauvignon Blanc
PROFILE: Bold & Balanced
AVERAGE PRICE: $20-30
What you don't know is that the grapes grown in Lake County are often sold to Sonoma and Napa wineries. The wines are loved for their intense flavor from growing on red volcanic soil in high altitude locations. Despite the crazy potential in the area for high quality wines, only a few wineries exist in the area along with over a hundred grape growers. Clear Lake is an ancient lake, the largest natural lake in California, and is currently suffering from agricultural water demand in Central California.
---
SONOMA COAST (North)
Rustic and remote fog covered beach cliffs and cabin camping
KNOWN FOR: Pinot Noir and Chardonnay
PROFILE: Light / Elegant
AVERAGE PRICE: $60
An up-and-coming region for high quality, elegant Pinot Noir that features just a few flagship wineries who are paving the way for the region. This area is very remote and often fogged in. There aren't any big towns in the area, so you'll want to pack in or stay close by in Russian River Valley. While Sonoma Coast is part of Sonoma County, it's a totally different scene on the Highway 1 by Fort Ross.
See the unofficial site West Sonoma Coast Wine Trail
---
SIERRA FOOTHILLS
High elevation vineyards, mountain views and California gold rush towns
KNOWN FOR: Zinfandel, Syrah and Barbera
PROFILE: Medium to Bold
AVERAGE PRICE: $20-30
Head towards the old mining towns of California, from Murphy's and Plymouth to Placerville and Nevada City. The area features rolling hills, oak trees and sometimes even dense evergreen forest. While this region is very large and spread out, some of the most intriguing independent winemakers are moving here to utilize organic, biodynamic and even vegan winemaking. Many of the wines here are made with unique and lesser known varieties.
See the Placerville Wine Trail, Eldorado Wines, the North Sierra Wine Trail, and a list of wineries in Amador.
---
LODI
A farm town with historic vineyards and orchards hides just off the I-5
KNOWN FOR: Old Vine Zinfandel, Petite Sirah and Spanish & Italian Varieties
PROFILE: Bold
AVERAGE PRICE: $20
We admit, Lodi doesn't look like a wine community in the same way as Napa Valley, but it's actually over two times the size. Lodi is home to nearly 40% of the top rated Zinfandel wines in the country and was originally planted with wine grapes back in the 1880's. You can still stumble across these old vineyards today with their scraggly head-trimmed vines just off the side of the road. Lodi is one of the few remaining California wine regions where you can walk into a small independent winery and buy a great bottle of red wine for less than $20. While the red Zin is stunning, you'll be delighted to find more esoteric wines too, such as Spanish Tempranillo, Italian Barbera and German Kerner.
See the Lodi Wine Trail
---
SANTA LUCIA HIGHLANDS
Race cars, industry and surprisingly good Pinot Noir
KNOWN FOR: Pinot Noir and Chardonnay
PROFILE: Opulent
AVERAGE PRICE: $30
Salinas is a classic 'Main Street' town with one of the most aggressive auto race tracks in California called the Laguna Seca Raceway. The vineyards south of the city, around Gonzales, are large and gently slope into the southern hills along River Road. Despite the industrial feel of the region, it produces some of the top rated Pinot Noir in the nation. The winemakers here are farmers first and supply Pinot Noir grapes to many wine brands in California.
See River Road Wine Trail and Santa Lucia Highlands Wine Trail
---
New Guide: Dive deeper into Paso Robles wines with the newly released Paso Robles Region Guide.
PASO ROBLES
Head west into the hills for your Syrah fix
KNOWN FOR: Cabernet, Syrah, Zinfandel, Chardonnay & Viognier
PROFILE: Bold
AVERAGE PRICE: $30-40
This is prime motorcycling/cycling country. The loop out of Paso Robles into the hills is about 50 miles and it's dotted with wineries famous for Syrah blends. The first nursery winery to bring in French Rhône varieties can be found here as well as many exclusive cult wineries. Despite the prestige and hype, you can still find great wine for about $30.
See Far Out Wineries of Paso Robles Wine Trail
---
SANTA RITA HILLS
Ditch L.A. for a mid-century ranch town and virtually untouched surf
KNOWN FOR: Pinot Noir and Chardonnay
PROFILE: Medium
AVERAGE PRICE: $40-50
If you're used to the hustle, sheen and grit in L.A., the quaintly dated town of Lompoc will make your jaw drop. The independent wineries in the region have taken over a small stretch of aging commercial buildings to create their own 'Lompoc Wine Ghetto'. If hanging out by the Home Depot and drinking wine doesn't suit you, head east into the vineyard area which is all rolling hills, oak trees and sparkling green vineyards of priceless Chardonnay and Pinot Noir. There's also plenty of surf to catch just 10 miles west of town, but be sure to respect the shark warnings.
See the Lompoc Wine Ghetto Wine Trail or read more about Sta Rita Hills
---