Why wouldn't we be interested in Washington wine?
Well, #WAwine is affordable, has excellent quality, and competes with wines from Napa Valley, the Rhône Valley, and Bordeaux.
While it's true that Washington State it still very much a frontier region when it comes wine, there are many undiscovered gems.
If you've been lucky enough to sip on the more nationally recognized labels like Hedges CMS, Ste. Michelle, or the wines from the Charles Smith dynasty, then you've had a nice little introduction to Washington wine.
It's time to go deeper. As a Washington resident, I've been observing the massive growth from the inside (vineyard acreage has gone from around 35k acres to over 50k) and have some useful insights to offer.
Washington Wines to Freak Out About
(In A Good Way)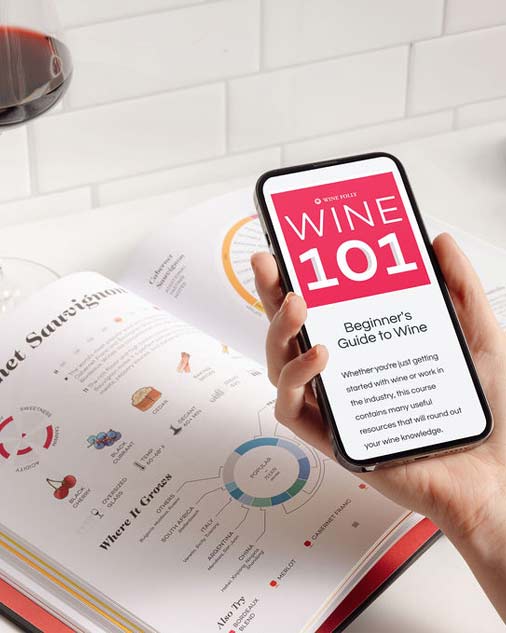 Buy the book, get a course.
Get the Wine 101 Course @ 75% OFF with the purchase of Wine Folly: Magnum Edition.
Shop Now
All the AVAs of Washington State, including Columbia Valley, Red Mountain, Horse Heaven Hills, and more. This map is available on a 12×16 spill and tear resistant paper in our online store.
---
"Yay Petit Verdot, Nay Chardonnay!"
Which wines does Washington do best? So far, there is still confusion from within the industry about which wines excel in Washington's high desert climate. If you ask a Washington-ite, we think we do everything the best. Lies! What this really means is that Washington is still in the throngs of scatter-shot growth (and trying to figure out what works).
There are also large plantings of grape varieties that probably shouldn't have been planted here but market pressure made them a reality. Like I said earlier, it's like the wild west and comes with a lot of speculation. Still certain varieties are showing amazing potential in Washington and they might not be what you think!
Syrah
Holy mother of god, Syrah in Washington's dry, high elevation climate is both busty (fruity and bold) and light on its feet (good acidity and funkiness). Several serious producers have realized this about the grape and are now turning out smoky Syrah wines from AVAs like Yakima, Columbia Gorge, and Walla Walla that have some of us yelling "Northern Rhône Syrah!" and quivering with glee.
Rhône Varieties
Grenache, Mourvèdre, Grenache Blanc, Viognier, Roussanne and Marsanne
Step aside Syrah and let your brothers and sisters shine! As it happens, Washington Grenache, Mourvèdre, Grenache Blanc, Viognier, Roussanne, and Marsanne (those sexy bold whites) are amazing too. There's a grower here named Dick Boushey (wines labeled with Boushey Vineyards) who's become the godfather of growing these varieties in Washington… he's been known to say "Syrah likes a view."
Malbec
Argentina (famous for Malbec) is an arid, high elevation wine region with ample irrigation from snow melt.
Washington is an arid, high elevation wine region with ample irrigation from snow melt. Hey? I think I see a theme…
A few ambitious producers (like Anna Schafer from aMaurice) worked harvests in Argentina and noticed how similar the climate was to Washington. Fast forward a few years, and now we have a rapidly increasing vineyard area dedicated to Malbec here in Washington (particularly in Walla Walla). Washington Malbec is dense and fruity, but because of the cold nights, it's able to retain ample acidity (super important with this particular variety). If you're a Malb-aniac, Washington is a place you'll want to investigate further.
Petit Verdot
All I know is I tasted a Petit Verdot from Gifford Hirlinger in Walla Walla and my eyes started watering from pure joy–it was that good. If you need more convincing (I don't believe me either), listen to a smart person such as Master of Wine, Bob Betz, talk intelligently about the potential of Washington's Petit Verdot on a podcast from Guild of Sommeliers. This grape has finally found its home and it's in Spain and Washington State.
Bordeaux Blends
A string of 100-point wines out of the esoteric Horse Heaven Hills AVA during the mid 2000s caused everyone to start snooping around Washington State for more Cabernet Sauvignon and Bordeaux blends (the blend includes Cabernet Sauvignon, Merlot, Cabernet Franc, Petit Verdot and Malbec). And while Washington Cabernet Sauvignon–as a single-varietal wine–doesn't seem to have the same balance as Napa Valley, the Bordeaux-style blends are phenomenal. Let me say that again for emphasis: Phenom-eh-nomenal.
Sauvignon Blanc and Sémillon
These are not the lean, minerally Sauvignon Blanc wines like those from the Loire Valley (France) or Marlborough (New Zealand). Washington's best examples take after Péssac-Leognan, producing more intensely structured and oak-aged Sauvignon Blanc-Sémillon blends that pay homage to Bordeaux and Château Haut-Brion. If you're looking for new full-bodied white wine experience, these wines will not let you down.
Sangiovese
Your first Sangiovese experience from Washington will likely be a rosé wine and it will be $10 and it will blow your mind. Sangio has long been left on the sidelines in favor of the popular French varieties (Sacrebleu!), but due to the popularity of Italian wines like Brunello di Montalcino, we're hoping to see more producers champion Washington's red wine potential with Sangiovese.
Tempranillo
The interest in Tempranillo in Washington is only just beginning. If you think about the vine's traits: drought-resistant, savory flavors, ability to handle American oak, etc., it holds major potential in Washington's soils. The wines we've tasted deliver rich tomato-like flavors over a smoky-sweet core. Could Washington be the next Rioja?
Dry Riesling and Gewürztraminer
Both of these varieties seem an odd choice for the warm climate, but given the cold nights and cooler growing areas (closer to the Cascades), we've seen some surprising Riesling and Gewürztraminer from Washington's soils. Lately, producers have shaved off sweetness levels (thank goodness!), making wines more dry in a style that's reminiscent of Alsace, France. Riesling is definitely one of the most important grapes planted in the state, and given the large Asian and Indian populations around Seattle, it ends up matching really well with the everyday Seattle foods of pho, samosas, and pad Thai.
Others To Watch
Given the climate and soils in Washington, here are a few more varieties worth getting excited about:
Nebbiolo: All it takes is one producer trained in the style of Barolo to show us the potential of this grape in Washington.
Chenin Blanc: A chameleon grape that can be either lean or rich, sweet or dry. The best examples from Washington are on the lean and dry side.
Lemberger: (aka Blaufrankisch) A German grape that produces a fruity, low-tannin wine that's kind of like if Pinot Noir and Syrah made a baby.
Grüner Veltliner: Austria's champion grape turns into a fruit basket of peaches and apricots with a vein of lime when it's made in Washington and it's unlike any Grüner you've ever had. #Grunerfan
---
Wine Is Geography
Explore wine through geography. Our maps are designed to be used and are printed on spill and tear resistant paper.