Napa Valley resident, winemaker, and estate winery owner, Igor Sill, compiled a list of the most popular, high-rated wineries in Napa Valley from TripAdvisor and Yelp. Then, he visited each and every one of them, unannounced, to find out if they lived up to all the hype.
New Guide: Discover up-to-date information with our new dynamic Napa Valley Region Guide!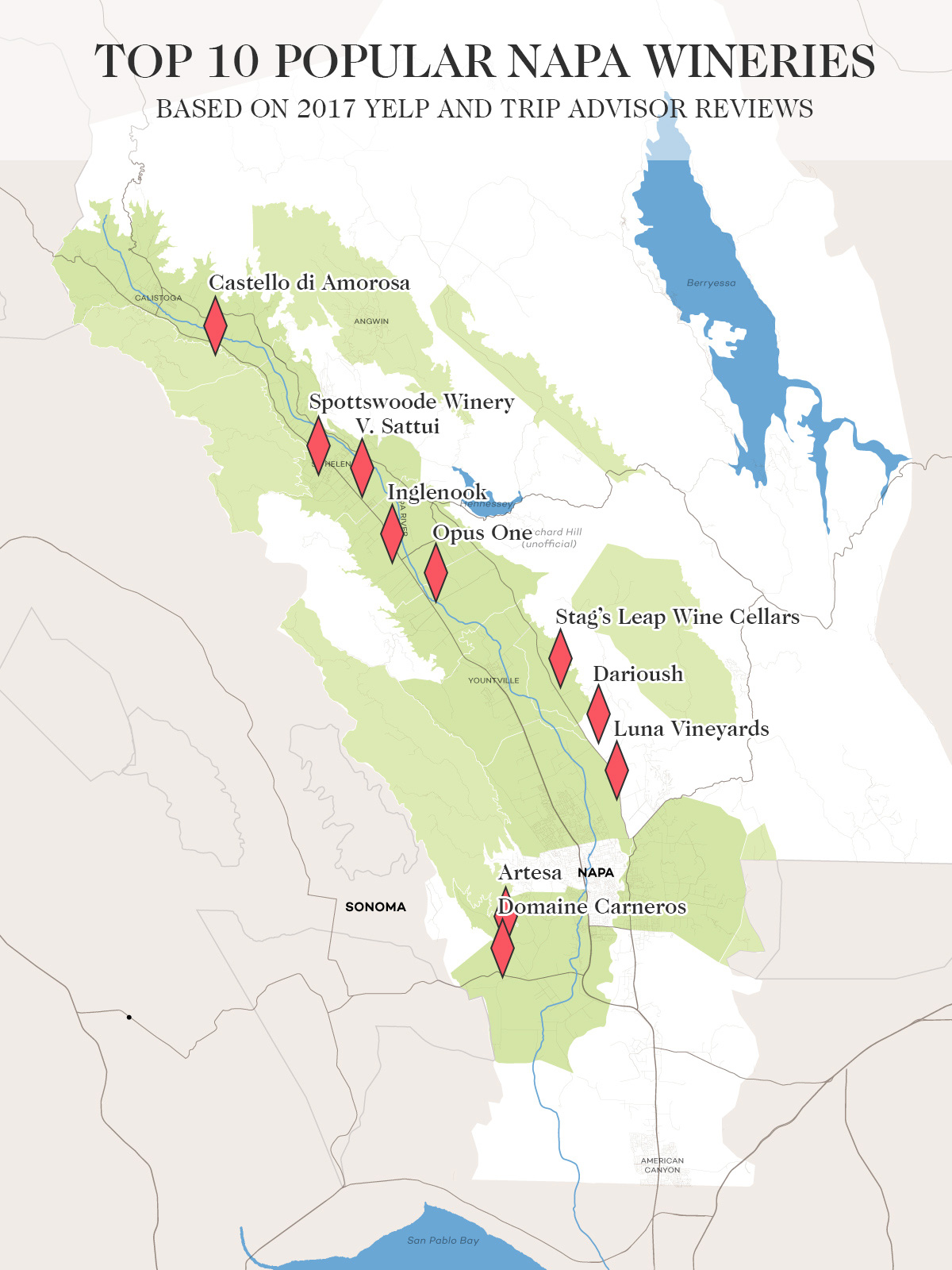 The 10 Best Napa Valley Wineries to Visit
No other wine region on the planet draws as much attention as Napa Valley. Its incomparable beauty couples seamlessly with generations of passionate winemakers behind some of the world's truly exquisite wines.
As a result, Napa is visited by over 3 million people each year, making it California's second most popular tourist destination (after Disneyland!).
There are over 500 wineries in Napa. So, which are the best Napa Valley wineries to visit?
This isn't an easy question to answer simply because there are truly so many amazing Napa wineries. Additionally, "best" is a subjective experience.
This list is a great starting point for your exploratory journey through this globally revered wine region.
---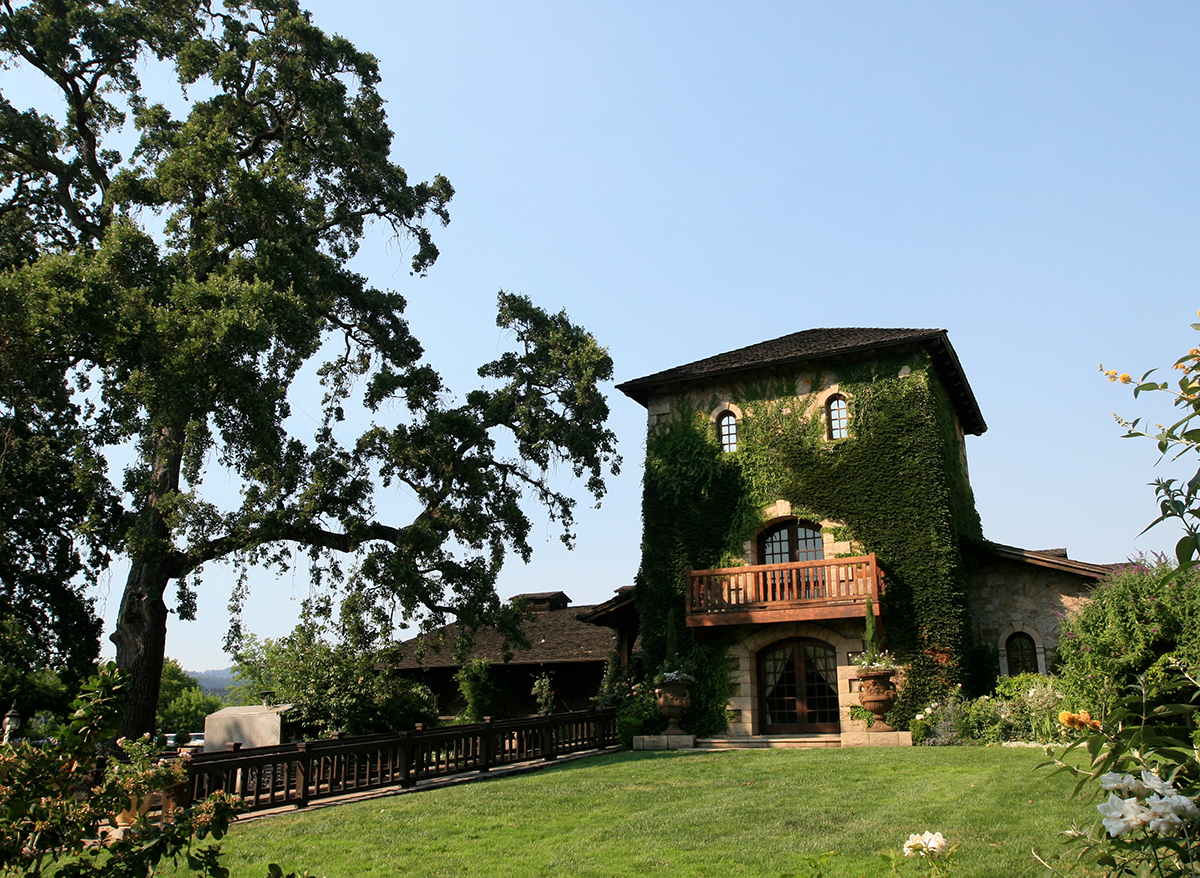 V. Sattui Winery St. Helena, Napa
This is the most popular and most visited winery in all of Napa. The hours are 9am-5pm in the winter and 9:00AM-6:00PM in the summer months, no appointment required, 7 days a week. V. Sattui continues to evolve and upgrade their guest experiences, recently adding a Concierge Service designed to custom tailor visits, based on guest preferences. It's a top favorite because it has old-world Italian charm, more than 60 different wines, including sparkling wine and Port-style wines, vast picnic grounds, personalized winery and barrel tasting tours, food pairings, a legendary deli with fresh food and cheese, and a friendly, knowledgeable, well-trained staff. Also, it's one of the few wineries that consistently achieves top awards for wines crafted by winemaker Brooks Painter, who joined V. Sattui in 2005 from Robert Mondavi Winery.
The main tasting room is as close to a party as you'll get in the often seriously elitist Napa; it's always packed with visitors and there are frequent BBQs, special events, entertainment, and weddings year round.
Indlugent aficionado conversations about serious wines can be found in the Vittorio Tasting Room (Tower) with wine expert Marc Golic.
This winery has a full-time wedding and special events Michelin Star chef, Stefano Masanti, ensuring exceptional cuisine matches glamorous events. Culinary Director, Joe Schneider, combines award winning wines with weekly food pairing and tasting events.
It's a great spot to relax with wine, while enjoying a family lunch on the picnic grounds (they provide the food).
The terrace grounds behind Vittorio Tower are like walking through the olive tree lined lavender fields in Italy.
V. Sattui is a family, dog friendly winery where you'll see children playing and basking in the sun as well.
This is truly a wonderful and gorgeous place to spend the day. V. Sattui believes in doing very little advertising, relying mostly on word-of-mouth from loyal Wine Club members, which seems to be working very well for them. Highly recommended for fun-loving novice wine buffs, as well as the accomplished wine aficionado.
V. Sattui
1111 White Lane, St. Helena, CA 94574
(707) 963-7774
www.vsattui.com
---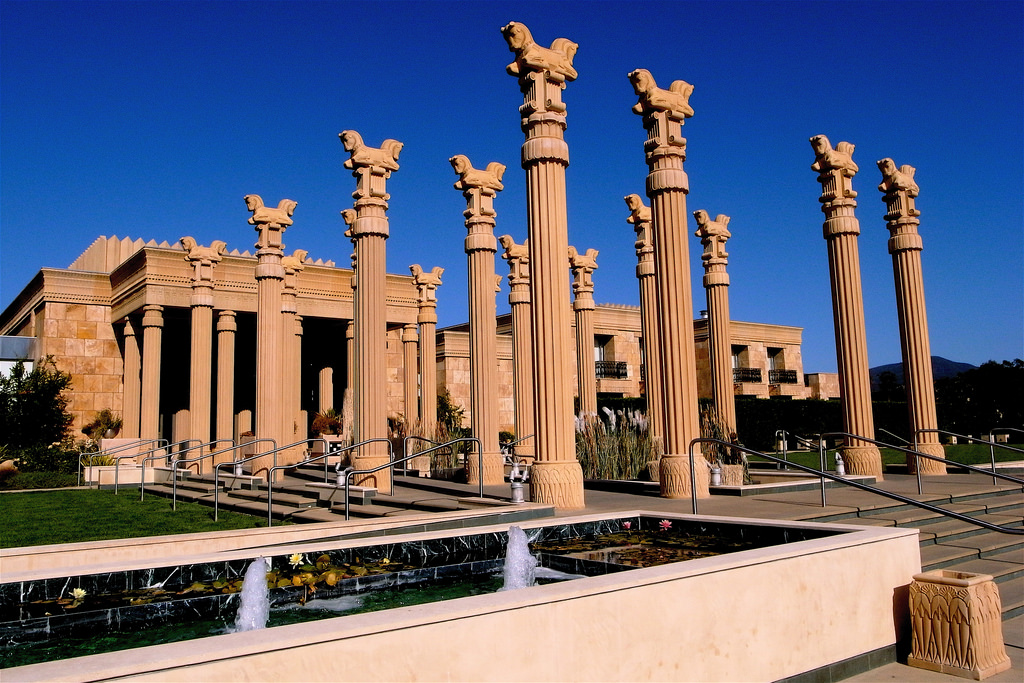 Darioush Winery Oak Knoll, Napa
I made reservations for 4pm at Darioush Winery for a flight of five wines with a hosted tasting on a busy Saturday afternoon. The price tag was $150. We arrived a bit early and drove up the beautiful long driveway at the base of Atlas Peak, off Silverado Trail. We were graciously greeted as we approached the entry by Mark, a very friendly concierge, who checked us in with a smile and served us a wonderful Russian River Chardonnay. Mark quickly guided us inside to a sitting area in front of a massive fireplace graced by Persian columns. He then introduced us to our host, Derek, who engaged us with a bit of history behind Darioush's founder, Darioush Khaledi. Khaledi achieved the American dream by immigrating to the US from Iran following the Islamic revolution and started what turned out to become the largest family-owned grocery business in Los Angeles. He then founded Darioush in 1997, bringing the opulent architecture, rich culture, arts, and wines of the famed royal city of Persepolis to Napa. With all of that, his winery is amazingly impressive and rather palatial.
Our five wines were perfectly paired with artisanal cheese and nuts. We tasted two Syrah wines, a Merlot, a 2013 Cabernet Sauvignon and, lastly, the Darioush Cabernet Sauvignon Reserve. All were luscious and outstandingly superb. During the tasting, Darioush walked over, introduced himself, and welcomed us to his winery with a genuine and gracious hospitality. We felt like royalty. Derek then invited us downstairs where we toured Darioush's personal wine collection cellar, filled with first growth Bordeaux wines, in the style of Haut-Brion, Château Latour, Château Margaux (one of my personal favorites), Château Lafite, and Mouton Rothschild, including a bottle of 1942 Château Lafite Rothschild – reportedly one of only two left in the world. He pulled out a wine thief and proceeded to extract tastings for each of us from a cellar French oak barrel of 2015 Cabernet Sauvignon, yet to be bottled or released. It was truly outstanding and, though a bit young, will clearly be brilliant in a few years. Overall, we tasted some seven lovely wines and were graced with an unforgettable wine tasting experience in one of Napa's finest wineries. Without question, an exceptional and unforgettable experience, worthy of six yelp stars (five is the max)! Appointments required.
Darioush Winery
4240 Silverado Trail, Napa, CA 94558
(707) 257-2345
www.darioush.com
---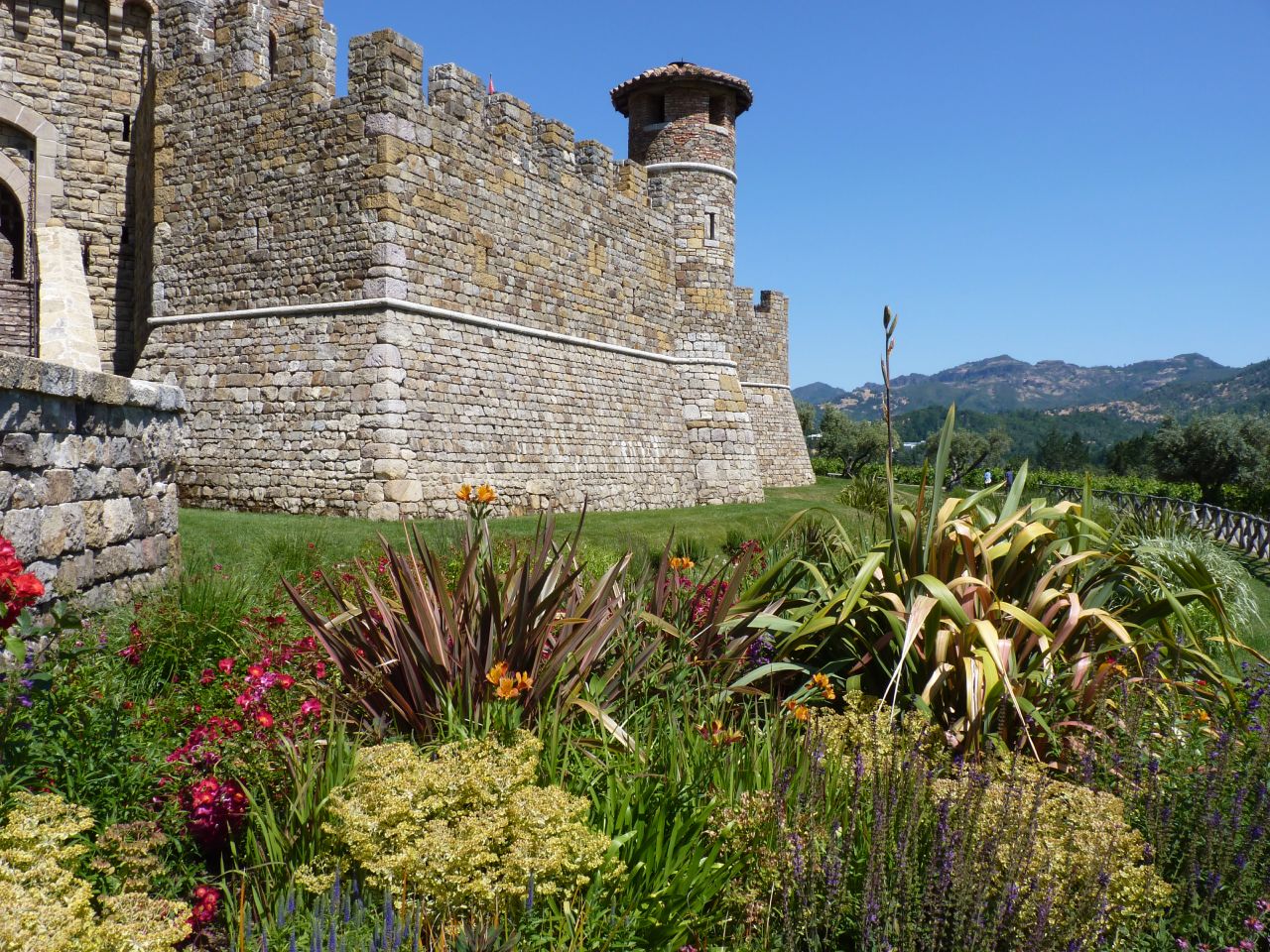 Castello di Amorosa Calistoga, Napa
Castello di Amorosa knows how to make a huge first impression. Set on a Calistoga knoll, this authentically styled, 13th Century Tuscan castle winery is unlike any other. It took some 15 years for owner Dario Sattui (founder of V. Sattui Winery) to construct the castle, embracing all the elements you'd expect from an authentic Italian castle. A moat with drawbridge, high stone walls, gargoyles, a church, and a fully equipped torture chamber will fascinate and delight your senses. The castle winery produces hand-crafted Italian-styled wines, including Cabernet Sauvignon, Merlot, Primitivo, and Sangiovese. A number of guided tours and tastings are available. The castle hits all the marks: delicious wines exclusively available at the winery, unforgettably gorgeous grounds, delectable food, and a friendly, knowledgeable staff. Busy and crowded. A $25 entrance fee allows for access to the castle grounds and five tastings.
---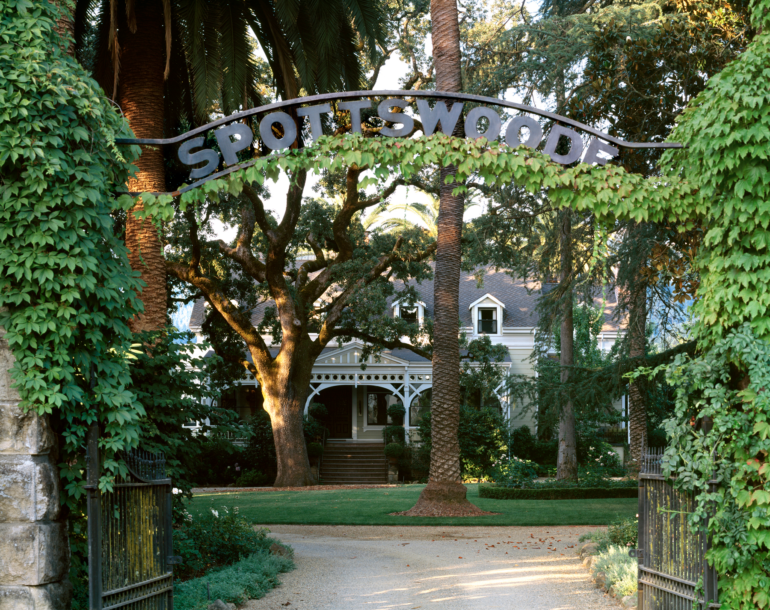 Spottswoode St. Helena, Napa
Spottswoode is a true family-owned historic winery on the West side of St. Helena. Established in 1882 by George Schonewald, the estate is distinguished by the historic Victorian home portrayed on their wine labels. Founder Mary Novak has been a vital part of the fabric of Napa Valley and its wine community since 1972. Her intelligence, sense of humor, humility, and vivacious personality continues to inspire all at Spottswoode. Today, the winery is managed by her two daughters Beth Novak Milliken, the President & CEO, and Lindy Novak, who runs the winery's wholesale marketing program. The family produces a small portfolio of four delicious varietals: Sauvignon Blanc, Cabernet Sauvignon, miniscule amounts of Syrah and Albariño. Their hospitality and tasting room is in a quaint Victorian farmhouse nestled among the vines. Tours are available for $75 per person, Monday through Friday, at 10am No more than 10 people are able to tour at once, which means advance reservations are necessary.(They recommend 4–6 weeks on their website). Spottswoode is consistently rated as one of the very best wineries in Napa (five stars) on Yelp.
Spottswoode
1902 Madrona Avenue, St. Helena, California 94574
(707) 963-0134
www.spottswoode.com
---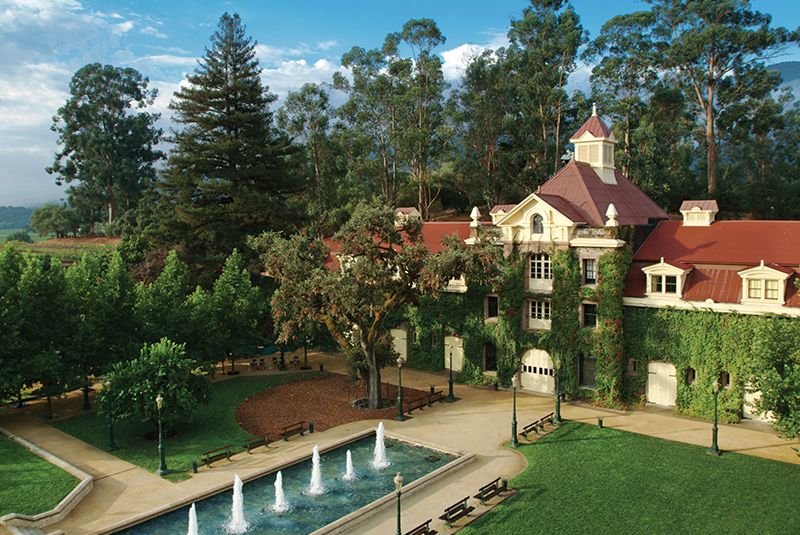 Inglenook Winery Rutherford, Napa
As one of the original Napa wineries, the elegant, ivy-covered Inglenook was founded by Finnish sea captain and wine connoisseur, Gustave Niebaum, in 1879. Gustave was passionate about making fine wines in small quantities. Many Hollywood legends were drawn to this Napa treasure in the 1930s and 40s, during John Daniel Jr.'s reign of the estate (Niebaum's grand nephew). Celebrity names include Carole Lombard, Clark Gable, and Jean Harlow, to name just a few. Unfortunately, Inglenook fell on hard times in the 1960s, and in 1970, John Daniel Jr. passed away. In 1975, Francis Ford Coppola acquired the notorious winery from the Niebaum family and spent considerable time, money, and energy restoring it back to its original, magnificent splendor. It has since been known by several names, ala Niebaum-Coppola, Coppola, and Rubicon until 2011, when Francis Ford Coppola acquired the Inglenook trademark, paying more, he said, than he had paid for the entire estate. He has since restored the historic name Inglenook to the estate, advertising it as the true crown jewel of Napa Valley. Tours are by appointment only and are definitely worthwhile so to appreciate the amazing historic grounds.
Inglenook Winery
1991 St. Helena Highway, Rutherford, CA 94573
(707) 968-1161
www.inglenook.com
---
Join Wine Folly, the popular weekly newsletter that educates and entertains, and we'll send you our 9-Chapter Wine 101 Guide today! See Details
---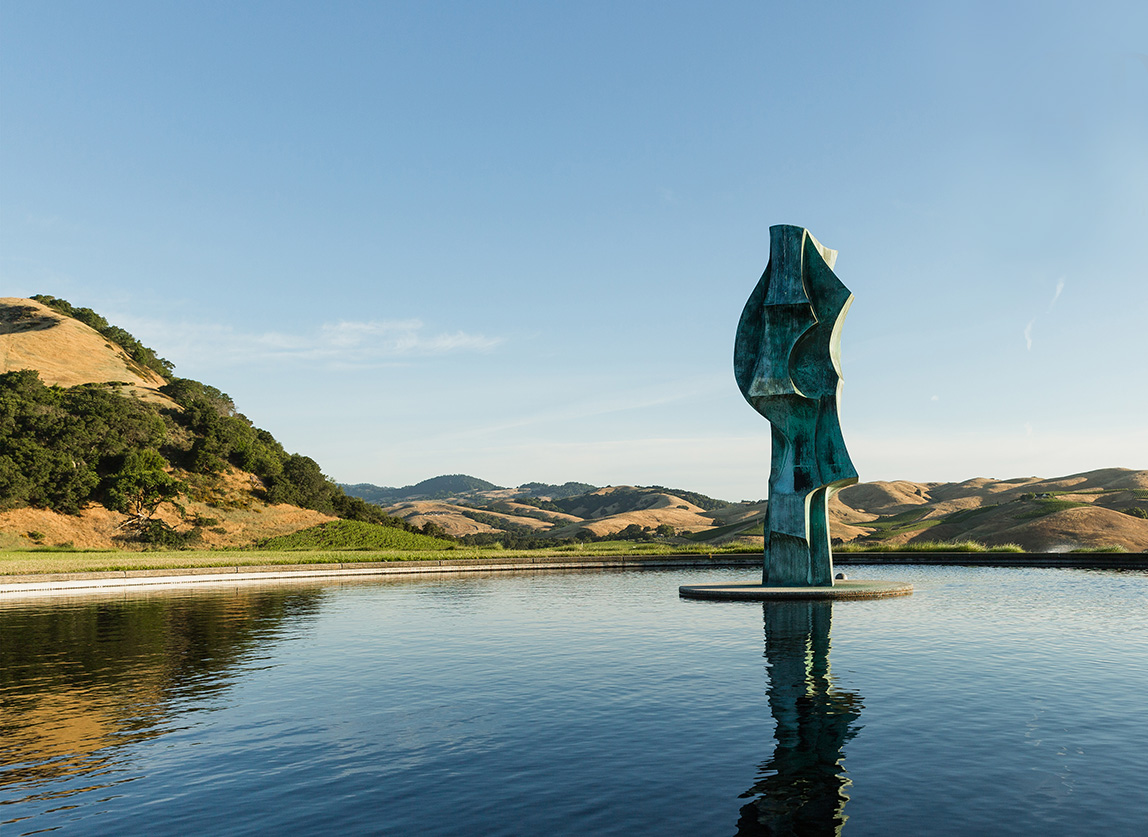 Artesa Vineyards & Winery Napa, CA
Out of all ten wineries, Artesa offers the very best in terms of Napa scenery. The family-owned winery is set upon the highest hill of the 350-acre estate. A terrace offers beautifully expansive vistas of the surrounding countryside, and on clear days, a view of the San Francisco skyline.
Artesa's architecture reflects a series of Spanish Mediterranean themes. Originally named Codorniu Napa, the name was changed to Artesa in 1997, which translates to "handcrafted" in Catalan. Today Artesa wines are produced from the varietals for which Carneros and Napa Valley are best known: Chardonnay, Pinot Noir, and Cabernet Sauvignon. Tastings are $35, $45, and $55 per person, depending on the exclusivity of the wines served. The views are picturesque, as you absorb and enjoy some truly great wines.
---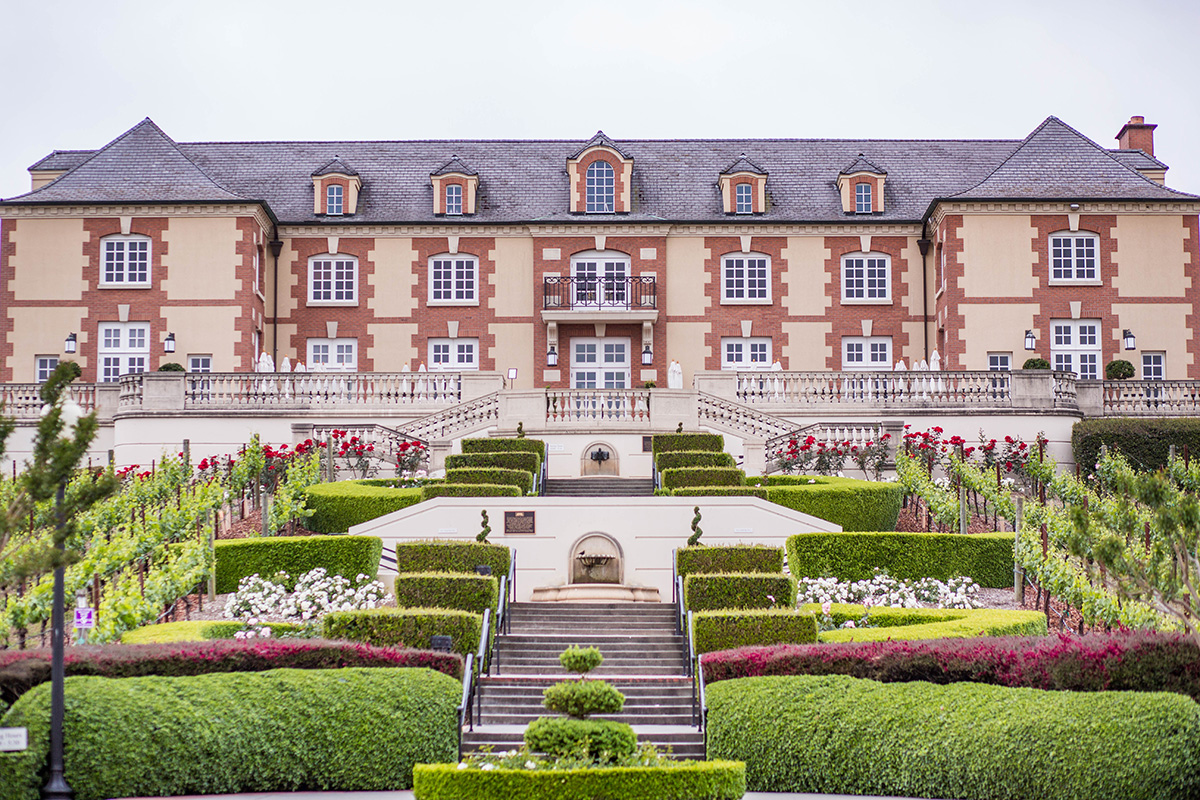 Domaine Carneros Napa, CA
Founded by the noble French family behind Champagne Taittinger, this majestically grand château is a splendid way to enjoy the Carneros Appellation of Napa. This stunning, fairy-tale estate was modeled after an 18th-century French mansion owned by Taittinger. Carved into the hillside below the winery are cellars, repleat with exceptional sparkling wine reminiscent of those crafted by Taittinger (Champagne) himself. The winery is located in the southern part of Napa Valley, near the cooler climate of San Pablo Bay. There are three terraces from which you can enjoy breathtaking views while sipping extraordinary sparkling and Pinot Noir wines. If you elect to take a tour, you'll experience a behind-the-scenes look at how sparkling wines are produced, from the harvesting the vineyards to the bottling process. The tour culminates with a sampling of wines paired with an array of artisan cheeses, gourmet caviar, smoked salmon, and charcuterie, while seated in the Louis XV–inspired salon or on the terrace overlooking the vineyards. Reservations are required and tastings are from 10:00am–5:30pm.
---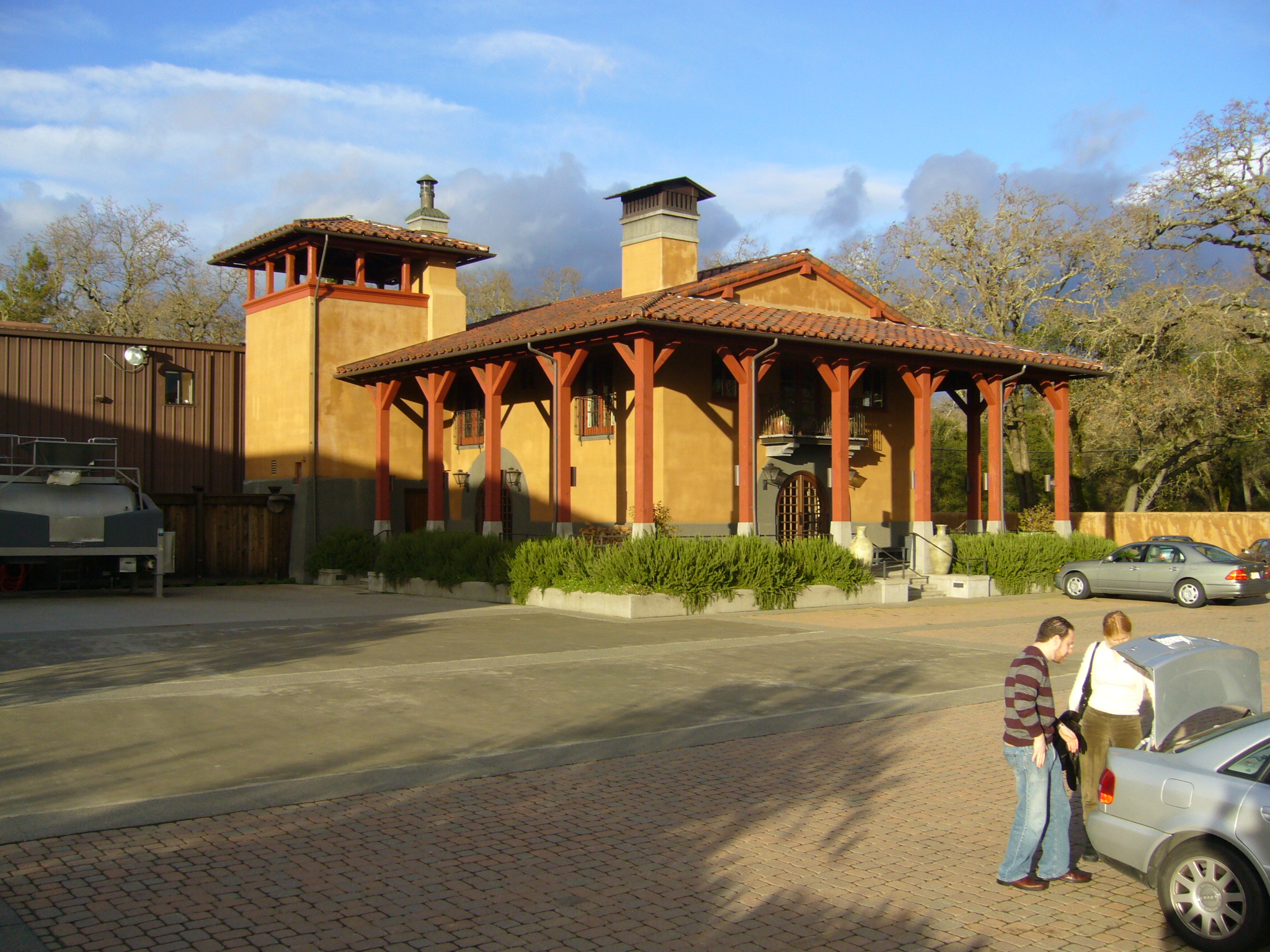 Luna Vineyards Napa, CA
Co-founders Michael Moone and George Vare launched Luna Vineyards in 1995. The small estate vineyard is both magical and modern, and close by to downtown Napa (and a short distance from the Silverado Resort). You can leave your car parked at your Napa B&B and easily access the vineyard via bicycle. Luna is the largest producer of Pinot Grigio in Napa. They offer a sunny patio area with ample comfy chairs to relax in while tasting their wines. The location feels more like a wine bar than a working winery, with music playing and a relaxed comfortable setting. You can also catch the beautiful scenic views of the historic Silverado Trail overlooking the vineyards from the rooftop tower. Besides Pinot Grigio, they specialize in Atlas Peak mountain varietals, which include Cabernet Sauvignon and Sangiovese. Reservations are recommended and the estate is open daily from 10:30am–6pm.
---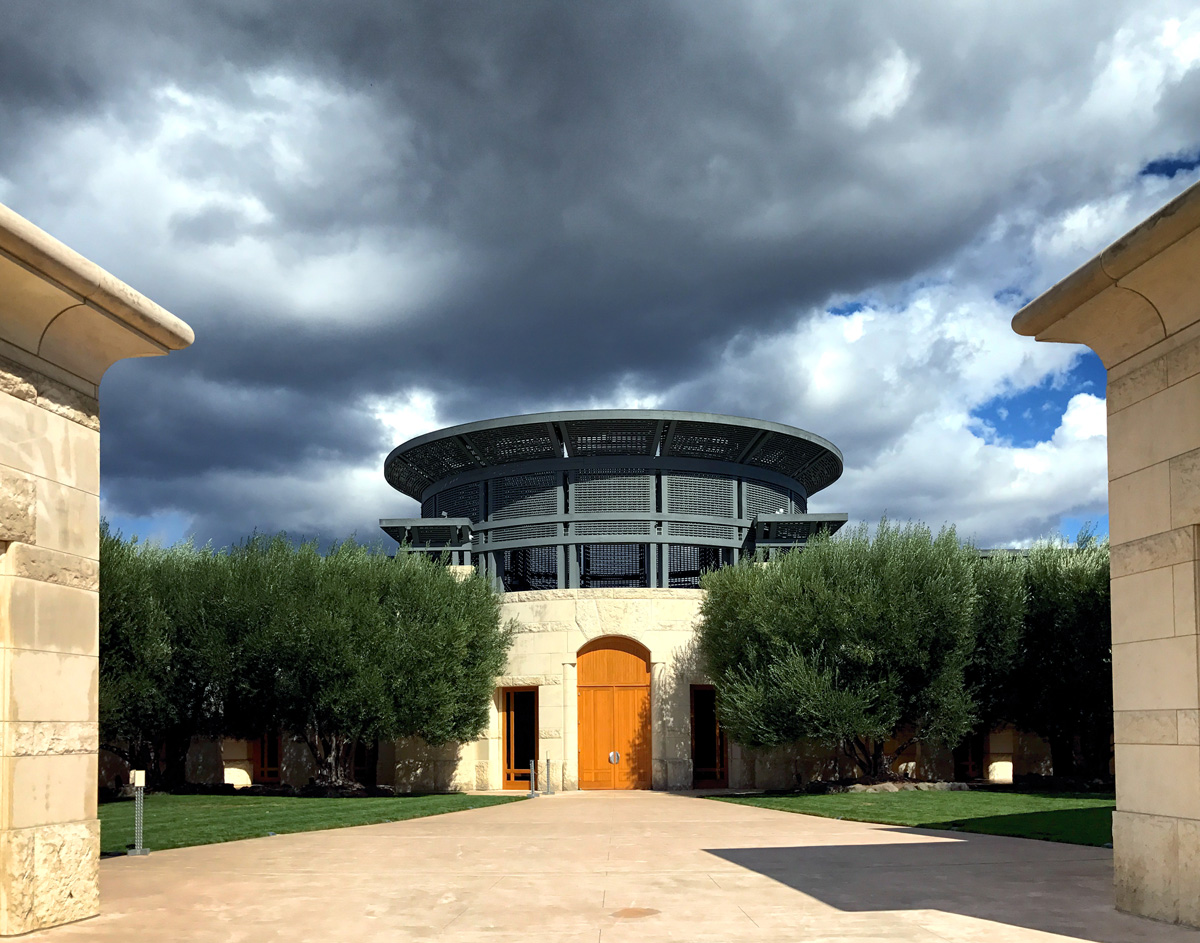 Opus One Winery Oakville, Napa
This winery began as a joint venture between Robert Mondavi and Baron Philippe Rothschild. The two wine behemoths teamed up to create a magnificent winery focused on producing a single Bordeaux blend, based on Napa Valley floor Cabernet Sauvignon. In 2004, Constellation Brands acquired Robert Mondavi winery and entered into a management agreement with Baron Rothschild to manage Opus One. Opus One Winery delivers a luxurious, though somewhat formal wine experience. The estate is impressive, especially when driving down the center drive to the winery entrance. Looking out across Opus One's vineyards from the upstairs terrace, you immediately sense the beauty of Napa Valley. This is a winery where you can allow yourself to become absorbed in a wonderful glass whilst in the company of sophistication. It doesn't get any more luxurious than this, so take plenty of pictures while you're there.
The Winery tours are by appointment only, with the need for reservations at least a month in advance. Note that their very best, and most knowledgeable tour docents are Sandy, Nancy, Vicki, Hank, and Japanese-speaking, Kaede. Opus One produces only one wine, a Bordeaux-style Cabernet Sauvignon blend, so be prepared for tasting one lovely red wine in a bit pretentious and pricey setting. Opus One is worth the visit. Tasting ours are from 10:00am–4:00pm.
---
Stag's Leap Wine Cellars Oakville, Napa
Founded in 1970 by Warren Winiarski, this winery brought international acclaim to Napa Valley winemaking when their 1973 Cabernet Sauvignon won the famous 1976 "Judgment of Paris" tasting. A bottle of 1973 Stag's Leap Wine Cellars Cabernet Sauvignon was inducted into the Smithsonian National Museum in 1996 as a result of being awarded first in this competition and to reflect the impact that the achievement had on the US wine industry as a whole. The winery's newly remodeled facility provides a centerpiece of all encompassing views of the gorgeous vineyards and Napa countryside. The winery's cave "is the moral center of the universe," according to founder Warren Winiarski. He installed an amazing floor-to-ceiling Foucault pendulum at the center of the vaulted caves. It's an awesome sight to behold as it swings methodically. And, as a side note, the winery was sold to a joint venture by Château Ste. Michelle and Marchesi Antinori in the summer of 2007, so that Winiarski is no longer involved. Reservations are required.
Stag's Leap Wine Cellars
5766 Silverado Trail, Napa, CA 94558
(707) 261-6410
www.cask23.com
---
Planning Your Visit
The smaller wineries will often receive guests on an appointment only basis, so always call ahead, or visit websites for availability. Also, note that Napa zoning restrictions preclude (as in, do not allow) picnic eating at most Napa estates, so hold off packing that picnic basket.
Virtually all wineries will charge a fee for the tour or tasting, but given the amount of information garnered from the hospitality staff and the quality of wines poured, along with the beautiful and stylish settings, these visits are still an exceptional value.
What winery did you visit (not on this list) that you loved and why? Leave your comments below.
---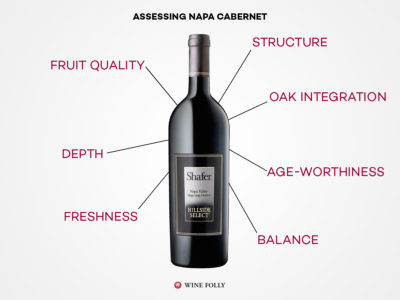 How To Assess Napa Cabernet
Cabernet Sauvignon is the most important variety in Napa Valley. Find out how to taste for quality in Napa Valley.
The Creation of the List
Napa Valley contains over 500 wineries. Most of those wineries welcome guests with winery tours, wine education, and tasting rooms. While enticing, the sheer number of winery choices can be overwhelming. This article was originally published in February of 2016, based on the reviews from visitors compiled via yelp.com. In this updated version, I researched both yelp.com and TripAdvisor.com to uncover those wineries that recent visitors felt offered excellent wines, a substantial, service-oriented winery experience, rich history, as well as an informative and entertaining adventure. It seems a lot has changed since then, both from visitor reviews and the winery programs themselves.
The recommendations listed are supported by an analysis of well over 3,000 yelp.com and TripAdvisor.com shared reviews. Both Yelp and TripAdvisor are free and provide consumers with an open platform to voice their experiences about the quality of products, services, and experiences. The reviews are reliable, trustworthy, and fairly representative of visitor opinions.
Finally, after compiling the most positive ratings, I visited these top 10 wineries unannounced to confirm the reviews. I include my own first-hand experience of their hospitality, quality of wines, ambiance, history, the overall wine tasting experience, and the memories that still linger long after the visit has ended. The wineries listed below include both popular attractions as well as a few hidden gems.
Of course, this list only scratches the surface. Napa has dozens of other amazing wineries worth noting, such as Beaulieu, Beringer, Cakebread, Château Montelena, Ehlers, Far Niente, Mondavi, Pine Ridge, Shafer, and Silver Oak, to name a few.