Napa Valley and Sonoma Valley are amazing regions to visit when you want to experience the glitter and glam of California's wine country. However, if you're passionate about the grapes, the dirt, and the reality of wine growing, there are a few other places within the North Coast (the AVA–American Viticultural Area–that contains Napa and Sonoma) that you need to have on your radar as well. Not only do these regions have true grit, they also produce incredible wines that can easily rival their star-studded neighbors.
Say hello to Mendocino and Lake counties. These two regions produce two very different styles that easily rival the best Napa and Sonoma wines.
Mendocino is just north of Sonoma and produces wines in a similar style to Sonoma as well.
Lake County is the region just north of Napa and produces wines in a similar style to Napa.
North Coast Wine Map
This detailed map shows all the AVAs of Napa, Sonoma, Mendocino, and Lake County. This map is available on a 12×16 spill and tear resistant paper in our online store.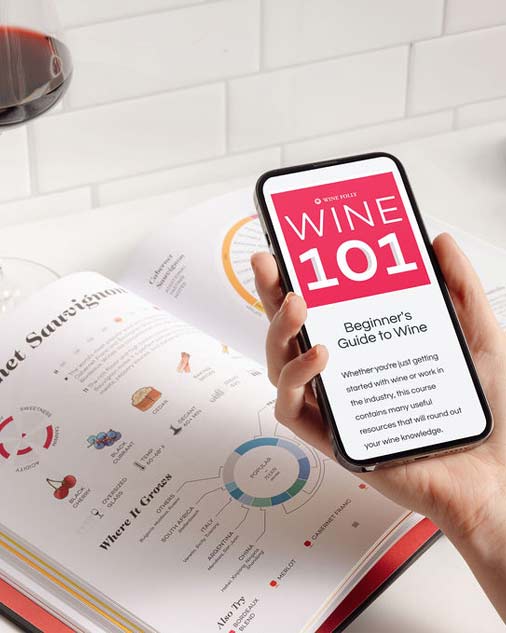 Buy the book, get a course.
Get the Wine 101 Course @ 75% OFF with the purchase of Wine Folly: Magnum Edition.
Shop Now
Mendocino
Amazing driving roads, organic vineyards, and elegant wines
Mendocino AVAs: Bottles from this region can be labeled as Mendocino, Anderson Valley, Mendocino Ridge, Yorkville Highlands, Pine Mountain, Redwood Valley, and Potter Valley
Best wines: Pinot Noir, Chardonnay, and Sparkling Wine
Special feature: Many 100% organic vineyards
Mendocino County stretches across several narrow valleys and extends out to some of the most rugged, untouched California coastline (awesome for motorcycling adventurers!). The people who've made Mendocino their home include early Italian immigrant winemaking families and folks who picked up and left San Francisco for the tranquil life of off-the-grid-living in the countryside. There are just a couple of major towns to hit including Hopland and Philo, with a small selection of B&Bs or cabin/home rentals (we found a bunch on AirBnB).
Mendocino Wine
Elegance and organics are the keywords of Mendocino wine. The region contains one-third of all the organic vineyards in the entire state. This is quite a feat given the dank, cooler climate conditions that produce the valley's best Pinot Noir and Chardonnay wines.
Pinot Noir, Chardonnay, and Sparkling Wine: The regions of Anderson Valley (north along Hwy 128) and Mendocino Ridge produce some of the most exciting expressions of Pinot, Chardonnay, and Sparkling Wines coming out of Mendocino right now. These 2 cooler growing regions (in and around Philo) offer wines with big fruit but as the acidity levels are high and alcohol levels are lower (usually around 13.5%), you'll find this area has excellent aging potential.
Others While the majority of the region is planted with Chardonnay and Pinot Noir, Mendocino has several unique wine varieties that include older plantings inspired by its Italian-influenced heritage including Barbera, Carignan, Dolcetto, Arneis, Cortese, and Gewürztraminer.
---
Lake County
A gigantic lake, volcanic vineyards, and massive reds
Lake County AVAs: Bottles from this region can be labeled as Lake County, High Valley, Big Valley District, Kelsey Bench, Guenoc Valley, and Red Hills
Best wines: Cabernet Sauvignon, Merlot, Petit Verdot, Malbec, Cabernet Franc, Syrah, Tempranillo, and Petite Sirah
Special feature: Volcanic soils produce "dusty" wines
Unlike most of the lakes in California, Clear Lake is a natural lake (as in, not made by a dam) which has been shown through studies of its sediments to be 480,000 years old. It's an active ancient lake next to an ancient volcano (Mount Konocti). The region surrounding the lake was once a hotspot hangout for celebrities (look up Hoberg's Resort) in the late 1800s including socialite and royal mistress, Lillie Langtry, who purchased 4,200 acres in Guenoc to raise racehorses and grow wine grapes. Unfortunately, the region's fame dissipated (people have blamed everything from the 1906 earthquake to prohibition to lake flies) and ranchers turned to planting pears and walnuts instead of grapes. More recently, investments have led to improvements in the region including the addition of several wine tourist spots that are worth checking out (including Ceago Winery and Biodynamic Farm and Tallman Hotel).
Lake County Wine
The region here is a lot drier than Mendocino and due to the high prevalence of volcanic soils and high elevation vineyards, we will see bolder wine varieties do better in Lake County. Keep your eyes peeled for Cabernet Sauvignon, Merlot, Petit Verdot, Malbec, Cabernet Franc, Syrah, Tempranillo, and Petite Sirah. There have also been several locally loved Sauvignon Blanc wines which are oak-aged and offer creamy, white peach, and pear notes. The region shows gleaming potential, but it's still considered the "backwoods" by most wine aficionados. Not to worry, this makes travel and tastings very affordable and the people are generally enthusiastic and generous.
Have you been to Clear Lake or Mendocino? Tell us your story!