Lodi wine country sits smack dab in the middle of California's vast, flat central valley. It's one of those places you can pass through without realizing you're surrounded by over 100,000 acres of vineyards! (Twice the size of Napa Valley.)
This guide will help you find great Lodi wines.
Lodi sits east of the San Francisco Bay and receives cooling breezes and fog from the Pacific Ocean.
Lodi Wine Guide
On the surface, Lodi doesn't seem to be very special. There are several big brands (Woodbridge, Rex-Goliath, Bronco Wine Co., Sutter Home, etc.) who use Lodi fruit in their unexciting California wines, chiefly Chardonnay, Cabernet Sauvignon, Merlot, and Pinot Grigio.
Lodi is a treasure trove of old vines and forgotten wine varieties.
However, below the surface, Lodi is a treasure trove of old vines and forgotten wine varieties. It's a land of smoky-yet-aromatic red wines that will floor you… made by unassuming, all-American farmers. Yep, true story. You just need to know what to look for. Let's dive in!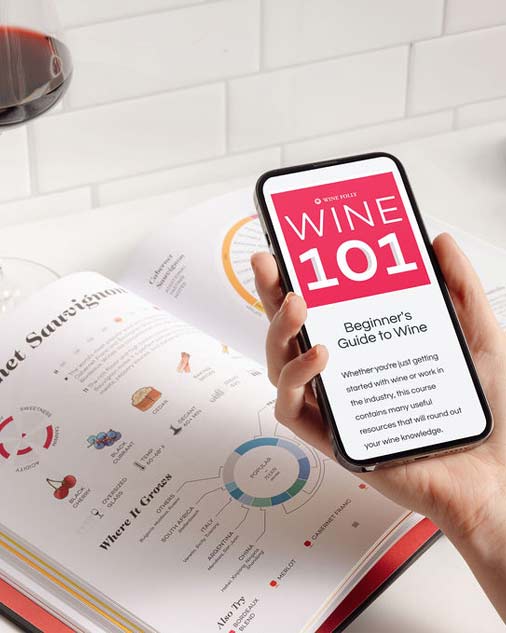 Buy the book, get a course.
Get the Wine 101 Course @ 75% OFF with the purchase of Wine Folly: Magnum Edition.
Shop Now

"Old Man Walking" on Mohr-Fry Ranch Vineyard is one of many 100+ year-old Zinfandel vines in Lodi. by Lodiwine.com.
Wines of Lodi
If there is one grape variety that defines Lodi wine, it's Zinfandel. Not only is Zinfandel the most widely planted grape in the region, it's also responsible for putting Lodi on the map. It was around the year 2000 that brands like Klinker Brick and 7 Deadly Zins by Michael David Winery released wines with the Lodi AVA on the label. The wines were rich, fruity, sweet, and somewhat smoky. People loved them for their bold fruit and also because the winemakers didn't take themselves too seriously.
Besides Zinfandel, you'll find a plethora of other wines. The vineyards may be dominated by popular wines like Chardonnay and Pinot Gris, but these plantings aren't exactly what Lodi does best. The region is truly a melting pot of grape varieties. There are scattered plantings of over 120 different grape varieties, including rare finds like Aglianico, Picpoul Blanc, Nebbiolo, Tannat, and Vermentino.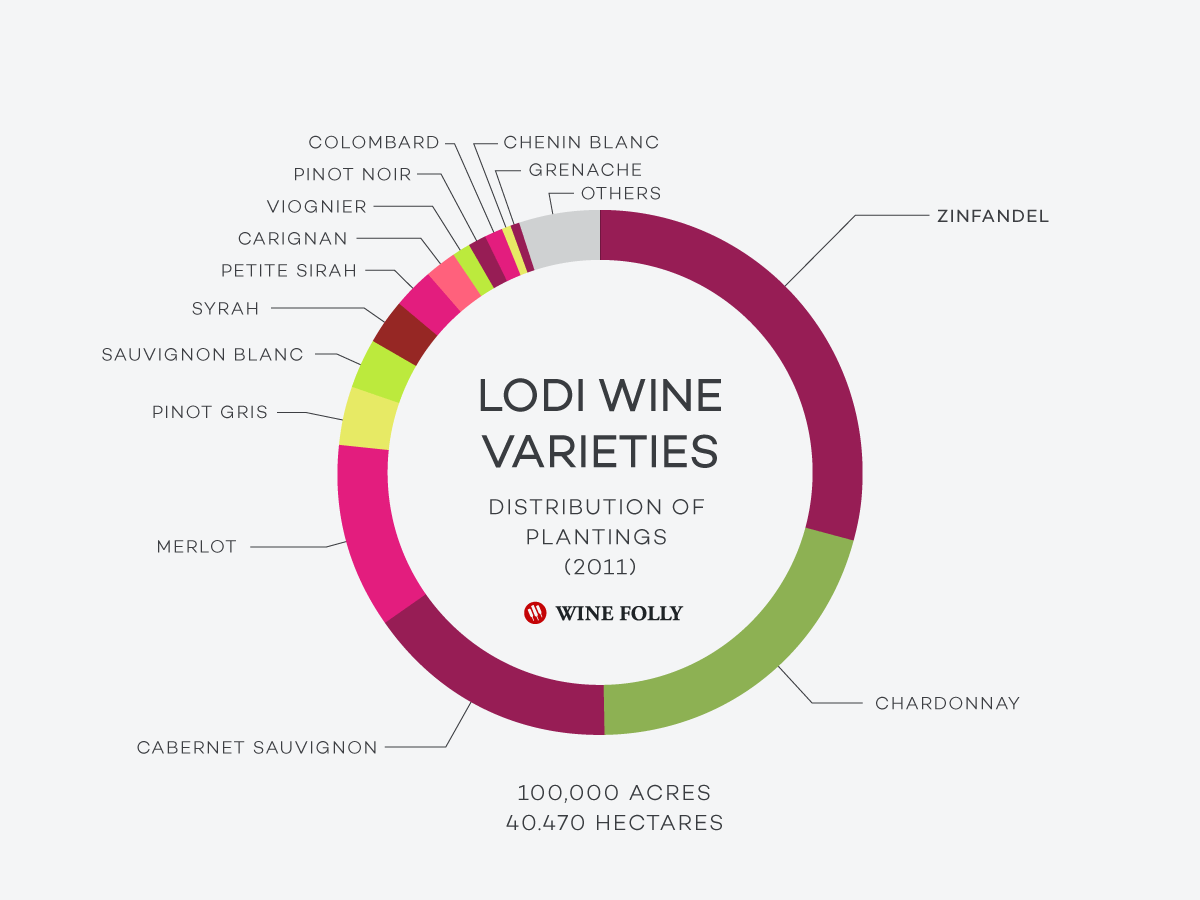 Here are a few Lodi wine varieties we believe show great potential in Lodi's sand-dominant soils and warm climate:
If you don't recognize some of the varieties listed above, that's okay! Many of Lodi's most delightful finds are extremely rare, which is what makes it such a fascinating region to explore.
 
Zinfandel Saved Lodi's Old Vines
In a lot of ways, Zinfandel saved Lodi. Before the Lodi Zin craze, many of the region's vineyards (which were planted over a century ago) were being ripped out in favor younger and more commercially viable varieties. But when Lodi Zinfandel producers advocated wines made from old, head-trained vines, consumers took note. This marketing angle saved many old vineyards from re-planting, including the world's oldest Cinsault.

A Taste of Lodi Wine
You might be wondering, what do these wines taste like?
This is where I have to warn you. You will either love it or love to hate it. Lodi just can't help it's bombastic, bold fruit-forward style, so, instead of fighting it, it owns it. One hundred percent. These wines may sometimes look pale in color, but the aromas punch full-force at your nose and the flavors can't help but smash dance on your palate.
If you're someone who loves fruit, smokiness, bombast, loud concerts, explosions, and bow-hunted, homemade jerky, this is your wine. If you love Amarone, Châteauneuf-du-Pape, Walla Walla Syrah, Aussie Shiraz, and Spanish Garnacha, you will love Lodi wines.
Things are changing in the region, though.
More producers are experimenting with native yeast fermentations and less oak. These native ferment wines have less oak and have almost bread and butter pickle-like aromas. Yes, they still have the bold fruit that central California is famous for, but they have something else. The funk!
If you're an alt-wine enthusiast, you'll be surprised at what you find. A few examples include Fields Family, Markus Wine Co., McCay Cellars, and the Lodi Native project.
---
Lodi Wine Region
The Lodi AVA (American Viticultural Area) has seven sub-AVAs, of which, the most important (historically) is Mokelumne River. Mokelumne is an area that surrounds the city of Lodi and is home to the oldest vineyards. The soils here are very sandy, which increases aromatic intensity in wines, but also slightly reduces body and color. Wines from Mokelumne are still quite bold, but often hauntingly more floral.


winter at Soucie Vineyard, planted in 1916 in the super-sandy loam soil of Lodi's Mokelumne River AVA. by Lodiwine.com.
Beyond Mokelumne River, the regions of Sloughhouse, Borden Ranch, and Clement Hills are more hilly. The area is right at the "toes" of the foothills of the Sierra Nevada mountains. While these areas are much more sparsely planted, they show great potential for bold red wines and we're excited to see how these sub-AVAs develop in coming years.
Sustainability

For a region that produces so much value wine it's surprising to learn that Lodi's sustainability initiative, Lodi Rules, is one of the most comprehensive wine sustainability certifications in the nation (if not, the world). It's so good in fact, that many wineries outside of Lodi have adopted the standards themselves. If you'd like to get into the nitty gritty details, you can check out Lodi Rules here.
If you want to support sustainable wines (we certainly do!), simply look for the green Lodi Rules seal on the bottle.
---
Resources
Want to know more about Lodi? Randy Caparoso keeps up the blog at Lodiwine.com and it's great.