Considering a trip to Oregon wine country? Get tips on where to taste, stay, as well as what you need to know before your visit.
Home to distinct and shockingly elegant interpretations of Pinot Noir, Pinot Gris, and Chardonnay, Oregon's Willamette Valley is quickly becoming the spot for wine enthusiasts.
This pastoral landscape may seem picture-perfect, but growing grapes in this cool corner of the world is not easy. Sunlight is scarce for much of the year, frosts occur at the most inopportune times, and the number one grape here (Pinot Noir) is notoriously sensitive. It requires passion to make wine in the Willamette Valley—literal passion, as in something you're willing to suffer for.
Fortunately, the region is filled with determined, forward-thinking producers and careful stewards of the land. They all come from different backgrounds—farming/viticulture, tech, journalism—but they have one thing in common: they're all tinkerers. They're the kind of people who passionately debate the use of native yeast in wine, play with the microclimates in their own backyards, and are constantly seeking to perfect Pinot—or try their hand at something that grows even better.
Getting A Lay Of The Land
Sitting on the same latitude as some of the great wine regions of the world (Bordeaux, Burgundy), this valley stretches from north of Portland to south Eugene. Idyllic as it may seem, the Willamette Valley sits on the Pacific Ocean's Ring of Fire, and is defined by a rather dramatic past. Think crashing tectonic plates, volcanic eruptions, and a two-thousand-year cycle of floods. The end result: a diverse mix of marine sedimentary, volcanic, and loess soils.
Within the Willamette Valley, there are six distinct sub-appellations: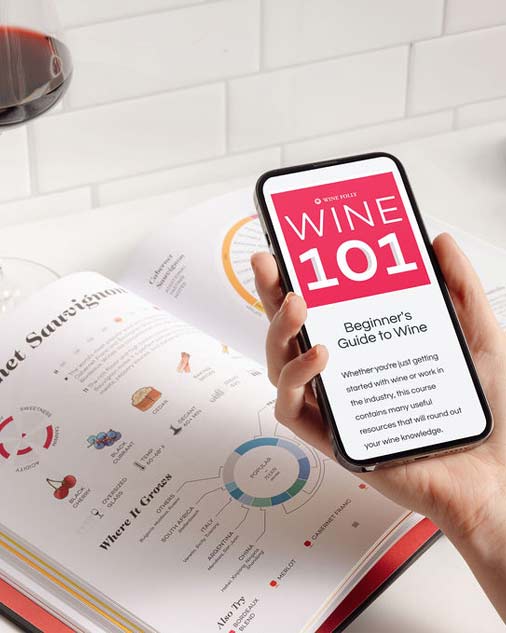 Buy the book, get a course.
Get the Wine 101 Course @ 75% OFF with the purchase of Wine Folly: Magnum Edition.
Shop Now
Dundee Hills – A warmer spot in the Willamette Valley nestled between the Coast Range and Chehalem Mountains, featuring Jory volcanic soils.
Eola-Amity Hills – Defined by the Van Duzer Corridor, which provides a gap for Pacific Ocean winds to blow through in the later afternoon. Predominantly volcanic soils.
Yamhill-Carlton – Features warmer temperatures as well as some of the earliest harvest dates in the Willamette Valley. Composed entirely of coarse, ancient marine sedimentary soil.
Chehalem Mountains – Home to the highest point in the Willamette Valley. Shelters vineyards from strong winds, and features a mix of the region's major soil types.
Ribbon Ridge – A small, island-like region in the Chehalem Mountains composed entirely of marine sedimentary soil which holds water well, but is low in nutrients—ideal for viticulture.
McMinnville – Weathered soils, marine bedrock, with cool ocean winds sweeping through the Van Duzer Corridor to maintain the grape acidity in the late afternoons and evenings.
What's the Van Duzer Corridor? This substantial gap in Oregon's Coastal Range mountains allows for cool ocean winds to pour into the Eola-Amity Hills and McMinnville, quelling extreme summer temperatures and keeping the acid in grapes extra tight. (Also, a great geographical moderator for a grape as sensitive to extreme cold and heat as Pinot Noir.)
---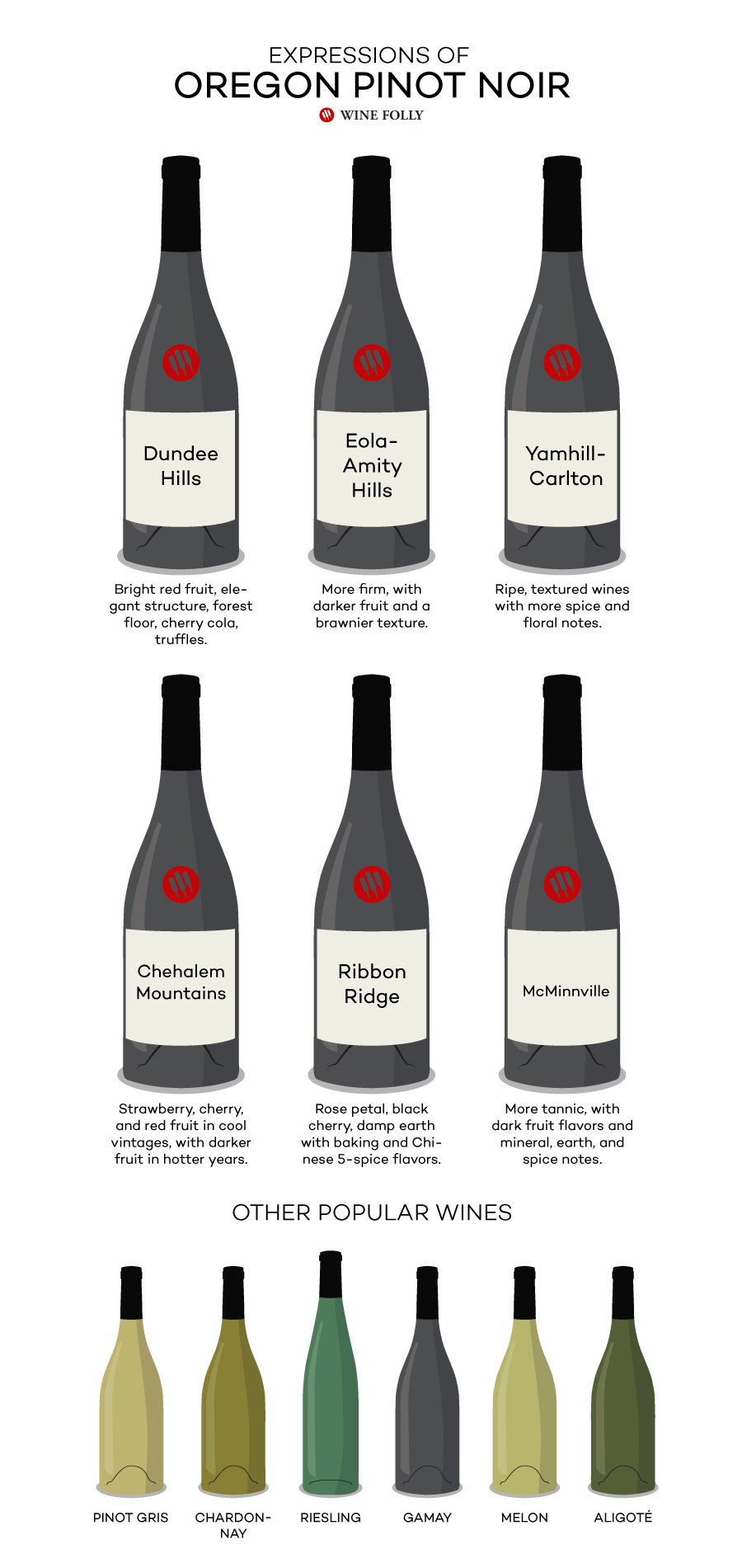 The Wines
You knew Pinot Noir was big here, but maybe you didn't know just how big. It takes up almost three-fourths of all plantings in the Willamette Valley! However, don't be fooled into thinking if you've tried one Pinot Noir from Oregon, you've tried them all. Wines can drastically differ from one Willamette Valley sub-region to the next. A temperature difference of just 3°C can greatly affect how the grape develops! (Damn, Pinot, why you gotta be so touchy?) This is why the wines can seem worlds apart from say, their Burgundian, Californian, or Tasmanian cousins. "Jammy" and "dense," these wines are definitely not.
So, what's the right Pinot Noir for you? Consult the guide below and carefully consider the label for an idea of what you're going to get.
Dundee Hills – Bright red fruit, elegant structure, forest floor, cherry cola, truffles.
Eola-Amity Hills – More firm, with darker fruit and a brawnier texture.
Yamhill-Carlton – Ripe, textured wines with more spice and floral notes than your average wine.
Chehalem Mountains – Strawberry, cherry, and red fruit in cool vintages, with darker fruit in hotter years.
Ribbon Ridge – Rose petal, black cherry, damp earth with baking and Chinese five-spice flavors.
McMinnville – More tannic than your average Pinot Noir wine, with dark fruit flavors and mineral, earth, and spice notes.
Willamette Valley – A mixture of fruit from various sub-regions or a specific site elsewhere in the valley.
For more on how the AVA (American Viticulture Area) classification system works, please see here.
While you may have come for the Pinot Noir, it's the white wines that may surprise you the most. Pinot Gris from the region is outstanding, boasting flavors of creamy pear, melon, and cinnamon, with minimal sweetness. Chardonnay has also made some significant headway in recent years, often creating structured wines with zesty citrus flavors and notes of nuts and fir. Another pleasant surprise was the Riesling, which we found had surprisingly juicy fruit flavors and taut acidity.
Pro-Tip: During your tastings, you may hear the phrase "Dijon Clones." Brought into the United States via Oregon State University from France, these specific Pinot Noir and Chardonnay clones (a vine variety selected for specific qualities) are well-suited for cool-climate growing and produce fruit with intricate flavors.
Jason Lett of The Eyrie brought a Chasselas out to lunch.
A very rare variety in the U.S., but common in Switzerland!
If you're looking for wines outside the norm, however, you're in luck. Willamette Valley producers have been doing some pretty delicious things with varieties like Pinot Blanc, Aligoté, Melon de Bourgogne, and Trousseau. However, what got us most excited was Gamay Noir, which seemed to burst out of the glass with cranberry and raspberry flavors and a spice-driven backbone. However, we should probably temper your expectations a bit: plantings and wines are far from prevalent. But you know, it never hurts to ask around…
Fun Fact: Oregon has some of the strictest wine regulations in the United States, with Pinot Noir, Chardonnay, and Pinot Gris needing to contain at least 90% of the variety, as opposed to other regions, which require 75%.
---
How Did Wine Folly Do The Willamette Valley?
We gave ourselves a little over two days for our trip, coming down from Seattle to McMinnville, in a smooth 3 1/2 hour drive. We were lucky that The Oregon Wine Board and Willamette Valley Wineries Association helped us craft an itinerary to show us the range of what the valley has to offer and helped us maximize our time.
We want to thank all of the winemakers who took time out of their day to meet with us. We'd also like to give a special thank you to Emily Petterson, Sally Murdoch, Bree Boskov, Tom Danowski, Kate Payne-Brown, Jason Lett, Madison Rountree, Michelle Kaufman, The Oregon Wine Board, Willamette Valley Wineries Association, and Stoller Family Estate.
Here's where we went:
---
Day 1
Stoller Family Estate
Sustainable, environmentally-sound winemaking in the heart of the Willamette Valley.
Kate Payne-Brown is fighting a cold, but it's not keeping her down. Her enthusiasm is infectious. (Pun not intended). She's taking us on a tour through Stoller Estate's one-of-a-kind facility. We try Amphora-aged Syrah, Beaujolais-style Pinot Noir, whole-cluster Pinot Noir—all made with Dundee Hills fruit from their estate, all a bit different, all delicious. "We have an identity [in Oregon Wine]" she says, "but we're still soul searching."

Kate Payne-Brown is fighting a cold, but it's not keeping her down. Her enthusiasm is infectious.
Stoller Estate's facility is something else. Really something else. Deep in its cool underground catacombs, Payne-Brown tells us all about the facility's LEED Gold Certification—the first of its kind in the winemaking world and an international symbol for sustainability achievement. Toss in the fact that the vineyards are LIVE-Certified and Salmon Safe, and it's everything we expected Oregon wine to be. Maybe a little more.
Our tour wraps up late in the day and it's already pitch black in Dundee Hills. But somehow after all the information and all the wine, we're reenergized. It is revealed that a few of the Wine Folly staff have never seen a sabered bottle of sparkling wine. Payne-Brown picks up a butter knife from the charcuterie board, pulls a sparkling Pinot Noir from the fridge, and happily obliges.
---
Day 2
Elizabeth Chambers & Vista Hills
Kicking off our day with a glass of orangé.
Dave Petterson is having a busy day. He's in the middle of prepping for a wine dinner in Portland, testing barrel integrity, and then these wine bloggers show up. Still, even then, we don't feel the slightest bit rushed. We could never be so zen. "I'm envious of my beer friends," Petterson jokes. "Beer you can make quickly, but wine, you only get about 30-40 chances in a lifetime." He starts off our day with something a bit different from Pinot Noir: Orange Pinot Gris and Muscat Dessert Wine, both successful experiments in our opinion.
"We're not trying to be France," he says. "We're more about the spirit of adventure."
Our visit is brief and concludes with a slip of the tongue from one of our own. "Thank you for the orangé," we say. We're off to a great start on this junket. Petterson just chuckles and wonders if he can use that.

The Eyrie Vineyards
Pioneers of Oregon Pinot Noir.
The Eyrie needs no introduction, but we're going to give it one anyway. Founder David Lett (a.k.a. "Papa Pinot") was the first to plant Pinot Noir vines in the Willamette Valley in the 1960s. It was his wine, a 1975 South Block Reserve Pinot that placed among the top 10 at the 1979 Gault-Millau Wine Olympiad in Paris, proving the wines of the Willamette Valley could belly up to the best of Burgundy.
Today, we're being showed around by Jason Lett, David's son and current head winemaker. Knowing the winery's history, we were a little intimidated beforehand, but we see right away he's friendly, approachable, and down-to-earth—the Willamette Valley in a nutshell. After Lett gives us the 101 on Willamette Valley terroir, he kicks us off with a knockout old vine Pinot Gris, one to that's sure to appeal the most vitriolic of white wine haters. While it's been joked that Pinot Gris is what winemakers drink until they can figure out which Pinot Noir to open, Lett feels otherwise. "In my opinion, the other side of the Oregon flag should be Pinot Gris." In that moment, it's hard to disagree.
We elect to indulge our inner wine geek with samples of Melon de Bourgogne, Trousseau, and Chasselas, the latter of which he brings to lunch with us. As we chow down at the Valley Commissary, Lett seems excited about how revitalized McMinnville is now, especially when it was so empty in the nineties. He does lament one thing before dismantling his chicken and waffle: "Four years ago, we never would have had trouble finding a parking spot."

R. Stuart & Company
A tasting room straight outta Bretagne in Downtown McMinnville.
"Whoa, déjà vu." First words out of one of our staffer's mouths upon entering Maria Stuart's tasting room in downtown McMinnville. The staffer, who we must note, had spent some time in Nantes in her youth, remarks, "I feel like I'm in my Bretagne auntie's living room." While no one else could speak to that, it was hard to disagree. Be it the decor, lively proprietor, or affordable wines, everything about R. Stuart & Company is pleasantly familiar and approachable.
"We pride ourselves on not being stuffy," Stuart says. "We want to make wines you can have every day with dinner." We sample everything, because well, seemingly everything in the Willamette Valley can be had here. Beyond Pinot Gris and their sparkling wine (which is seeing a bit of a resurgence in the area), we try Pinot Noir sourced all around the valley (Dundee Hills, Eola-Amity Hills, and Yamhill-Carlton) and get a reminder of just how different Pinot, even from the same place, could be.
Coeur de Terre
Organically-farmed vines in the diverse McMinnville AVA.
We wish we were as passionate about anything as Jacques, Coeur de Terre's sales manager, is about soil. But when a site is as dynamic as theirs is, it's not hard to see why he's so enthusiastic. The McMinnville AVA features a mélange of soils—marine sedimentary, marine bedrock, volcanic—and Coeur de Terre seems to have it all in their backyard. Add in various elevations, slopes, and winds of the Van Duzer Corridor, and you got sites on sites on sites.
Scott Neal, co-owner of the winery, is a passionate man too. When you insist on planting every vine by hand and farm using only organic and sustainable methods, we don't know if you can call that anything but passionate. (Our backs ache just thinking about it.) His wines are an excellent reflection of the sub-region, but it's his trio of reserves that capture our attention: All are made from Pinot Noir, all from the same vineyard. The key difference? Fruit in these wines come from specific blocks, each with their own predominant soils, elevation, and exposure. As you can imagine our tasting notes, while effusive, were quite different.
---
Day 3
Goodfellow Family Cellars & Matello
"Oregon winemakers are wildlife photographers. Capturing a moment, rather than creating one."
Marcus Goodfellow and Megan Joy make us feel lazy. (Which is fair, because we are.) They're already hard at work, wrapping up the last of his harvest business when we enter in an un-caffeinated daze. It will be a busy day, so he wastes no time in running through his wines, each from specific sites throughout the Willamette Valley.
As in France, Goodfellow relies solely on non-irrigated vines and prefers a gentle touch in the vineyard. No pesticides. No unnecessary spraying. "So many things are put together for perfection," he says. "Not just for what they are. Our goal is not to create a Lexus, which is a great car, but more of a '67 Mustang, quirks and all."
Brick House
"Buzz, he's a horse guy. He's 90 years old and still castrating horses. To me, that's Yamhill-Carlton."
Those are Doug Tunnell's words, not ours. We're in his dining room, enjoying a vertical of Gamay Noir, a more reliable, more forgiving alternative to Pinot Noir. We know Tunnell from somewhere, but can't place it. (We'd later learn that the he was a war correspondent for CBS, likely on our television screens every night in the early nineties. It would certainly explain his smooth, broadcast baritone and penchant for good quotes.)
After spending time in some of the more embattled parts of the world, he's settled in nicely in this Beaujolais-like spot in Ribbon Ridge as the head of this fully organic and biodynamic farm. As you might expect, he knows his land well and can paint a picture. "In summer, we can see the [marine sediment] soil, silica glittering in the light," he says. "Rough on farm equipment though."
We go through nearly a decade's worth of Gamay Noir, flavors transitioning from fresh and tea-like to an increasingly more spiced and robust profile year to year. He remarks that people are always trying to force Pinot Noir, even where it doesn't grow best. Tunnell smiles and keeps pouring.
"For Gamay, this might just be the place."
Craft Wine Co.
The adventurous side of Oregonian wine.
Humming equipment, wet concrete floors, a burly, bearded affable man who can't wait to tell you about his product—are we in a winery or microbrewery? No matter. We're into it and we're into Chad Stock and his unique wines.
While Craft Wine Co.'s Omero Line focuses on more traditional Willamette Valley offerings, we're here to get a little weird. "This is America," Stock jokes. "I can do what I want." On our drinking docket: Aligoté, Grüner Veltliner, Pinot Gouges, Gamay Noir—all wines made from extremely limited plantings—some of which were smuggled into the valley.
"Oregon is starting to diversify," Stock says. "There are way more varieties here, but you have to be here to experience it. It's a behind-the-scenes secret." We're beyond grateful to have a peek.
Walter Scott Wines
Perfecting the art of Pinot Noir and Chardonnay in Eola-Amity Hills.
While Oregon wine may be diversifying, Erica Landon thinks the work has only just begun with Pinot Noir and Chardonnay. "Chardonnay is having a bit of resurgence, after once being an afterthought," she says. "Growers back then were not paying attention. Fruit quality was lower than it is today."
Walter Scott's wines are exclusively from sites in the Eola-Amity Hills, where the Van Duzer Corridor draws in wind from the coast, cooling the grapes at night and toughening their skins. The wines are bigger and fruitier than other sites, but still have the region's trademark elegance. Landon jokes that she finally let her husband grow Pinot Blanc, but she remains steadfast.
"If you want to be in the conversation of Oregon wine, you've got to concentrate and focus on making the best product possible. We've only scratched the surface."
Brooks Winery
Willamette Valley Riesling for days. Literally days.
We've had no shortage of excellent Pinot Noir and Chardonnay on this trip, but for our last stop, we're going all-in on Riesling, a variety that flies under the radar here.
There's a party going on at Brooks today, but winemaker Chris Williams, along with grower liaison Claire Jarreau, make time to sit with us and go over their full lineup. Williams, too, makes an excellent, entry-level Pinot Noir that sells for a surprisingly low price point. ("I can make an expensive wine, too," he jokes.)
However, it's the Riesling that has us extra jazzed. Brooks' offerings cover the whole spectrum of sweetness (dry, medium-dry, medium-sweet, sweet), with multiple offerings from every level. The dry, acidic Riesling is a nice pick-me-up, but it's the sweeter, riper stuff that we'll end up writing home about. We suppose we'll always hold a torch for sweet wine done well.
---
What To Eat

Every winemaker we asked recommended to check out Thistle Restaurant in McMinnville.
Seemingly every winemaker we ran into recommended Thistle. (Always a safe bet, by the way, listening to the winemakers. They know their stuff.) All local, all fresh, all in-season cuisine in a warm setting with a thorough wine list featuring Oregon producers and beyond. We enjoyed an incredible meal of bread and fat, field greens, rockfish, and quail before topping off it with an elderberry tart. Holler.
La Rambla also offered a warm, vibrant setting–but with authentic Spanish dishes. We chowed down on creamy piquillo peppers, patatas bravas, and seafood paella. Aside from having an outstanding Spanish wine selection, they also have a few Oregonian takes on Iberian varieties. (We opted for a Southern Oregon Tempranillo with our feasting. #KeepItLocal)

European-inspired baked delights are found near Yamhill-Carlton. Photo Credit: Carlton Bakery
If you're tasting out near Yamhill-Carlton and need something hearty to sop up all the grape juice, keep your eyes peeled for the European-style Carlton Bakery. We're still dreaming about their sandwiches and macarons.

Last, but definitely not least, we must recommend The Valley Commissary for breakfast and lunch. It has the distinction of being the only place Wine Folly visited twice. With local ingredients, scratch-made dishes, and universal winemaker approval, how could we not? Pro-Tip: The fried chicken and waffle was heartily recommended to us and lived up to the hype.
Also, hazelnuts, y'all. Oregon produces 99% of the United States' crop. Do not leave here without them.
---
Where To Stay

We opted for the quirky, centrally-located Hotel Oregon-McMenamin's in Downtown McMinnville. For those of you who don't know about McMenamin's, this un-chain-like chain of properties takes old, historical buildings across the Pacific Northwest and converts them into more idiosyncrantic accommodations. Every room is unique, with this writer in particular enjoying a stay in the UFO Room.
(For those of you curious about McMinnville and its connections with UFOs, please read here.)
The compact, colorful rooftop bar was the perfect place for a nightcap and they charged us a very modest corkage fee when we brought our own bottles in. That view, too. Whew.
Be Warned: A large number of the rooms are shared bathroom only, something we brushed aside at first with our can-do attitude, but came to regret later. (Though they were very well maintained!) Fortunately, there are a handful of rooms with more, shall we say, traditional accommodations and an elevator for those who went H.A.M. with their bottle purchases.

You can rent an entire cottage at Stoller Family Estate. Photo Credit: Stoller Family Estate
If you're coming with a large group or simply prefer a stay outside of town, the cottages and houses at Stoller Family Estate will place you smack-dab in the middle of wine country. Added Bonus: It's a short walk to their winery and tasting room. Though, you may have a hard time leaving. It's almost too easy to sit on a couch with a Reserve Pinot Noir, a block of cheese, and get into a whole It's Always Sunny in Philadelphia marathon.
---
What To Do When Wined Out

Old timber barn in McMinnville's Granary District, home to Flag & Wire.
When we needed a kick, we visited Flag & Wire, a wholesale coffee company over in the up-and-coming Granary District. In a region that's already known for knockout coffee, this little roastery stood out in a big, big way. Whereas sometimes the more elaborate descriptions of coffee can fail to deliver, these ones were true to form. When they say it's like a blueberry dipped in acid, it tastes like a blueberry dipped in acid.
After a day of drinking (and spitting), we stumbled into The Bitter Monk, a cozy little brewpub with board games on McMinnville's main drag. We know you're in town for wine, but make room for Oregon beer. Maybe we're biased, but we think what's coming out of the region is truly world-class.
Also, did you know that The Spruce Goose, (the airplane with the largest wingspan ever built) can be found in the Willamette Valley? If you need a break from all that snacking and imbibing, we heavily recommend a visit to the Evergreen Aviation and Space Museum. It's hard to miss: it's on the main road into town and has a Boeing 747 on top of it.
---
Best Times To Visit
We visited in fall, just at the tail end of harvest. While it was a little cold and damp, the spectacular autumn scenery and reduced crowd size suited us just fine. Zero complaints here.
If you prefer some sun with your wine touring, Memorial Day Weekend through early September will be the best time to go. Even then, there's no weather guarantee, but 'tis life in the Pacific Northwest. If you really need sun, shoot for late July and early August… temperatures sometimes spike up into the 100s! (That's 40 ºC, btw.) Also, you might investigate the International Pinot Noir Celebration (IPNC) which is held annually in late July for a jam-packed, educational, Pinot-filled weekend.
---
What's The Vibe?
Both the product and the people are incredibly approachable. Just a little over 30 minutes outside the ever-bustling, ever-more crowded Portland, you'll be treated to an open landscape of farmland, vineyards, and charming towns like McMinnville and Carlton. This isn't Napa where you'll be judged on your looks. No $50 tasting fees. Not a château in sight. Everyone's welcome here. So do like a Northwesterner: put on a waterproof jacket, strap on some Gore-Tex boots, and taste.