If you're wondering what Oregon wine is really like and want to understand the region a little better, this guide will help you understand the grape varieties, the sub-regions and the taste that makes Oregon wine so unique. In particular, we'll be talking mostly about Oregon's largest region: The Willamette Valley which is known for Oregon Pinot Noir.
Q: What Does Oregon Do Best?
A: Pinot Noir, Pinot Gris and Chardonnay
Oregon Pinot Noir in the Willamette Valley
Oregon's most important grape is Pinot Noir, then Pinot Gris, and finally Chardonnay as a fast 3rd in terms of production. Despite what you may hear whispered about Oregon wine, it makes up less than 1% of volume compared to California, but it's growing. The focus in Oregon will be Pinot Noir, Chardonnay and Sparkling wine — it's practically a spitting image of Burgundy, France.
 
What does Oregon Pinot Noir Taste like?
If I had to pick only two words to describe Oregon Pinot Noir it would be 'cranberries' and 'earth'. The rustic quality of Oregon Pinot Noir doesn't always appeal to California wine enthusiasts who enjoy fruit-forward wines. So be warned, you're entering a different world. Oregon red wines are nuanced, subtle, with high acidity that don't always explode with lusty fruit.

Two words: Cranberries & Earth
BUYING TIP: If you spend a little over $30, the taste of Oregon Pinot Noir changes remarkably. It goes from a rustic-and-choppy wine to liqueur-of-black-cherries and velvet in a glass. But why?
Why does Oregon Pinot Noir have such a wide range of tastes?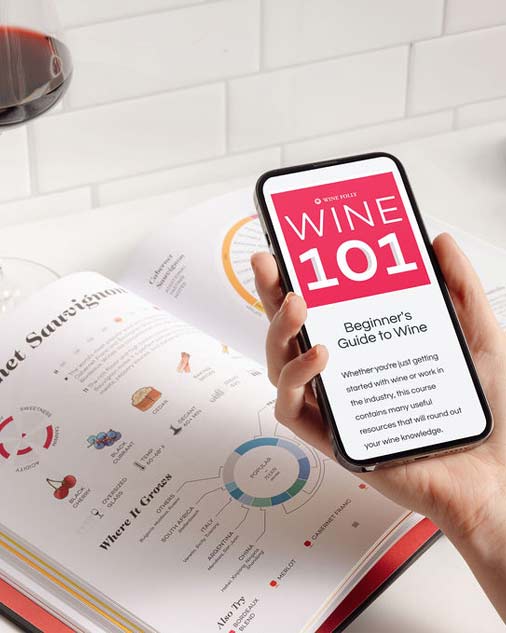 Buy the book, get a course.
Get the Wine 101 Course @ 75% OFF with the purchase of Wine Folly: Magnum Edition.
Shop Now
Oregon is dank and highly dependent on weather year in and out. So where the grape grows really matters. There are three major influences on the taste of Oregon Pinot Noir:
Vintage Variation Inclement weather in the spring and fall each year greatly affect the taste of that year's wine. Examples of warm vintages include: 2008, 2009, 2012 and 2013. Cool vintages where wines are lighter and have higher acidity are: 2010 and 2011
Vineyard Location Morning fog in the Willamette Valley means south facing slopes are ideal. See below for an understanding of the subregions in the Willamette Valley.
Complexity and Body from Oak Aging Certain winemakers focus on fancier oak programs with high quality French oak barrels and longer aging. In Oregon Pinot Noir, French oak adds cinnamon, clove and vanilla notes in the wine. Wines with less oak often get their body and tannin from grape skins and tend to be slightly more bitter. This is an important factor to pay attention to when searching for the style you like.
How do I seek out the best Oregon Pinot Noir?
Take a moment to understand the Willamette Valley by reading about each region below. Then pick a sub-region that fits your personal style and give it a whirl! You can either try an affordable ($20) bottle from a good vintage (say 2012) or expect to spend about $40 for something fantastic. If you're overwhelmed with choices, feel free to find me on twitter for a specific recommendation.
---
Oregon Wine Map (Willamette Valley focus)
Easy to Embed Copy/Paste the code.
Willamette Valley Sub-Regions
The Willamette Valley is a wide south-to-north oriented valley on the eastern side of the Coast Range of Oregon. The mountains act as a slight buffer to the ragingly cold Oregon coast but the valley still experiences some of the wettest conditions of any wine region. So where are the good spots where the best wine grapes grow?
The Willamette Valley has been carved up into several sub-AVAs that are noted for their ability to ripen Pinot Noir perfectly. There are 6 sub-AVAs within the Willamatte Valley AVA. Let's check out what makes 'em unique and what wines you might check out as a banner example of that sub-region.
---
Chehalem Mountains
(1,600 acres planted)
Cherry, Black Tea & Cinnamon
The Chehalem Mountains are the hills to the southwest of Portland. If you're traveling to Oregon by plane, this is the first place you'll hit. The vineyards here are experiencing some exceptional growth due to their proximity to the city. Some of the more bold Pinot Noir wines come from the Chehalem Mountains AVA. Expect Cherry, black tea and cinnamon.
Producers in Chehelam Mountains
J. Christopher, Raptor Ridge, Rex Hill, Sineann, Ponzi Vineyards, J. Albin
---
Ribbon Ridge
(500 acres planted)
Cranberries & Dirt
Ribbon Ridge is actually in the Chehalem Mountains but because it's on the southern lip of the mountains that has a slightly different soil and weather type, it earned its own AVA. Ribbon Ridge is where you'll find the intense cranberry flavors and rustic earthy notes that is recognized as Oregon Pinot Noir.
Producers in Ribbon Ridge
Beaux Freres, Brick House, Patricia Green
---
Dundee Hills
(1,700 acres planted))
Raspberry & Black Tea
 
Some of the oldest vineyards are in this area including Eyrie Vineyards which was the first to plant the area in 1965. Not only will you find excellent Pinot Noir, but there's also Chardonnay and sparkling wines. Dundee Hills has a high density of wine grower's here, making it a good area to visit. Pinot Noir from Dundee Hills offer up raspberry and black tea aromas.
Producers in Dundee Hills
Four Graces, Domaine Serene, Roco Winery, Archery Summit, White Rose, Eyrie Vineyards, Willful, Torii Mor
---
Yamhill-Carlton
(1,200 acres planted)
Black Cherries and Vanilla
 
Yamhill-Carlton's best vineyards are on the low rolling hills to the southwest of Ribbon Ridge. It stays hotter later in the afternoon in this area, so you'll find fruit-forward black cherry flavors in the Pinot Noir wines in and around Yamhill-Carlton. The area is very spread out in terms of driving and you'll find yourself driving many miles in-between vineyards.
Producers in Yamhill-Carlton
Big Table Farm, Shea Vineyards, Anne Amie Vineyards, Wilakenzie Estate, Penner Ash, Soter, Belle Pente
---
McMinnville
(600 acres planted))
Plum & Pine
 
A growing area named after the unbelievably quaint city of McMinnville. The south facing vineyards show promise of making some rich dark cherry and plum like flavored Pinot Noir. You'll find the slope angle really makes a difference in the flavor of McMinnville wines. Some of the wines are very rustic with pine and herb notes.
Producers in McMinnville
NW Wine Company, Hyland Estates, Yamhill Valley Vineyards
---
Eola-Amity Hills
(1,300 acres planted)
Plums, Currants and 5-spice
 
This wine area spans along a low set of hills that lead south into the state capitol of Salem, Oregon. All of the best vineyards are on southeastern facing slopes that run along the 221 Highway. It's actually an amazing drive because the flatlands are exploding with hops farms which lead into the vineyards in the hills. Pinot Noir from Eola-Amity hills have rich plum and currant flavors with subtle 5-spice aromas.
Producers in Eola-Amity Hills
Cristom, St. Innocent, Evesham Wood
---
Willamette Valley AVA
(10,000 acres planted)
The overarching Willamette Valley region contains all vineyards including those outside of the sub-AVA's listed above. Wines labeled Willamette Valley could also be blends of several vineyards put together, which is quite common because vineyard sizes are small due to good available sloped and angled land.
---
True grit. Newly minted Oregonians David and Diana Lett
plant Pinot Noir (1965). Courtesy Linfield College
Interestingly enough, I grew up in the Willamette Valley and it's a very unique place. To paint you a picture of what it's like, these were my friends in high school:
One friend owned 60 cats.
My mom's friends made me a black sheep wool blanket from her farm.
One friend rode her bike 12 miles to school every day.
Oregon is like the backwoods of the West Coast: it's one of the last stands of people maintaining the ideal of rugged individualist.
Sources
In 2010, CA produced 606,448,660 gallons of wine compared to Oregon, which produced 4,140,000 gallons. Based on statistics at wineinstitute.org and oregonwine.org
Photo of Diana and David Lett courtesy of Linfield College, Willamette Valley Archive – The Eyrie Vineyards with assistance from Emily Richardson, Associate Director willamettewines.com