Paso Robles is a wine region for the wild-hearted. The town El Paso de Robles (which means Pass of the oak trees) was co-founded by Kentucky outlaws Frank and Jesse James' uncle Drury around 1869.
Today, Paso Robles is still considered by many as the wine industry's wild west, characterized by that same rule breaking diversity and innovative spirit in which the town was founded.
"Paso Robles is the wild west of California wine."
Factoid: Paso Robles is California's fastest growing AVA. Since 2000, the number of bonded wineries has grown from 50 to over 200, driven by growth in ownership by small family-owned producers.
New Guide: Dive deeper into Paso Robles wines with the newly released Paso Robles Region Guide.
Understanding Paso Robles Wine
Paso Robles makes an amazing diversity of wines, but which ones should you be seeking out? The key styles of Paso Robles wine to pay attention to can be summed up into 5 categories: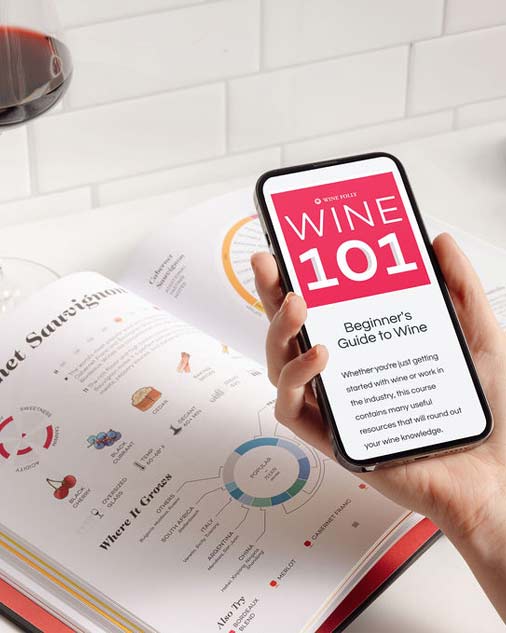 Buy the book, get a course.
Get the Wine 101 Course @ 75% OFF with the purchase of Wine Folly: Magnum Edition.
Shop Now
Zinfandel and blends
Cabernet Sauvignon and Bordeaux-style blends
Rhône Blends including Syrah, Grenache and Mourvèdre, as well as Viognier
Cal-Italians including Sangiovese, Nebbiolo and Barbera
Innovative Blends – non-traditional wine blends
Basic Taste Profile: Opulent, sweet-fruited red wines with a plush mid-palate, high alcohol levels, and a suprisingly firm backbone of acidity that will make you sit up straight in your seat. Paso Robles wines are typically enjoyed in their youth, although the best ones do stand the test of time.
Zinfandel
Zinfandel was the first commercially viable grape to be planted in Paso Robles, back in 1914. It is known for its sweet-fruited jammy raspberries, wild bramble berry, raisins, prunes, licorice and black tea spices and plush tannins.
Following Zinfandel, the next grape planted was Petite Sirah in the 1920's. On its own, it makes inky purple wines with wild blackberry, huckleberry and earthy tar and violet aromas. It is generally heavily oaked with charred notes and chocolate shavings along with dense chewy tannins. It is commonly blended with Zinfandels to add structure and color, helping promote age-worthy Zinfandel-based wines.
TIP: Every March, Paso Robles Wine Country Alliance holds a Zinfandel Wine Festival.
Cabernet Sauvignon
The Paso style strives to Big and Bold, making more richly textured, opulent, ready-drinking Cabs and Bordeaux blends with flavors of anise, cola, peppercorns, finishing with textured minerality and bright acidity.
Contrarian Cabernet: Contrary to popular belief, although the heritage of Paso Robles lies with Zinfandel, today over 55% of all vines planted are devoted to Cabernet Sauvignon and Bordeaux Varieties (Merlot, Cabernet Franc, Petit Verdot.) Originally planted in 1974 by "the Godfather of Paso", Gary Eberle, Cabernet Sauvignon quickly found its home in this warm climate region.
TIP: Love Cabernet from Paso Robles? Look into the PRCC (Paso Robles CAB (Cabernet Sauvignon and Bordeaux ) Collective) for wineries making age-worthy, high quality wines.
Rhône Varieties
The term "Rhone-Zone" was given to Paso because it hosts the largest acreage of Syrah, Viognier, and Roussanne in California. The Rhone is actually a region in France that lies along the mighty Rhone river. Red Rhone wines are traditionally blends dominated by Grenache, then Syrah, Mourvedre amongst 10 others. These wines have flavors of both red and black fruits (strawberry and blackberry), licorice, herbs, a full body and soft plush tannins. White Rhone wines can be 100% varietal-based from Viognier and literally taste like you bit into a dried apricot, or blends that include Marsanne and Roussanne along with 8 others, making wines that are richly textured viscous wines.
TIP: Rhone wine lovers can meet other fellow enthusiasts at the annual Hospice du Rhone international festival welcoming producers from as far as South Africa, France, Chile, Spain and Australia.
Cal-Italians
Vine cuttings from Sangiovese, Nebbiolo, Barbera, and Montepulciano grape varieties were brought with Italian immigrants from as far back as 1861 to the USA. However, it wasn't until the 1980's that these grapes found their home in Paso. Although Italian grapes lack the plushness of texture of other styles, their uniqueness lies in their ability to retain high levels of acidity, despite the heat. This allows them to be some of the most food-friendly wines in the world.
TIP:
History buffs can transport themselves
when they drink wines made from the ancient Italian grape, Aglianico. It was imported to Italy by the Phoenicians around 600 BC, and written about by Pliny the Elder.
Innovative Blends
Adding to the sheer diversity of grapes and styles explored above, we are now seeing producers add Spanish grapes like the white Albariño, or Verdelho, red Tempranillo and the Portugese Touriga Nacional (the main grape of Port wines) to their repertoire. These grapes are being made into single varietal styles that showcase their unique attributes, but are also found alongside Italian and French varieties in innovative blends as well.
---
The Different Styles of Paso Robles Wine by Region

In an effort to help the consumer better understand the diversity of terroir in the region, 11 sub-AVA's were legalized in 2014. Only time will tell how these sub-AVA's will form unique stylistic identities. As it currently stands, producers throughout the region make a huge range of styles with no specific style connected to a single subregion. Despite this, we have some theories:
Western Hilly Areas

The westernmost sub-AVA's, located in the Santa Lucia mountains (5 miles from the Pacific ocean), include; Adelaida, Paso Robles Willow Creek, and Templeton Gap. Elevations run up to 2400 feet with rainfall close to 30 inches and calcareous soils. The southernmost sub-AVA of Santa Margarita Ranch is planted on steep mountain slopes up to 1400 feet on mainly alluvial soils.

These areas have great potential for Rhône varieties.

Inland Valleys

East of the 101 highway you can find the dryer regions of San Miguel, Paso Robles Estrella, Paso Robles Geneseo, and El Pomar. Here elevations run between 700-1600 feet on alluvial, clay and loamy soils.

These areas seem to be perfect for great Italian and Spanish varieties as well as value-driven Cabernet Sauvignon and blends.

Inland Hilly Areas

The 2 regions to the far east of the appellation, San Juan and Highlands, see elevations above 1600 feet, have the least amount of rain and the biggest diurnal temperature shifts (50 °F).

These regions have amazing potential for high-end Portuguese and Spanish varieties, let's hope they plant more!

---

Paso Robles Terroir


Terroir refers to the soil and weather unique to a site or region. What makes Paso's terroir exceptional is the diversity in soils, elevation and rainfall. The Paso Robles AVA is California's largest in size. It encompasses over 614,000 acres, of which 32,000 are planted to grapevines. In this giant AVA there are over 45 different soil series, including granite, sedimentary, volcanic, sandstone, and it is home to the largest Calcareous-based soil formation in all of California. Calcareous soils are a clay-based soil with high lime content which produces higher pH levels. The high pH reduces the vine's vigor, allowing for flavor concentration and retention of acidity in wine. This is a great soil type for a warm climate, where ripening grapes is no problem!

In addition to soil diversity, the area sees rainfall levels that vary from desert-like 10 inches/year up to 40 inches in the higher elevation regions. Oh, and elevation reaches up to 2400 feet on the west side with lower sites in the east starting around 700 feet, further allowing wines to retain high levels of natural acidity.

Hot or Cold: Extreme Temperatures


Paso Robles has always been known for its heat. Average temperatures during the growing season can push 105 °F (40.6 °C) which will melt things in your car and make grapes grow plump with sugar. For this reason, it's been popular with late-ripening varieties like Cabernet Sauvignon and Mourvèdre. Of course, when you have this kind of heat most wine grapes become fat and gross and rapidly lose precious acidity. This is what makes Paso unique. Night temperatures in the region drop by 40-50 °F (4–10 °C) in what experts refer to as a diurnal shift allowing the wines of Paso to achieve power and full ripeness AND maintain refreshingly high acidity levels. There is a surprising lack of flabby wines found here, compared to other inland CA regions, such as the ones closer to Sacramento.

The Future of Paso Robles Wine

The diversity of soils, climate, altitude have allowed Paso Robles producers to stay true to their heritage as innovators. Jesse James and his crew would approve and enjoy the unbridled spirit of these unique, bold, flavorful wines.