Secret Stashes of California Pinot Noir
Three Secret Stashes for California Pinot Noir
Three regions you may not have heard of yet are making great California pinot noir. What's more, you can often find great pinot noir from these spots at better prices than surrounding areas. Want to know more?


Drumroll please.
To create this article we dug through years of tasting notes and reminisced with fellow wine rats on California pinot noir. It was grueling work that involved sharing wine! oh no! We still believe that pinot noir is over inflated and it's hard to find good deals under $20. So for this article, we focused on great California pinot noir and where the hot growing regions are. The good California pinot noir is coming from the hills. Hillside vineyards offer better drainage and help tune California's ample sun exposure. I've arbitrarily named them The 'Santa' Hills.
Santa Cruz Mountains
Santa Lucia Highlands
Sta. Rita Hills
If you're a wine geek, you probably noticed that I left out Sonoma, Santa Ynez and Santa Maria Valley who also produce outstanding pinot noir. These regions include valleys so we'll cover them on another day.
Leaving Silicon valley for the Santa Cruz Mountains
We start our journey in the low-slinging hills just south of Google headquarters. Tectonic plates smashed together on the San Andreas fault to create the Santa Cruz Mountains. The 1500 acres of vineyards in this vast growing area are found within protected forests and because of the proximity to the ocean with its cooling effect, chardonnay and pinot noir have proven to grow well. For a wine to garner the Santa Cruz Mountains AVA on its label the vineyards must meet a minimum elevation requirement.


The pinot noirs grown in the Santa Cruz mountains show rich dark cherry and raspberry flavors, medium-high acidity and 5-spice powder. Every vineyard has a very different soil type from one another making each wine have a slightly different mineral flavor. The area has been an official wine region since 1981 and now is home to over 70 local wineries (30 new ones in the last 5 years). Despite the proximity to San Francisco the area feels very remote.
I've created a list of a few producers using Santa Cruz Mountain fruit to make dark and haunting pinot noir.

Early post-prohibition winemaker Martin Ray planted chardonnay and pinot noir in 1945. Ray fought hard early on for American wine to have higher proportions of the stated varietal on the label (currently, 75% is the minimum). Original cuttings from the Mount Eden vineyard went on to start the Sonoma pinot noir scene. Their second label called Mount Eden "Saratoga Cuvee" starts at $28

An all organic winery using the 'Mount Eden' Clone (see above). The owner/winemaker, Jerold O'Brien, started Silver Mountain in 1979. $38

Founded in 1998, Big Basin was originally planted in the early 1900s by French immigrants. Currently the winery has restored the farm and has planted new vineyards. $44

In 1974 a Los Angeles restaurateur and contractor, Ken Burnap, bought the already-planted vineyard from David Bruce. The wines garnered acclaim from their first vintage in 1975.

Established in the 1970s, the winery started as a small cabin sitting 2000 ft. above sea level directly west of Stanford University. Pinot noir from Thomas Fogarty is dry and reserved (versus lush and opulent) $24

David Bruce

The winery started in 1964 and has grown to a large production winery with over 80,000 cases a year. David Bruce pinot noirs come from all over the state so look for the ones with Santa Cruz Mountains on the label. $25.

With a small 10 acre plot called 'Alpine Vineyard' at 1400 ft., this wine has a cult following. $150

Look for their Cumbre pinot noir for a great example of the region. $39
*Wineries with asterisks are culty, expensive and hard to get.
Living Next to the Giants in Santa Lucia Highlands
After leaving the Santa Cruz Mountains we go South past Half-Moon Bay into a wide valley in Monterey County. The valley runs Southeast along the San Andreas Fault and is home to giant bulk wine producers such as Franzia and Estancia. Bulk wine production comes from the vineyards in the middle of the valley. The good wine grapes come from the slopes on either side. Santa Lucia Highlands AVA is the hills on the Southwestern side of the valley and it became an official AVA in 1990.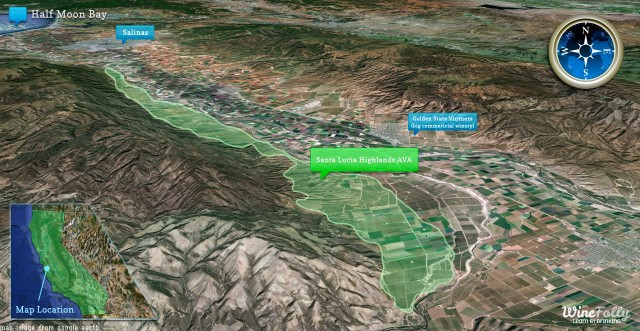 The slopes are a series of alluvial fans made of clay and sandy loamed soils that are well-drained. This basically means that the vines have to work a little by digging far and deep to reach water and enough nutrients. By struggling, the vine produces slightly less fruit but has greater concentration. The best wines from Santa Lucia Highlands typically have ripe black cherry flavors with hints of roses. The use of French oak-aging additionally adds the smell of brown sugar and burnt marshmallows.
Since the area is home to many larger vineyards, it's relatively easy to find pinot noir, chardonnay and syrah from Santa Lucia Highlands AVA. The higher end wines from the region often mention the specific vineyard they're from on the front label. One of the most famous wines of the region is Kosta-Browne, which started when a restaurant server, Michael Browne, and his friend, Dan Kosta, saved their tips one year to make a barrel of wine. Even though wines like Kosta-Browne are high-priced(or unavailable), Santa Lucia Highlands still offers some of the best values of pinot noir in the state.

*Wineries with asterisks are culty, expensive and hard to get.
Go Down South to Santa Rita Hills
Leave the flashdance of the San Francisco bay area and go south 200 miles to an area I used to call the 'dulldrums' between SF and LA. The farming town of Lompoc is a gateway to yet another awesome California pinot noir region: Sta. Rita Hills. Next to Lompoc are three sets of East-to-West hills separated by two little valleys. Each hillside offers South facing slopes for growing pinot noir. Santa Rita Hills is the middle set of hills, the upper is La Purisima Hills and the lower is Santa Rosa Hills. Officially a wine region in 2001, Sta. Rita Hills AVA has the hillside pots on all three hills. The official name is Sta. Rita Hills AVA and was changed from Santa Rita Hills AVA in 2006 after a Chilean wine company by the name of Vina Santa Rita had a legal shit fit.


Currently the area has over 1600 acres of vines planted with a dominance of pinot noir. Vineyards planted in the last 2 decades use better suited clones and trellising systems. The wines here are darker and taste of dark fruits such as blackberries with hints of smoke and white pepper. There are a few outstanding producers and vineyards in this area including Sea Smoke and Foxen.

Three Saints is the 2nd label of Dierberg and Dierberg has a 230 acre Starlane Vineyard in Sta. Rita Hills on La Purisima. Three Saints Pinot Noir $20 Dierburg Pinot Noir $40

This wine was featured in the movie Sideways. $99

Another cult classic that is also an estate vineyard making haunting, smokey pinot noir $120

A producer and vineyard in the area that offers many great valued wines.

Making California pinot noir from Russian River Valley (that's Sonoma btw), Sta. Rita Hills and Santa Lucia Highlands, they produce high quality wines under screwcap and specialize only in pinot noir $30 (AVA wine), $42 (single vineyard wine)

Making rich and supple pinot noir from the region that exhibits smokiness. $35

A longtime pinot noir producer in the area, making pinot noir since 1977. These wines focus more on balance than being big and thick in your mouth including the one linked. $35

Offers a lighter style pinot with cranberry and spice $25

D'Alfonso / Di Bruno / Curran / Badge

Several labels by one producer.
*Wineries with asterisks are culty, expensive and hard to get.
Sources
(not linked above)
Sta. Rita Hills Winegrowers
Santa Lucia Highlands Winegrowers
Santa Cruz Mountains Winegrowers
Tasting on rjonwine.com
wikipedia