Finding amazing California Pinot Noir is a lot like finding great wine in general: you've just got to know where to look! In this article, we're going to walk you through California's best hotspots for Pinot, from the legendary to the more obscure.
---
Where Does Pinot Noir Grow?
The truth about Pinot is that, like most grapevines, it can grow anywhere. But that doesn't mean it grows well.
You could get all the calories you need from eating macaroni and cheese day in and day out. But your doctor might have some harsh words for you.
So it's all about balance. Too much heat will boil the thin-skinned grapes terribly, and heavy rain with no drainage encourages mold (or worse: fat, flavorless grapes).
But with just the right level of sunlight, coolness, and soil drainage, Pinot Noir grows into tight, flavorful bunches: perfect for winemaking.
What you'll find that the winemakers of these regions have in common is pure passion. Pinot Noir is frustrating at best, and absolutely mind-boggling at worst.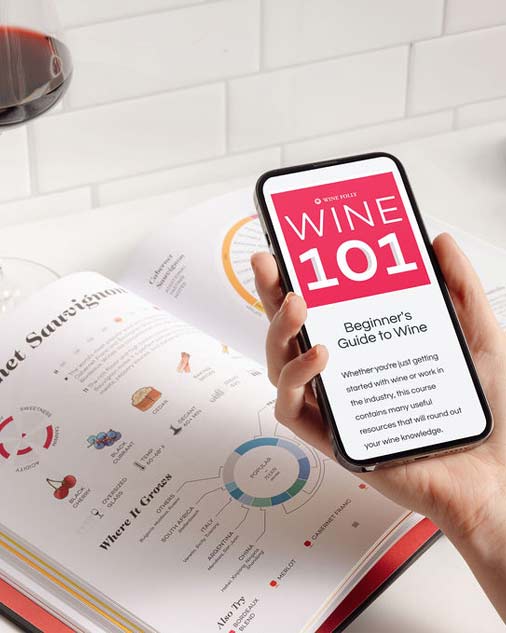 Buy the book, get a course.
Get the Wine 101 Course @ 75% OFF with the purchase of Wine Folly: Magnum Edition.
Shop Now
The weather and terroir required to make anything decent is enough to make your average amateur pull their hair out!
---
Popular Spots For California Pinot Noir
These are the legends. If you've had a decent California Pinot Noir, the odds are it was from one of these regions. And that means they run the gamut from the surprisingly accessible to the cult wine expensive.
Russian River Valley & Green Valley
The Russian River cuts hundreds of miles through the rocky landscape of Sonoma. Surrounded by gently rolling hills, the Russian River Valley hugs its namesake river on its way out to the Pacific.
Sandy soils, cool fog, and plentiful sunlight mean that Pinot Noir grown in the Russian River Valley and Green Valley are typically lighter in color with a velvety texture. High acidity provides balance to lush fruit flavors.
Aging in French oak has become common, offering these wines more complexity than the typical fruit bomb you might get from other California Pinot.
Vineyard acres: Russian River Valley 10,000 acres / 4,047 hectares, Green Valley 3,600 acres / 1,457 hectares
Where: Found in the center of Sonoma, with Green Valley in its southwest corner.
Also Known For: Chardonnay, Syrah, sparkling wine.
Soil: Though it has a diverse mix of soils, the Russian River Valley is best known for sandy-loam soils (called Goldridge and Franciscan soil).
Representative Wineries: Kosta Browne, Dutton-Goldfield, DeLoach.
---
Los Carneros
Though further away from the cold Pacific breeze than other Pinot regions, Carneros makes up for it with its proximity to the San Pablo Bay. Coastal mountains direct the cool, maritime breezes that come from all directions.
The clay soils produce more structure (color and potential tannin) which means these wines are often more rich in style. But the clay's shallowness makes the vines work harder for their fruit, leaving wines with good acidity and aging potential.
Vineyard acres: 1,300 acres / 526 hectares
Where: Straddles Sonoma and Napa Valley
Also Known For: Chardonnay, Merlot, Syrah, sparkling.
Soil: Shallow clay soils.
Representative Wineries: La Crema, Scribe, Etude, Acacia
---
Sta Rita Hills
Surrounded on all sides by round, rolling hills, the growing region of the Sta Rita Hills is smack dab in the middle of its own personal microclimate. This creates a Pinot-loving funnel, guiding Pacific breezes over the vineyards, cooling the grapes and creating a longer growing season than normal.
This creates wine with elegant, concentrated red fruit, along with excellent acidity and almost saline notes of minerality.
Vineyard acres: 1,700 acres / 688 hectares
Where: West of the Santa Ynez Valley, in the southern tip of the Central Coast.
Also Known For: Chardonnay, Syrah.
Soil: Rocky soil within a double hillside that creates a microclimate.
Representative Wineries: Melville, Foxen, Seasmoke
---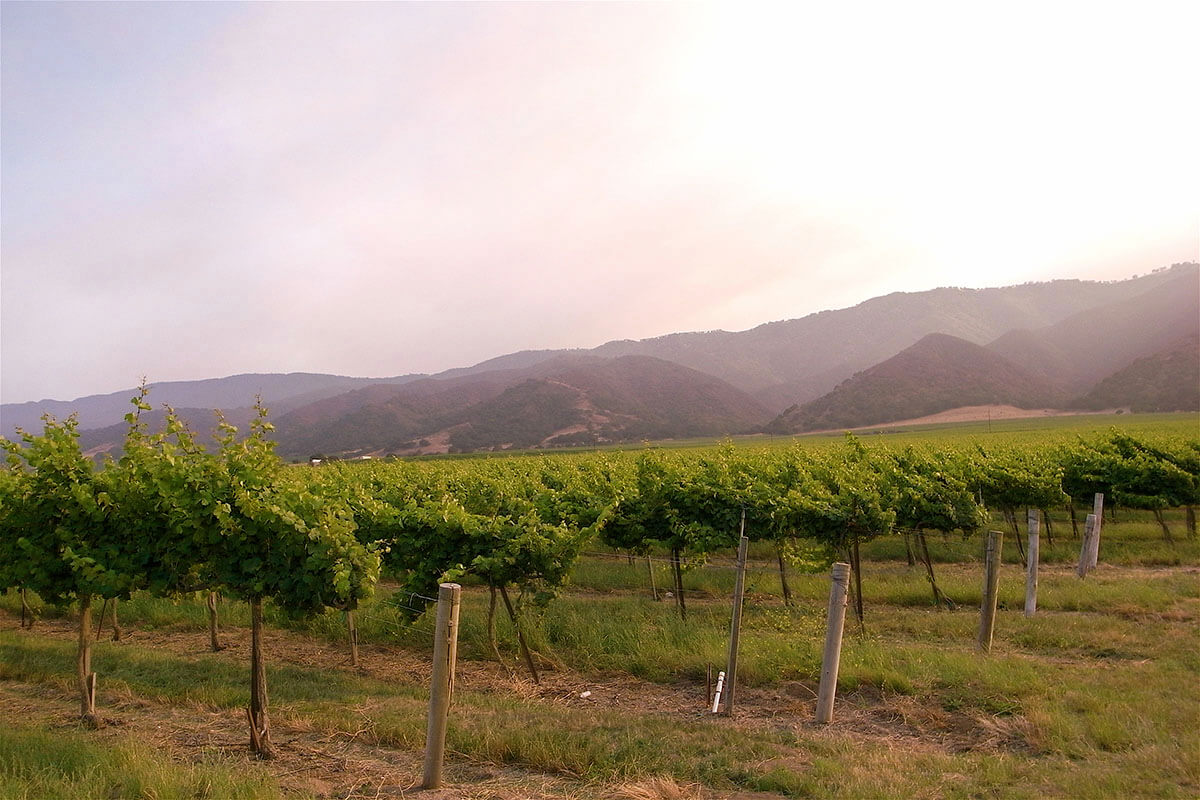 Santa Lucia Highlands
Carved into the eastern ridge of the Santa Lucia Mountains, the Highlands' windy elevation has encouraged a hardy breed of winemakers that see themselves as farmers first. Smaller yields of grapes brought on by the sandy, well-drained soil leads to better concentration of bold red fruit.
The near-constant winds that buffet the region make for longer growing times, adding some of that cool climate acidity that we love. This leads to lush, but complex flavors of ripe black cherry, an aroma of roses, and a dusty sense of minerality. The popular use of French oak adds a level of brown sugar spiciness.
Vineyard acres: 6,400 acres / 2,590 hectares
Where: South of Monterey Bay, along the eastern side of the Santa Lucia Mountains.
Also Known For: Chardonnay, Riesling, Syrah.
Soil: Sandy, deep loam (Chualar), found on the slopes.
Representative Wineries: Talbott Vineyards, Pisoni Vineyards, Lucia Vineyards
---
California's Secret Stashes of Pinot Noir
While the previous four regions are pretty well known the world over, these next five are for the real Pinot fanatics. These lesser-known locales for California Pinot Noir can add some spice to your life (and brownie points from the wine snobs you might know).
Petaluma Gap
Only designated as an official AVA in 2017, Petaluma Gap has already made a name for itself with Pinot Noir: it makes up 75% of all the grapes grown there! Its cooler climate makes for lower alcohol wines with high acidity and ripe, red fruit flavors.
Some wineries have begun experimenting with whole cluster fermentation in recent years, adding a level of tannin and bitterness that increases the aging potential: something most Pinots aren't exactly known for.
Vineyard acres: 4,000 acres / 1,618 hectares
Where: Along the southwestern corner of Sonoma, at a 15 mile opening in the nearby coastal mountain range.
Also Known For: Chardonnay, Syrah.
Soil: Fine and sandy soil covers much of the Petaluma Gap.
Representative Wineries: McEvoy Ranch, Petaluma Adobe, Keller Estate
---
Fort Ross-Seaview
When it comes to unforgiving terrain, Fort Ross-Seaview knows the pain. While the full region is around 43 square miles, 555 tiny acres are the only places suitable for grape growth. And even then, those vines have their work cut out for them.
This leads to distinctly leaner Pinots with aromas of cherries and violets, with a pale ruby color and chalky minerality. Like Petaluma Gap, many wineries are attempting to build up the age-worthiness of their Pinot with whole cluster fermentation.
Vineyard acres: 555 acres / 224 hectares
Where: Encompassed by the north-central region of the Sonoma Coast, mere miles from the Pacific Ocean.
Also Known For: Chardonnay, Pinotage.
Soil: Rocky, mountainous terrain with gravelly loam.
Representative Wineries: Del Dotto Vineyards, Failla Wines, Flowers Vineyard
---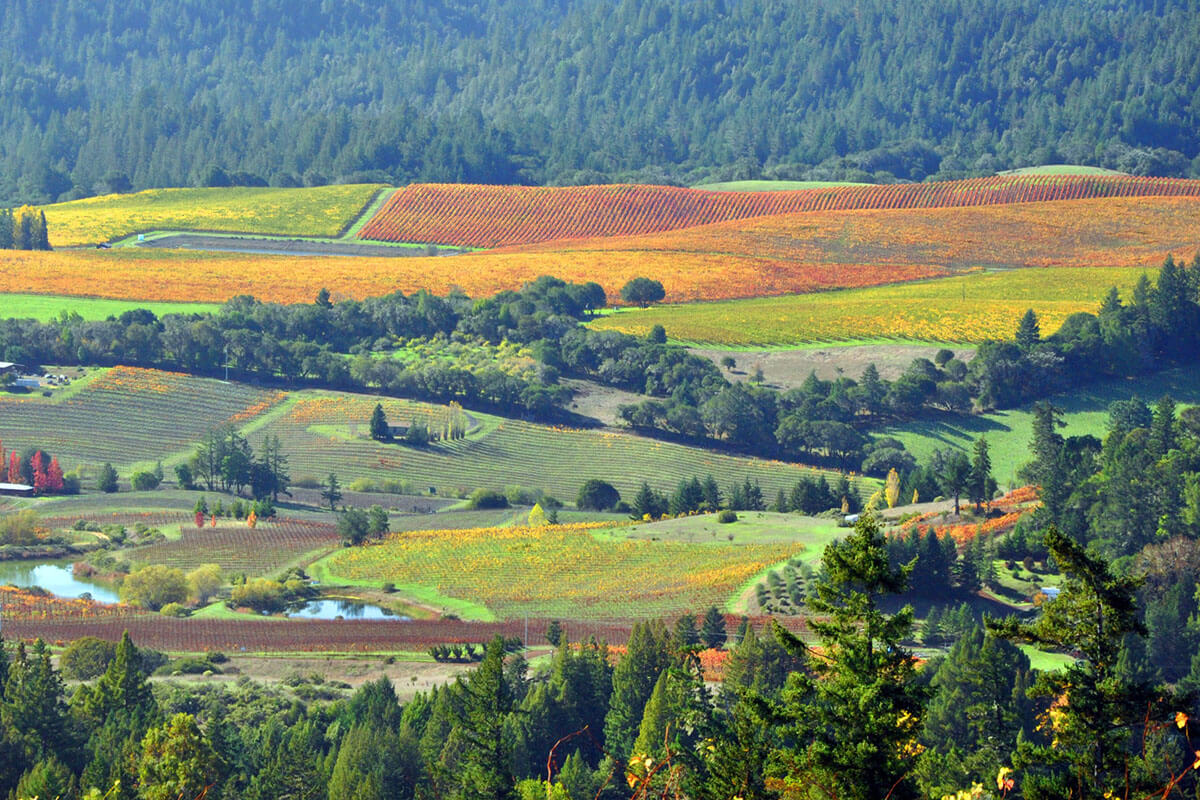 Anderson Valley & Mendocino Ridge
While the Mendocino Ridge was only officially made an AVA in 1997, it still has some of the oldest wineries in the area. And though many of those wineries were previously known for Zinfandel, Pinot Noir has recently taken center stage.
The deep roots that many of these vines have grown over the years make for tight acidity and excellent structure, with a plush, plummy flavor. The subregion Anderson Valley is churning out bold, tannic Pinot Noirs that are popular among collectors who want something that can age beautifully.
Vineyard acres: 237 acres / 96 hectares
Where: North of Sonoma Valley in the Northern California Coast.
Also Known For: Chardonnay, Zinfandel, Riesling, Gewurztraminer.
Soil: Sandy, alluvial soil, often with a heavier clay base.
Representative Wineries: Ferrington Vineyard, Rhys Vineyards, Littorai Wendling Vineyard
---
Santa Cruz Mountains
Known for its elevation, some of the vineyards in the Santa Cruz Mountain wine region reach as high as 2800 feet above sea level! While the eastern side of the region is warm, the coastal ridges provide the cooling weather needed for Pinot.
These mountain-grown grapes make a wine that is heavily mineral with complex flavors and the tannins needed to age gracefully. The difficult terrain has attracted many winemakers, including billionaire tech developer TJ Rodgers, who has made it his mission to make the world's best Pinot Noir with his winery Clos de la Tech.
Vineyard acres: 1,500 acres / 607 hectares
Where: In the mountains between Monterey Bay and San Francisco.
Also Known For: Cabernet Sauvignon, Bordeaux Blend, Chardonnay
Soil: Rocky soil and clay.
Representative Wineries: Domaine Eden, Rhys Vineyards, Falcon Hill Vineyard
---
Mount Harlan & Chalone
Located high in the northeastern Central Coast, these are the kinds of vineyards that a mountain goat would feel very comfortable in. Harlan and Chalone are two separate AVAs, but it's their soil that sets them apart.
The terroir in both regions is heavily limestone based: an uncommon sight in California. This makes for spiced, fragrant Pinot Noir, with bright colors and a great sense of minerality alongside dried cherries and floral aromas.
Vineyard acres: Harlan 100 acres / 40 hectares, Chalone 300 acres / 121 hectares
Where: The northeastern area of the Central Coast.
Also Known For: Chardonnay, Syrah, Viognier.
Soil: Limestone soil on higher elevations.
Representative Wineries: Calera Wine Company, Chalone Vineyard.
---
There's More to California Pinot Than Meets the Eye
The term "California Pinot Noir" brings up images of big, bold Pinot Noir with lots of fruit and spice. And there's a reason for that! But as you can see, there's more to California Pinot than just a fruit bomb.
If you know where to look, you're going to find a huge variety that suits any palate. Where are some secret stashes of Pinot Noir that you want more people to know about?