Cult wines are the pigeon-blood ruby of the wine world. They are engorged in a sort of mystery and delight that can only be satiated by tasting them. Of course, actually getting to taste a cult wine presents a bit of a quandary because the supply is so low that even some deep-pocketed buyers go destitute. This, in turn, skyrockets the price which increases the wine's fame and then the price goes up more… you get the idea.
The interesting thing about cult wines is that a lot of times there are delicious alternatives next door (sometimes quite literally). Since so much of a great wine is made in the vineyard, similar vineyards in the same region can produce equally outstanding wines in the hands of a good winemaker. So, in a way, cult wines are useful to present a benchmark to a region's potential quality. Keep this in mind when searching for great new wines.
Let's explore just 7 well-known cult wines and understand what they are, where they come from, and why they have cult status. Just so you know, there are hundreds more to discover, some of which are still waiting to be found!
Screaming Eagle (nickname: "Screagle")
One of several cult Cabernet wines from Napa that might just be the most talked about (and least tasted) Cabernet in the world. Screagle is a Cabernet Sauvignon, but the blend usually uses around 90% Cabernet Sauvignon with a little bit of Merlot and Cabernet Franc to balance it out (this is okay to do, the minimum requirement in the US is 75% for a single-varietal wine). Even critics delight in its complexity, continually rating the wines in the top 2 percentile–citing tasting notes from sweet red berries and cassis to rocks, flowers, and sage.
On the east side of the Oakville Sub-AVA (where Screaming Eagle's vineyards are located) there are many neighboring vineyards including Rudd, Dalla Valle, Vine Cliff, Joseph Phelps… to name a few. These wines aren't cheap (most around in the $200 range), but many are located on the same lovely red, volcanic soils of East Oakville.
---
Sine Qua Non
Region: Santa Barbara
Wine: Syrah, Rhône Style blends (and more)
Price: $200–$4,000
Arguably the most cultish of cult wines, because each vintage produces an entirely different wine with an entirely new name (and crazy neat bottle). The project is the handywork of Austrian Los Angeles import Manfred Krankl and his wife Elaine. After some experimentation and partnering with other outstanding winemakers in Santa Barbara, they found their niche with Rhône varieties… and after a blowout critical review in 1994, they have since become a cult favorite. The wines are usually intense inky Syrah or Grenache-based wines (as well as a few white Rhônes too). They are as bold on the inside as they are on the label.
In Santa Barbara (and Paso Robles too!) you'll discover many hidden gems and newcomer winemakers taking the same "and now for something completely different" approach.
---
Mollydooker
Region: McLaren Vale, South Australia
Wine: Shiraz (aka Syrah)
Price: $200
A down-to-earth couple in a down-to-earth region south of Adelaide, South Australia started a winery business focused on making unapologetically bold and lush Shiraz wines–essentially, the wine version of drinking chocolate. The pair even recommend shaking the bottle after opening it (high speed decanting!). As unconventional as Mollydooker is, their high-end Shiraz wines have been compared to the best-of-the-best from the most high-end Shiraz appellation: Barossa Valley.
All in all, there are 9,400 acres of lush Shiraz vines in McLaren Vale and many more producers to explore.
---
Domaine Romanée-Conti (nickname: DRC)
The most expensive (and most counterfeited) wine in the world hails from a tiny appellation in middle of the Côte d'Or (golden slope). Wines are best drunk after being aged several decades and thus, DRC is collected and traded like a stock. Since no one even drinks DRC anymore, one could say that this wine has moved from cult wine status to "God-like."
Pinot Noir from the Côte de Nuits is definitely worth experiencing, especially on great vintages. There are 4 levels of quality classification to know and the best recent vintages were 2012, 2010, 2009 and 2005.
---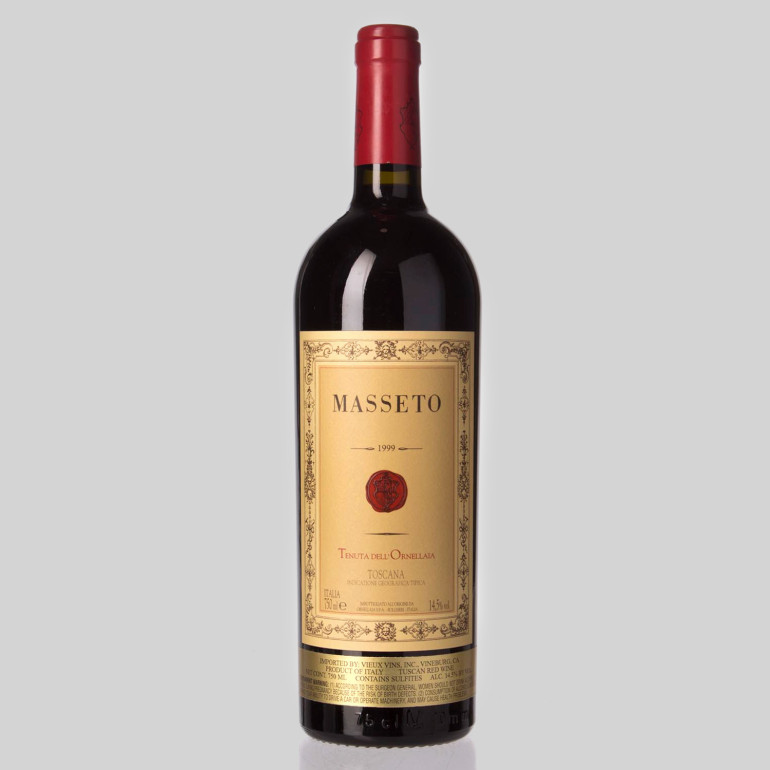 Tenuta dell'Ornellaia Masseto
Region: Bolgheri, Tuscany, Italy
Wine: Merlot
Price: $600–$3500
It's somewhat surprising to see that one of Italy's most cultish wines is a French variety, but perhaps Merlot was meant to be grown in Tuscany. Because the wine is not an Italian grape, it hasn't received Italy's top-tier DOCG wine classification. Fortunately, a critic started referring to these odd-yet-delicious Franco-fied wines (starting with Sassacaia) as "Super Tuscans" and the name stuck.
Bolgheri, and Tuscany as a whole, has several producers using alternative-to-Sangiovese grapes from Cabernet Franc to Syrah (and, of course, the aforementioned Merlot). Another thing to note is that there are more regions doing the Franco-fying than just Tuscany. For example, Colli-Euganei (in Veneto) and Lazio both have "super"-sized wines.
---
Bruno Giacosa "Red Label" Barolo
Region: Barolo, Piedmont, Italy
Wine: Nebbiolo
Price: $250–$700
If Veuve Clicquot Champagne is recognizable by its taxi cab yellow label, then Giacosa should be known for its ketchup-red label. This very special label is for the Riserva level Nebbiolo wines from the most important region in Piedmont. The wines only come out a few times each decade due to rigorous selection and aging requirements. This is one of just a few cult figurehead wines in Barolo.
Nebbiolo from Barolo is intense. It smells like sweet raspberries and roses, and on the palate has enough tannin to stick the insides of your mouth together. While Barolo cannot be mimicked, there are other Nebbiolo-producing appellations that are well worth trying including neighboring Barbaresco and Roero.
---
Vega Sicilia "Unico"
Since receiving prizes in the 1929 World's Fair, Vega Sicilia's wines have become a Spanish cult classic. The original wine was created by blending mostly Tempranillo (usually around 80%) with Bordeaux varieties. The "Unico" bottling is technically a Gran Reserva Ribero del Duero, which means it ages for at least 60 months with 24 of those months in barrel. The wine is intensely tannic upon release but when it's laid to rest for 20 years it reveals layers of red and black fruits with a soft stony minerality.
Great Tempranillo-based wines are only really now gaining traction (including the region of Rioja), so this area is definitely worth tapping for great wine.
---
We only mentioned a few, to get the conversation started. Have any cult wines to add? Let us know in the comments 🙂