With so much wine flowing in Napa Valley, it's not a surprise that Napa is one of America's top tourist destinations (for us drunken adults). So what do you need to know to get the gist of the region? The following is a quick guide on the area including a Napa wine map.
New Guide: Discover up-to-date information with our new dynamic Napa Valley Region Guide!
Napa Wine Map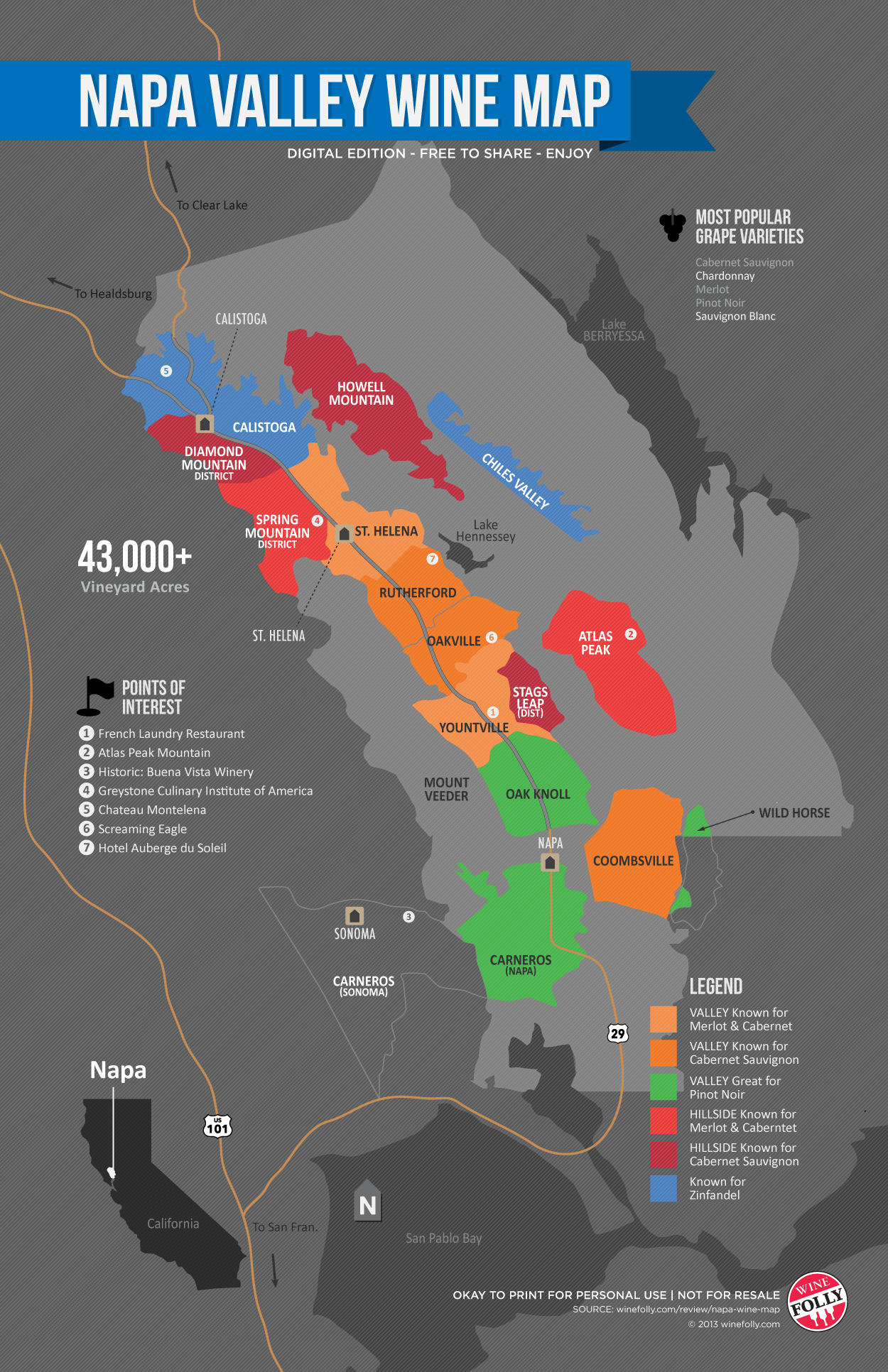 Napa Valley is Known for Cabernet Sauvignon
Pre-Prohibition Napa
In the late 1800's, Zinfandel was the most popular wine grape in Napa. The few remaining Old Vine Zinfandel vineyards are often pulled up and replaced with Cab.
Napa Valley is most recognized for Cabernet Sauvignon. Beyond that, the most popular varieties are Merlot, Chardonnay and Pinot Noir. There are just over 45,200 total acres planted with vineyards, making up one tenth of the area. In comparison, there are over 60,000 acres planted in neighboring Sonoma.
 
Cabernet Sauvignon wines from Napa Valley are truly incredible. The hilly and mountain regions such as Stag's Leap District and Howell Mountain produce savory, peppery and smokey Cabernet Sauvignon. The grapes that grow in the valley are typically opulent and fruit-forward with blackberry and mocha flavors.
 
Is it a 2nd Label Wine?
A second label wine is a 'beginner' wine from a winery specifically made to be more affordable. Napa Cabs less than $38 are most likely 2nd label or a rebranded wine.
Doing Napa Valley on the Cheap?
Cabernet Sauvignon with its lush full-bodied nature demands high prices, but there are other great Napa wines for much less. Napa Valley produces a few excellent values:
Under $20

Sauvignon Blanc with aromas of tropical fruit, peach and lemon-lime. You can find famous producers for under $20 a bottle. Look for values from major producers such as Groth, Cakebread, Grgrich, Joseph Phelps and Hall.

$20-$30

Zinfandel –Kickass Zinfandel wines from Napa Valley are usually 14%+ ABV. The wines have rich mocha, five-spice and black pepper flavors. We love Brown Estate, Robert Biale, Green & Red, and Outpost.

$30-$40

Syrah Big blueberry flavors with rugged tannin are typical in Napa Valley. They usually have brighter fruit flavors than Shiraz.

$20-$50

Merlot Merlot is looked down on by wine snobs. But there are some Napa Valley examples that are as good, if not better, than their Cabernet Sauvignon breathren. Merlot can taste as big as Cab when aged in American oak.
Key Facts About Napa Wine
Napa Valley is 40 miles north of San Francisco and 40 miles inland. There are 45,275+ acres (18,300 hectares) of vineyards in Napa Valley AVA.
Red Grapes

Cabernet Sauvignon, Merlot, Pinot Noir, Zinfandel, Syrah, Cabernet Franc, Petite Sirah, Sangiovese, Nebbiolo, Barbera, Dolcetto, Charbono

White Grapes

Chardonnay, Sauvignon Blanc, Pinot Grigio, Muscat, Viognier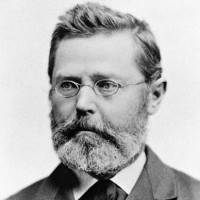 An Arrested Development
The first vineyards were planted in Napa during the 1850's. A significant influence in the area was Charles Krug's winery that was established in 1861 with a 540 acre dowry upon his marriage to the daughter of Edward Bale, a Napa pioneer.
 
Besides Krug, in 1889 an entreprenuer named William Bowers Bourn II built a million gallon winery in what is now the The Greystone. It was a prosperous time… but ill-fated. Two things happened that nearly stamped out the growing California wine industry for almost 50 years: phylloxera (a grape root eating louse) and Prohibition.
 
Finally, in the 1940's, a wine loving Italian family, called the Mondavi's, bought Krug's estate. They made dry Bordeaux style red wines and an oaked-aged sauvignon blanc which they labeled: "Fumé Blanc." Now the Mondavi label is owned by Constellation brands and produces 1.5 million cases of wine.

Napa Valley Regions
There are presently 16 subregions within Napa Valley including 2 that overlap into Sonoma and Solano Counties.
Coombsville

New! Located just east of the city of Napa, mostly an alluvial fan of the Vaca Mountains. Up-and-coming region for Cabernet Sauvignon. Established in 2011.

Oak Knoll

The rolling hills leading into Napa, lots of Pinot Noir and Chardonnay because of fog and dank weather. Cabernet from this area is not what most Napa lovers want. Established in 2004.

Yountville

In the valley and also an alluvial fan of the Mayacamus mountains. Home of the culinary genius of Thomas Keller's French Laundry. Watch for limo traffic. Half of the area is planted with 4,000 acres and Cabernet is good. Established in 1999.

Oakville

Slightly warmer than Yountville. Home of the original Brun & Chaix's Napa Valley Vineyards. Big names like Silver Oak, Far Niente and Groth are neighbors. Established in 1993.

Rutherford

Valley floor, warmer than Oakville. Awesome and expressive Cabernet Sauvignon. Hold your wallet close, it gets expensive. Established 1993.

Stags Leap District

On the Silverado Trail which has slopes and alluvial fans of the Vaca Mountain range (the Eastern Mountains). Really dusty and savory Cabernet Sauvignon and home to the famous but a bit snobby Stag's Leap Wine Cellars. Established 1989.

St. Helena

So much traffic! This area is mostly fluvial soils that are deep, making the wines slightly less unique. However, many major cellars and homes are in this area including Heitz, Duckhorn, Beringer, Merryvale. Established in 1995.

Calistoga

Just a few miles north of the town of St. Helena and the edge of the valley where the Vaca Mountains and the Mayacamus Mountains intersect. The area has low nighttime temperatures and high daytime temperatures similar to mountain AVAs. Volcanic soils and impressive meaty Cabernet and Zinfandel wines. Old Vine Zinfandel can be found here. Established in 2010.

Diamond Mountain District

On the Northern end of the Mayacamus Mountains. Volcanic soils are prevalent. Home to Schramsberg, Napa's sparkling wine house and Diamond Creek. Established in 2001.

Spring Mountain District

Middle of the Mayacamus Mountains. Volcanic soils and also sandstone soils making rounder more gentler wines than their northern neighbor. Home to Pride Mountain Vineyards. Established 1993.

Mount Veeder

The start of the Mayacamus Mountains from the bay area. The majority of the vineyards in Mount Veeder grow Cabernet Sauvignon and are on volcanic soils similar to Calistoga at the top of the valley. Watch for vintage variation. Established in 1993.

Atlas Peak

Large boulders and higher elevation benches in the Vaca Mountains make for good Cabernet Sauvignon. Most notably, Stagecoach Vineyards sells fruit to 70 wineries throughout Napa and also makes Krupp Brother wine. Established in 1992.

Chiles Valley

A small valley deep in the Vaca Mountains. Great Zinfandels. No fog. Established in 1999.

Howell Mountain

The first sub-AVA in Napa since 1983. Just 1,000 acres. Read more about Howell Mountain wines. Established in 1983.

Carneros

Pinot Noir and Chardonnay are the kings of Carneros. The AVA on the Sonoma side is home to Buena Vista Winery, the oldest winery in the area started by Agoston Haraszthy. Originally established in 1983.

Wild Horse Valley

Similar to neighboring Carneros, Pinot Noir reigns king here. Shares a boundary with Solano County. Less fog and more sunshine although cooler daytime temperatures overall. Established 1988.