All too frequently, Cabernet Franc is left in the shadow of its ultra famous and more popular children: Merlot and Cabernet Sauvignon.
But that doesn't mean Cabernet Franc hasn't got anything unique to offer. During this week's tasting, we'll drink a Cabernet Franc from a corner of the world well known for boisterous reds, and see what makes this grape so distinct.
What is the Tasting Challenge? The challenge is a way to improve your wine palate each week with 34 wines from 12 countries — The Wine Tasting Challenge.
In Bordeaux, Cabernet Franc's function seems largely to be delegated to blending, particularly on the Right Bank, where it's blended with Merlot to make some of the most popular red blends in the world. But single varietal Cabernet Franc wines have achieved quite a bit of success, largely in the Loire Valley, Tuscany, and California.
For this challenge, we went with a Cabernet Franc from California. And not just California: Napa. That's right: the United States' answer to all your Cabernet Sauvignon needs, and we're going with that grape's papa.
It'll be quite interesting to see how this single varietal Cabernet Franc holds up to all the explosive, well-heeled wines that this region is known for.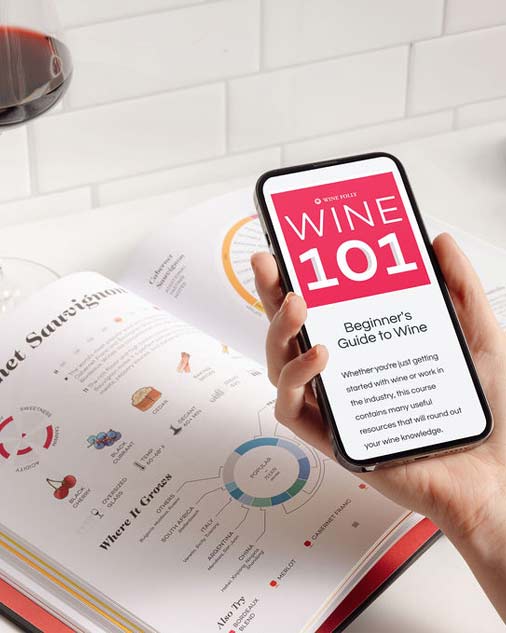 Buy the book, get a course.
Get the Wine 101 Course @ 75% OFF with the purchase of Wine Folly: Magnum Edition.
Shop Now
---
2016 Lang & Reed North Coast Cabernet Franc
Look: Medium ruby.
Aromas: Strawberry, cherry, tobacco leaf, pepper, raspberry, wood chips.
On The Palate: Striking tannins! Definitely worth letting the wine decant for half an hour or so: just to help them relax a bit. Notes of raspberry, green pepper, and a hint of anise, with a leafy tobacco finish.
Food Pairing: Immediately thought of a big steak burrito with lots of peppers and onions, and completely coated with red sauce. All those pyrazines are going to dance like it's last call. Chili would also be good, not to mention stuffed peppers.
---
What We Learned About American Cabernet Franc
Cabernet Franc has been around for a long time. In fact, there are arguments to be made that it's been used in wine for well over a thousand years. So it's no wonder that winemakers all over the world have had lots of time to tinker with it, especially when it comes to blending styles and terroir.
France's cooler regions like the Loire Valley grow Cabernet Franc that are light with red fruit and woodsy notes of herbs, leaves, and peppers.
Warmer areas like Tuscany have given birth to examples that are rich with dark fruit and heavily spiced.
And somewhere in between those two footholds of Cabernet Franc, we find California.
Their Cab Francs display ripe red fruit alongside greener notes with hints of pepper and spice. There's a structure and a complexity in these wines that can be deeply satisfying to wine aficionados, particularly as they tend to sell for lower prices.
More specific to our particular wine, the warm, consistent climate of Napa Valley brings about ripe, sweet grapes that lead to high alcohol, big tannins, and rich, jammy fruit.
It's what made the Cabernet Sauvignons of this region so popular. Be on the lookout for rich red raspberry and strawberry, some roasted pepper, and some spiciness brought about by oak aging.
---
Last Impressions
For your money, there might be no better wine out there than Cabernet Franc. There's some serious structure and complexity to it, almost no matter what region you find it in.
It takes you on a ride of aromas and flavors and all for what generally comes out to a reasonable price.
Just a reminder, for example, that the bottle we drank this week was from Napa, and we didn't break our $30 rule.
The only thing that holds it back from demanding your first born child in exchange for a case of the best stuff appears to be that Cab Sauv/Merlot style branding and star power. Which… Well, maybe most of us are okay with it staying that way.
Looking for the right wines for future tasting challenges? We picked up this bottle at Wine Access: take a look at what they have to offer!
Where did your Cabernet Franc come from? It isn't just California, you know! Great examples are coming out of Washington, the Finger Lakes, and even Virginia. Let us know what you're drinking in the comments.