If you think Washington is all clouds and rain, think again.
If you're into bold, fruit-forward red wines and good values, then you're going to love the Columbia Valley AVA. This statement might seem counterintuitive at first, because admit it, you've probably thought of Washington as a place where the sun doesn't shine.
That couldn't be any further from the truth.
The eastern side of the state receives about 300 days of sunshine a year. (Compare that to the Napa Valley, which receives about 260 days/year.)
Washington also often enjoys a long, consistent growing season which allows it to produce some of the boldest red wine varieties around, including Cabernet Sauvignon, Syrah, Merlot, and even limited plantings of Petit Verdot, Mourvèdre, and Petite Sirah!
This guide to the Columbia Valley AVA will quickly get you up to speed on what wines are worth seeking out and what you should know about Washington wine.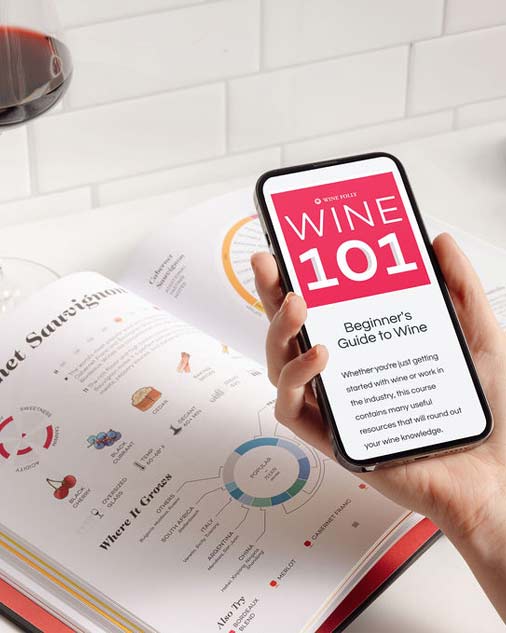 Buy the book, get a course.
Get the Wine 101 Course @ 75% OFF with the purchase of Wine Folly: Magnum Edition.
Shop Now
6 Quick Facts About The Columbia Valley
The Columbia Valley AVA was established in 1984 and is located on the eastern side of Washington State and a small part of Oregon.
The region contains 50,316 acres of vineyards representing 99% of Washington wine country, making it just a touch bigger than Napa Valley (45,000 acres.)
The Columbia Valley contains 12 other AVAs including the well-known Walla Walla Valley, Horse Heaven Hills, Red Mountain, and Yakima Valley.
Annual rainfall in the Columbia Valley averages 6 to 8 inches (15-20 cm.) To put that in context, that's about as dry as the Gobi Desert in Mongolia, which sees about 7.6 inches!
The Columbia River, as well as snowmelt from the Cascade Mountains, supplies the region's water for agriculture (including apples, of which Washington is the world's largest producer.)
Columbia Valley soils are predominantly loess (wind-blown silt and sand soils created by the Missoula Floods) and result in wines with increased aromatics.
---
Wines of the Columbia Valley
Originally known in the 1970s for its aromatic Riesling and Gewürztraminer, the Columbia Valley rose to prominence in the 1980s and 90s when a slew of producers (Leonetti Cellars, DeLille Cellars, and Woodward Canyon) impressed critics with their Merlot and Cabernet Sauvignon wines. Today, nearly 60% of the region's vineyards are dedicated to full-bodied red wine varieties with Cabernet Sauvignon representing the state's top grape. What makes Columbia Valley red wines unique? Plush, fruity flavors paired with sweet-tart acidity and balanced tannins.
Red: Expect fruit-forward wines with notes of cherries, currants, cassis, and ground, dried herbs. The region's best red wines include Cabernet Sauvignon, Merlot, Syrah, Petit Verdot, Grenache, Tempranillo, Cabernet Franc, as well as Bordeaux- and Rhône-style Blends.
White: Lemon, lime, green/golden delicious apples, white peaches, nectarines with moderate acidity. White varieties that do well in Washington's dry climate include Riesling, Viognier, Marsanne, Roussanne, Sauvignon Blanc, Sémillon, and of course, white Bordeaux-style Blends.
Rosé: Dry, crisp, and refreshing with cranberry, strawberry, melon, and herbal notes, with an easy-drinking mouthfeel. Producers have taken to using many different varieties, but it's the Sangiovese-, Cabernet Franc-, and Grenache-based rosé wines that we feel really shine.
One wine that shows amazing potential in the Columbia Valley is Syrah, though it can really depend from one region to next. Where you may get notes of flower, cocoa, and blackberry jam from a wine made with grapes from the Western Yakima Valley, A Walla Walla Valley Syrah may send you in a totally different direction, offering notes of roasted meats, olives, and iodine along with a more lavish texture.
Read more about why we selected specific wines as prime examples of Washington wine.
---
---
Wine Regions of the Columbia Valley
Because the Columbia Valley is so large it's continually being split up into smaller AVAs. This is good because each area has a specialty and distinct characteristics you can taste in the wines. Here are the most important AVAs to know:
Yakima Valley
Established in 1983, it is the Pacific Northwest's oldest AVA, predating the Columbia Valley by about a year. Incredibly diverse in terms of climate from west to east, the region produces all manner of red and white varieties with wines encompassing a broad range of styles. It also encompasses three distinctive sub-AVAs in its own right: Red Mountain, Snipes Mountain, and Rattlesnake Hills.
What it's known for: Cabernet Sauvignon, Chardonnay, Merlot, Riesling, Grenache, Sauvignon Blanc, Pinot Gris, Sangiovese, Viognier, Petit Verdot, Bordeaux-Style Blends, GSM Blends, Mourvèdre.
Red Mountain
Small, but mighty: Tiny Red Mountain is one of the hottest, if not the hottest wine growing region in Washington State. This sub-AVA is known for producing dark, tannic, red wines that have garnered significant critical acclaim.
What it's known for: Cabernet Sauvignon, Syrah and Merlot with high tannins as well as Chenin Blanc and a little Chardonnay that's somewhat low acidity.
Snipes Mountain
Home to some of Washington State's oldest grapevines, it features rather unique soil: Fist- and melon-sized gravel deposits left behind by the ancient flow of the Columbia River.
What it's known for: Recent AVA-designated releases of Grenache are stupefyingly good.
Cool fact: Snipes Mountain has several Muscat of Alexandria vines that have producing grapes since 1917!
Rattlesnake Hills
Evenly split between red and white varieties, the higher elevation of this growing region guards against spring and fall frosts and even hard winter freezes.
What it's known for: Mostly known for Cabernet Sauvignon, Merlot, Riesling and some Chardonnay.
Cool fact: Mostly centered around the town of Zillah, which, if you can believe it, has a place of worship called the Church of God-Zillah.
Cooler fact: The church is actually older than the very concept of Godzilla.
---
Walla Walla Valley
Known locally as "Napa Valley in Blue Jeans," this agricultural hub was first famous for its wheat, asparagus, and sweet onions before becoming wine's next big thing. Unable to be defined by one kind of terroir, soils, precipitation levels, and elevations vary from the west to the east to the south.
What it's known for: Cabernet Sauvignon, Syrah, Sangiovese, Viognier, Marsanne, Roussanne, Petit Verdot, Cabernet Franc, Malbec, Bordeaux-Style Blends.
Cool fact: Washington wine got its start here in the 1850s with Cinsault plantings by Italian immigrants.
The Rocks of Milton-Freewater
Technically located in Oregon, this seemingly inhospitable region became an official AVA in 2015. "The Rocks" which describes an ancient riverbed of of baseball-sized cobblestones was singled out as a special place for Rhône varieties due to its similarities to parts of Châteauneuf-du-Pape. Wine from this region can be expensive and difficult to find with seemingly every offering being elevated to cult-like status.
What it's known for: Syrah, Cabernet Franc, Tempranillo, Malbec, Viognier.
---
Horse Heaven Hills
This expansive, desolate region is home to large vineyards (1500+ acres) that are a sight to behold. Not only is this place known for quantity (25% of Washington's total grape production), it's known for quality: this is the home of Washington's first, second, and third 100-point wines from old vines on Champoux Vineyard made by Quilceda Creek Vintners. It's here in Horse Heaven Hills that you'll find Columbia Crest, which is one of Ste. Michelle Wine Estates prized winery brands.
What it's known for: Cabernet Sauvignon, Merlot, Chardonnay, Riesling, Syrah.
Lesser-Known Regions
Some of the best values in Columbia Valley are found from its lesser-known wine regions.
Wahluke Slope: Vies with Red Mountain as one of the driest and warmest climates in the state. This quiet, remote region is responsible for producing consistently great Cabernet Sauvignon, Syrah, and Merlot at more than fair prices.
Ancient Lakes: Technically called Ancient Lakes of the Columbia Valley, this AVA is named after glacial lakes that pothole the region. Expect crisp, citrus-tinged Riesling, Chardonnay, Sauvignon Blanc, and Pinot Gris.
Lake Chelan Valley: Often thought of a sunny getaway for Vitamin D-starved Seattleites, the stunning, glacier-fed lake at the center of this valley stabilizes temperatures in the area, saving grapes from extreme temperatures both hot and cold. Seek out its Malbec, Pinot Noir, Gewürztraminer, and sparkling wines.
Naches Heights: Sitting just outside of the Yakima Valley, this region is notable as all vineyards are farmed either organically, biodynamically, or salmon-safe, with some a combination.
Lewis-Clark Valley: Established in 2016, this AVA mostly sits in Idaho, but creeps into Washington State and Columbia Valley. Though it is still developing its present-day personality, the Lewis-Clark Valley once had a thriving industry before Prohibition. Our guess: As this area is cooler, it will likely deliver us more elegant red and white wines.
Last Word
The Columbia Valley is a wine region that everyone should know about. Thanks to its unique terroir, it offers freakishly elegant, aromatic wines that are well-developed in both body and structure. However, as a region, it has a few noticeable traits that separate it from both Old and New World regions, firmly placing in what can only be called the Wild West of wine. Let's get to the nitty-gritty:
Unlike many Old World wine regions, nearly all vineyards in Washington are irrigated. While essential for the production of wine in the Columbia Valley, this is considered a somewhat controversial practice in viticulture as it can artificially inflate yields, place undue stress on water resources, and create less variation across vintages. But then again, most wine regions in Europe don't survive in extreme desert-like conditions.
The region is notoriously windy and most vineyards are planted so that the winds can pass through the rows. Wind reduces disease pressure from pests and fungus and causes grapes to develop thicker skins.
Despite the largesse of natural benefits, very few Washington vineyards are organic and even less are biodynamic, but there are notable exceptions. (See: Cayuse Vineyards, Wilridge Winery)
There's an interesting separation between winemakers and growers–in that some are exclusively winemakers and growers. While there are a number of true estate wineries in Washington, many winemakers choose to have their grapes shipped to their facilities by trucks from growers in the Columbia Valley. This comes with some inherent risk: Freshly picked grapes are sensitive objects and transporting them from a semi-arid steppe environment, over a mountain range, and into a cool climate can place undue stress on them.
Are you familiar with Washington State or Columbia Valley wine? We'd love to hear your thoughts.
---
Wine Folly Map Sets
Explore more of the wine map collection. Maps are printed on spill and tear resistant paper and made in Seattle, WA, USA.
Sources
Washington Wine Commission
Walla Walla Wine
Great Northwest Wine
Seattle Times article about Lewis Clark Valley
The Oxford Companion to Wine, Jancis Robinson for irrigation facts.
Major thanks to Madeline Puckette for all of her guidance.