Amarone wine or as it's officially named, Amarone della Valpolicella, is one of those wines that you buy and sit on and pray your marriage stays together long enough so that you can drink it on your 20th anniversary.
It's one of those holy-jesus-I-may-now-die-complete wines that, if you're lucky, you can pick up for around $100. No, Amarone della Valpolicella is not cheap, but it shouldn't be, it's just too difficult to make–and also scarce.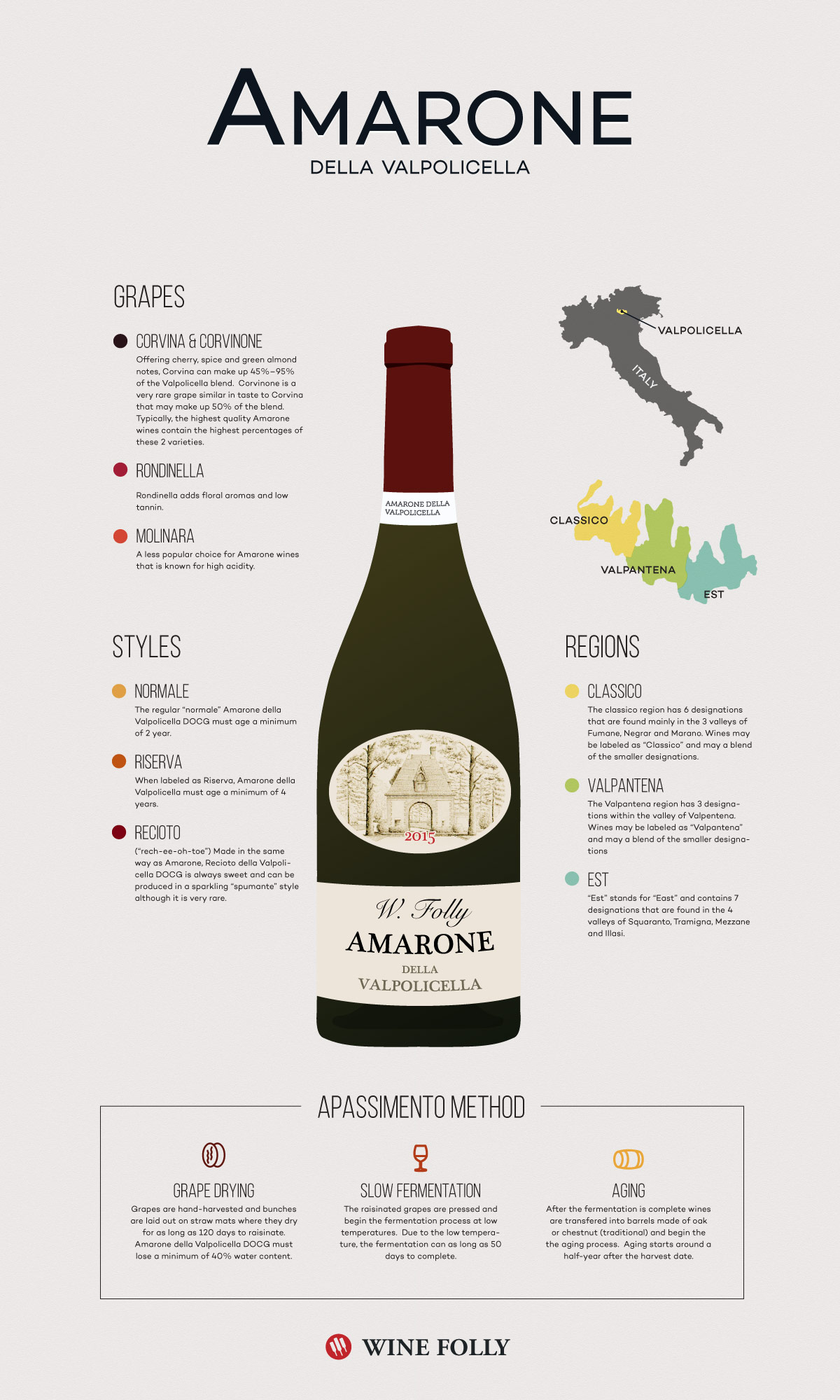 Guide to Amarone Wine
Let's take a detailed look into what Amarone wine is all about and why it's special, from a taste profile of great Amarone to its defining features so you can find great wines on your own. This is an advanced guide, so open up a bottle of Ripasso and start sipping!
The Taste of Amarone Wine
Expect bold aromas of cherry liqueur, black fig, carob, cinnamon, and plum sauce along with subtle notes of green peppercorn, chocolate, and crushed gravel dust. Sound intriguing? On the palate, Amarone wines often have medium-plus to high acidity balanced with high alcohol and flavors of black cherry, brown sugar, and chocolate.
By the way, the older the wine, the more it will offer flavors of brown sugar, molasses, and fig. What might surprise you about this wine is the presence of a touch of natural residual sugar (RS) in the wine, usually around 3–7 g/L (or about a 1/4 teaspoon per serving).
The RS helps complement the wine's naturally high acidity and adds to its boldness–if you didn't know Amarone had residual sugar, you'd think it was dry.
---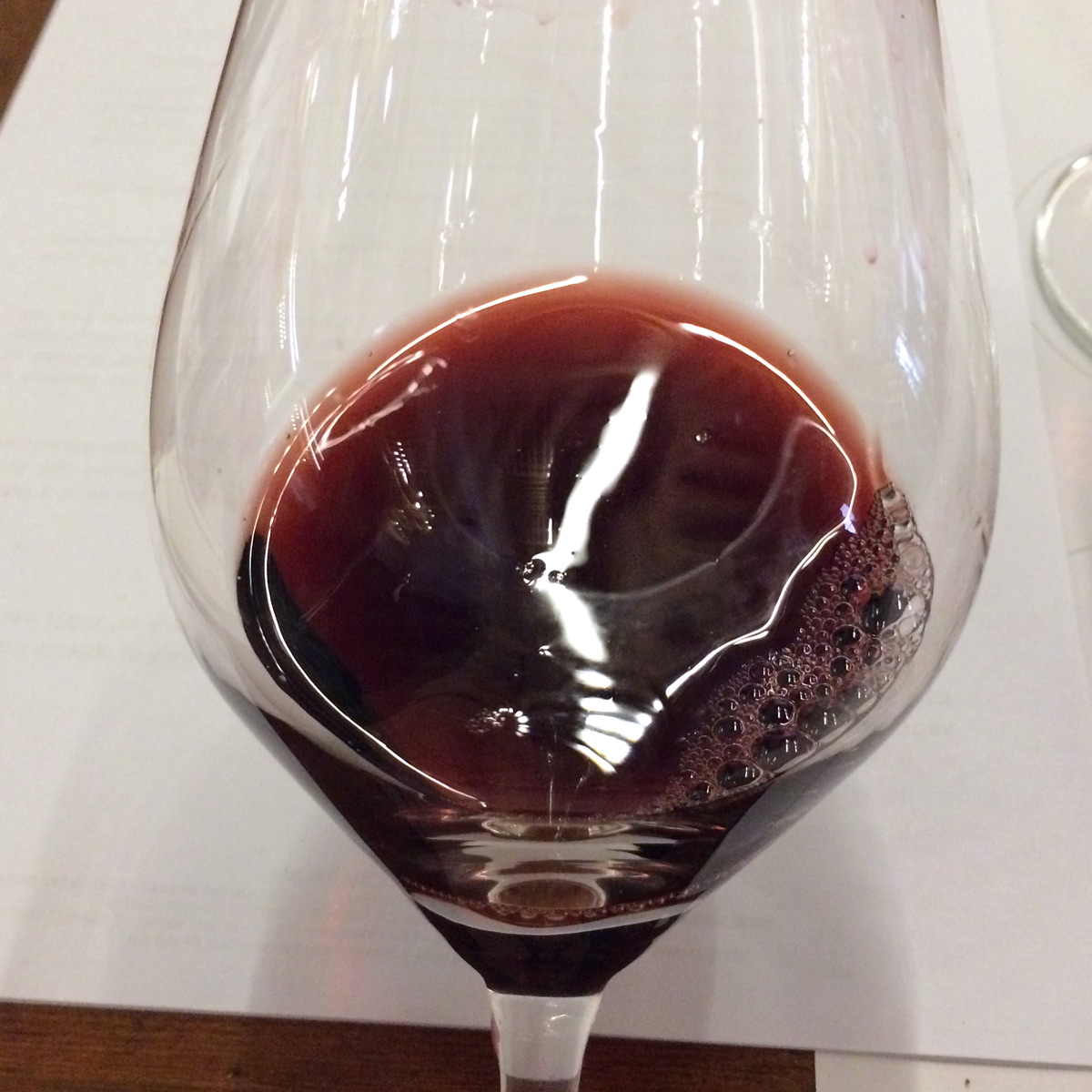 The Styles of Amarone della Valpolicella
Time for a quick history lesson: In 1963, the Italian government adopted a system of quality assurance labels for its food products, especially wines and cheeses.
The labels rate how authentic and regional the methods of a food's production are, and increase in strictness from IGT to DOC, to DOCG. Only a few wines get to become DOCGs (Denominazione di Origine Controllata e Garantita), and Amarone della Valpolicella officially became one of them in 1968.
With the designation came many rules about planting, vine production, and vineyard location, but more important to us is the production method called appassimento, and the styles of Amarone and Amarone Riserva. You can read more about wine designations here.
Amarone vs. Amarone Riserva
The major difference between Amarone "normale" and Amarone Riserva is time. Amarone is aged 2 years following the vintage, whereas Amarone Riserva is required to age 4 years. Now, you'll find that, in reality, great producers tend to age the wine longer than the minimums and release when they believe it to be ready.
This is good considering that some Amarone wines should continue to age for 10 or 15 years longer to develop those keen flavors of fig, carob, and Mexican chocolate. So, "the older, the better" tends to ring true with this particular wine. There is one thing you should pay attention to when picking an Amarone wine, and it's the methodology used to make them.
---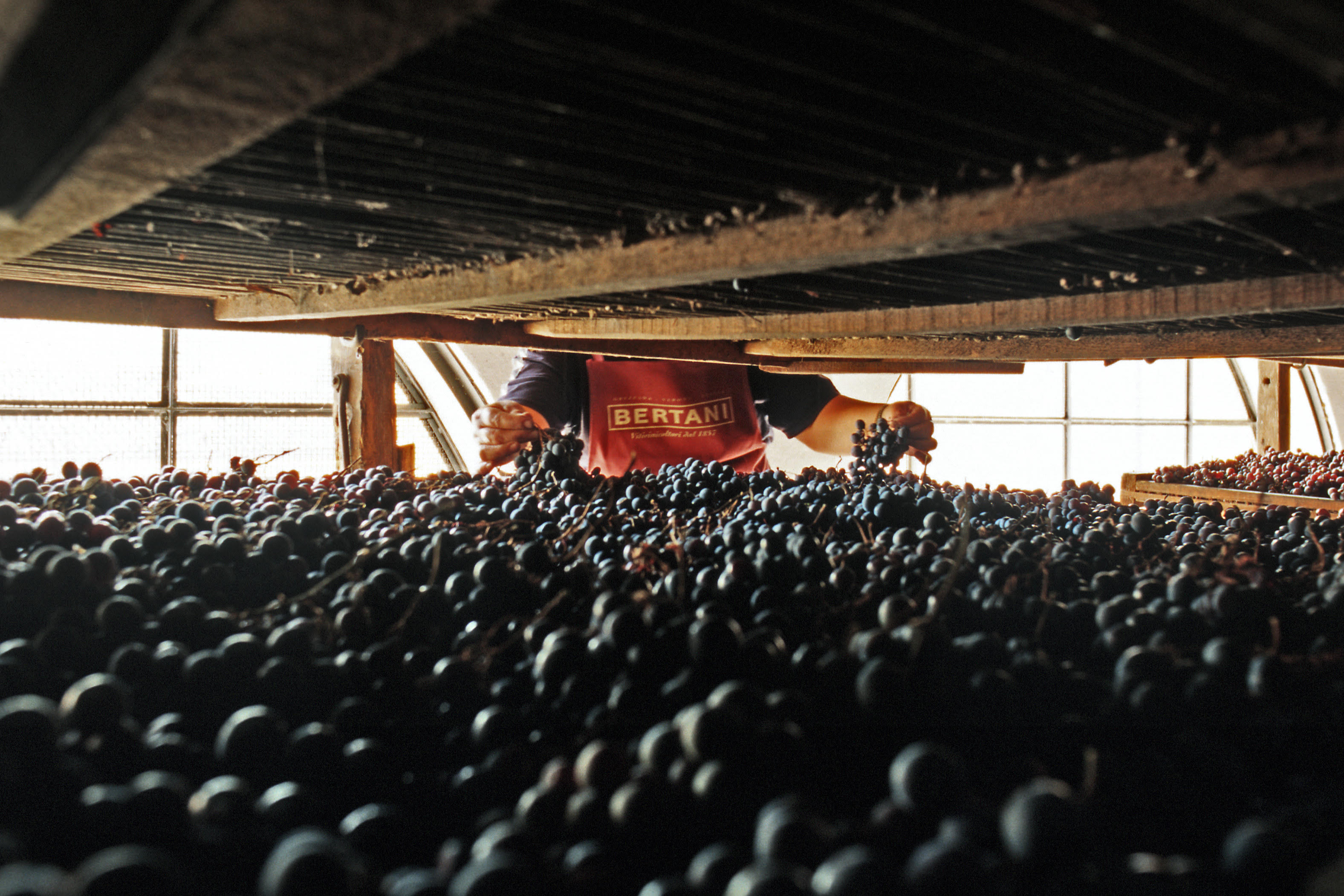 The Apassimento Method and Traditional vs. Modern Winemaking
Technically, there is only one way to make Amarone wine:
pick grapes
dry grapes until there is 40% less liquid (called appassimento and can take as long as 120 days)
slowly press dried grapes
slowly ferment grapes into wine for 35–50 days (this is a long time for wine!)
However, due to modern technology, two distinct styles have emerged. Some practice the traditional method of naturally drying their grapes and using neutral oak or chestnut barrels to age them.
Others use a modern method of quickly drying grapes using temperature and humidity-controlled rooms and aging their wines in new oak barrels. Both methods can make excellent tasting wines, but they will taste a bit different on the first release and also tend to age differently.
Traditional Method
Amarone della Valpolicella made in the traditional method tend to maintain their acidity longer and, thus, will also potentially age quite a bit longer too. In taste trials, it appeared that the traditional method Amarone could easily last 40 years!
As great as this is, these wines also take a bit longer to come around, meaning you'll want to be sure to hold them for around 20 years to let the wine shine. It's common to see producers practicing the traditional technique of only using the regional grapes of Corvina, Corvinone, and Rondinella in the blend.
In terms of flavors on release, tasting notes for this style often have flavors of red cherry, cinnamon, and green peppercorn. If you drink them sooner (and let's be honest, this happens), be sure to decant them for a couple of hours, and they'll still be awesome.
Examples of traditional producers
Modern Method
Amarone della Valpolicella made in the modern method tends to be quite a bit bolder upon release because of the help of new oak aging, which adds flavors of chocolate, molasses, and vanilla along with cherry liqueur.
It's also more common to see non-indigenous varieties blended into the modern-styled wines. Legally, it can be up to 25% of other grapes, including Cabernet Sauvignon, Merlot, and Sangiovese. The wines taste awesome right out of the gate, but aging-wise tends to taper off a bit faster.
Some will only last 8–10 years, whereas others with bolder red fruit characteristics will go 20 or so years. A bit of decanting is always good for any Amarone wine.
Examples of modern producers
---

The Grapes of Amarone Wine
There are less than 12,000 acres in the world of the most important Amarone grapes–Corvina and Corvinone, and they only grow in Valpolicella. To make the situation a little more intense, Valpolicella has a regulatory committee that protects the historic nature of the land around Verona.
It means if a winery wants to plant a new vineyard, they'll have to rip out an old vineyard to allocate space. There are 4 main grapes of Amarone and a total of 20,000 acres (8,200 ha).
Corvina (technically Corvina Veronese)
Corvinone
Rondinella
Molinara
Winemakers in the region will tell you that the best Valpolicella wines come from the Corvina (and more rare Corvinone) grapes. Historically, Rondinella and Molinara were dominant in the region. However, they tend to produce lower quality grapes due to their high productivity.
Thus, the wines made with primarily Corvina grapes offer up the heady aromas of rose, cherry liqueur, and cinnamon. They also consistently get the highest ratings.
---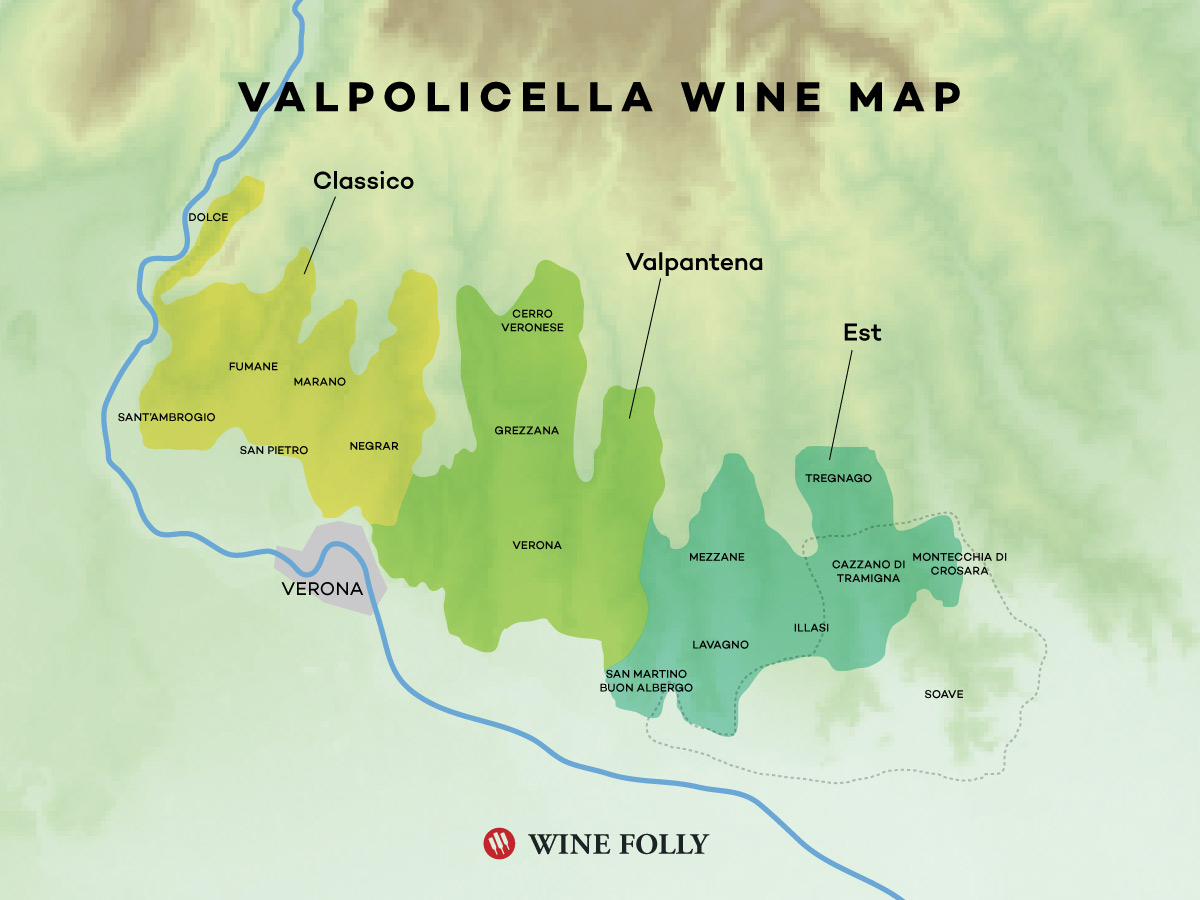 The Region of Amarone Wine
The Valpolicella wine region lies in the lowest foothills of the Alps just north of Verona and has 3 primary zones: Classico, Valpantena, and Est (meaning "East"). Most of us will hone our focus on the Classico zone for quality (which does contain 5 notable sub-areas), but within each of the 3 main zones, there are many excellent wines.
Classico
Within the Classico zone, there are 6 designations within the 3 valleys of Negrar, Marano, and Fumane. This is the "Original Gansta" area for Amarone and Recioto della Valpolicella wines. The Classico zone even has an order of knights called SNODAR (Sovereign Noble Order of Ancient Recioto) established in 1969 –a year after the DOC was first officiated, to promote and protect Valpolicella's wines. Within the Classico region, you'll find many of the largest producers–save for a few.
Negrar
Marano
Fumane
San Pietro in Cariano (lower valley)
Sant'Ambrogio
Dolce
Valpantena
Heading east from the Classico zone, you arrive at Valpantena. The best vineyards have been noted around Grezzana and Cerro Veronese, which is midway up the valley.
Grezzana
Cerro Veronese
Lavagno
Verona
Est
This region is next to the Soave wine region (a Veronese white wine made with Garganega grapes) and is considered a newer region for producing Amarone wines. The best vineyards have been noted in the mid-point up the valley around Illasi, Cazzano di Tramigna, Mezzane, and Tregnago.
Illasi
Cazzano di Tramigna
Mezzane
Tregnago
San Mauro di Saline
Colognola ai Colli (low valley)
Montecchia di Crosara (far east, next to Soave)
San Martino Buon Albergo (low valley)
Tasting Amarone Wine
Tasting Amarone is a fascinating experience. You'll want to be sure and decant the wine and serve it in oversized glasses to collect its aromas. Younger wines can typically be served just below room temperature and older wines slightly cooler. Hopefully, this guide will get you into the perfect bottle. Salut!