Nerello Mascalese "nair-rello mask-ah-lay-zay" is a light-bodied red wine that primarily grows on the slopes of Mount Etna in Sicily. Despite its rarity, the wine offers amazing value and a taste profile that's often likened to fine Pinot Noir. Find out what this special Sicilian red has to offer.
All About Nerello Mascalese
Tasting Notes
Nerello Mascalese hits your mouth with an explosion of red fruit flavors that leads into spice notes of cinnamon and floral dried desert herbs. Finer examples of Nerello Mascalese from Etna in Sicily finish long with tingly acidity, a rustic black volcanic earthy note, and medium weight fine-grained tannins. With the elegance of Pinot Noir and the explosive exuberance of Zinfandel, Nerello Mascalese is delightfully easy to drink.
Expect to Spend:
$22 for a good bottle
$32 for an excellent bottle
Nerello Mascalese is the primary grape of these regional Sicilian designations: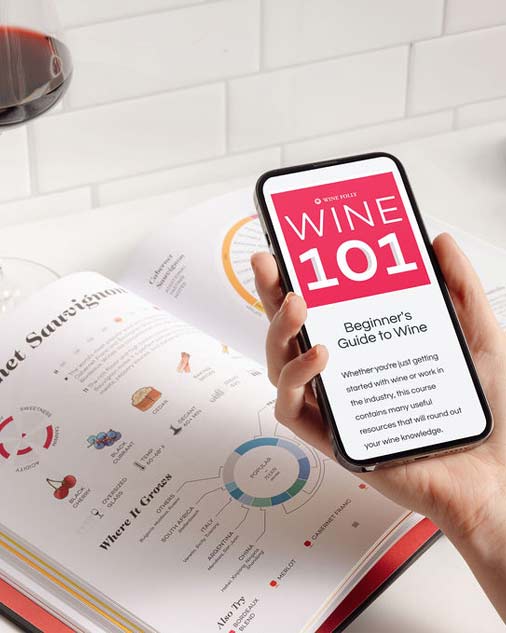 Buy the book, get a course.
Get the Wine 101 Course @ 75% OFF with the purchase of Wine Folly: Magnum Edition.
Shop Now
Similar Wines to Nerello Mascalese
From Sicily, there is another lighter red with more candied red-fruit flavors called Frappato. You'll also find Nerello Mascalese blended with another regional grape called Nerello Cappuccio. Beyond Sicily, wines like Schiava, Pinot Noir, Saint Laurent (Austria), and some lighter styles of Primitivo (Zinfandel) wines will have similar fruit profile to Nerello Mascalese.
---

Polpettine di tonno are fried tuna croquettes typically made with ricotta, pine nuts, potato, lemon, bread crumbs, capers and mint. By Stijn Nieuwendijk
Food Pairing
The first place to look for food pairing with Nerello Mascalese are the regional dishes of Sicily. Sicily is a hot and sunny island in the Mediterranean that produces excellent tomatoes, peppers, eggplant, resinous herbs, flavorful cheeses made with sheep's and cow's milk and, of course, outstanding pasta. You'll find the main stay protein is fish, particularly oily fishes (like sardines and mackerel), as well as some beef, chicken and pork (often made into hand processed meat loaves). Because of Nerello's balanced tannin and fruitiness, it pairs rather well with fish. Taking Sicilian cuisine as a baseline, we can build a flavor pairing repertoire:
Examples
Meat

Bacon, Roast Pork, Baked Stuffed Sardines, Tuna and Tomato, Meat Balls, Meatloaf, Swordfish with Tomatoes and Capers, Steak, Sweet and Sour Pork, Barbecue Short Ribs, Pork Sausage

Cheese

Pecorino, Caciocavallo (like Sicilian Mozzarella), Provolone, Fresh Ricotta, Gruyere

Herb/Spice

Sage, Marjoram, Oregano, Lavender, Saffron, Turmeric, Ginger, Asian 5-Spice, Anise, Mint, Cilantro, White Pepper, Cayenne or Allepo Pepper, Sweet Basil, Garlic, Cinnamon, Clove, Orange Zest, Lemon

Vegetable

Smoked Eggplant, Roasted Carrots, Red Peppers, Shallot, Purple Onion, Capers and Caper Leaves, Butternut Squash, Pumpkin, Thai Style Eggplant, Roasted Wild Mushrooms, Baked Pasta Dishes, Pine Nuts
The Cuisine of Sicily

Elisia Menduni created an amazing book Sicilia: The Cooking of Casa Planeta in partnership with Planeta winery documenting Sicily's great recipes. Find it on Amazon

Nerello Mascalese grows best on the sandy-volcanic slopes of Mount Etna (an active volcano). by Alessandro Rossi
What makes Nerello Mascalese Special?
One of the few wines in the world with red-fruit and floral aromas in a similar style to Pinot Noir
Nerello Mascalese is one of the important indigenous volcanic wines of the world
Despite Nerello Mascalese's light-bodied profile has enough structure (tannin and acidity) to age well
There are only about 7400 acres (3000 ha) of Nerello Mascalese planted, primarily on the slopes of Etna and some in Calabria.
Serving and Storing Nerello Mascalese
Try serving Nerello Mascalese just slightly chilled around 62 °F (17 °C)
Wines usually only need brief decanting due to lighter tannins although some producers make wines with more intense tannin, which can be decanted for around 45 minutes
Nerello Mascalese will improve with some age from around 5–15 years, depending on the producer (and vintage)

Nerello Mascalese produces exceptionally fine, floral wines when grown on sandy volcanic soils. by Paul A. and Jill L.
What to Look For
The most popular region to source Nerello Mascalese is from vineyards in Etna DOC on the slopes of the volcano. The region's sandy volcanic soils produce the most floral and elegant (light-colored) styles of Nerello Mascalese. You'll find that the best vineyards are higher up in elevation where cooling nighttime temperatures help to maintain the grape's desirable acidity. Also, the wines grown in altitude also tend to have slightly thicker skins which adds to the wine's tannin structure and potential to age.