If you ask Italians what the best Italian red wine is, you won't get one answer you'll get at least twenty!
Why? Well, there are 20 Italian regions and each region focuses on a different wine (and they're all very good). That said, two wines tend to be singled out as the "King of Italian Wine" and they are Barolo and Brunello di Montalcino.
If you love Italian wines already, use this article as a challenge and plan your own taste comparison. Of course, if you're an Italian wine lover you probably don't need much of an excuse for some fun, "educational drinking."
Without further ado, here is a synopsis of the primary differences between Barolo and Brunello. Plus, we added a few alternatives for the cost-minded that are well-worth exploring. Onward!
Barolo vs Brunello
Barolo
Barolo is a high-tannin, age-worthy red wine that's made in Northwest Italy.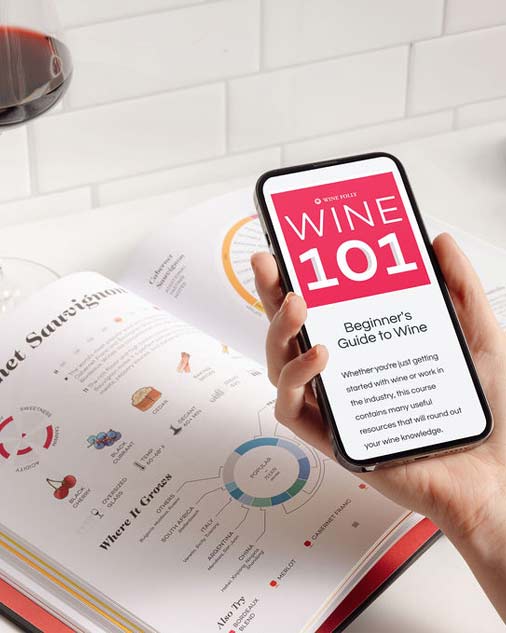 Buy the book, get a course.
Get the Wine 101 Course ($50 value) FREE with the purchase of Wine Folly: Magnum Edition.
Shop Now
100% Nebbiolo
Taste: Rose petal, cherry and raspberry sauce, cinnamon, white pepper, and, with age, licorice, leather, and chocolate.
Region: Piedmont
Average Cost: $60–$90
Aging: 3 years and 5 years for Riserva
Drink by: 10–25 years (typically best after 10 years)
Brunello
Brunello di Montalcino is a moderate tannin, age-worthy red wine made in Central Italy.
100% Sangiovese
Taste: Preserved sour cherry, dried oregano, aged balsamic, red pepper flake, brick, and, with age, fig, sweet tobacco, espresso, and leather.
Region: Tuscany
Average Cost: $40–$65
Aging: 5 years and 6 years for Riserva
Drink by: 10–25 years (typically best after 10 years)
Join Wine Folly - the free weekly newsletter that educates and entertains. Your trusted wine resource.
Barolo Taste Profile
Tasting Notes: Rose petal, cherry and raspberry sauce, cinnamon, white pepper, and, with age, licorice, leather, and chocolate.
Barolo is one of those wines that surprises you when you taste it. For as pale and floral as it looks and smells, it is a punch on the tongue with its astringent tannin and high acidity.
The astringency is actually a natural characteristic of the Nebbiolo grape it smoothes out with age. This is why it's usually recommended to drink after 10 years.
You can also find a "Riserva" level Barolo, which is aged 5 years before release (the regular Barolo is aged for 3 yrs). Of course, if you're going for a smoother style you can also seek out wines made in a more modern style using smaller oak barrels that produces bolder, darker-colored wines with notes of licorice, chocolate and vanilla.
Brunello Taste Profile
Tasting Notes: Preserved sour cherry, dried oregano, aged balsamic, red pepper flake, brick, and, with age, fig, sweet tobacco, espresso, and leather.
Brunello is has a much darker in color than Barolo with a rich brilliant red hue on the rim. It is at first juicy and spicy, with herbaceous notes of oregano, and balsamic that lead into flavors of cherry and leather. The tannin is high, but not quite as high as Barolo. And, with time, Brunello softens out and becomes pale and brick red with aromas of fig, carob, sweet tobacco and espresso. For this reason, most professional tasters recommend drinking Brunello after 10 years, but there is also a Riserva Brunello that is aged at least 6 years before release.
---
Pairing Barolo and Brunello with food
---
Barolo Food Pairing
The aromatic finesse of Barolo matched with its bold astringency make it a wonderful match with game birds (think quail, pheasant or duck), veal, sweatbreads, and for you vegetarians, porcini and truffle risotto.
Yes, Barolo does have intense tannin, but this actually acts as a benefit when matched with rich fatty meats and pasta dishes.
Generally, because of Barolo's delicate floral and red-fruit flavors, you'll want to match it with meats the vegetables with more delicate flavor profiles, which is why we think poultry, pork chops and other white meats are an ideal match.
Brunello Food Pairing
Brunello, with its savory punch and brilliant acidity make it a fair contender with richly flavored red meats, tomato-based dishes and Tuscan-inspired fare that highlights olive oil and vinegar.
Red meats from wild boar to Moroccan-Spiced Lamb tend to highlight Brunello's sometimes ethereal strawberry and cherry flavors.
Tuscan tomato-based dishes, like tomato bread soup, tend to bring out the herbaceous and tobacco-like qualities in Brunello. Generally, because Brunello di Montalcino packs a wallop of spice, you'll want to pair it with rich foods with rich flavors, which is why we think red meats and rich vegetables are the way to go.
---
Barolo is made in Piedmont above the fog in the Appenine hills. Brunello is made in the hill town of Montalcino in Tuscany.
Alternatives to Barolo
If you're not quite ready to drop a Franklin on a bottle of Barolo, there are a few wines you should definitely try that are made with the same Nebbiolo grape that offer excellent value:
Barbaresco: This is same style of wine from the same general region a few hill towns over from Barolo
Nebbiolo Langhe: This is basically a declassified Barolo from the encompassing Langhe region in Piedmont
Valtellina Superiore: In neighboring Lombardy, Valtellina is located upriver of Lake Como and grows a lighter more aromatic style of Nebbiolo (with less tannin) that the locals call Chiavennasca.
Alternatives to Brunello di Montalcino
If you're just starting to explore Sangiovese wines in general, you might not be ready to dive into what's considered the "creme de la creme" of Tuscan Sangiovese. Here are few Sangiovese-wines that are worth a try for excellent value:
Vino Nobile di Montepulciano: Another town just 20 miles away from Montalcino that produces great Sangiovese wines under a less famous village name. Be sure not to confuse this with Montepulciano d'Abruzzo; an entirely different grape!
Rosso di Montalcino: This is basically a declassified Brunello di Montalcino that has lower aging requirements. However, if you seek out older vintages you will find a similar delightful effect.
Chianti Classico Riserva: The Riserva level of Chianti has much long aging requirements than basic Chianti and there are excellent examples for $25–30 a bottle
Montefalco Rosso: Found in neighboring Umbria, Montefalco Rosso typically offers a touch more fruit flavors and big tannin.
---
Explore Italian Wines
See the guide highlighting the top wines of all 20 Italian wine regions.