Boxed Wine, Really?
Boxed wine has a bad reputation. Early boxed wine was horrible because the technology wasn't ready and the wine quality was down right filthy. A lot has changed since then. Boxed wine zeroed in on the "drink now" wine market offering environmental benefits, quality, and value. The question is: if you want a glass of wine with dinner, will boxed wine deliver or disappoint?
Ode to the Bag in the Box
Oh boxed wine, much maligned
you taste just fine most of the time
Your genius tap keeps out bad gas
guarding from air better than glass
You're ready to drink without needing to wait
a whole gallon of goodness right onto my plate
When too warm to drink, you're the easiest to cool
A cocktail for kings, floating along in the pool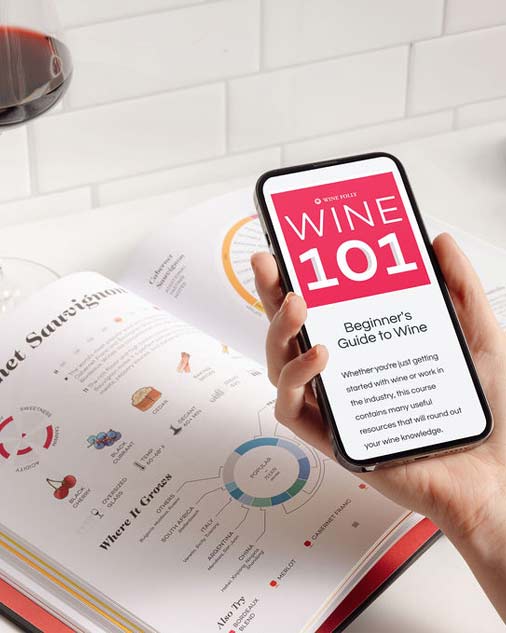 Buy the book, get a course.
Get the Wine 101 Course @ 75% OFF with the purchase of Wine Folly: Magnum Edition.
Shop Now
A square box keeps you from rolling around
like a Japonese melon, your design's truly sound
So to all you wines, rotting down in the cellar
box wine is the boss, the future's best seller.
Your corks rot with taint, and your bellies fill with air
a polyethylene bladder is your only prayer.
Not to cause a panic or ring the alarm
but the nation of Franzia needs no lucky charms.
Wine Quality
There isn't a rule that says you can't put premium wine in a box. Most boxed wine competes in the sub-$20 wine market. That covers most of our daily drinking needs, doesn't it? NY Times ran an article discussing the quality of boxed wines.
Stays Fresh Longer
Open boxed wine can last six to eight weeks, and even longer if you keep it in the refrigerator. How long can you store an open bottle of red wine? Maybe 5 days. Not only does the plastic bib seal better than its glass counterpart, it's also environmentally friendly.
A Better Value
Boxed wine is a better value. Not because it's a lesser quality wine, but because there isn't the overhead in materials. Glass, corks, screwtops, foils, sigh..
Bottling wine is an archaic manufacturing process–the materials are expensive and heavy, making them more costly to ship.
On the other hand, a typical boxed wine is 96% wine. No glass, no corks, no screwtops, and no foils…
Durability and Cleanliness
Boxed wine is arguably more durable than bottled wine. The "bib" (aka: bag of wine) is made out of sturdy food-grade plastic. Does the idea of wine in a plastic bag turn you off? I hate to break it to you but most refrigerated food is stored in plastic. Let's not forget bottled wine can suffer from a range of wine faults. Say it aloud, "cork taint." Not only does it sound gross, it unfortunately infects 10% of all bottled wine.
History and Producers
An Australian company invented the first boxed wine in 1965. Since then there have been many innovations to the market.
Climber Wines uses a pouch with no box at all. The inspiration for this wine product is to solve every hiker's dream: a lighter more nimble wine.
Bandit offers "wine in a carton," made by Tetrapak, which boasts eco-friendly and recyclable paper boxes with several wines/flavors in color-coordinated cartons, including Riesling, Pinot Grigio, Merlot, Cabernet Sauvignon, Moscato, and Sangria. Bandit is owned by Trinchero Family Estates.
Deloach is a premium biodynamic wine producer in Sonoma offering a "wine barrel," which holds a large wine pouch inside. The presentation is beautiful and great for parties.
Big House Wine produces a series of wines in nifty octagonal shaped boxes. Big House is owned by Underdog Wine and Spirits, who also owns Cupcake Wines, Herding Cats, and Fisheye.
Black Box has received 28 gold medals to date.
Powers is a premium wine producer in Washington State producing a traditional wine-in-a-box. Currently Powers offers a Chardonnay and a Cabernet Sauvignon. Their box designs are horrible but the wine is actually good! (hey, contact me if you need design work!)
Ageability? Not-So-Much
In the United States, the average price paid per bottle of wine is around $8 per bottle. These value wines should be consumed within a year. Wine in a box lasts unopened for 6-8 months (for whites) and 10-13 months for reds. A typical box of wine holds 4 bottles of wine.
Plastic Taste?
Polyethylene is the safest, most non-toxic plastic available. It does not influence the flavor of the wine.
Market Size
Franzia and other boxed wines make up a huge and relatively untouched market segment. In 2007 Franzia sold 58 million gallons of boxed wine.
Sources
The Wine Institute
About Boxed Wine (promotional website)
'Fun Facts' on Franzia Website
Eco Smart cartons on Bandit Website