Carménère ("car-men-nair") is a medium-bodied red wine that originated in Bordeaux, France, and now grows almost only in Chile. The wine is treasured for its supple red-and-black berry flavors (in a similar style to Merlot) and herbaceous green peppercorn notes.
Originally, Carménère was thought to be Merlot when it was first transplanted into Chile. This case of mistaken identity is perhaps what saved Carménère from extinction when Phylloxera devastated the vineyards of Bordeaux in the late 1800's.
FACT: In 1994, DNA analysis revealed that most of what was thought to be Chilean Merlot was, in fact, the rare Bordeaux grape: Carménère.
Carménère Wine Guide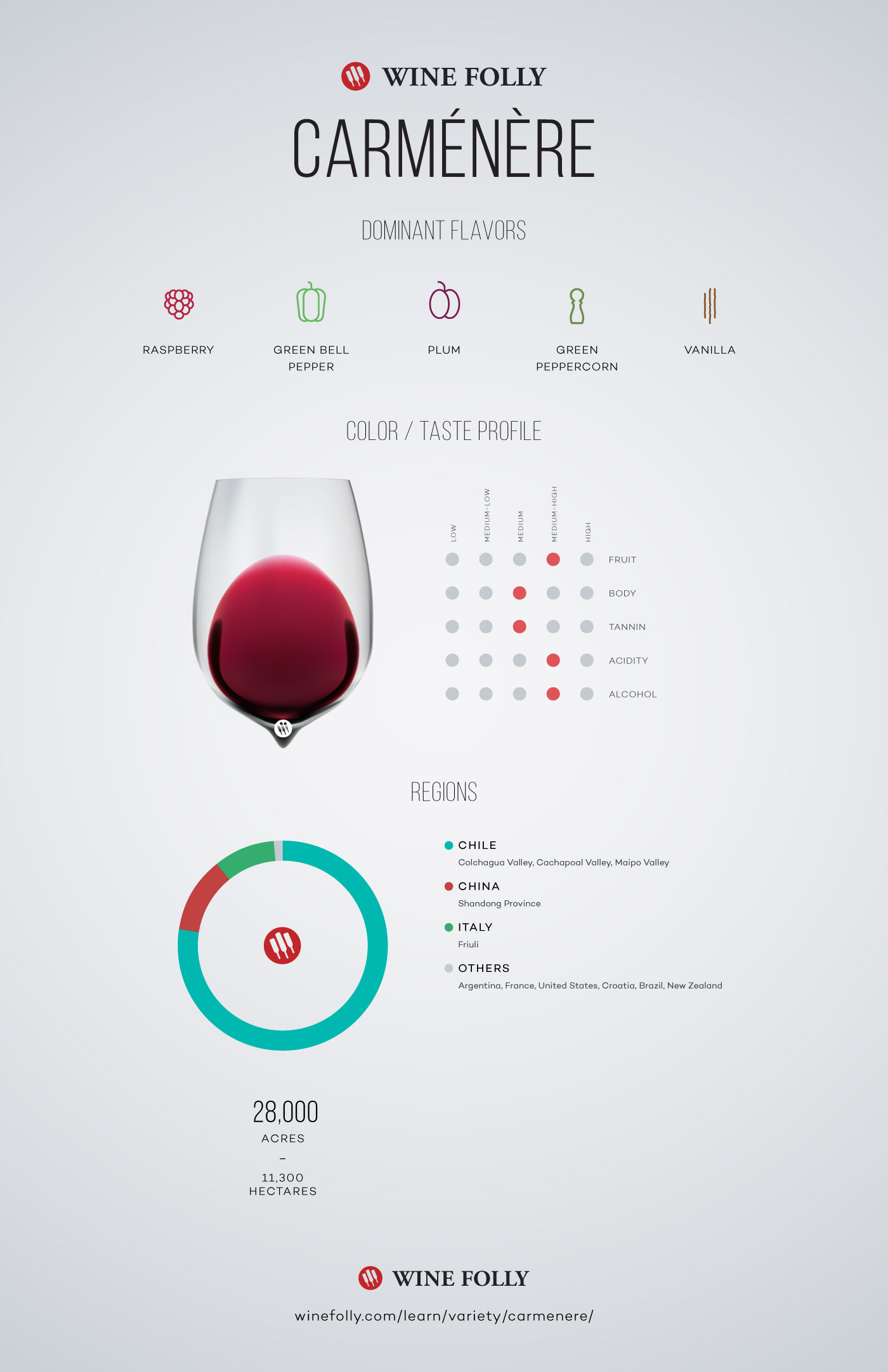 See more information on Carménère on page 110 of Wine Folly: The Essential Guide to Wine
Carménère Taste
Most Carménère wines have striking aromas of raspberry sauce, sour cherry, green peppercorn, and a granite-like minerality. On the more affordable end, you can expect to find Carménère wines with honest fruity red berry aromas and tart flavors of raspberry with a subtly bitter taste similar to kale. Carménère has many similarities in terms of body and texture to Merlot. On the higher end, the herbaceous, bitter notes depart the scene in favor of sweet berries, refined light tannin, and a bittersweet note, like cocoa powder.
Carménère has many similarities in taste to Merlot.
Expect to Spend: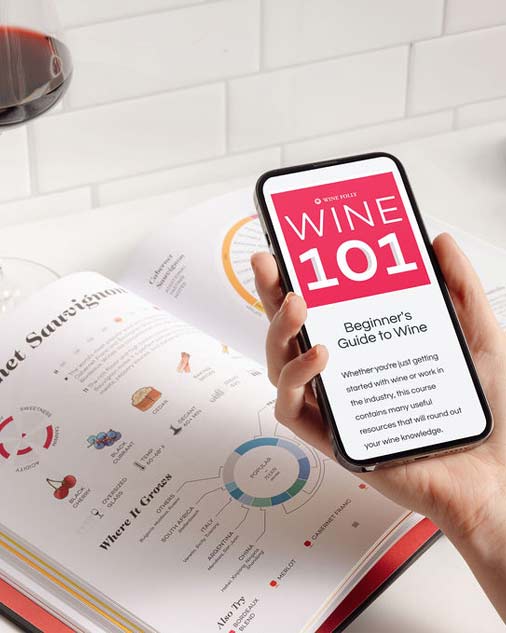 Buy the book, get a course.
Get the Wine 101 Course @ 75% OFF with the purchase of Wine Folly: Magnum Edition.
Shop Now
$17 for a well-made example of Carménère
$38 for an outstanding example of Carménère
Similar Wines (in terms of style): Merlot, Cabernet Franc, Bardolino, Valpolicella Blend (Corvina), Carignan, Sangiovese and Croatina (aka Bonarda)
 
Food Pairing with Carménère
Carménère makes an excellent everyday food pairing wine for several reasons. For one, the naturally high acidity makes for excellent pairing next to foods with higher acidity sauces (Cuban-style roast pork Lechon Asado anyone?). Another keen benefit is Carménère's herbaceous peppercorn-like flavor that often embellishes roasted meats (from chicken to beef). Finally, the lower tannin in Carménère makes it a friendly option for lighter, less fatty dishes. In short, this is one to keep around for just about everything. Still, make a note of the keen matches to try with Carménère below:
Examples
Meat

Chicken Mole, Carne Asada, Cuban-style Roast Pork, Roast Dark Meat Turkey, Beef Brisket, Beef Stew, Filet Mignon, Lamb w/ Mint, Lamb Stew

Cheese

Goat Cheese, Mozzarella, Pepper Jack, Farmer's Cheese, Cotija Cheese, Feta Cheese

Herb/Spice

Green Peppercorn, Black Pepper, Red Chili Flake, Chipotle, Garlic, Cumin, Coriander, Thyme, Oregano, Chives, Lemon

Vegetable

Olives, Stuffed Peppers, Roasted Peppers, Capers, Sautéed Garlic Kale, Black-eyed Peas, Black Beans, White Bean and Kale Soup, Pinto Bean Chile, Lentils
---
Chilean Wine Bottle Tips

A selection of several of Chile's most well-known Carménère producers.
D.O. Wines: Chile's wine classification system defines regions, sub-regions, zones, and areas as D.O. (Denomination of Origin) to identify the origin of the grapes. To use D.O. on the label, 85% of the grapes must come from the defined origin.
Estate Bottled: This label term can only be used if the winery and winery's vineyards are located in the same D.O.
What does Reserva, Gran Reserva, etc., Mean?: Reserva, Gran Reserva, Gran Vino, Reserva Especial, Reserva Privada, Seleccion, and Superior are allowed on Chilean wine labels. However, they do not have a specific definition or quality requirement. Be sure to look into the wine's tech sheets if you want to understand the blend, aging information, and technical data to estimate the wine's potential quality.
Detailed Carménère Information

The majority of Carménère hails from within the Central Valley of Chile. This is the largest wine-producing zone in Chile, and it contains several regions to know for Carménère:
Maipo Valley

Maipo is the northernmost region of the Central Valley Region. Quality Carménère from this area is somewhat lighter with lovely floral notes of cherry, hibiscus, and rose with a subtle petrichor/granite-like minerality.

Cachapoal Valley

The Cachapoal Valley tends to produce Carménère wines with a balance between sweet and sour cherry fruit and the characteristic herbal green peppercorn note. Wines often have heightened acidity, which indicates this region could produce age-worthy wines.

Peumo: Wines from Peumo are consistently rated amongst the very best Carménère from Chile. The region is one of the oldest wine-producing areas in Chile. Carménère wines here have a more full-bodied style with sweet red berry aromas and heightened alcohol. Carménère wines from Peumo have been shown to age 15 or so years.

Colchagua Valley

You'll find that most Carménère on the market today hails from Colchagua Valley. Most wines will exhibit rich raspberry sauce aromas along with a distinct green peppercorn herbal note. However, the region is quite varied in style from the coast to the foothills of the Andes.

Apalta: Within Colchagua valley is a sub-region called Apalta, which is located in the transverse range between the Andes and the ocean. Carménère wines from this area produce more structured tannin and are often oaked to reveal sweet raspberry notes and very little herbaceousness. The region is home to just 6 wineries as the rest is protected forest land.

Rapel Valley

Wines labeled with Rapel Valley are made with grapes that can hail from both Colchagua and Cachapoal Valleys.
Things to pay attention to when buying Carménère

In a single-vintage tasting of Carménère wines across all regions and quality levels, we identified a few key highlights you'll want to note:
Carménère wines with blackberry, black plum, or other black fruit flavors almost always contain about 10–15% of another wine variety blended in (Petit Verdot, Syrah and Cabernet Sauvignon are the most common). The blended wines consistently outperform in ratings compared to the 100% single-varietal Carménère wines.
 
Be sure to pay attention to vintage when buying more affordable Carménère. While the top-tier Carménère wines are consistent year after year, the more affordable options can develop a bitter kale-like note on less-than-stellar vintages. The 2013, 2011, 2010 and 2008 vintages are great.
 
The wines from the valley (Entre Cordillas) and coastal (Costa) areas tended to have less acidity, taste richer and have more color than the wines from the Andes areas. The Andes' wines tended to be more floral with great length in the finish due to the heightened acidity. So, if to prefer a lighter more elegant style, keep your eyes peeled for higher elevation, Andes wines and vice versa.