There is a wine that tastes like cotton candy and, surprisingly, it's not made with cotton candy grapes. It's made with a special wine grape that we've never heard of…
It's made with an Italian grape called Schiava
Before today, if you asked your local wine guy/gal for a wine that tastes like cotton candy, you'd probably be booed out of the store. Fortunately, it won't happen again with this little jewel of knowledge. There is a wine–it's actually quite fine–that has beautiful aromas of rose, potpourri, strawberry, perfume, bubblegum and, you guessed it, cotton candy. It's made with an Italian grape called Schiava ("Ski-ah-vah") which is sometimes called Vernatsch, Black Hamburg (in England), or Trollinger (in Germany). It is the primary production in the northernmost wine region of Alto Adige–a valley in the Alps.

Schiava: The True Cotton Candy Wine
Schiava is kind of like breathing in a bouquet of roses while getting a massage from Strawberry Shortcake. Shockingly, this wine hasn't been on the radar for years because it's so feminine, elegant, and light.
Schiava Taste Profile
Schiava is a light-bodied red wine (like Pinot Noir) with aromas of cotton candy, strawberry, bubblegum, and lemonhead candy. The wine is delicate and light in color. On the palate, the flavors are quite subtle and producers in Alto Adige will often make a dry style as to not overwhelm the palate with sweetness, which is already provided by the aromas. The alcohol levels are slightly lighter (~12% ABV) because the grape grows predominantly in a cooler climate.
---
Where It Grows and What to Look For
Schiava grows primarily in the Alto Adige region of Italy and in Germany in the Würtemberg region. Quite a bit of Schiava is made in Germany labeled as Trollinger. However, Germany drinks quite a bit of her own juice, so you're more likely to find this wine coming from Italy. To make things slightly complex, the region in Italy where Schiava grows has 3 official languages (German, Italian, and Ladin) and thus, there are a few different names to know: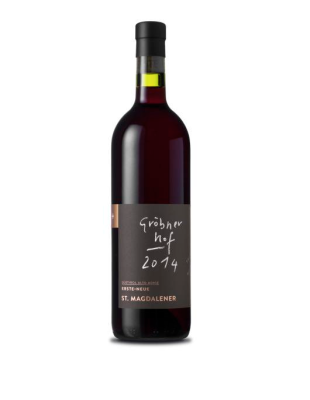 Ways that Schiava is labeled
Edelvernatsch: Meaning "noble local," this is a wine made with one of Schiava's finest varietals: Schiava Gentile.
Kleinvernatsch: Meaning "small local," this wine is made with the most planted variety: Schiava Grosso.
Schiava: The general name meaning "slave," based on the vine-training method used (pergola), which forces the vines to produce less leaves.
St. Maddelena/St. Magdalener DOC: The official designation of wines made in Alto Adige, with the Schiava variety in Italy (often made rich with a splash of Lagrein).
Despite its rarity, wines made with Schiava are still quite affordable…
Expect to spend: $10–18 for a terrific bottle of Schiava wine.
Fun Fact: The Schiava grape is a very ancient grape with several different varieties. For example, Schiava Grosso is considered the workhorse Schiava grape and Schiava Gentile is considered the fine wine grape.
Now that you've had a taste of a new wonderful wine, it's time to start really tasting!
---
Beautiful Wine Fundamentals
Supercharge your wine smarts with this beautiful (and useful) wine poster. Tactile information you can put to use the next time you pop a bottle.