From a wine drinker's perspective Germany has a lot more to offer than pints of lager. The country is already famous for their sweet white wines; from the "low-bräu" liebfraumilch to the coveted Trockenbeerenauslese Riesling(some are as high as $3k per half-bottle!). But there's a savory side of German wine that's super delicious… we're here to talk German Pinot.
"We're here to talk German Pinot"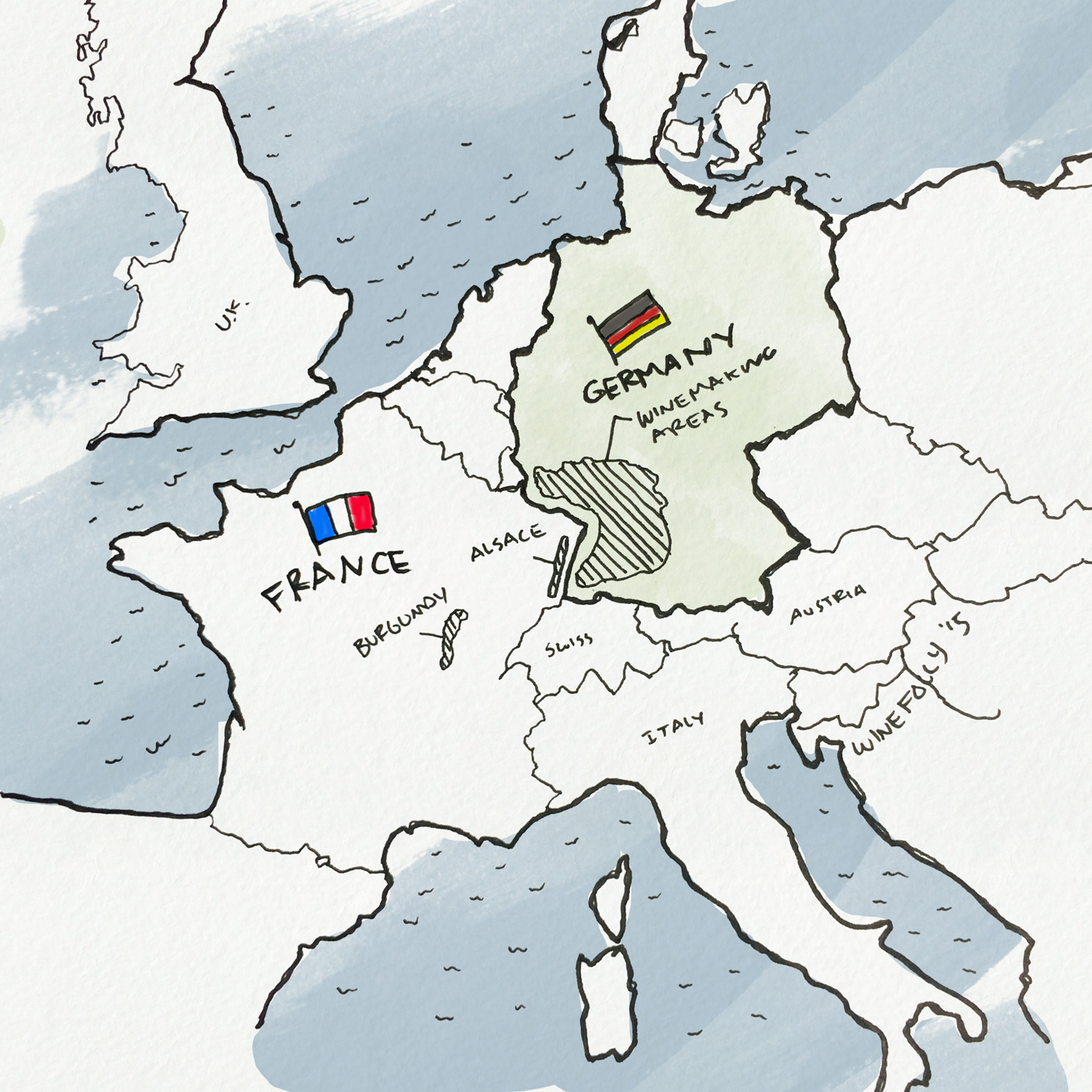 View a German Wine Appellation Map ➜
In case you missed out on playing Europa, Germany is actually right next door to France. Many of the same wine varieties that grow well in France also grow stupendously in Germany. What's fascinating is that when you try these wines you'll find there are many similarities in taste (for example, Alsace and Burgundy). Not surprisingly, since Germany isn't well known for the Pinot varieties, these wines fly under the radar which, in Wine Folly speak, means: "more affordable!"
So let's taste through 'em!
Pinot Noir = Spätburgunder

("spat-burg-under") Germany is known for a cool-climate style of Pinot (much more like Oregon) so expect flavors of cranberry and cherry, with subtle earthy notes. The unique taste you'll find in German Pinot is this wonderful spice characteristic similar to cinnamon and allspice. These flavors are often attributed to both oak aging and the influence of the region's soils which include granite, slate, basalt and limestone clays. Look for wines from Baden, Ahr and Franken.
Food Pairing: For food, German Pinot Noir is incredibly versatile because of its higher acidity (i.e. it rarely tastes flabby with food) and, if you'd like to try a Bavarian food pairing, go for spaetzle. It's surprisingly easy to make!
Pinot Gris = Grauburgunder

("grao-burg-under") People usually look to France or Italy for Pinot Gris/Pinot Grigio (same grape), but Germany also produces quite a bit of the stuff too. The only problem is that Germany drinks most of their own! Grauburgunder offers bold aromas of white peach and lemon zest with that subtle German "spice" note that sometimes comes across as honeycomb and allspice in this wine. Expect wines to be typically dry, although some have just a subtle sweetness to add body.
Food Pairing: Thinking of classics again, I would pair a bold and subtly sweet Grauburgunder with Bavarian roast pork, cabbage and dumplings (Schweinsbraten). The subtle sweetness in the dish will be accentuated when matched with a fruity Pinot Gris.
Pinot Blanc = Weißburgunder

The most delicately flavored of the German Pinots, Weißburgunder/Weissburgunder ("We-sss-burg-under") is the only one of the three made from an all-white grape (Pinot Gris is more pale grayish purple). You'll find these wines to be very subtle on the nose but with similar flavors of white peach/nectarine and faint notes of lime zest and occasionally honeycomb.
Food Pairing: due to its delicacy, Weissburgunder pairs best with lightly flavored foods and particularly well with soft, somewhat stinky cheeses (washed rind anyone?). Of course, we also highly recommend the classic Bavarian bar treat: cheesy pretzels!
---
PS. You can find German wines like these above primarily in wine specialty shops–most major retailers don't stock them. They are well worth the effort.