Grüner Veltliner is the quintessential wine of Austria, but there's more to discover. Most of the wine in Austria comes from the eastern side of the country by Vienna. Get to know more about Austrian wine by seeing the country's layout and learning about its 3 top grape varieties.
There was a time where Austrian wines were shadowed with doubt. Fortunately, Austria underwent a complete wine restructuring after a wine scandal in 1985 and has emerged as one of the top countries in the world in terms of production standards.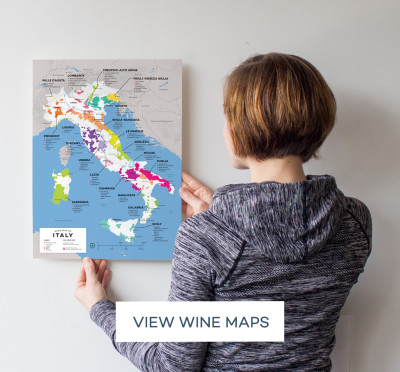 2016 Wine Map Update
Now Available: Appellation maps to explore all of the major wine producing regions of the world. Discover art made to be handled.
Austrian Wine with Map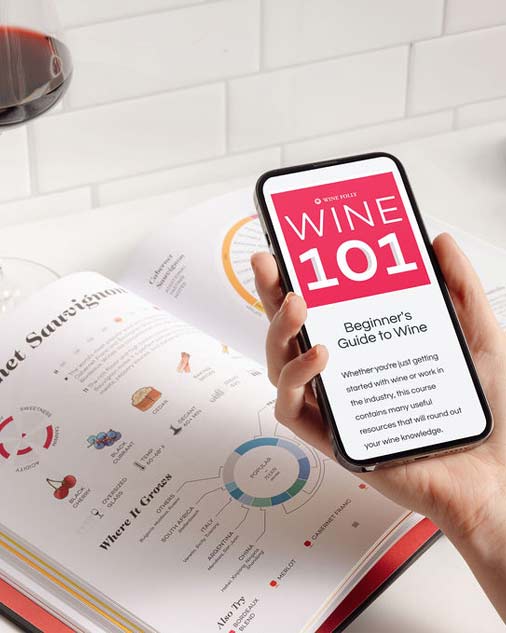 Buy the book, get a course.
Get the Wine 101 Course @ 75% OFF with the purchase of Wine Folly: Magnum Edition.
Shop Now
After spending some time with Austria's perfectly kept wine statistics, we created a map of what you can expect to find from each region. As you'll see, the northern side of Österreich (meaning 'Eastern Kingdom', the German name for Austria) is home to the majority of Austria's production that focuses primarily on Grüner Veltliner. Whereas just south of Vienna, there's a warmer pocket of wine regions that produce outstanding red wines.
Austrian wine is for those who like delicately perfumed aromatics and mouth-watering acidity. It makes sense that Austria would grow wines with great elegance and acidity, because the country is on the same parallel as northern France and Canada. Despite being known for white wines, there is also a richer side of Austrian wine found in Blaufränkisch, a red wine variety that can be made very opulent with oak-aging.
Major Varieties Found in Austria
There are 35 approved wine varieties in Austria and while that sounds pretty diverse, the majority of Austria's production is dedicated to Grüner Veltliner, Zweigelt and Blaufränkisch. So what are these wine varieties and how do they taste?
---
Grüner Veltliner
"Herbaceous and Zesty"
Expect racy acidity with an herbaceous tingle of pepper. Grüner Veltliner is often likened to Sauvignon Blanc because of its green flavors of white pepper and green bean. Most people who start with an affordable Grüner Veltliner will taste this, but what's interesting is what happens when you spend a little more.
The higher quality denominations of Reserve, Smaragd or Steiermark (which can be found usually at $30+) are much richer, almost like an oaked Chardonnay from Burgundy. Read more about Grüner Veltliner
 
Grüner Veltliner Food Pairing
With its green herbaceous notes, Grüner Veltliner makes a perfect accompaniment with sushi, however it will work wonders with cilantro-driven Mexican dishes as well. To see more pairings check out the "Light White Wine" on the Food Pairing Chart

---
Zweigelt
"Cherry Bomb"
Zweigelt is the most planted red variety in Austria. It's a lighter red wine, similar to Grenache or Gamay, that is rarely oaked. Since it's a cool climate red, it will often have a slight bitter note on the finish. Despite the fact that most Zweigelt is on the affordable side, there are a few age-worthy examples that give off rich cherry flavors with a touch of oak.
The best advice available to someone who wants to try Zweigelt is to give it about an hour to decant. A Zweigelt that may initially have a bitter or tart finish suddenly becomes deeper and more fruity, exhibiting notes of black cherry and raspberry.
 

Zweigelt Food Pairing
Zweigelt has moderate acidity and pairs with Austria's traditional Spätzle and Schnitzel. However, for a more American version, try chicken tenders and tator tots. To see more pairings check out the "Light Red Wine" on the Food Pairing Chart

---
Blaufränkisch
"Blackberries and Citrus"
Blaufränkisch is Austria's champion age-worthy red wine with a vein of acidity and big tannins to boot. They're often a little harsh when young but Blaufränkisch wines become wonderfully subtle and lush with age. Expect blackberry, tart cherry, and an elegant citrus-like spice in Blaufränkisch wines along with a pronounced burst of tannins in the mid-palate. All in all, it's pretty hard to compare Blaufränkisch to the 18 noble varieties, instead you might just like to try it for yourself.
Blaufränkisch Food Pairing
Blaufränkisch is rich with moderate tannin and it should be paired with rich, grilled foods. Try it with your next BBQ tenderloin or smoked tofu burger. To see more pairings check out the "Medium Red Wine" on the Food Pairing Chart

---
St. Laurent
"Raspberry and Baking Spice"
It's worth mentioning St. Laurent even though it accounts for only 2% of Austria's vineyards. This wine grape has a surprising similarity in flavor to Pinot Noir, which is due to the fact that it's related. Although the demand for St. Laurent has increased, making it a bit more expensive and harder to find, it offers a great alternative to Pinot Noir.
 
St. Laurent Food Pairing
St. Laurent is similar to Pinot Noir and loves delicately flavored foods with an element of richness. Perhaps try pairing that ricotta-stuffed tortellini with a St. Laurent-based Beurre-Rouge. To see more pairings check out the "Light Red Wine" on the Food Pairing Chart

Sources
Need to know more? Check out austrianwine.com publications