Grenache Blanc (aka Garnacha Blanca) is a full-bodied white wine that originated in northern Spain. Since being planted in the United States, single-varietal Grenache Blanc wines continue to grow in popularity where it's loved for its intense flavors, higher alcohol content, and plush style (when aged in oak) similar to Chardonnay. Find out more about Grenache Blanc including tasting notes, serving tips, food pairing and where it grows best.
Getting Into Grenache Blanc
Tasting Notes
"Green richness" is the theme that carries through all Grenache Blanc wines. The aromas will burst with green fruit and citrus notes including Asian pear, green apple, unripe mango, lime zest, and white peach. Other flavors include subtle sweet floral notes of honeysuckle and fenugreek (or almost cumin seed) along with baked apple, brioche and lemon curd if the wine was aged in oak. On the palate it will be plump and rich with juicy pear flavors that lead into lean herbal notes of green almond or dried green herbs and salty minerals. Alcohol levels will range in the 13–15% range, giving the wine a spice-driven finish.
Serving Instructions
Glass: White Wine Glass or Chardonnay "Montrachet" Glass
Serving Temperature: 45–50 °F / 7–10 °C Serve mostly chilled to reduce some of the aromatic intensity/burn due to natural higher alcohol levels.
Decant: No.
Aging
1–5 years. Grenache Blanc is sensitive to oxidation so be sure to store it in a cool, dark place. When blended with other varieties, Grenache Blanc wines have the potential to age longer.
Food Pairing with Grenache Blanc

Greek style Garlic Chicken by Chicken Farmers of Canada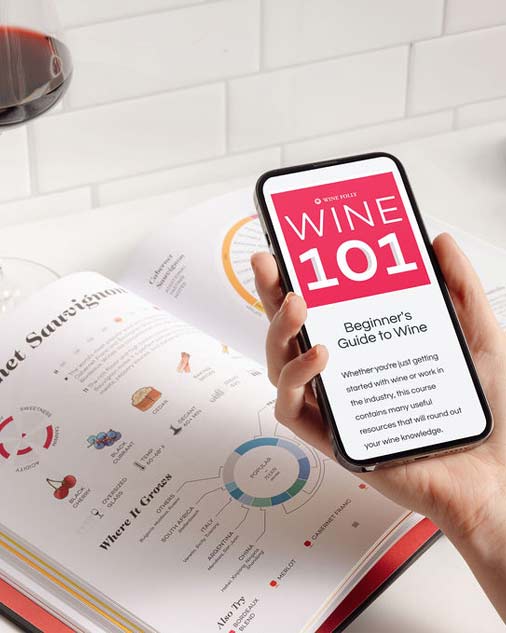 Buy the book, get a course.
Get the Wine 101 Course @ 75% OFF with the purchase of Wine Folly: Magnum Edition.
Shop Now
High on the intensity spectrum, you'll note that Grenache Blanc will pair with a wide variety of foods from fish dishes to rich meats like lamb. The secret to pairing with Grenache Blanc is to consider its spiced flavors of cumin and tropical "greeness" in your tool kit when pairing with food. This makes Grenache Blanc particularly well suited with richly spiced dishes, whether they be of Moroccan, Spanish, Indian or Asian origin. Just remember not to go too spicy with heat because alcohol makes capsicum burn!
Examples
Meat

Chicken Satay, Chinese 5-Spice Sea Bass, Tempura Shrimp, Broiled Lobster, Moroccan Tagine, Lebanese 7 Spice Lamb, Garlic Chicken, Braised Short rib, Roasted Pork Shoulder

Cheese

Softer creamy cheeses including Brie, Camembert, Crème Fraîche, Fromage Blanc and medium-hard nutty cheeses such as Swiss, Emmentaler, Comté, Jarlsberg, Raclette and Gruyère

Herb/Spice

Cumin, Coriander, Garlic, Lemon Zest, Lime Zest, Red Pepper, White Pepper, Fenugreek, Fennel, Anise, Allspice, Nutmeg, True Cinnamon, Ajwain, Amchoor, Shallot, Chives, Marjoram, Savory, Chervil, Basil, Cilantro, Caper

Vegetable

Zucchini, Sweet Onion, Potato, Cauliflower, Yellow Tomato, Yellow and Red Lentil, Garbanzo Bean, White Bean, Fennel Bulb, Celery, Peppers, Eggplant, Yellow Squash, Edamame, Corn
Facts About Grenache Blanc
Grenache Blanc Blends: Because of its sensitivity to oxidation and medium acidity, producers will often blend Grenache Blanc with other white varieties including Roussanne, Vermentino (aka Rolle), Bourboulenc, Picpoul, Viognier, Clairette and Macabeu (aka Viura). One of the most popular blending grapes is Roussanne, where producers in the Châteauneuf-du-Pape appellation of the Rhône make rich, oak-aged whites.
100 yr-old Sweet Wines: In the region of Roussillon of southern France, Grenache Blanc is one of the varieties blended in the sweet wine called Rivesaltes Vin Doux Naturel. A vin doux naturel or VDN is made by fermenting grapes and adding brandy when the desired sweetness is reached. The brandy halts the fermentation, finishing the wine sweet and fortifying it to last over 100 years. Occasionally, you'll see older bottles available from the 1920's and 1930's available and they are well worth a try.
Related to red Grenache: Grenache Blanc is a cousin of the red grape Grenache (aka Grenache Noir).