Ever wonder how a person's name affects their potential? Does 'Kiki' sound like the name of a world leader or a backwater bartender? Perhaps it's in the name that Gewürztraminer hangs by a thread in the world of wine because as you'll soon see, it's a perfectly noble grape. Of course, you're probably thinking that comparing a person's name to a grape seems uncourteous, but Gewürztraminer has been stuck with its unlikable name for nearly 200 years. Beat that, Kiki.
Gewürztraminer is like the grown-up version of Moscato.
In this guide, we attempt to show how Gewürztraminer is good, if not great. While aromatic sweet wines like Gewürztraminer are slightly out of fashion, we see it as an opportunity to find some of the most outstanding values on the planet. In this guide you will learn how Gewürztraminer wine tastes, where it comes from, and food pairing recommendations that will blow your mind.
Why try Gewürztraminer?
Why would any self-respecting wine enthusiast like Gewürztraminer?
One of the 18 Classic Noble Grapes
Super undervalued, many great examples under $20
Perfect pairing with Indian and Middle Eastern Cuisine
Surprisingly rare wine grape (only about 20,000 acres worldwide!)
The Guide to Gewürztraminer Wine

Gewürztraminer is like the grown-up version of Moscato. While Gewürztraminer wine has many similarities to Moscato it also has higher alcohol, more striking aromatics and lower acidity. All of these characteristics make Gewürztraminer more difficult to slurp down, thus making it more 'adult'.
The first aroma you'll come across in a glass of Gewürztraminer is its tell-tale lychee aroma. If you've never smelled lychee – canned or fresh – then this aroma will be more like 'sweet rose.' The lychee aroma is usually so intense, it's one of Gewürztraminer's 'tells' in a blind tasting. If you're drinking high quality Gewürztraminer you'll find a great many complex aromatics including Ruby Red grapefruit, rose petal, ginger and a smoky aroma similar to burnt incense.
Is Gewürztraminer always sweet?
Not always. However, because Gewürztraminer is an aromatic grape like Muscat (Moscato), Riesling and Torrontés, it will have an inherently sweet flavor simply due to the smell. Generally, Gewürztraminer have a gram or two of residual sugar (RS). But because of the heightened aromatics, higher alcohol, and lower acidity, many Gewürz taste sweeter than they actually are.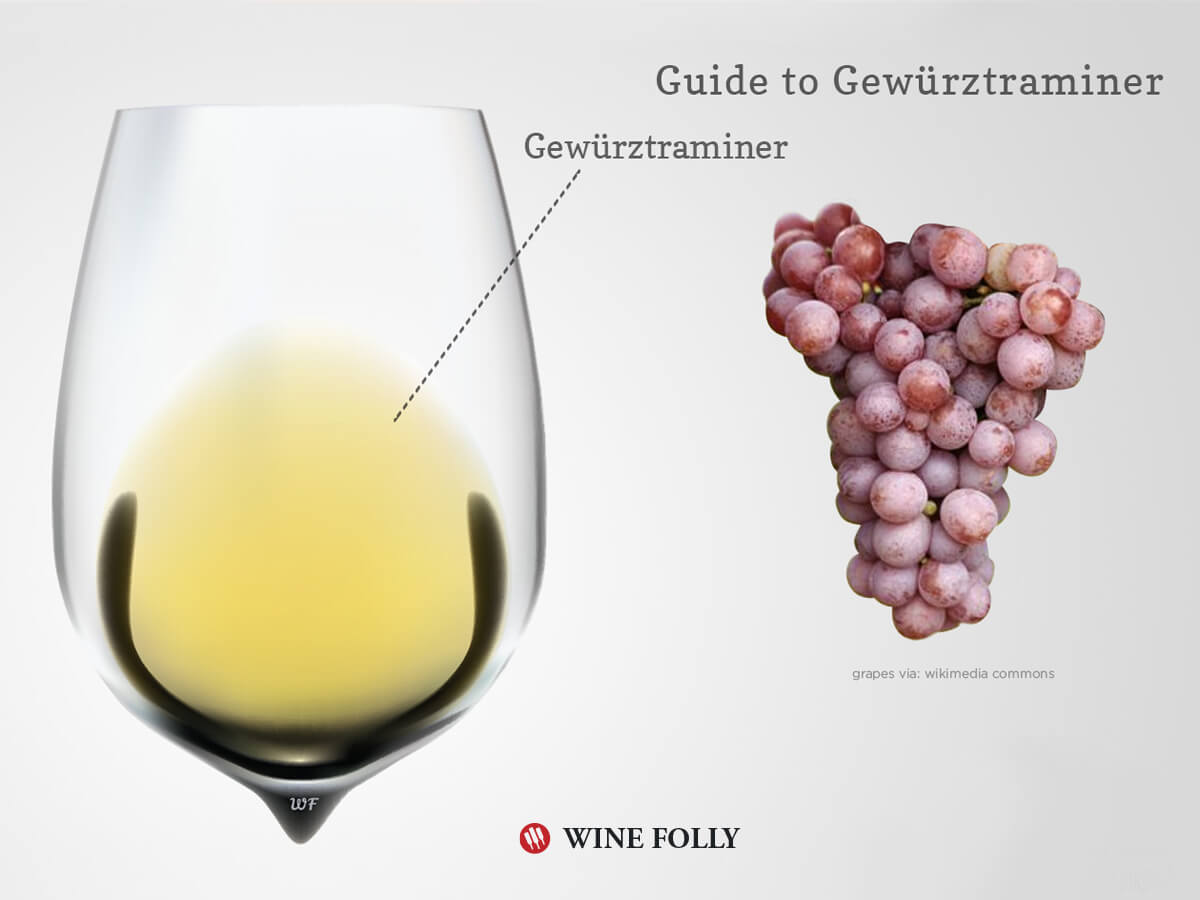 Gewürztraminer Wine Characteristics
FRUIT FLAVORS (berries, fruit, citrus)

Lychee, Grapefruit, Pineapple, Peach, Apricot, Orange, Cantaloupe

OTHER AROMAS (herb, spice, flower, mineral, earth, other)

Rose, Honey, Ginger, Incense, Allspice, Cinnamon, Smoke

ACIDITY

Medium Low

SERVING TEMPERATURE

"Fridge Cold" 43 ºF (6 ºC)

SIMILAR VARIETIES

Muscat, Riesling, Torrontés(Argentina), Loureiro (Portugal), Malvasia Bianca (Italy)

HISTORICALLY IMPORTANT REGIONS

Gewürztraminer is one of the 4 Grand Cru grapes of Alsace and has been produced in the region for hundreds of years. Top quality Alsatian Gewürztraminer are called 'Vendange Tardive' (a.k.a. 'late harvest') and are age-worthy dessert wines with mineral, spice and smoke notes.
Where does Gewürztraminer come from?
The foothills of the Alps.
source
Gewürztraminer's homeland lies in the foothills of the Alps. It's a pink grape, just like Pinot Gris/Grigio, that also grows really well in cooler climates. The grape originated in Germany but over several hundreds of years it's completely circumscribed the Alps including Italy, Hungary, Romania, Croatia, France and Slovenia.

Gewürztraminer Food Pairing
Think Exotic. Gewürztraminer best pairings happen when you step outside of traditional French cuisine and experience other foods of the world. Middle Eastern and Moroccan cuisine, both utilizing nuts and dried fruits with roasted meats, are great examples of the types of cuisine to enjoy with Gewürztraminer wine. When pairing Gewürztraminer with food think about how the wine's floral aromas and notes of ginger will bring out actual ginger and rose water used in a dish.

Meat Pairings
Duck, Chicken, Pork, Bacon, Shrimp and Crab
Spices and Herbs
Highly spiced and aromatic herbs including Cayenne Pepper, Ginger, Clove, Cinnamon, Allspice, Turmeric, Madras Curry, Sichuan Pepper, Shallots, Soy Sauce, Sesame, Almond, Rose Water, Lime Leaf, Bay Leaf, Coriander, Cumin

Cheese Pairings
Try it with less stinky and delicately flavored soft cow's milk cheese and dried fruit.

Vegetables & Vegetarian Fare
Roasted vegetables and veggies with natural sweetness including Coconut, Red Onion, Bell Pepper, Eggplant, Tempeh, Squash and Carrot. You can also enjoy it with artichokes, which are one of the more challenging wine pairing foods.

---
How to Find The Best Gewürztraminer Wine
Alsace is known for Gewürztraminer.
source
You might be surprised to know that there's actually not that much Gewürztraminer in the world. For every one vine of Gewürztraminer there are 30 vines of Cabernet Sauvignon and 4 vines of Riesling. Most Gewürztraminer is produced as a low quality grocery store sweet wine, so when you're buying look for smaller producers in specialty wine stores or online.
Only about ~20,000 acres worldwide
Alsace
~7,000 acres
Alsace is the world's largest producer of Gewürztraminer and you can find several excellent and less-sweet wines. Pay attention to words like "Grand Cru", a vineyard designation, and "Haut-Rhin", an area with higher number of Grand Cru vineyards.
US
~3,200 acres
Before sweet wines lost their stature, many Gewürztraminer vines were planted throughout California in the 1960's. Look for wines from cooler areas like Sonoma and Monterey and high elevation vineyards. There are old vine Gewürztraminer from outstanding producers such as Husch Vineyards for less than $20! New York State and Washington State have great potential with this type of grape because cooler climates producer higher acidity.
Other Regions
Italy

~1,500 acres. About 10% of the Northern Italy region, Alto Adige.

Australia

~2,000 acres. Look for Clare Valley.

New Zealand

~1,000 acres. Mostly from the North Island, such as Hawke's Bay.

Germany

~2,000 acres

Hungary

~2,000 acres