Barbera: The Wine Italy Never Talks About
Barbera has long filled-in the low slopes and valleys of Northern Italy. It's considered a lesser wine to Nebbiolo and, therefore, doesn't earn the best grape-growing real estate (such as South-facing slopes on hills above the 'nebbia' or fog).
Despite its lowly position, Barbera is the quintessential 'wine of the people,' it's meant to be enjoyed young — and it's cheap!
Discover this unique little grape and never again feel like you have to revert to 'Chianti' when looking for a great valued Italian wine.
Guide to Barbera Wine
Barbera Wine Profile
FRUIT: Dark Cherry, Dried Strawberry, Plum, Blackberry
OTHER: Violet, Lavender, Dried Leaves, Incense, Vanilla, Nutmeg, Anise
OAK: Yes. Large neutral oak casks.
TANNIN: Low
ACIDITY: High
AGEABILITY: Traditionally enjoyed within 2-4 years.
SYNONYMS & REGIONAL NAMES:
Barbare, Barbera d'Alba, Barbera d'Aosta, Barbera d'Asti, Barbera del Monferrato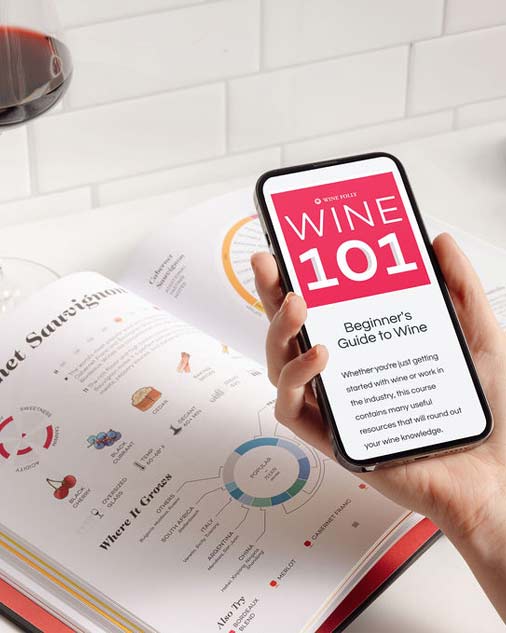 Buy the book, get a course.
Get the Wine 101 Course @ 75% OFF with the purchase of Wine Folly: Magnum Edition.
Shop Now
Barbera Wine Regions
62,900 acres worldwide (25,454 hectares)
The Taste of Barbera Wine
 
Mish-Mash Flavor: Somehow Barbera wine tastes both rich and light-bodied. Why is that? Well, one reason is that it has dark staining pigments that dye the wine to near-black.
However, the taste of Barbera has notes of strawberry and sour cherry: flavors synonymous with light-bodied wines. Light tannin and high acidity make it taste 'Juicy'.
Most of the Barbera you'll find is from Italy which leans towards more herbaceous flavors, you can see the differences below.
New World Barbera
California has a several amazing vineyards of Barbera. In fact, before French varietals were popular in California there were many Italian farmers planting Italian grapes all over! This was before prohibition, so much of these vineyards went fallow or were pulled-out.
New world Barbera today is more full-bodied and fruit-forward.
---
Old World Barbera
Italy is Barbera's original home. The best Barbera wines come from the Piedmont region of which there are several designations to explore!
Wines are much fresher in style, with tart blackberry notes and ample acidity.
---
Barbera Food Pairing
Complementary Pairing

Wines and foods that are single-noted can be made whole when put together. With Barbera wines try rich dark meats, mushrooms, herbs, herbaceous cheeses like blue cheese, higher tannin foods like root vegetables & braised greens.

The idea here is that the bright acidity in the wine will make a rich fatty or high tannin dish complete.

Congruent Pairing

Match the flavors within Barbera to make them stand out. Try sour cherry, sage, anise, cinnamon, white pepper, nutmeg, citrus and the Morrocan spice blend called Ras el Hanout.

Regional Pairing

Monferrato's regional dishes include: tajarin pasta, Guinea fowl and porcini stew and carne all'albese (a Piemontese version of steak tartare with parmesan, olive oil and rocket) The tajarin pasta is pictured above with shaved truffles.
---
5 Things About Barbera That Will Surprise You
1000 years older than Cabernet Sauvignon?

Ampholographers suspect the origin of Barbera goes as far back as the 7th century. Compare that to the more popular Cabernet Sauvignon that has only been around since the 17th century.

Wrought With Scandal!

In 1986, Time reported a scandal. Eight Italians were found dead and 30 more were hospitalized after drinking Odore Barbera. This media alert quickly unravelled the scary truth about illegal wine additives all over Europe in the 1980's.

Bubbly Barbera–Only in Italy

The Colli Piacentini DOC in Emilia-Romagna Northern Italy have several lightly sparkling Barberas that have a simliar freshness to Lambrusco or Beaujolais. They are very rare outside of Italy.

Smaller Clusters Make Better Barbera

Barbera is a very vigorous grape variety that can produce high yields (up to 5 tons/acre) and grows well in sandy soils. The best Barberas, however, tend to be from well-pruned vineyards and smaller grape clusters.

More Oak?

There is a move to spend a little more money on oak aging wine. This technique is commonly practiced in Amador and Sierra Foothills in California. Barbera wines from this area verge on jammy with rich vanilla and spice flavors.
---
While easy to drink and pair up, Old and New world Barbera has delicious differences worth exploring. Be sure to arm yourself with the right tools when tasting within a family of wines – our Wine Aroma Charts can help you make great tasting notes, to nail down which type of Barbera is right for you.