Germany take its white wines very seriously. We know this because white wines make up over 65% of the country's vineyards. Germany's cooler climate produces white wines with lean, laser-focused fruit flavors and heightened acidity. What makes German white wines so compelling is their ability to age a long time.
If you are one of the few who cherish white wines as much as red wines, Germany is a wine region that's easy to become obsessed with. Here is an introduction to Germany's top white wines as well as some essential knowledge to help you find great German white wine.
White Wines of Germany

In 2013, white wines made up 64.5% of the total vineyard area of Germany. Riesling is Germany's most important grape but there are some other fascinating esoteric whites to know. Statistics from Deutscheweine.de
Riesling
This is a very exciting time for Riesling in Germany. In the past, there was a predominance of sweet Riesling wines in the market, but now with changing tastes, we've seen a great deal of Germany's finest wineries producing more dry Riesling. Not that German's sweet Riesling isn't great, in fact one of the most prized collector's white wines in the world is a tiny half-bottle of Trockenbeerenauslese (TBA–the sweetest style of them all) that comes from noble rot grapes grown in the Mosel Valley. Since Riesling has some of the highest acidity (of the popular wine varieties) the sweetness never comes across too cloying.
Finding Great German Riesling
Riesling grows throughout Germany and each of the 13 Anbaugebiete (Mosel, Pfalz, etc) produces a slightly different expression. Once you learn how these wines are classified, it's easier to find what you're looking for.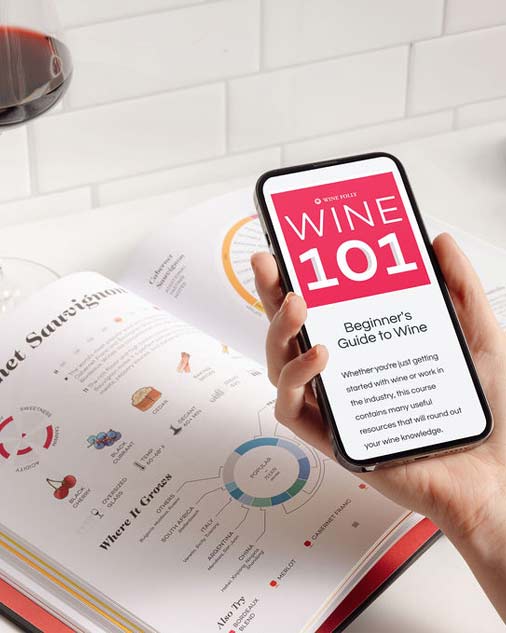 Buy the book, get a course.
Get the Wine 101 Course @ 75% OFF with the purchase of Wine Folly: Magnum Edition.
Shop Now
German Riesling Classifications Learn about the different quality levels of German Riesling and the terms used to describe the different sweetness (ripeness) levels.
Regions To Know If you start with just 3 regions, start with the Mosel, Rheingau and Pfalz as the extremes of what German Riesling has to offer.
The VDP An invite-only association of around 200 estate wineries across Germany. The focus of the VDP (Verband Deutscher Prädikats) is exceptional quality estate wines. This is a great place to start looking for high quality German wine. You can find out more about member wineries on their website www.vdp.de
---
Müller-Thurgau
Müller-Thurgau is Germany's everyday wine. The grape is cross between Riesling and a table grape called Madeleine Royale. The goal of the crossing was to create a wine that had the delightful taste of Riesling, but was easier to grow in colder areas. For this reason, Müller-Thurgau hasn't ever achieved the same status as Riesling, but it's actually quite delightful when done well. You'll find most Müller-Thurgau to be more full-bodied than Riesling and the floral aromatics of the wine make is taste sweet even when it's trocken (dry). The best examples balance unctuous peach-like sweetness with crunchy green phenolic bitterness (that is sometimes reminiscent of rhubarb).
Finding Great Müller-Thurgau
You won't find many professional ratings for Müller-Thurgau because these wines are still quite under-appreciated. So instead, you'll want to dig for some intel on where the M-T was grown to get an indication of its quality. As it happens, there are a few spots in Germany that make yummy examples:
---
Grauburgunder Pinot Gris and Weissburgunder Pinot Blanc
Grauburgunder and Weissburgunder (Pinot Gris and Pinot Blanc) seem to be delightfully more floral and stone-fruit-driven in Germany than compared to Italian Pinot Grigio and Pinot Bianco. Perhaps this is because winemaking in Germany has for centuries focused on purity of fruit whereas Italians love structure. Between the two varieties, German Pinot Blanc often lacks complexity when compared side-by-side to Germany Pinot Gris, which offers oodles of unctuous peachy texture from the color development in the Pinot Gris' skins. Overall, both wines come across as much less severe than Riesling, with softer acidity and more stone-fruit flavors at their core.
Finding Great Grauburgunder and Weissburgunder
The Pinot varieties tend to like slightly more sunny growing regions in Germany, so you'll find them produced in warmer regions like Pfalz, Rheinhessen and Baden.
---
Silvaner
Silvaner is definitely one of Germany's great undiscovered white wines. The grape is very difficult to grow and produce, but after our most recent trip to the region we were surprised by the overall quality of the wines. Because it's so unpopular and unknown about, even world-class Riesling producers sell their Silvaner for next to nothing. Silvaner has both peachy and passion fruit flavors along with an herbaceous thyme-like note, not unlike Grüner Veltliner. On the palate, Silvaner wines often has an oily texture that's complimented with crisp acidity.
Finding Silvaner
The question on finding Silvaner is really a question of whether you can find any at all. Despite the fact that this wine is the 4th most planted white wine of Germany, it manages to be quite elusive outside of the country. Still, there are many great producers from the Rheinhessen and Franken being imported to the states. After a quick search on Wine-Searcher of for both Rheinhessen and Franken, we were delighted to see many options under $20.
---
Others of Interest
Kerner Another child of Riesling, this time crossed with Schiava (aka Trollinger, a red) and it produces a lean, minerally and savory white wine with subtle notes of apricot skins and almond. Unfortunately, you won't find much German Kerner, the majority exported internationally comes from the Alpine region of Alto Adige in Italy.
Scheurebe A underloved white wine that makes exotic, rich sweet white wines with subtle notes of leechie and grapes with spicy notes of cinnamon and clove. This wine is making a comeback in Germany, and will hopefully pop up more in the states.
Chardonnay German Sekt is about to give Champagne a run for its money as Chardonnay plantings in Germany continue to increase. This grape performs as well in Germany as it does in Bourgogne, France.
Sauvignon Blanc Another grape that's rapidly growing in popularity with German drinkers. German Sauvignon Blanc is grassy and lithe, much like Sancerre. This is another one to watch for, even if most is drunk within Germany.
Gutedel (aka Chasselas) Another Alpine variety that also grows well in Savoie and Switzerland comes across with much more rich melon-like flavors and a herbaceous minty note in Germany's terroir.