It might surprise you to know that Sangiovese is actually quite scarse outside of Italy. In terms of world plantings, Sangiovese is less abundant than even little-known Mourvedre.
 
The Sangiovese grape is a bit of a chameleon; easily altering its genetics to fit the environment. There are many different mutations of the variety all over Italy, which results in very different tasting wines. From the delicate floral strawberry aromas of Montefalco Rosso to the intensely dark and tannic wines of Brunello di Montalcino, Sangiovese wine has something for everyone.
 
Learn the basic aromas and flavors as well as potential food pairings with Sangiovese wines. Also, get the proper pronunciation of the word "Sangiovese" so you can order with confidence. Ciao Bella!
 
The Ultimate Guide to Sangiovese Wine
Sangiovese Wine Profile
FRUIT: Tart Cherry, Red Plum, Strawberry, Fig
OTHER: Roasted Pepper, Tomato, Leather, Clay, Brick, Tobacco, Smoke, Oregano, Thyme, Dried Roses, Potpourri
OAK: Yes. Usually light oak aging in neutral oak barrels.
TANNIN: High
ACIDITY: High
AGEABILITY: Yes. 4-7 years (normal) & 10-18 years (Brunello di Montalcino)
COMMON SYNONYMS & REGIONAL NAMES:
Vino Nobile di Montepulciano, Prugnolo Gentile, Sangiovese Grosso, Brunello di Montalcino, Nielluccio, Rosso di Montepulciano, Morellino, Rosso di Montalcino, Montefalco Rosso, Chianti, Morellino di Scansano

Sangiovese Wine Regions
~175,000 acres worldwide (70,820 hectares)
The Taste of Sangiovese Wine
Sangiovese is savory. Because of its ability to be a chameleon, Sangiovese wines offer a wide range of tastes from very earthy and rustic–as is the case with many Chianti Classico– to round and fruit-forward. Regardless of where it's grown, it always exhibits cherry flavors with more subtle notes of tomato.


They next time you try a Sangiovese, dedicate yourself to sit and sniff it for a while. Over time you'll find that aromas move towards dried cherries, figs and roses –especially if the wine is older.
Fruit Forward vs. Rustic
The most sought after Sangiovese-based wines have a balance between their fruit and earth components. So to say 'fruit-forward' is better than 'rustic' really doesn't do it justice. Suffice it to say, if you usually drink American wines, attempt to make your first Italian Sangiovese purchase a fruit-forward style. Heya.. How do you order Italian wine anyway?
Fruit-Forward Sangiovese
A classic example of a fruit-forward producer of Sangiovese is Ciacci Piccolomini d'Aragona. This particular wine tastes of clove-spice and cherries; it's like drinking Christmas. The people at Wine Spectator liked it so much they awarded it top 10 of 2012. Damn Jim, get out your wallet.
 
Ciacci Piccolomini d'Aragona Brunello di Montalcino

Rustic & Traditional Sangiovese
Grippy tannins, not dissimilar to putting a black tea bag in your mouth, are highlighted with dark chocolate and smoke flavors. Hints of oregano in the aftertaste make this wine taste 100% savory from start to finish. Pairs perfectly with rich steaks and black pepper… grrrr!
 
Casisano Colombaio Brunello di Montalcino

---
Sangiovese Food Pairing
Sangiovese pairs with a wide range of foods because of its medium weighted body and savory character. Use Sangiovese's savory as a congruent flavor with herbs and tomatos. This technique will actually bring out more fruity flavors in the wine.
A Sangiovese with high tannins will work perfectly with rich roasted meat, cured sausages and hard cheeses.
Vegetarians Delight!
When pairing Sangiovese wine with vegetarian fare, be sure to work with lipids like butter and olive oil so that the richness in the fat helps cut through the wines' tannins. Also, use less sugar on braised or roasted veggies to ensure the wine tastes fruitier.
---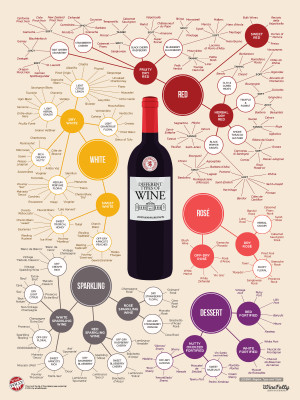 Explore New Wine Everyday
Live the wine lifestyle. Use this poster to find your next bottle of wine by taste.
Sources
Argentina Sangiovese Information winesofargentina.org
Wine Grape Acreages in US nass.usda.gov
Corsica Grape Varieties Enclycopedie des Vins de Corse (1990)
Jancis Robinson's Thoughts on Sangiovese