Get Your Wine Smarts On
For many unfamiliar with the industry, wine professionals are often stereotyped into one category: Paid wine drinkers. People who congregate, bottles in tow, to compulsively swirl and savor a precious few ounces at a time.
 
Yes, that is a definite perk of the job, but there is much more to the job title than meets the eye. Believe it or not, the majority of a wine professional's time is taken up by studying. How does one go about studying about wine? There are a number of accredited organizations out there; here are some of the most recognized.
Which of the world's top wine education
courses is best for you?
The Guide to Wine Education Courses
In this guide we'll be discussing the 4 main accredited wine education courses that have proven to increase people's chances to get jobs in the wine business. These wine education courses are:
International Sommelier Guild (ISG)
Court of Masters Sommeliers (CMS)
Institute of Masters of Wine (IMW)
Wine and Spirit Education Trust (WSET)
---
International Sommelier Guild
(ISG)
Highest Certificate Diploma. Plus, you'll never fear the grocery wine isle again.
What wine jobs will ISG help you get?
Wine Salesperson
Wine Distributer Salesperson
General Manager
www.internationalsommelier.com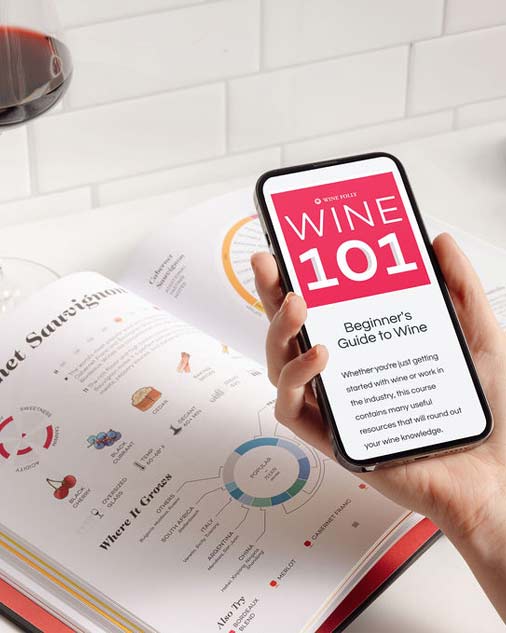 Buy the book, get a course.
Get the Wine 101 Course @ 75% OFF with the purchase of Wine Folly: Magnum Edition.
Shop Now
What is ISG All About?
Do you have no idea where to start studying wine and what to learn?
 
The basic, comprehensive syllabus of Wine Fundamentals Certification Level 1 and 2 builds a great starting foundation of knowledge in its students. By the end, surveying a wine list at a restaurant or perusing the wine aisle at the grocery store is no longer reminiscent of a scene in a horror film.
 
What it's Like To Take ISG Wine Education Courses
Level 1 A 3-month course includes both Level 1 & 2. Classes meet once a week. There is a multiple choice exam at the end of Level 1 and you are required to immediately commence the Level 2 classes if you pass.
How hard is the ISG Level 1 Test?
If you can pass a driver's ed open book exam, you can pass this test.
Level 2 If you pass the Level 1 test you will immediately continue into Level 2 as part of your 3-month class series that meets once a week. To successfully complete Level 2 you will write a handful of short essays and successfully blind-taste 2 wines.
Diploma A 9-month intensive course that meets in 8-hour bursts once a week. The ISG Diploma is completed with a 200 multiple choice question test, 9 essays, a blind tasting of 20 wines and spirits, a test in service and menu knowledge as well as well-justified wine pairing recommendations.
Together, the two ISG levels are the ABC's of wine education and give a general overview of basic wine terms, grape varieties, history and service. Tuition covers the dozen plus wines that are sampled every class; and starting a wine group with fellow classmates is encouraged. These classes are a great way to build connections. The intention of the Sommelier Diploma Program is to provide students with the tools to be a wine director of a modest program. There is a huge leap forward in commitment, intensity and focus in between Levels 1 and 2.
Conclusion from someone who's earned the ISG Diploma
Ultimately, ISG is a 9-12 month crash course that gives students the opportunity to build their own wine program and inventory from scratch for practice. Honestly though, after becoming one of the mere 20% of students to receive an ISG diploma, I found the ISG course to be just a source of pride. If you really want to become a sommelier or wine director, pursuing the Court of Master Sommeliers and actually working with wine is a better resume builder and application of your knowledge.
---
Court of Masters Sommeliers (CMS)
Highest Certificate Master.
What wine jobs will Court of Masters help you get?
Lead Sommelier at a High End Restaurant (Advanced +)
Account Manager at a large wine brand (Certified +)
Wine Director for a large retail, restaurant syndicate or hotel chain (Advanced +)
Wine Region Director (Master)
How long does becoming a MS take? 7-10 years on average. The test has a pass rate of about 10%.
www.mastersommeliers.org
Is CMS the right choice for you?
CMS is great if you are interested in building your skill in the service and sales as a wine sommelier.
If you already work in the restaurant or wine industry.
If you are a self-directed or self-motivated learner who can build your own effective study schedule.
What it's like to take the Court of Masters Sommelier Exam
Introductory The Introductory exam is a multiple choice test where studying involves reading a few basic books, like Sotheby's Wine Encyclopedia and Windows on the World of Wine. Ideally, you will also know and have tasted the most prominent grape varieties on the market, and be familiar with the verbiage of analyzing the appearance, nose, and palate of a wine. As you progress through the levels, however, there is an increasing focus on the service of wine and proper wine analysis.
 
Certified The Certified test is a multiple choice and short answer test along with a blind-tasting of 2 wines and a proper Champagne service. For the service portion, you will be grilled about cocktails, sake and beer by a MS while you open and serve Champagne.
Advanced and Master The 2 Advanced exams are a sum of three parts: a multi-section theory exam; service exam with proper Champagne service, red wine decantation, and food and wine pairings; and assessment of a blind flight of 6 wines. Being a Master Sommelier also involves being a consummate beverage professional, so you want to learn about spirits, tea, coffee, sake and beer.
 
There are 197 professionals worldwide who have earned the title Master Sommelier since the first Master Sommelier Diploma Exam. This number includes 18 women in North America.
---
Institute of Masters of Wine (IMW)
Highest Certificate Master of Wine.
What wine jobs will IMW help you get?
Marketing/Account Director in a wine related business
Sensory Analyst or Wine Analyst
Wine Director of Education and Programming for large retail, restaurant or hotel chain.
Wine Region Director
Wine Program Manager in Media or Marketing
International Wine Business Director
Prerequisite required.
Acceptance into IMW involves already having a strong core of wine knowledge and experience, made evident by a WSET Level 4 Diploma or equivalent, and having the recommendation from a few Masters of Wine (MW). If you want to pursue a career in the marketing of wine, or as a wine educator; becoming a Master of Wine holds a lot of cachet in both fields. Be prepared to work your ass off. This ain't no cakewalk. They call you a Master for a reason.
What it's like to pursue the Master of Wine title
Although a syllabus and a personal Master of Wine mentor is provided, setting your rigorous study schedule is up to you. A school year runs from October to May, and it takes at least two of these cycles to just be accepted to take the exam to be then accepted into the Institute. It is the Holy Tabernacle of Wine Certification. The directive with the Institute is to elevate the skills of critical thinking and articulation within each student in matters of wine; with special focus given to international business, and wine analysis on a viticultural and vinicultural level. This is accomplished by annual residential seminars lasting 5 days that are led by Masters of Wine and lots and lots of writing. The first year narrows in on reinforcing gaps in theory, service and wine analysis. An assessment exam of essays at the end determine whether a student progresses to the second year. The second year ups the ante with regular course assignments added to your self study regime. This serves as a continuation of fine-tuning a student's ability to present their knowledge of any business of wine in a succinct and effective manner.
Taking the MW exam
To become a Master of Wine you will endure a 3-part examination. Theory and Practical first; if passed, then a dissertation. All are comprised of, surprise! lots of writing. Theory is four papers, three hours apiece. Practical is three blind flights of 12 wines where, in addition to identification, the wines must be analyzed for their quality, winemaking, and style. The 10,000 word dissertation must be on an original wine topic chosen by the student and approved by the Institute.
---
Wine and Spirits Education Trust (WSET)
Highest Certificate Level 5 Honours Diploma
What wine jobs will WSET help you get?
Marketing/Account Manager in a wine-related business
Sensory Analyst
Wine Educator
Wine Distribution Management
Wine Region Educational Director
Wine Marketing and Wine Sales Leadership Roles
WSET is approachable
For those who are new to the food and beverage industry and would like more direction than given by their place of employment, this is the place to start. This educational series is also great for those outside of the industry that just want to learn more.
The multi-tiered Level Awards make this program very approachable to the most novice of wine enthusiasts. And there is an element of "choose your own adventure." Want to be more wine or more spirits savvy? Take the level courses for one or the other, or do both. Not all these courses are required to move up to the intermediate and advanced level awards and you do not have to take all the classes.
WSET Level 1 This is a beginner level course designed for anyone trying to get into wine.
Wine

Award in Wine. A one day seminar that teaches basic wine service and a guide to tasting wine, completed by a 30 question multiple choice test and a food and wine pairing exercise.

Service

To complete the Award in Service you must have received the Level 1 Award in Wine. It is three days that covers the duties of a sommelier. You must pass a timed 30 question multiple choice exam and perform under pressure in a restaurant wine service scenario. Not a required class.

Spirits

One classroom day covering basic spirit identification, knowledge and spirits. To receive the Level 1 Award in Spirits you must complete a 30-question multiple choice exam.
 
WSET Level 2 If you can prove advanced knowledge you can start with WSET Level 2.
Wine & Spirits

This course is three days of vocational training for the beverage professional. The purpose is to increase one's ability to discuss and write about basic wine theory, and in turn, practically apply this knowledge into the sales, service and storage of wine and spirits. A 50 question multiple choice exam concludes this class.

Spirits

The Award in Spirits is a 3 day course. The focus is on spirit analysis and identification, followed by a 50 question multiple choice exam.
 
WSET Level 3 A Level 2 Award in Wine and Spirits or equivalent is recommended.
Wine & Spirits

This course is 7 days of actual classes but outside study time is necessary. Tasting technique and learning about production and distribution of wine and spirits is the main focus. This could be an ideal class for those in distribution, retail or supervisory roles. Completing a 50 question multiple choice test, with a short answer quiz, and properly written tasting notes on two wines is necessary to obtain this award.
Resume-building benefits
Passing the Level 3 WSET will award you the ability to apply to use the WSET Certified Advanced Logo on your resume.
 
WSET Level 4 & Diploma WSET Level 3 is a prerequisite. Receiving a WSET Diploma is a great segue into the IMW. This is where the courses jump into the globalization and marketing of wine in addition to in-depth wine theory. Short multiple choice exams become passé at this point. A 6 unit exam looms as the gateway to your diploma.