The word 'Cabernet' slips so easily off most people's lips we forget that in the 1950's, most Americans didn't even know what Cabernet Sauvignon was. In the mid-century, Americans felt that Cabernet Sauvignon was too difficult to pronounce. So now that Cabernet Sauvignon and Chardonnay have become the norm it's time to get familiarized with some new wine grapes. Get your glasses ready.
Sémillon wine is loved for its full body, like Chardonnay, but with flavors closer to Pinot Gris or Sauvignon Blanc. It's an important blending component in White Bordeaux and is also planted throughout Australia. In the US, Sémillon wines are usually a great price for their quality. Despite how cheap it is, Sémillon has the pedigree to be alongside the most popular white wines in the world. Find out all about Sémillon wine; how way it tastes, where it grows and what you'll enjoy eating with it.
---
Sémillon is France's 4th most planted white wine variety behind Sauvignon Blanc and Chardonnay.
---
Sémillon Wine Taste
The primary fruit flavors in Sémillon wine are lemon, apple, pear and green papaya. There's something very waxy about the taste of Sémillon which wine writers often describe as lanolin. Depending on where Sémillon is grown it can range from being a zesty, palate-cleansing wine like Sauvignon Blanc to a rich, creamy, lemon-flavored wine like oaked Chardonnay.
Hot Climate vs. Cool Climate Sémillon
Hot Climate Sémillon More ripe fruits, including mango, yellow peach and papaya, can be found in warm climate Sémillon. It's not uncommon to find wines from these regions using moderate oak-aging to add buttery notes to the flavor. Warm climate regions include California, South Africa, Argentina and South Australia. Wines will have slightly higher alcohol around 12-14% ABV.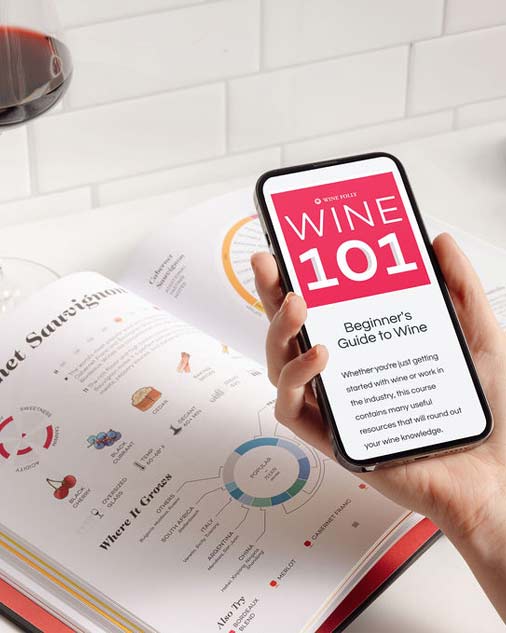 Buy the book, get a course.
Get the Wine 101 Course @ 75% OFF with the purchase of Wine Folly: Magnum Edition.
Shop Now
Cool Climate Sémillon When winemakers pick Sémillon less ripe, the wines have a lot more acidity and often resemble their popular cousin, Sauvignon Blanc. Citrus flavors of lemon, lime zest and grapefruit are accentuated in this style when winemakers don't oak-age their Sémillon. A cooler climate Sémillon will also have more flower aromas. Cooler climate style Sémillon wines include Bordeaux, Hunter Valley Australia (a unique microclimate!), Western Australia and Washington State. In these areas, wines will have about 10-12% ABV
Did you know? One of the world's most exalted dessert wines, Sauternes, is made with mostly Sémillon grapes.
---
[facebook align=right][/facebook]
Sémillon (Semillon) Wine Characteristics
FRUIT FLAVORS (berries, fruit, citrus)

Lemon, Lime, Yellow Grapefruit, Citrus Zest, Apple, Pear, Green Papaya, Peach, Mango

OTHER AROMAS (herb, spice, flower, mineral, earth, other)

Lanolin, Hay, Honeysuckle, Wax Lips, Saffron, Fig, Honey, Ginger

OAK FLAVORS (flavors added with oak aging)

Butter, Pie Crust, Cream, Dill, Popcorn

ACIDITY

Medium

SERVING TEMPERATURE

Unoaked: 45 ºF (8 ºC)
Oaked: 52 ºF (11 ºC)

SIMILAR VARIETIES

Hot Climate Sémillon: Chardonnay, Trebbiano, Alsacian Pinot Gris, Viognier
Cool Climate Sémillon: Sauvignon Blanc, Albariño, Grüner Veltliner, Italian Pinot Grigio

SYNONYMS

Semilion

BLENDING

Sémillon is commonly blended with Sauvignon Blanc and Muscadelle in White Bordeaux.

Sémillon is also the primary ingredient in Bordeaux's noble rot dessert wines which include Sauternes, Barsac, Cadillac, Loupiac, Sainte-Crox-du-Mont, Cérons and Premieres Côtes de Bordeaux.
Sémillon Food Pairing
Think spiced. Because Sémillon wine has a moderate body, whilst maintaining a fresh zippy flavor, it holds up to bolder aromatic dishes. Try Indian spices (but not too spicy), Asian spices, even brown woodsy spices like cinnamon and star anise.
Currently White Bordeaux has a reputation as a sushi lover's wine. No doubt this reputation is due to how Sémillon balances raw fish and pickled ginger. A classic dish with Sémillon dessert wines (like Sauternes) is Foie Gras. We also think it's ridiculously good with salted caramel ice cream.

Meat Pairings
White meats including Chicken, Pork Chop, Ham, Turkey, Foie Gras and Duck. Fish including Trout, Arctic Char, Catfish, Red Snapper, Grouper, Skate, Cod, Hake, Blackfish, Haddock, Redfish, Halibut, Black Cod, Monkfish, Chilean Seabass, Escobar

Spices and Herbs
Coriander, Clove, Cinnamon, Star Anise, Fennel, Turmeric, Saffron, Dill, Chive, Cilantro, Shallot

Cheese Pairings
Look for richly flavored and nutty cow's milk and sheep's milk cheeses. Examples: Compté, Gruyere, Cheddar

Vegetables & Vegetarian Fare
Go for spiced, stewed and roasted vegetables. Try salads with citrus-based dressings and dried fruits and nuts. Look for these ingredients: Kabocha Squash, Butternut Squash, Corn, Almond, Sesame, Carrot, Bell Pepper, Green Onion, Zucchini, Leek, Potato, Yam

Sémillon Wine Regions
About 50,000 acres of Sémillon planted worldwide.
France

28,200 acres

Bordeaux, Bergerac (directly East of Bordeaux)

Australia

15,500 acres

South Australia, Western Australia, Hunter Valley

South Africa

2,900 acres

Franschhoek, Stellenbosch, Western Cape

Argentina

2,100 acres

Mendoza (Uco Valley), Rio Negro Valley

USA

1,000 acres

Washington State, California

Chile

215 acres

Itata Valley
Sources
3rd most planted white wine in France per Wine Grapes , Jancis Robinson, Julia Harding, Jose Vouillimoz
Sémillon in Chile has greatly reduced based on winesofchile.org
France Sémillon wine acres (2011)
Australia Sémillon wine acres (2010)
South Africa vineyard statistics (2010)
Washington State Semillon 222 acres (2012)
Argentina Sémillon 2,100 acres (2012)