You've most likely already had a wine that originated in Croatia, you just don't know it! In 1994, grape geneticist, Dr. Carol Meredith, discovered that Zinfandel (aka Primitivo) is identical to Croatia's Tribidrag (or Crljenak Kaštelanski). Tribidrag also happens to be the parent grape of Croatia's most popular red wine, Plavac Mali. So, if you love Zinfandel, you already love Plavac Mali! Let's find out more about Croatian wines.

Four major wine regions span from Croatia's mountainous coastline to its continental inland.
The country of Croatia is situated just across the Adriatic Sea from Italy. It's no wonder that Croatia has the perfect climate for making wine and olive oil. Ever since the city of Dubrovnik was selected as the filming location for the fictional city of King's Landing in Game of Thrones, travelers and digital nomads have been flocking to this seaside country known for its rugged beauty and uniqueness.
The Wines of Croatia
Why You've Never Heard of Croatian Wine Until Now
As some wine experts have elegantly put it: "Croatia has many indigenous grape varieties that are not very well-known internationally, partly due to their complicated names! Croatians are not afraid of a long row of consonants in one word and have some special characters like č, ž or dž. So you might find yourself totally confused when you wish to order a glass of "Pošip" or want to buy a bottle of "Grk.""
–Dario Drmač www.thewineandmore.com
Plavac Mali
Bold red wines with blackberry notes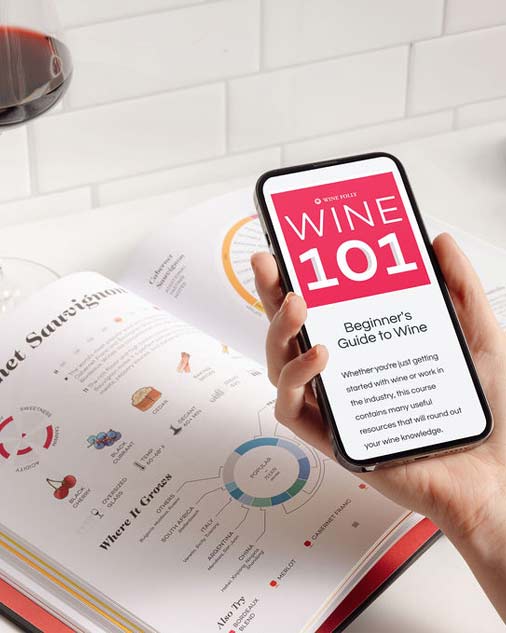 Buy the book, get a course.
Get the Wine 101 Course @ 75% OFF with the purchase of Wine Folly: Magnum Edition.
Shop Now
Plavac Mali is the primary red wine of Croatia and grows mostly along the Dalmatian coast. It is a wine that is rich and full of flavor, higher in both alcohol and tannin, with lower acidity, and has flavors of blackberry, dark cherry, pepper, carob, dry figs, and spice. Plavac Mali translates to "small blue," and this grape is so important in Croatia that it was the first to have its own appellations – Dingač and Postup, which are both located on the Pelješac peninsula in South-Central Dalmatia.
Pošip
Full-bodied white wines with subtle almond notes
Croatian-born Miljenko "Mike" Grgich, who produced the winning wine at the Judgement of Paris in 1976, went back to Croatia in 1996 and started a winery dedicated to producing the finest wines with Dalmatian grapes. What did he choose? Plavac Mali and Pošip! This white wine is often crisp with flavors of apples, vanilla spice, citrus fruit, and a subtle almond note. In the past, Pošip used to grow only on the island of Korčula, but thanks to its early ripening, today it is spread around Dalmatia – Pelješac peninsula, islands of Brač and Hvar, Pakleni islands, Korlat region, and the Biokovo slopes.

Dramatic mountains rise up from the Adriatic Sea in the Dalmatia region of Croatia. Photo by Marz88
Croatian Pronunciation Cheat Sheet
č – sounds like the "ch" in "cheese" or "match."
ž – pronounced like the "s" in "measure."
dž – pronounced like "j" in "jug"
š – sounds like "sh" in "show"
Malvazija Istarska
Refreshing white wines with a spice note
Malvazija Istarska is one of the main white wines of Istria and the northern Dalmatian coast. Sometimes it's called Malvasia Istriana, although it's not actually the same grape as Malvasia from Italy. These wines are refreshing and usually dry, with lower alcohol content and aromas of fennel, quince, honey, apricot, and spice. Malvazija Istarska grows in Istria, one of Croatia's popular wine travel destinations.
Grk
Dry white wines with a peppery pear note
To pronounce Grk just pronounce the three letters in a row. Grk produces dry white wines with notes of white pepper, melon, herbs, and sliced pear. The variety is indigenous to Croatia and is only found in sandy soils close to Korčula, on an island within the Srednja-Juzna Dalmacija. Grk is often called "the most feminine of all grapes" because it only has female flowers and must to be planted next to other varieties in order to pollinate (most wine grapes are self-pollinators).
Teran
Earthy, full-bodied robust red wines
This is a red grape that grows happily in Istria and seems to absorb the mineral, iron-like quality of the soils in the wines. Expect bold flavors of forest berries and violets with smoky meat and game-like notes. Teran generally has high tannins, and should evolve over a few years. In Italy, Terran is called Terrano.
Graševina
Medium-bodied aromatic white wines
The everyday wine of Central Europe, Graševina is also known as Welschriesling. It is one of the most popular white wine grapes in Croatia, and is so common that it is widely considered to be indigenous. Graševina is a dry, fresh, aromatic white wine with apple-like notes.
---
Special thanks to Dario Drmač, who runs the online wine store www.thewineandmore.com and Lada Radin at www.tasteofcroatia.org for the detailed notes on this region.
See an error? Send your notes to [email protected]