You try Cabernet Sauvignon and love it. You love it so much you stockpile an arsenal of wine in your closet. Bottle after bottle, you will eventually get bored. Fortunately for you, wine is not marriage; your wine won't ask for a divorce if you spend the evening with another bottle.
Time to get some strange wine.
If you love Cabernet Sauvignon then Mourvedre is your bag. Mourvedre (aka Monastrell) is a full-bodied and rustic wine that originated in Spain. Rumor has it that the seafaring Phoenicians brought it over as early as 500 B.C. Seemingly obscure, Mourvedre quite often is used as a blending grape in popular wines such as Châteauneuf du Pape. It's one of the major grapes of the Rhône, along with Grenache and Syrah.
Mourvedre Wine Guide
Mourvedre Red Wine Profile
MAJOR REGIONS: Less than 190,000 acres worldwide.
Mourvedre Wine Characteristics
FRUIT: Blueberry, Blackberry, Plum,
OTHER: Black Pepper, Violet, Rose, Smoke, Gravel, Meat
OAK: Yes. Usually medium to long oak aging.
TANNIN: High
ACIDITY: Medium (+)
ABV: 12-15%
COMMON SYNONYMS: Monastrell, Alicante, Mataró, Damas Noir, Pinot Fleri, Mataro, Torrentes, Monastre, Mourves,
REGIONAL NAMES: Bandol(France) and Alicante (Spain) are dominantly Mourvedre. The Rhône, Provence and Corbieres regions use Mourvedre as a blending grape.
What does Mourvedre Taste Like?
Mourvedre is a meaty and full-bodied red wine. Mourvedre's smell is an explosion of dark fruit, flowers like violet and herbaceous aroma of black pepper, thyme, and red meat. In regions such as Bandol, France, and Jumilla, Spain, Mourvedre wine can have a very gamey taste. Some believe the unctuous aroma in many Mourvedre wines is partially due to a wine fault called reduction. Because of this, Mourvedre benefits from decanting and is best enjoyed at around 67-71 °F.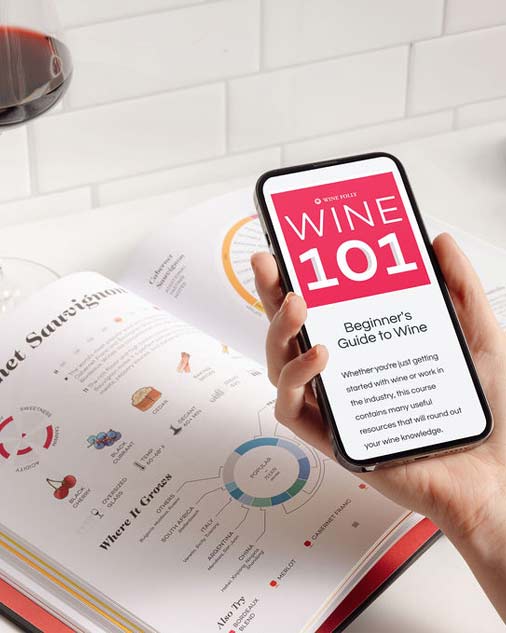 Buy the book, get a course.
Get the Wine 101 Course @ 75% OFF with the purchase of Wine Folly: Magnum Edition.
Shop Now
2 Different Examples of Mourvedre Wine
Full-bodied and fruit-forward with blackberry/blueberry notes as well as tasting a bit juicy. Behind the fruit, there are faint hints of perfume, orange zest, and an underlying smell of gravel. Overall the wine has a large profile. Producing a total of 7000 cases, Tarima Hill is wine by Bodegas Volver, one of Jorge Ordonez's wines.
Consisting of 80% Mourvèdre, 10% Grenache and 10% Cinsault, Domaine Tempier has rich, meaty aromas followed by chocolate, mocha overtones, hints of tarragon, and dried herbs. The balance of this particular wine is awesome. The tannin, while hefty, is well integrated with the rest of the wine's components. This one knocks you off your feet. A note about Bandol: generally not for fruit-forward wine drinkers.
Mourvedre Wine Food Pairing
Full-bodied red wines like Mourvedre beg for rich foods to absorb the high tannin. Look for meats with lots of umami like beef short ribs, pork shoulder, barbeque, lamb, rabbit, pork sausage, and veal. The spices that complement the floral character in Mourvedre are regional spices found in Provence, France such as lavender, rosemary, and thyme.
Vegetarian Food Pairing with Red Wine
Vegetarians should look towards lentils, wild rice and shitake/portabello mushrooms for their flavor base to create a dish for any full-bodied red wine. Using black pepper and soy sauce is also a great way to add umami to vegetarian cuisine.
---
4 Interesting Facts About Mourvedre Wine
Blended into Paso Robles' Cult Wine

Saxum Vineyards use up to 30% Mourvedre wine for their famous red blends. Saxum was made famous for its 100 point wine called 2007 James Berry Vineyard, a red wine of Grenache, Syrah and Mourvedre.

A Perfect Grape for Hot Regions

Mourvedre is a very structured and thick-skinned grape that ripens very late in the season. It is moderately drought-tolerant, making it an ideal grape for warm climates.

It's Super Undervalued in Spain

Southeastern Spain was hit by the Phylloxéra louse in 1989. The vines have recently recovered and are now being offered in the US for bargain-basement prices. You can easily find $10 Monastrell from Yecla, Jumilla, and Alicante.

The Secret Ingredient in Cava Rosé

Cava is Spain's answer to Champagne. There are now several Cava rosé sparkling wines that use Monastrell to add the perfect pinky color.