Recommendations, flavor profiles, & facts about the grape behind Barolo and Barbaresco in a quick five-minute read. Let's go!
If you like your wines big, bold, and red, Nebbiolo needs to be on your radar. Hailing from Northern Italy's Piedmont region, this grape is known for producing powerful, full-bodied, and mercilessly tannic wines—all while looking as pale as Pinot Noir! Most famously, it's the grape that goes into Barolo and Barbaresco, two of the world's most revered (and more expensive) wines. Though as you'll soon find out, Nebbiolo is also in a number of more affordable, entry-level styles of wine from Italy and beyond.
So, whether it's your first time trying it or you're looking for a little more information on a wine that's got you hooked, this guide will tell you everything you need to know about Nebbiolo. Let's get started!
Nebbiolo Wine Facts
Nebbiolo is an old, old grape, first being referenced as far back as the 13th Century!
The name Nebbiolo derives from nebbia, the Italian word for "fog." This is likely from the white, powder-like natural bloom on the grapes that appears during harvest season. Or, from the fact that the best Nebbiolo sites are located above the fog that collects in the valley.
Even though Nebbiolo only makes up ~8% of all the grapes grown in Piedmont, more of this grape is grown here than anywhere else in the world.
Despite being an essential part of two of the country's premier wines, Nebbiolo is rarely grown anywhere else in Italy.
Much like Pinot Noir, Nebbiolo is an incredibly fussy variety to grow. It flowers early, ripens late, and can struggle to ripen fully. It also seems to prefer specific hillside locations and clay- and silt-based soils.
Also like Pinot Noir, Nebbiolo is considered to be a "terroir-expressive" variety, in that it picks up more of the earth, soil, and climate characteristics versus other grapes, which means it can taste wildly different depending on where it's grown.
---
Nebbiolo Taste Profile and Food Pairings
Not only do Nebbiolo wines look light, they also smell light too, with disarming red fruit and rose aromas swirling around the nose. That all changes the second it goes into your mouth. If you didn't understand the concept of "grippy tannins" before, you will now as leathery goodness clings to your teeth, tongue, and gums. Expect that to be followed up with striking flavors of cherry, coffee, anise, and primordial earth.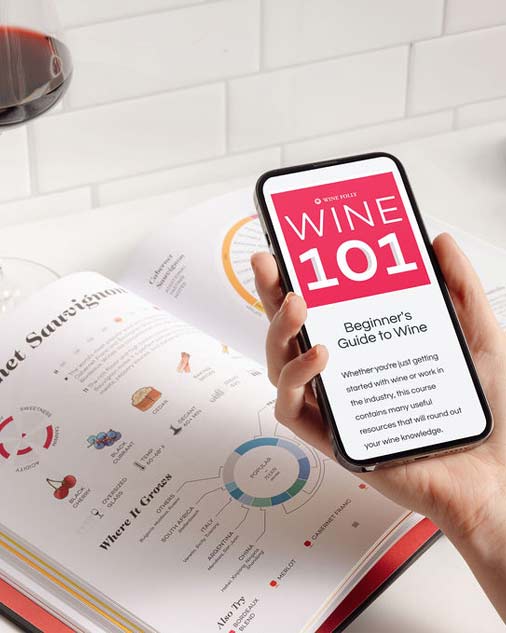 Buy the book, get a course.
Get the Wine 101 Course @ 75% OFF with the purchase of Wine Folly: Magnum Edition.
Shop Now
With such a large amount of tannin, you'll want to pair these wines with foods that feature fat, butter, and olive oil, and nothing too lean. Your first thought will probably be rustic, Italian fare, and that's a great place to start! Nebbiolo also goes surprisingly well with savory Chinese dishes and spice-driven Asian cuisine.
---
Nebbiolo Regions
By now, we've probably talked your ear off about Barolo and Barbaresco as the premier Nebbiolo spots of world. But know there are other places that make great Nebbiolo wines.
If you're feeling adventurous, New World Nebbiolo can be a pleasant surprise. Wines from California (Central Coast, Santa Ynez, Paso Robles) and Mexico (Guadalupe Valley) have shown promise with less brooding, still tannic stylings, as well as with sweet floral notes and fresh fruit characteristics. (Though, if you go with Mexico's Nebbiolo, it's possible you will get a blend!)
If you like your wines especially juicy, floral, and aromatic, Nebbiolo also grows well in the Victoria State of Australia, where it gets the sunshine it needs to flourish.
---

The Valtellina region where Nebbiolo is called Chiavennasca and produces one of the most elegant styles.
Did You Know?
Curious why Nebbiolo wines look so light, despite being so massive and tannic? Believe it or not, young Nebbiolo wines do have some rich color! It just fades really quickly. Speaking broadly, Nebbiolo's anthocyanins (water-soluble pigments) contain few stable colorants and more easily oxidized peonidin and cyanidin glycosides, resulting in a rapidly decolorizing wine over a short period of time.
The waiting game used to be the hardest part with top Nebbiolo wines (with some people saying they needed to be aged for a decade or more!) But, new styles of winemaking have made them softer and more approachable younger. Wines often use advanced winemaking techniques such as extended maceration to soften tannins.
Barolo and Barbaresco have a little more in common with Burgundy than their regional Italian counterparts. Not only do they focus on a single variety (our bud, Nebbiolo), but they even produce single-vineyard wines from designated Menzioni, which are essentially classified vineyards much like Burgundy's Grand Crus.
During the 1800s Barolo was a sweet wine. (Gasp.) This is likely due to the fact that Nebbiolo is harvested late in the season and colder temperatures halted the fermentation.
Though Nebbiolo is definitely Piedmont's grape today, where it originally comes from is a little more unclear. Some say it's Piedmont, while others think it may actually come from Lombardy in the alpine foothills close to Lake Como.
Curious about the differences Barolo and Barbaresco? Learn more here.