Torrontés ("torr-ron-tez") is an aromatic white wine that originated in Argentina. Torrontés is an ideal wine to match with Asian and Indian cuisine due to its sweet floral aromas of rose petals and flavors of white peach and lemon zest. The wine smells sweet, but is usually made in a dry style and the best Torrontés wines come from the high elevation vineyards in Salta, Argentina. Find out more about this rare and special wine from South America.
FACT: Malbec may be more popular but Torrontés is Argentina's special grape.
Torrontés Wine Guide and Food Pairing

See more detail on Torrontés on page 90 in Wine Folly: The Essential Guide to Wine
Torrontés is similar to other aromatic white wines including Riesling and Muscat Blanc (Moscato). The major difference between Torrontés and these aforementioned white wines is that Torrontés is commonly made in a dry style. This makes it a very interesting wine to enjoy because its salty lean taste is in opposition to its sweet perfumed aromas.
Expect to spend

$8–$14 for an excellent bottle of dry Torrontés wine

Similar Wines

You'll find Albariño and dry styles of Riesling and Muscat Blanc (dry "Moscatel" is mostly found in Portugal) to be similar in aroma and taste to Torrontés.
TIP: A few producers make a lovely sweet dessert wine with Torrontés, keep your eyes peeled.
Food Pairing with Torrontés

Foods of the spice route match wonderfully with Torrontés wine and the sweet styles will cut spice. by Steel Wool
With its light aromatic style and cool serving temperature Torrontés is an excellent match with the foods of the spice route (Indian, Asian). Torrontés makes a great match alongside coconut curries and Thai spice peanut dishes. In terms of intensity of food, opt for light colored meats such as poultry, fish and tofu because they won't overwhelm the delicate flavor, aroma and acidity in the wine.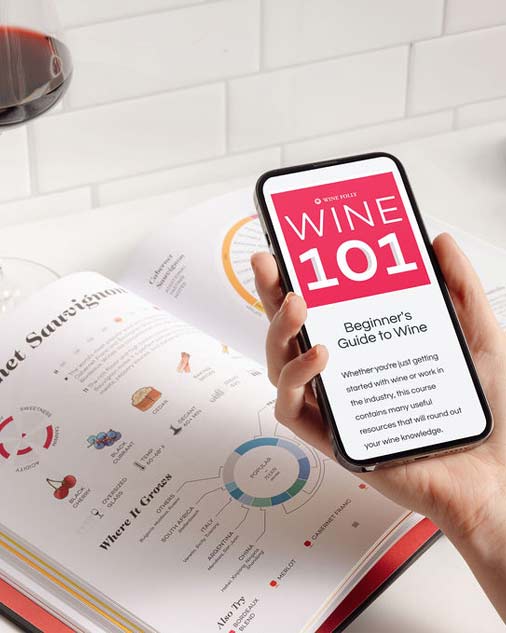 Buy the book, get a course.
Get the Wine 101 Course @ 75% OFF with the purchase of Wine Folly: Magnum Edition.
Shop Now
Examples
Meat

Chicken Satay, Roast Chicken, Glazed Tofu, Teriyaki Seitan, Curried Shrimp, Pork Chops, Chinese Barbecue Pork

Cheese

Feta, Gruyere, Swiss Cheese, Paneer Cheese, Pecorino, Asiago, Manchego, Farmer's Cheese

Herb/Spice

Cilantro, Thai Basil, Mint, Shiso, Parsley, Chives, Sichuan Pepper, Ginger, Shallot, Cayenne Pepper, Turmeric, Ajwain, Gram Masala, Coriander, Cumin, Lemon, Hot Sauce

Vegetable

Butternut Squash, Summer Squash, Yam, Potato Cucumber, Carrot, Zucchini, Snap Peas, Radish, Red Pepper, Green Onion, Onion, Cauliflower, Fresh Grapes, Citrus Fruits, Coconut, Mango
Expert Intel

The vineyards in Cafayate in the Salta Province are stunning in the late spring (January in Argentina!). By Chris Ford
If you really get into this wine, you'll learn that Torrontés is actually a group of 3 distinct varieties: Torrontés Riojano, Torrontés Sanjuanino and Torrontés Mendocino. All varieties are native to South America and are a natural cross between the mission grape (País, a red grape) and the sweet Muscat of Alexandria grape (also known as Zibbibo). Of the 3 varieties, the most popular (and most delicious) is the Torrontés Riojano grape which grows dominantly in the northern region of Salta in Argentina. The other regions of Mendoza and La Rioja produce a lot of Torrontés wines with the other varieties of T. Sanjuanino and T. Mendocino and these tend to be much simpler in aroma and taste and often made in a sweet style.