If you're even slightly into wine, you've probably heard about natural wine. Natural wine is the unfiltered, untamed, un-photoshopped version of what we know to be wine. In most cases, natural wine doesn't look or taste like a typical wine. In fact, some natural wines taste more like a sour beer or kombucha!
So, what is "natural wine" anyway?
Natural Wine Definition
According to latest edition of The Oxford Companion to Wine:
Of course, there is no official or regulated definition of natural wine. So, if someone says you're drinking a natural wine, it technically doesn't mean anything – ask for specifics!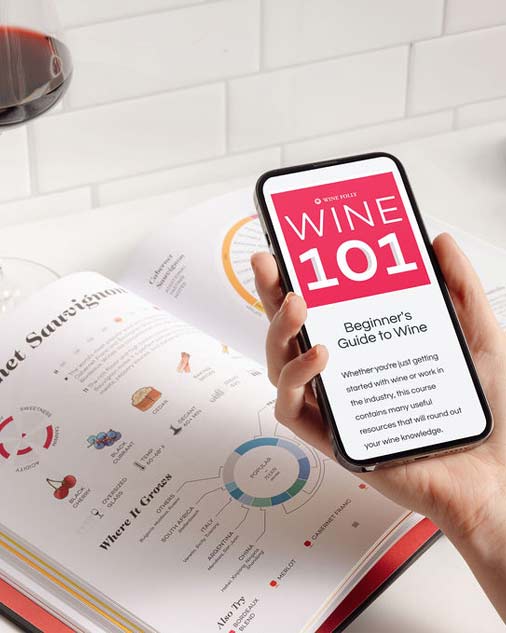 Buy the book, get a course.
Get the Wine 101 Course @ 75% OFF with the purchase of Wine Folly: Magnum Edition.
Shop Now
Natural Wine Tasting Notes
Think of it as wine unplugged. Natural wines are known for their funkier, gamier, yeastier characteristics and a cloudy appearance. They are often much less fruity and much more yeasty in their aroma profile than a typical wine, smelling almost like yoghurt or German Hefeweizen. Of course, some natural wines are quite clean and fruity indeed. But if you taste a few, you'll discover most lean towards the sour, yeasty end of the spectrum.
Here are three moderately well-known examples:
Of course, there are producers all over the world making natural wines of all styles (red wines too!). Some winemakers use clay amphora pots to ferment the wines or leave the wine in contact with the skins for an extended period of time (this is called extended maceration). You're not likely to see much new oak-aging with natural wines, because most producers think this tarnishes the true expression of the grape.
---
Is Natural Wine Better For You?
Without the use of additives, sulfites or any other manipulation, many believe that natural wines are better for you. Sometimes this is true, but also sometimes it isn't. Let me explain.
First, wine sulfites aren't necessarily a bad thing. It's a controversial topic, but there is still no evidence that sulfites cause wine headaches.
Second, natural wines are unfiltered as well as unfined, which means that any impurities in the wine (microbes and proteins) are included in the bottle. Additionally, the use of native yeasts occasionally may increase the amount of biogentic amines found in wine. Tyramine is one of these biogenic amines and has been studied and shown to cause headaches and migraines.
Finally, sulfite-free wines are much more unstable in the long term. They are highly sensitive. So, if handled improperly by the shipper or retailer, natural wines are far more likely to spoil. Natural wines are much more stable with higher acidity because it creates an environment unwelcome to microbes (below 3.5 pH and preferably closer to 3 pH).
---
Natural Wine Best Practices
Since natural wines are more fragile than typical wines, here is a short list of handling best practices:
Buy your natural wines from local retailers to reduce the risk of transport spoilage.
Drink within a year of purchase (unless they contain sulfites).
Store in your wine fridge, cellar or fridge.
Never let your bottles get above 80 ºF (26.7 ºC).
Keep natural wines away from all light sources (even LEDs and fluorescents!).
Store open wines sealed with a cork (or vacuvin) in your fridge.
These best practices above are great for storing any wine you cherish!
Buying Natural Wine
After trying natural wines I can say that some are mind-blowingly good (omfg…Gravner) and others are so bad I've regrettably poured the entire contents down the sink. Check out this great little list of Orange Wines to explore.
---
Moses Gadouche of Les Capriades shows us some lees. This Pétillant Natural from Touraine (Loire) is declassified to a "vin de France" because it doesn't follow the rules. Read more at Selection Massale
A Brave New World
Regardless of the negatives and the potential risks of natural wine, it is one of the most exciting styles in the wine world right now. Natural wine flies against the status quo, challenging what people think is "good wine" and even breaking regional wine classifications. Even though natural wine represents less than 1% of all the wine in the world, it has recently become the darling of sommeliers all over. Perhaps for you too?