Let's be honest here, if you're not confused with all the different Italian wines then you are either:
a.) a professional sommelier or b.) Italian.
Trying new Italian wines sometimes feels like diving blindly into cloudy water. It can also be a bit embarrassing when you bring what you think to be a "nice Italian wine" to your friend's house only to be told it's commercial swill.
Italians make Champagne?
Well not exactly, but there are a ton of ridiculously good sparkling Italian wines. Some of these bubbly wines fancy and are made just like Champagne but cheaper.
What does Spumante Mean?
"Spumante" means "sparkling wine" in Italian. Spumante doesn't identify sweetness level or type of grapes used. Although, there is a popular type called Asti Spumante made with Moscato grapes.
There are 5 major types of sparkling wines from Italy which include Prosecco, Lambrusco, Franciacorta, Metodo Classico, and Asti Spumante. Get to them all!
1. Prosecco
Aromatic, Fruity, Bubbly – perfect for parties

Prosecco is a white wine grape variety used to make sparkling wine. It also happens to be a region located in Veneto in northwest Italy. Many call the Prosecco grape "Glera." Most Prosecco wines are meant to be enjoyed young and fresh, so try to buy the newest vintage. You'll find the aromatics to be flowery and peachy with nuances of vanilla bean, even though it will taste dry (aka not sweet). Still, Proseccos do taste slightly sweeter than traditional Champagne. If you see Prosecco rosé, know that the pink color comes from the addition of a touch of Pinot Nero (Pinot Noir); giving them yellow peach and strawberry flavors.
Fancy sub-region: Valdobbiadene
In the hills close to Conegliano , there is an important sub-region called Valdobbiandene. This region is considered to be the producer of the highest quality Proseccos on the planet (pictured ). Many of the wines from this area will be able to age nicely in a cellar.
Quick Tip for Quality: look for Prosecco Superiore from Valdobbiandene. The majority of bulk Prosecco comes from the flatter region around Treviso.

---
4. Asti Spumante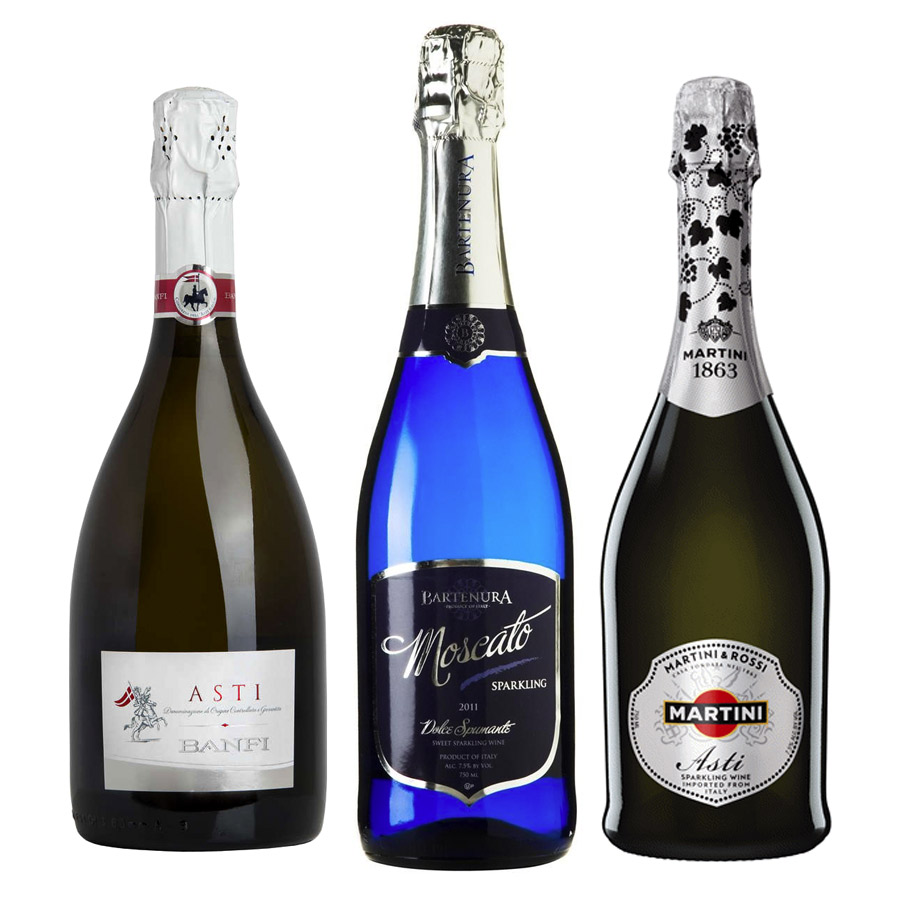 Asti Spumante is made with Moscato grapes (aka Muscat Blanc), therefore it's one of the sweetest sparkling wines you can buy from Italy. With frothy bubbles and a highly perfumed nose of Asian pear, honeysuckle and nectarine, it goes extremely well with sweet desserts and white chocolate.
Despite how awesome this sounds for sticky (sweet wine) lovers it has never been considered a high quality wine. Most Asti Spumante that come into the US are poorly made, even though the region has the prestigious DOCG classification.
Moscato d'Asti D.O.C.G.

Asti Spumante is the fully sparkling version of Moscato d'Asti, which is the lightly bubbly version. There are many great Moscato d'Asti in the US market.