Learn about the wine regions of Greece including the top wines each region produces.
By becoming educated in Greece's wine geography, you'll have a much better understanding of how different Greek wines taste based on the different climates in each area. This in-depth guide identifies the most important wines of Greece and where they grow. Use the map below to learn more about the modern wines of Greece.
The very first thing to understand is that Greece is much more diverse in terms of climate than most people realize. The country has everything from arid Mediterranean islands to wet, mountainous pine forests that receive snowfall in the winter. With such a diverse climate, you can expect Greek wines to be quite varied as well. So, one of the best ways to wrap your head around Greek wine is to split the country up into four overarching wine zones based on their climates.
Greece has many regions, but they can all essentially be divided up into four primary climatic zones: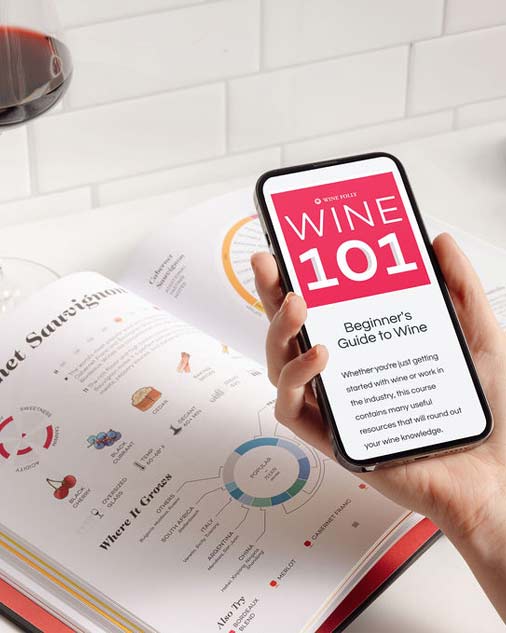 Buy the book, get a course.
Get the Wine 101 Course @ 75% OFF with the purchase of Wine Folly: Magnum Edition.
Shop Now
The Wine Regions of Greece

The view of Agios Nikolaos Park in Naoussa of Macedonia in Northern Greece. By Aris Tsagaridis
Northern Greece
Includes: Epirus, Macedonia, and Thrace
White Grapes: Lots of Malagousia and Assyrtiko, often blended with Sauvignon Blanc or Chardonnay
Red Grapes: Mostly Xinomavro with a little bit of Merlot, Limnio, Cabernet Sauvignon, and Syrah
This region has slight climatic influences from the Mediterranean but is more continental with colder winters, areas with high winds, rain, and snowfall in the mountains. For example, in Zitsa in Epirus there are tall mountains covered with pine trees. Because it's much cooler here, Zitsa primarily focuses on white and sparkling wines with the delicate floral-and-citrusy white grape called Debina. Moving northwest of Epirus into Macedonia you'll find one of Greece's most important red wines: Xinomavro ("ke-see-no-mav-roh").
Xinomavro is being hailed as "The Barolo of Greece," where it grows in the regions of Naoussa and Amyndeo. This wine can taste strikingly similar to Nebbiolo (hence the correlation with Barolo), with dark cherry fruit, licorice, allspice, and occassionally subtle tomato notes. Xinomavro has high-tannin and medium-plus acidity. In Naoussa, vineyards are located predominantly on limestone-rich clay soils (marl), which gives this region's Xinomavro wines additional structure (tannin) and bolder fruit characteristics. These are good wines for the cellar!
Next up, the white grape Malagousia, is a recent discovery after being single-handedly resurrected by Gerovassiliou, a winery close to Thessaloniki. These wines offer a richer white wine style, almost like a cross between Viognier and Chardonnay, with peach, lime, and orange blossom and lemon oil all tied together with a soft, fruity finish.
The other grapes of Northern Greece, including Assyrtiko and Roditis, are often blended with Sauvignon Blanc, Chardonnay, or Malagousia to produce rich, somewhat smoky white wines with gooseberry, starfruit, and melon flavors. These are delicious options to accompany fish.
Other imported grapes, including Merlot and Syrah, are often blended in varying portions with the Greek native vines to make them more familiar to a growing international following.
---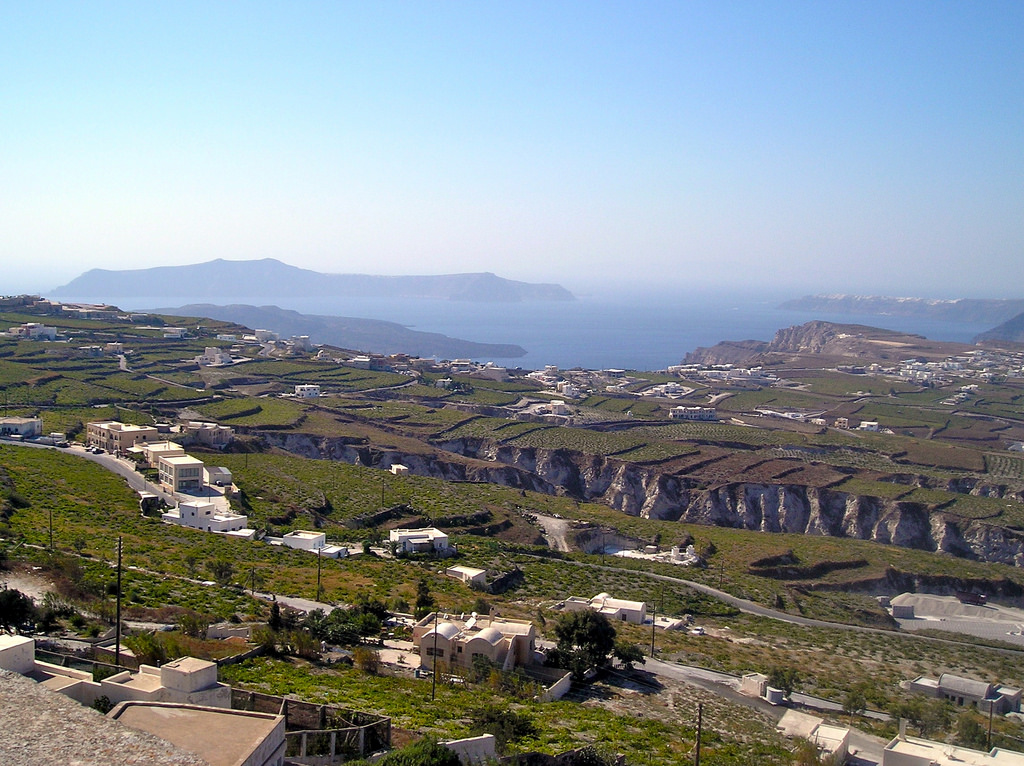 Assyrtiko vineyards on Santorini by Woodlet
Aegean Islands
Includes: Samos, Santorini, Límnos, and others
White Grapes:Assyrtiko (Santorini), Muscat Blanc (Samos), Athiri, Malvasia (called Monemvasia)
Red Grapes: Limnio (Límnos), Mandilaria (Paros), Mavrotragano
This is what most people from outside the country imagine what Greece to be like. Can you see the perfect white-washed houses with ocean-blue painted floors and rooftops, surrounded by restaurants that serve minerally white Assyrtiko wines alongside Mediterranean seafood? If this is your picture of Greece, you are thinking of Santorini!
Santorini is a tiny, sunken volcanic island that is so dry that the tap water is salty and made from desalinated sea water. In fact, most of the drinking water is brought onto the island by boats. This is the homeland of Greece's most famous white wine, Assyrtiko, and some of the country's best examples come from the island. Wines offer passion fruit, flint, and lemon with a subtle bitterness and saltiness on the finish. Assytiko labeled as Nykteri ("nith-terry") are always oaked (to varying degrees) and offer more lemon brûlée, pineapple, fennel, cream, and baked pie crust notes. Finally, there is Vinsanto, a sun-dried sweet wine that smells more like red wine (even though its made with Assyrtiko, Aidani, and Athiri) with notes of raspberry, raisin, dried apricots, and maraschino cherries, with noticeable tannins, high acidity, and usually pretty high VA (Volatile Acidity – e.g. the 'nail polish' smell). Despite the high VA, the wines are seductive and contrasting with sweet and bitter flavors. Fairly complex.
Samos is thought to be the originating place of Muscat Blanc, which historically speaking, might just be the world's most important and well-travelled wine variety. Muscat of Samos comes in various styles, from dry to sweet, but also with Muscat's aromatic lychee and perfumed notes. One of the most popular styles is Vin Doux, which is a mistelle (a blend of fresh Muscat juice and Muscat grappa–muscat spirit), which offers sweet marmalade, lychee, and turkish delight flavors with subtle hay notes on the finish (a characteristic from the grappa). There are other styles, including aged Muscats, which become deeper in color with more raisin and cocoa-like flavors. Perhaps this was the exact Muscat that Cleopatra loved? Certainly, a cute theory!
The island of Límnos is home to a fascinating red wine variety that was likely to have existed during Aristotle's time. The grape is called Limnio, and what makes it distinct are the notes of raspberry fruit and herbs. This wine also grows on the mainland in Northern Greece where it's often blended with a little bit of Cabernet Sauvignon and Syrah, delivering a very Bordeaux-like red wine.
---

A view of Central Greece by Leuctra. By Christos Vassiliou
Central Greece
Includes: Central Greece, Attica, and Thessaly
White Grapes: A lot of Savatiano and a little bit of Malagousia, Assyrtiko, Athiri, Begleri, and Chardonnay
Red Grapes:A lot of Xinomavro and a little bit of Agiorgitiko, Krasato, Stavroto, Limniona, Vradiano, Cabernet Sauvignon, Merlot, and Syrah
This large area is on the Eastern side of the Pindus and Agrafa mountains, which divide mainland Greece all the way down to Athens. This area is a lot more arid than Northern Greece, with a climate somewhat similar to Napa Valley or parts of Sonoma near Mount Olympus (an area for reds). It is also much hotter and drier in the South near Athens, which is where you'll find a great deal of Savatiano (Greece's most planted white grape).
In the North, the focus is on red wines, with the best vineyards found at higher elevations (over 250 m / 1,000 ft). For example, on the slopes of Mount Olympus, the region Rapsani qualifies vineyards based on the elevation, the highest quality of which are at altitudes above 500 meters (1,640 ft). It is here where you'll find bush vines of Xinomavro, Krasato, and Stavroto (with occasional Limniona for rosé) growing on schist soils. Wines from here are usually blends, with a dominance of Xinomavro and spicy flavors of raspberry, anise, fennel, cherry, and occasionally olive or tomato with tannins that build slowly (but surely!) on the palate. This area is kind of like the mountainous Rhône of Greece, which means the wines from here are ideal for Rhône blend lovers.
As you move south into the hotter and more arid climates of Greece, there is more white wine. This is where you'll find Greece's most planted (and most hated on) grape: Savatiano. It's hated because for a long time it produced the most vapid wines. However, what most of us forget is that Modern Greece has survived six wars in less than 50 years, a military dictatorship in the 60s and 70s, and now a tumultuous 3rd Hellenic Republic. The struggle is what caused the overproduction of cheap white wine with Savatiano and Retsina, a white wine that's infused with sap from an Aleppo pine tree.
Fortunately, producers are starting to take Savatiano and Retsina seriously. When made well, Savatiano offers flavors of sweet honeydew, green apple, and lime with tingling acidity, akin to Chablis. When oak-aged, Savatiano delivers more lemon curd, wax, and cultured cream with lemon bread notes and a creamy mid-palate structure and finish similar to Burgundy. There are at least eight producers taking Retsina seriously as well.
The red wines from the South made of Xinomavro and international grapes tend to offer more stewed fruit, although the regional Vradiano seems to excel here with tasty ripe strawberry, black pepper, and hibiscus notes that are contrasted with mouth-drying, choppy tannins. Paired with braised Greek meats, Vradiano is all too easy to drink.
---

The ruins at Nemea in Peloponnese, Greece. By Edoardo Forneris
Southern Greece
Includes: Crete, Peloponnese, Kefalonia
Grapes: Moschofilero, Muscat Blanc, Robola (Kefalonia), Vidiano (Crete), and Roditis
Red Grapes: Agiorgitiko (Peloponnese), Mavrodaphne (Kefalonia + Peloponnese), Kotsifali (Crete), Liatiko (Crete), Mandilaria (Crete), Syrah, Cabernet Sauvignon
A hot Mediterranean climate is the defining feature of Southern Greece. To paint a picture of what it's like, around Nafplio (the first capital of Greece in Peloponnese), grow oranges that are so low-acid and aromatic that the juice is almost like drinking a fresh-squeezed Sunny-Delight. For the most part, you'll find an abundance of delightful aromatic white wines here along with one ringer, Agiorgitiko, which is Greece's other top, and most-planted red variety.
Agiorgitiko (Ah-your-yeek-tee-ko) is well known from Nemea, a region in Peloponnese which is most famous for this grape. The red wines are more full-bodied with flavors of sweet raspberry, black currant, and plum sauce with nutmeg and subtle bitter herbs (somewhat like oregano) and smooth tannins. The wines are generous and fruity, similar in style to Merlot, but with slightly more spice. The rosé wines made with Agiorgitiko have wonderful spiced raspberry notes and a brilliant deep pink color.
In central Peloponnese, close to Tripoli, grows the variety, Moschofilero, in a region called Mantineia. This lovely, dry, aromatic white wine smells of peach, potpourri, and sweet lemon. As the wines age, they develop more nectarine and apricot flavors with toasted hazelnut or almond notes. For those who love Moscato d'Asti, this is a great new variety to explore.
The Northern side of Peloponnese and Kefalonia is historically known to produce sweet red wines with Mavrodaphne grapes (imagine raisins and Hershey Kisses) but this area has been increasingly focused on white wines with Robola and Roditis. Roditis is the leaner of the two with lime, melon, saline, and somewhat bitter lime peel notes. Robola is much more rare (found mostly on Kefalonia), with richer flavors of sweet lemon, pineapple, and beeswax, along with a bit of bitterness in the realm of quince and lime peel. These wines would be awesome with fried fish or chicken.
Finally, on the southernmost island of Crete you'll find one of the warmest wine climates. A very popular wine on the island is Vidiano, which is an easy-drinking, dry white wine with melon, pear, and sweet red apple flavors with a somewhat oily mid-palate and soft (low) acidity. The reds of Crete, Kotsifali, and Mandilaria, are usually blended together to create a wine with sweet red and black fruit flavors, cinnamon, allspice, and soy sauce, with a softer sweet tannin finish. There is another more rare red grape that shows interest here too, called Liatiko, which makes aromatic red wines with aromas of sweet cherries, roses, rose stems, and allspice, with nice balancing acidity. Liatiko would make a great summer red served chilled. Also, a few producers use it to make a sun-dried sweet wine, which tastes kind of like cherry-infused salty maple syrup. Intense.
---

What authentic Greek feta-tomato salad actually looks like. By Zack Lee
Eat The Food, Drink The Wine
Greece is a great place to visit (especially in late spring and early summer) to taste the foods with the country's wines. As soon as you do so, you will realize how well the spiced and somewhat bitter flavors in the wines perfectly balance the intensity (and simplicity) of Greek foods. The varieties mentioned above are just a snap shot of the 77 native Greek wine grapes currently in production, along with many others which are much more rare. Hopefully, you'll have a chance to visit and taste and see it for yourself!

Special Thanks to Sofia Perpera and Konstantinos Lazarakis MW for the amazing support and education on this fascinating wine country.