Valpolicella has everything you need for all seasons of imbibing. If you're looking for an easy drinking, inexpensive, perfect-for-summer, light-bodied red wine for your picnic Valpolicella has you covered.
If you're looking for that impressive, ageworthy, expensive, fireside wine in the cold winter months to help warm you from the inside out, Valpolicella has you covered too. It also has different price points and styles in between.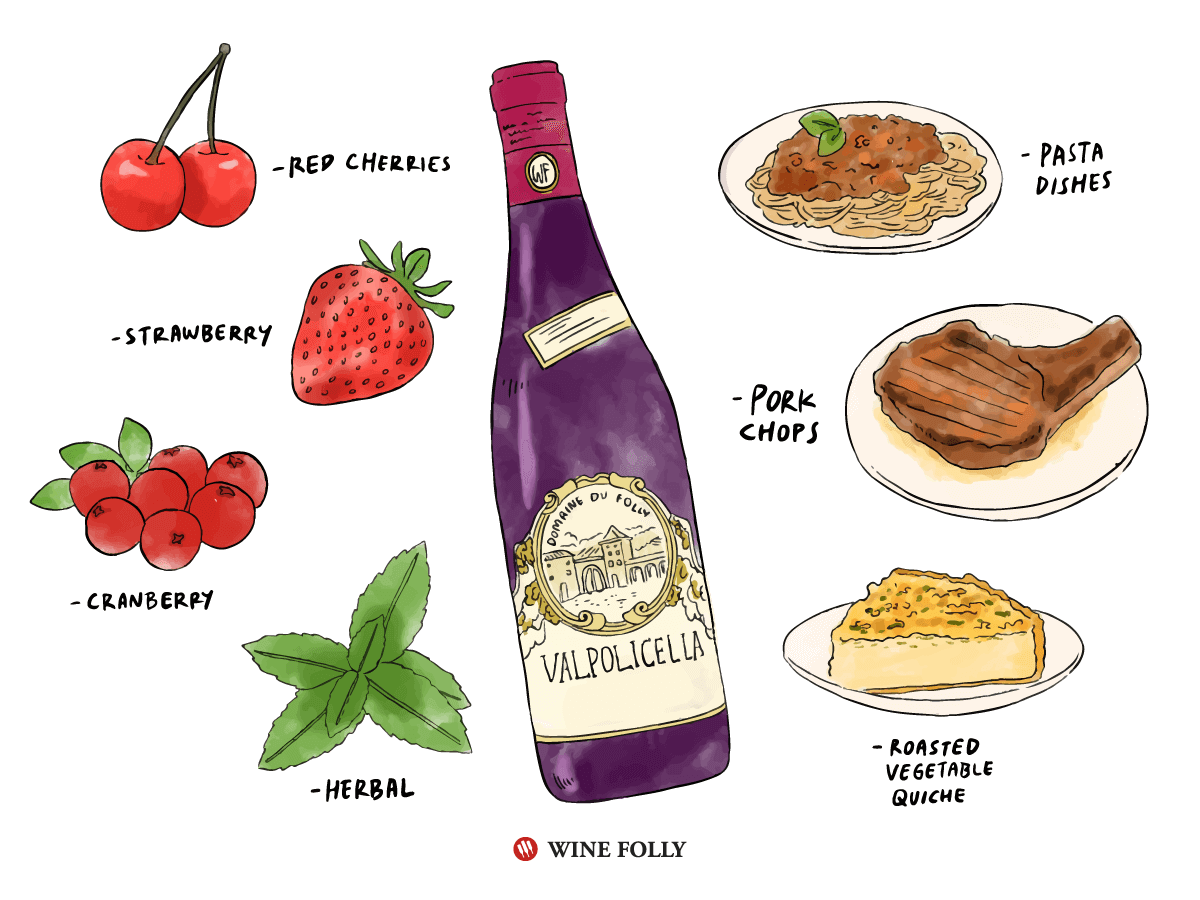 Valpolicella Wine Pyramid
There are 5 levels of Valpolicella wine, including styles like Valpolicella Ripasso, which offer a better value than Amarone.
Let's look at the five types of wine we can find in this prestigious region in Italy and see if we can find some of the hidden gems this area has to offer.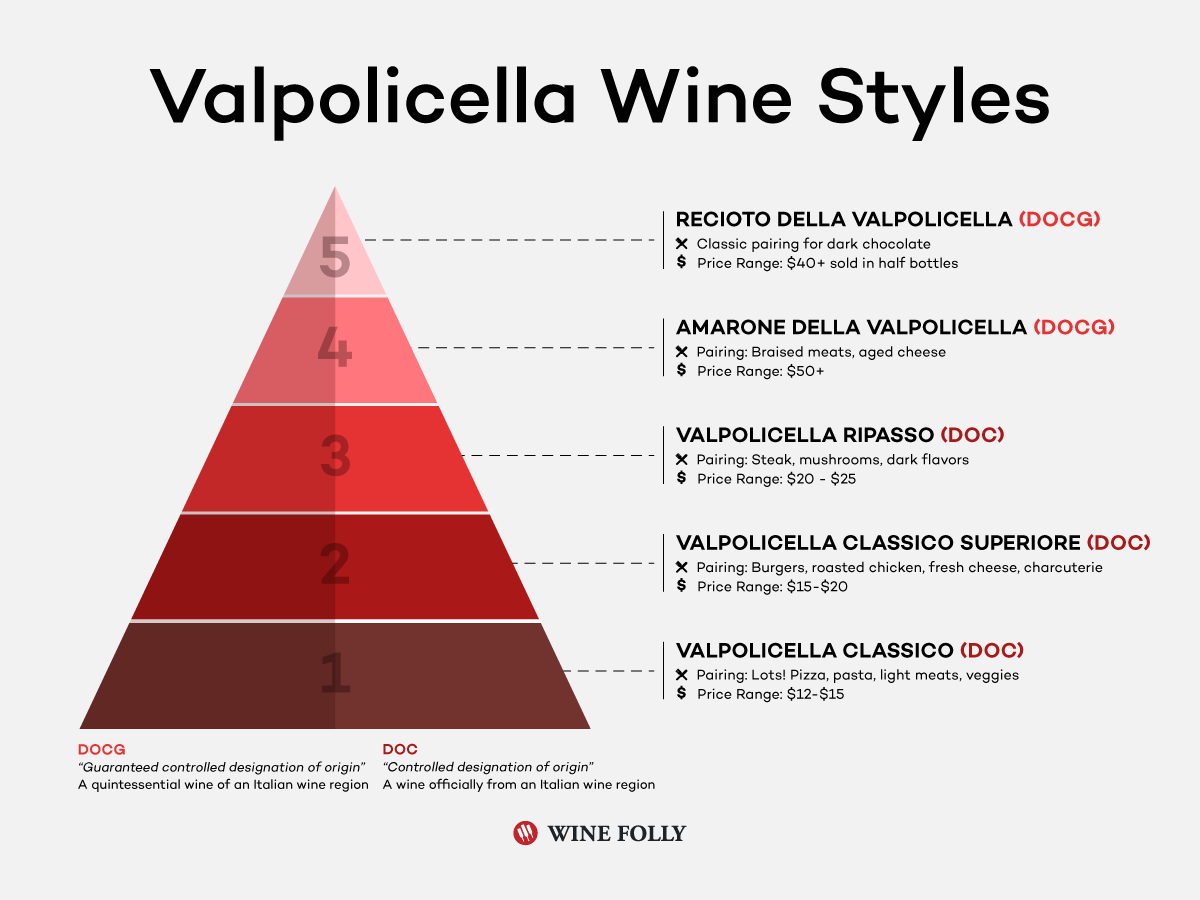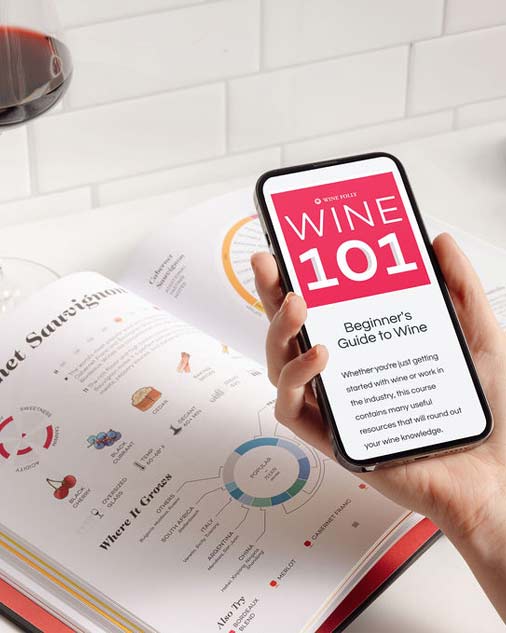 Buy the book, get a course.
Get the Wine 101 Course @ 75% OFF with the purchase of Wine Folly: Magnum Edition.
Shop Now
Valpolicella Classico
Tier 1: Let's start from the ground up, literally!
This is the perfect summer wine, a fresh, light bodied, easy drinking red wine, which you might even serve slightly chilled.
If you have friends that normally only drink white wine they might really like this one due to its light and refreshing character. It also happens to be one of the least expensive options from Valpolicella.
The grapes used here will be coming from the Classico area, the traditional, hilly area where grapes can ripen better and the quality tends to be quite good.
If you're looking for an easy drinking, fresh, light bodied red wine that's a step up in quality look for the "Classico" term.
---
Valpolicella Classico Superiore
Tier 2: Movin' on up.
If you're looking for a bit more oompf, and a hint of spice then move on up in price and quality and look for "Superiore" on the label.
This is like Valpolicella Classico but with more body, a bit more alcohol (minimum is 12%), lots of crunchy red fruit flavours and might even have some vanilla, clove and smoke aromas. Superiore, in this case, means the wine will have been aged for 1 year minimum, with many producers choosing to age their wine in oak.
---
Valpolicella Ripasso
Tier 3: A baby Amarone.
If you like Amarone but don't necessarily like the prices that come with it then we've got a great value proposition for you!
Ripasso style wines are kind of in between Amarone and Valpolicella Superiore – it has a dried fruit flavour, alcohol around 13%, more colour and texture than Superiore and a bit more body too – like the baby brother of Amarone.
How is this ingenious style created? Well, not wanting to waste good grape skins, producers take the partially fermenting skins from Amarone production and they add them to Valpolicella Classico wine and let the skins macerate for a while. This adds more flavour, tannins, a bit of alcohol and body too – resulting in Valpolicella Ripasso.
These cost less than Amarone but can still have the wow factor associated with it.
---
Amarone della Valpolicella
Tier 4: Shriveled to perfection.
Get ready to curl up by the fire with this one or gather your friends and family for a big winter family meal – The king of Valpolicella wines, Amarone, is here to warm you up. This dry, bold, richly fruited, ageworthy red wine with high alcohol (15-16%) and subtle toast, smoke, and clove aromas, works best with bold foods like braised meats and aged cheeses.
How is this piece of art created? The grapes used to make this wine are shriveled using the Appassimento method. Producers pick bunches of grapes that are fresh, and then they dry them out a bit.
During the 3-4 months that these grapes are shrivelling in special drying houses, the sugar, acid, flavour and tannin starts to concentrate – this means we can get more out of our grapes. We end up with dried fruit flavours, higher alcohol levels, more tannin and colour.
Amarone is also aged in oak for a minimum of 2 years, hence the spicy notes. Because there's less of it produced, the prices tend to be high. If you're looking for a wine to keep in your cellar, this is the one to choose.
---
Recioto della Valpolicella
Tier 5: Sweet, Sweet Red Wine.
Have you ever had red wine for dessert? This is one of the rare sweet red wines out there.
With flavors of raisin, figs, dried cherry and spices, and a sweet and mouth filling texture this wine works perfectly with dark chocolate, panettone, or black forest cake.
How is this delicacy created? Producers use the same shriveled grapes that are used for Amarone, however instead of letting the fermentation (when yeast turn sugar into alcohol) finish, they stop it early and we're left with a red wine with about 12-13% and some sweetness (around 50g/L).
These wines can age for a very long time, where they become more meaty and savoury. If you do find one (they don't make much of it!) then you'll end up paying fairly high prices for this fine and rare sweet red wine.
---
Final Thoughts
In Valpolicella we have all styles and prices of red wine and we can see that that's mainly due to the difference of using fresh grapes or partially dried grapes. Wines made with fresh grapes give us Valpolicella Classico and Valpolicella Superiore.
However, in order to make a fuller bodied, more tannic, higher in alcohol wine with more concentrated fruit flavours, as we find with Amarone and Recioto, we have to use dried grapes.
The link between these two major styles is Ripasso, where a lighter bodied wine meets the leftover skins from Amarone production to make a wonderful, affordable, baby Amarone.
If you're looking for a diversity of wine styles and prices look no further than Valpolicella.