Aromatic white wines are defined by dominant floral aromas caused by a special aroma compound found naturally in grapes. If you stop to smell the roses, you'll love aromatic white wines.
Aromatic White Wines
A short list of aromatic white wine varieties and their dominant aromas:
Albariño and Loureiro: Lime Blossom, Lemon, Grapefruit and Melon
Riesling: Jasmine, Lime, Honey and Green Apple
Gewürztraminer: Lychee, Rose, Pink Grapefruit and Tangerine
Vidal Blanc: Jasmine, Melon, Grapefruit and Pineapple
Muscat Blanc (aka Moscato): Orange Blossom, Mandarin Orange, Sweet Pear and Meyer Lemon
Müller-Thurgau: Rose Water, White Peach, Geranium, and Pear
Muscat of Alexandria (aka Zibbibo): Orange Blossom, Rose, Tangerine and Peach
Torrontés: Rose Petal, Geranium, Lemon Zest and Peach
Cserszegi Füszeres: (chair-seg-ee Foo-sar-resh) A Hungarian variety. Rose, Elderflower, Peppermint and White Peach
Aromatic wines are a style of wine where a lot of the joy in drinking them is to smell their heady aromas. If you're patient, you can sniff and sip a single glass of a wine such as Gewürztraminer, for over an hour.
Aromatic white wines range in taste, intensity and sweetness, although you'll find several of the prominent varieties to be sweet. For this reason, aromatic white wines are highly desirable to sensitive palates including those who are supertasters.
In case you were wondering, the styles that are almost always made in dry style are Torrontés and Albariño.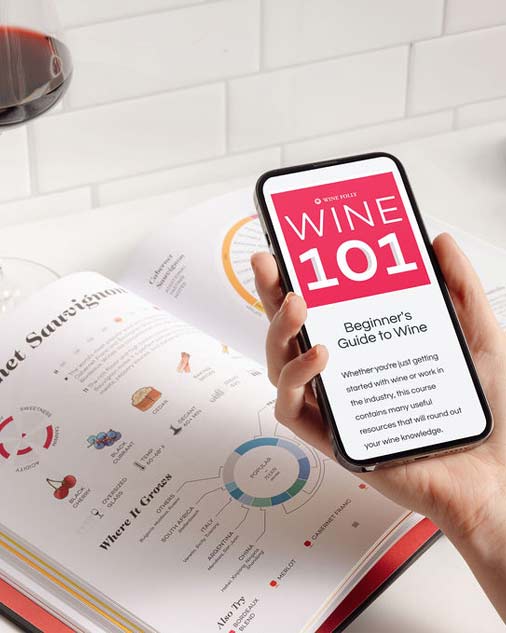 Buy the book, get a course.
Get the Wine 101 Course @ 75% OFF with the purchase of Wine Folly: Magnum Edition.
Shop Now
Serving Aromatic White Wines
Like most white wines, aromatic white wines can be served chilled in a white wine glass. Higher quality wines can be served slightly warmer and, consequently, will release more aromas. There are a few believers that prefer a glass that has a slightly wider bowl designed to collect more aromas (see pictured right, a Riedel stem).
---
Food Pairing with Aromatic White Wines
Aromatic white wines are wonderful to use as a kind of flavor multiplier when matched with food. For example, the sweet and vanilla-like flavors in coconut are heightened when matched with a wine like Gewürztraminer.
Thus, it's fun to use this style of wine more like an ingredient or embellishment to a dish. As you might be already imagining, aromatic white wines are wonderful when matched with aromatic Southeast Asian and Indian cuisine.
Keep in mind that while the aromatics in this style are large, the taste in many of these wines can be subdued, so opt for lighter meats, poultry or seafood.
---
Science Behind Aromatic White Wines
While many of the primary styles of wine are characterized more by winemaking tradition (e.g. full-bodied white wines are oak-aged), aromatic white wines are more scientifically categorized by characteristics in the wine grape.
Aromatic white wines are unique because they have higher levels of an aroma compound class called terpenes (not turpentine) which include the very same aromas found in flowers! Aromatic white wines have particularly high levels of a certain subgroup of terpenes called monoterpenes (including compound linalool).
Monoterpenes are responsible for all those delicious aromas of rose, geranium, orange flower, and more. So, the next time you smell a wine and it smells like roses, it might be monoterpenes at work.