Everyone is talking about the amazing wine values you can find from Portugal. Well, what are they… exactly? Here is a great overview of everything you need to get started with Portuguese wine.
"If you don't recognize the grape variety on a Portuguese wine label, it's a good thing."
Because Portugal's wine culture developed in relative isolation, many grape varieties do not grow anywhere else in the world. If you don't recognize the grape variety on a Portuguese wine label, it's a good thing. There are over 250 indigenous varieties and a few imports (including Alicante Bouschet) that have adapted well to the Portuguese landscape (i.e., they are delicious). To many wine experts, Portugal is the last frontier of wine in Western Europe; there is still so much to be tasted and explored. With all the excitement Portugal offers, let's look at the major wines and regions.
What to Drink From Portugal
---
Quality Levels of Portuguese Wine

There are 3 levels of wine quality in Portugal. You can identify them by looking at the wine label.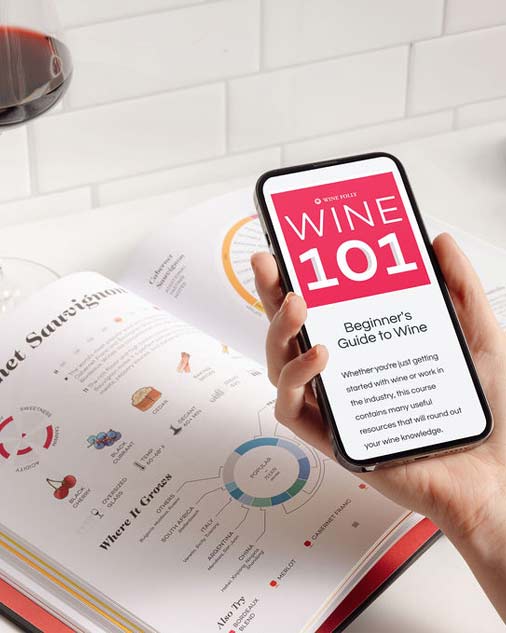 Buy the book, get a course.
Get the Wine 101 Course @ 75% OFF with the purchase of Wine Folly: Magnum Edition.
Shop Now
DOC (or DOP): DOC stands for Denominação de Origem Controlada and means the wine comes from a strictly defined geographical area with recommended and permitted grapes and maximum vine yields (to control quality). Technically there are 31 DOCs in Portugal, although 3 of them overlap, making it seem more like 28.
Vinho Regional (or IGP): The entirety of Portugal is divided into 14 regional wine ("vinho regional") areas that have less strict rules for controlling which types of grapes are used as well as maximum vine yields. While this implies that the wines will not be as high quality, many creative and pioneering producers in Portugal use the Vinho Regional designation to create excellent wines using grapes or blends not allowed in DOC.
Vinho (Wine): This is the most basic classification of Portuguese table wine. Chances are you won't see this outside of Portugal.
The Comissão Vitivinícola Regional (CVR) is a "Wine and Vine" commission governing across the country. Each CVR regulates to ensure quality and to maintain each region's character. Because water is a problem in Portugal, the CVR also carefully monitors the granting of permissions for irrigation.
Portugal Wine Terms
Vinho Tinto Red Wine
Vinho Branco White Wine
Quinta Wine farm. You'll often find this word as part of a winery's name on the label of wines from Portugal.
---
Douro
Port is the most famous and most copied wine from Portugal, and it grows in the Douro Valley. The hills along the Douro River have been worked by hand into terraced stair steps since the time of Jesus. It's so impressive that the entire region is a UNESCO world heritage site.
Wines
Port: Fortified sweet wines. Specifically LBV Port, Tawny Port, and Vintage Port wines, which are the best and made by blending "port grapes" which include Touriga Franca, Touriga Nacional, Tinta Roriz (Tempranillo), Tinta Barroca and Tinto Cão among many others. Find out more about Port Wine.
White Port and Pink Port: Beyond the red Port, there are also Port wines made with the rare white wine varieties in the region. Rosé Port is relatively new, and both of these wines are awesome to use in light-alcohol summer cocktails such as the Porto classic: White Port and Tonic
Tinto Douro: Full-bodied red wines. We've talked about Douro Reds before, but the same red grapes of Port wine happen to make outstanding full-bodied, tannic, age-worthy red wines. You can find them on the cheap for around $10–$12 a bottle or, if you're a collector, start looking into wine ratings and expect to spend about $50 for something world class.
Douro Branco: Light-bodied white wines. Douro Branco are crisp, minerally white wines with minimal fruity flavors, subtle flinty notes and salinity, and high acidity. Douro white wines are a little harder to find and include the white Port varieties of Rabigato, Viosinho, Gouveio, and Folgazão (etc.)
Terras de Cister (Távora e Varosa)
Terras de Cister: Sparkling wines
If you head south over the mountains from the Douro, you'll hit a tiny mountainous region that was first planted by Cistercian monks (the same group of monks that also started the wine thing in Burgundy, France). This area is surprisingly cooler at night and harder to ripen grapes than the Douro. This difference produces wines with much more elegance and acidity, thus making it pretty ideal for sparkling wines. Because of the attraction to bubbles, there are a growing number of Chardonnay and Pinot Noir vineyards planting along with the regional varieties of Malvasia Fina (aromatic white), Sercial (light white), Gouveio (light white), Aragonês (aka Tempranillo), Tinta Barroca (red) and Touriga Franca (red) among others.
Transmontano (Trás-Os-Montes)
Tinto Transmontano: Full-bodied red blends
If you head north over the mountains from the Douro, you'll find another small-but-spread-out wine-producing region called Trás-Os-Montes. The only wine we usually see from this area is Transmontano, which is a regional red blend. Wines are full-bodied, punchy, with higher alcohol levels.
Minho (Vinho Verde)
If you've ever drank something ice-cold on the beach that happened to be from Portugal, we wager it was Vinho Verde. Best served young when the wine is at its peak of aromatics, and crisp acidity, the wines of Minho are the ideal wine alongside salads, fish, vegetable dishes, and even do well paired against citrus-driven sauces.
Wines
Branco Vinho Verde: Light-bodied white wines. Wines often have a slight spritz and fruity, lemonade-like flavors with notes of melon, gooseberry, and chalky texture. Producers create white Vinho Verde wines with a blend of several grape varieties, including Arinto, Azal, Trajadura, Loureiro, and Alvarinho (a.k.a Albariño). Keep your eyes peeled for single-varietal wines, particularly of Loureiro, Azal, and Alvarinho, which are some of the most popular grape varieties grown in Vinho Verde.
Rosado Vinho Verde: Rosé. The Rosado wines offer red berry flavors with quenching acidity like lemonade. The reds/rosés of Vinho Verde are found primarily in the southern part of Minho in the sub-regions of Amarante and Paiva. Red grape varieties include Alvarelhão, Amaral, Borraçal, Espadeiro, Padeiro (quite rare).
---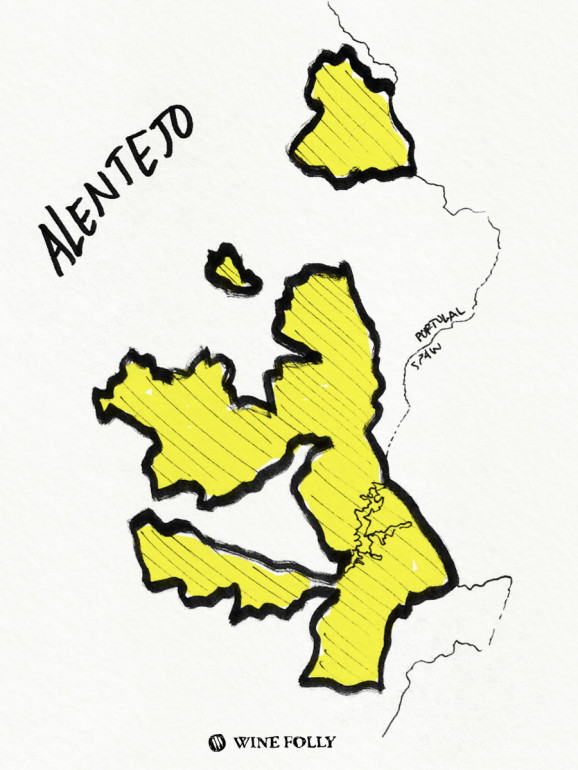 Alentejo
The Alentejo region feels strangely similar to California (save for a few marble castles to remind you that you're still in Europe) with low rolling hills of wheat, even hot temperatures, and tons of sun. There are many progressive and modern wineries here making red wines that offer generous fruit and mocha flavors with refined tannins from careful wood aging strategies. White wines from the Alentejo range from medium-bodied refreshers to full-bodied similar to Chardonnay.
Wines
Tinto Alentejo: Full-bodied red wines that are typically blends made with Aragonês (Tempranillo), Trincadeira, Castelão, Alfrocheiro and Alicante Bouschet.
Branco Alentejo: Light-bodied and Full-bodied white wines made with Arinto (fuller in style), Antão Vaz (fuller in style), Roupeiro, and Fernão Pires (an aromatic white variety).
Alentejano (IGP/Vinho Regional): Full-bodied red and white wines from a larger encompassing region that may include non-indigenous grape varieties (Viognier and Syrah are growing in popularity here).
---
Lisboa
One of the most dynamic and varied regions is a strip that runs from Lisbon northward along the coast. There are many wines from the various regions in Lisboa (Alenquer, Bucelas, etc.) that are already making their way into stores internationally. While there is a great quality found in Lisboa (Bucelas, Colares, Alenquer, Arruda), most of the wines you'll find available are affordable (around $10 a bottle) and great for everyday drinking.
Wines
Alenquer: Concentrated, high tannin red wines made with Castelão, Alfrocheiro, Aragonês (Tempranillo) and Touriga Nacional
Bucelas: Light-bodied, citrus, and beeswax-driven, age-worthy white wines made with Arinto. Typically very fine with 4+ years of age.
Arruda: Full-bodied red wines that often include international grape varieties like Cabernet Sauvignon and Syrah
Colares: A rare find. Golden colored, full-bodied white wines in an oxidative style made with Malvasia Fina (grown on the beach cliffs)
Óbidos and Lourinhã: Light-bodied aromatic white wines particularly with Fernão Pires
Torres Vedras: Simple, low-alcohol refreshing white wines.
Setúbal
The region of Setúbal is famous for a fantastic rich, deep gold-colored dessert wine called Moscatel de Setúbal
Dão
Collectors have identified The Dão as a place to watch for quality. Wines from the Dão are lighter in style than in the Douro but have shown to age very well because of the tannin and acidity development (a.k.a. "structure") from growing in high altitude areas with rugged soils of decomposing granite and schist (similar to Douro and Priorat). If you have had Mencía from the northwestern part of Spain, the same variety grows in the Dão and is called Jaen ("Zs-ine") and offers a very different expression.
Wines
Dão Alfrocheiro: Medium-bodied red wine with red berry flavors, licorice, and spice notes
Dão Jaen (a.k.a. Mencía): Full-bodied red wine. Raspberry and black cherry flavors with moderately high acidity and mouth-drying tannin.
Dão Touriga Nacional: Full-bodied red wine. Deep black fruit flavors with chocolate and mocha with refined tannins and medium-plus acidity
Terras do Dão and Terras de Lafões: The Vinho Regional wines of the Dão with more experimentation and blends that include international varieties (Indi blends)
INDI BLEND: Our way of describing the blending of a region's indigenous wine grapes with other local or international grapes (Chardonnay, Syrah or Cabernet Sauvignon).
Tejo
Once called Ribatejo, Tejo is mostly flat, with significant agricultural holdings where lower quality quaffing wines are the norm. You'll find that Tejo plants all kinds of grapes, from Alvarinho (the grape of Vinho Verde) to the full-bodied blackish Alicante Bouschet. The good thing about the region is that the wines are almost always under $15. As you move toward the center of Tejo, and into the hills towards the coast, the wines get better. Central Tejo is a good region for getting super value from Portugal.
Wines
Red "Indi" Blends: Look into blends with Cabernet Sauvignon, Syrah, Touriga Nacional, Trincadeira and Castalão
White "Indi" Blends: Look into blends with Fernão Pires (an aromatic white wine), Arinto, Sauvignon Blanc and Chardonnay
---
Beira Atlântico (Bairrada)
Baga is the highly productive red grape of Beira, grown in Bairrada. In the past, the wines made with 100% Baga were known to be densely structured, blackberry-fruit driven wines with high acidity and a tar-like finish. Odd, because the wines were so structured, they would stubbornly (and slowly) morph into refinement over 10–20 years. Today things are changing. With careful vineyard strategies and vinification (winemaking), you'll find a much wider range of Baga that are a stark contrast from Bairrada Clássico. From the aromatic and delightfully pink sparkling wines by Luis Pato to the soft, structured light-bodied red wines by Niepoort that remind us of Pinot Noir, this area is one of the new frontiers of winemaking for the Portuguese. The wine geeks are very interested.
Wines
Tinto Bairrada: Made from Baga and ranging from dense, tar-like, high acid reds to delicate, red fruit-driven wines with finely textured tannins and the ability to age.
Branco Bairrada: Made from the aromatic Fernão Pires (called Maria Gomes here), Bical and Arinto
Sparkling "Brut" Bairrada: Delicious beeswax-driven sparkling wines made with early picked Baga, Fernão Pires, and others.
---
Beira Interior
The most mountainous region in Portugal (it snows!) has one of the most challenging climates to produce grapes. With a shorter growing season (but still very hot), you'll find reds to have red-fruit driven flavors with herbaceous, smoky notes and a juicy finish, and white wines tend to be lean with chalky minerality. There are many old vines here as well as producers using native yeasts and organic viticulture, so we have hope the region will continue to improve.
Wines
Tinto Beira: Red fruit-driven wines of Murufo, Bastardo, Alfrocheiro, Trincadeira, and Touriga Nacional
Branco Beira: Lean, chalky white wines of Síria, Arinto, Malvasia
---
Madeira & Pico Island (Azores)
Both Madeira and Pico Island are places like no other. Pico Island has a designated UNESCO area covered with a network of stone walls, each of which protects a vine (or two) of Verdelho, the main regional white wine grape. The good stuff in terms of wine from Pico is this golden, viscous liquid that is hauntingly sweet, tart, and somewhat salty with a smokiness from the volcanic landscape. Madeira, on the other hand, has a fascinating, daunting, and somewhat stressful history as one of the most collected and appreciated fortified wines in the world. These wines are not for dabbling. You have to want them to drink them. If you do, drink the islands of Madeira and Pico with an open mind; you'll find yourself stupefied at the wonder that went into making them.
---
Algarve
The beaches of Algarve are awesome. There is a city called Tavira, often referred to as "The Venice of the South." For sun-worshippers, Algarve is a thing to behold. Perhaps because of all the tourist excitement, there is also wine in the Algarve, nearly 2500 acres / 1000 hectares. Naturally, as a hot and sunbaked region, the wines aren't designed to age, but there is hope in particular for red wines with Alicante Bouschet, Syrah, and Aragonês (Tempranillo). These drought-climate varieties still manage to have juicy acidity and create more smoky-sweet, dusty notes on the finish somewhat reminiscent to South Australia.
Portugal Wine Map
Jumpstart your knowledge of Portuguese wine with a wine map.